Sandwiched between Baby Boomers and the Millennial generation, Gen-Xers often feel overlooked. If you're a member of Generation X (born between about 1965 and 1982) you should stand tall. You and your cohorts have quietly established a prominent presence in both the work force and the economy.
The Gen-X population is estimated at about 65 million. That's nearly 20 million less than Baby Boomer and Millennial populations, but it still accounts for about 25% of the adult population, according to the U.S. Census Bureau.

According to Pew Research Center analysis of Federal Reserve data, Gen-X is the only generation to have truly bounced back from the Great Recession. In 2016, the median net worth of Gen-X households had risen 115% from 2010. Meanwhile, Boomers' median net worth was below 2007 levels.1

Average household earnings for people age 38 to 53 is about $85,800, according to a recent study by the Pew Research Center.2 That's above the $77,600 earned by households of people age 54 to 72, and nearly $17,000 more than the $69,000 earned by Millennial households.

Big spenders
Gen-Xers have more discretionary income than Millennials.  The aggregate annual spending of Gen-Xers on non-essential purchases exceeded Millennials by $80 billion. Gen-Xers accounted for 26% of total U.S. non-essential spending versus 21% for Millennials. The Silent Generation – those born between 1925 and 1945 – accounts for only about 14% of aggregate annual spending.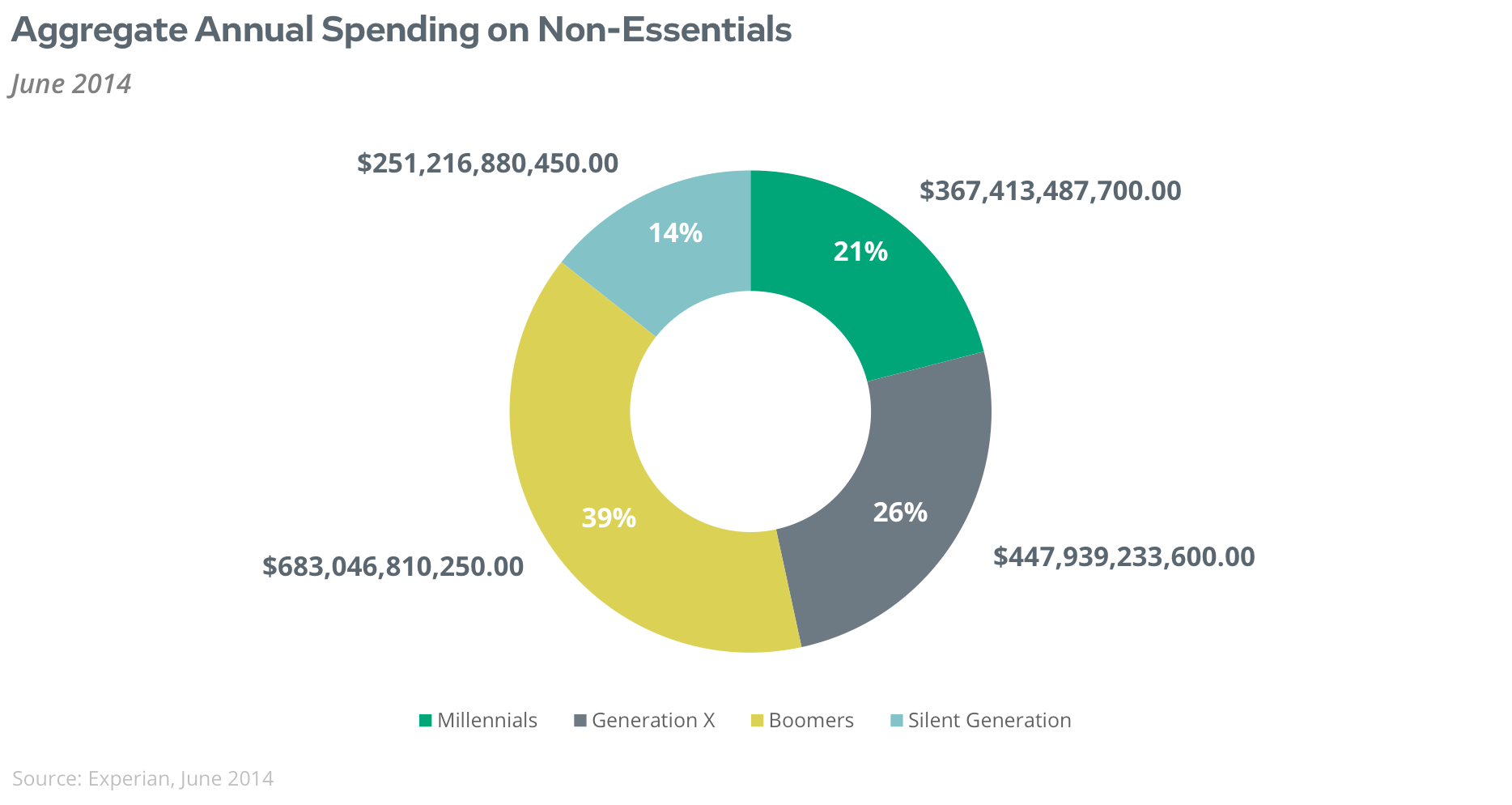 More recently, a 2018 U.S. Bureau of Labor Statistics analysis of its Consumer Expenditure Survey data showed that Gen-Xers had the highest level of mean average annual expenditure, at $66,981. That compares with $47,113 for Millennials and $59,646 for Baby Boomers.3
Gen-Xers find themselves in a better financial position than Millennials for a variety of reasons. Not only are they further into their careers – and higher up the salary curve – many Gen-Xers were also spared the paralyzing student debt with which Millennials have had to cope.

Diligent investors
Gen-Xers seem determined to save some money for the future. A survey by the Shullman Research Center4 found that the vast majority of Gen-Xers plan to save some money over the next 12 months, including nine out of 10 "upscale" Gen-Xers and eight out of 10 "mass market" Gen-Xers.5 Some 50% of all Gen-Xers say saving for their children's education is a major goal.
Gen-Xers have also become the generation most likely to invest in the stock market. A 2017 Gallup survey revealed that 62% of individuals aged 30 to 49 said they invest in stocks, versus 54% for those aged 65 and older, and only 31% for those 18 to 29.6
In fact, Gen-Xers are more likely to invest in mutual funds than other generations. About 53% of Gen-Xers own mutual funds versus 48% of Baby Boomers and 38% of Millennials, according to a recent study by the Investment Company Institute.7

What's next for Gen-X?
If you're a Gen-Xer whose savings and investments have increased, the next step is to develop an investment approach geared to your distinctive needs and objectives.
For instance, have you determined your investment priorities? Are you focused primarily on your retirement savings, or do you also need to put some money away for more immediate needs, such as your children's education or a new home?
To help you sort out your investment priorities, see Money and Gen-Xers: Part 2, Prioritizing investments across a variety of needs.
---
1 Pew Research Center Fact Tank, "Gen X Rebounds as the Only Generation to Recover the Wealth Lost After the Housing Crash," July 2018.
2 Pew Research Center, "Young Adult Households are Earning More Than Most Older Americans Did at the Same Age," December 2018.
3 U.S. Bureau of Labor Statistics, "Fun Facts about Millennials: Comparing Expenditure Patterns from the Latest Through the Greatest Generation," March 2018.
4 Shullman Research Center, Gen-Xers Saving Habits, 2015.

5 "Upscale" members either have a household income of more than $250,000 annually (about 36 percent of upscale Gen Xers, or 2 million adults) or a personal net worth over $1 million (64 percent of upscale Gen Xers, or about 4 million adults). Overall, upscale Gen Xers account for about 10 percent of all Gen Xers or 6 million adults. "Mass market" Gen Xers (those who don't fit the upscale definition) still have higher average incomes than their baby boomer or millennial counterparts.
6 Gallup, "U.S. Stock Ownership Down Among All", May 2017.
7 Investment Company Institute, 2019 Investment Company Fact Book.
Well that's unexpected - your subscription request was not submitted. Please try again.
Gain From Our Perspective
Get Our Investing Insights Newsletter in Your Inbox.
Subscribe now
Gain From Our Perspective
Get Our Investing Insights Newsletter in Your Inbox.
Subscribe
Thanks for Signing Up!
Be sure to check your inbox for the Investing Insights newsletter to get the latest news and insights from Thrivent Mutual Funds.
Great news - you're on the list!
Looks like you're already on our mailing list. Be sure to check your inbox for the Investing Insights newsletter to get the latest news and insights from Thrivent Mutual Funds.