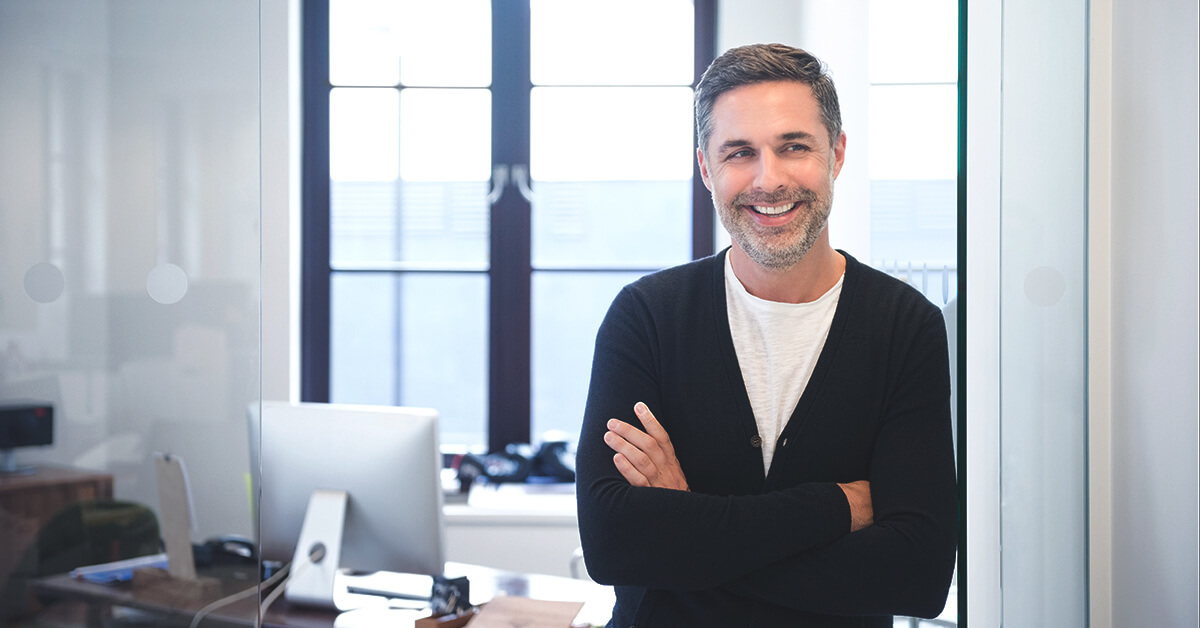 Largely overlooked, sandwiched between Baby Boomers and the Millennial generation, Gen-Xers have been quietly establishing a prominent presence both in the work force and the investment market.
The Gen-X population – those born between about 1965 and 1982 – is estimated at about 65 million, which is nearly 20 million less than Baby Boomers and Millennials, but still accounts for about 25% of the adult population, according to the U.S. Census Bureau. 
Like the Baby Boomers before them and the Millennials who came after, Gen-Xers were initially seen as unconventional and skeptical of authority. But as they've advanced in years, Gen-Xers have steadily infiltrated the corporate workforce, and have developed a sense of job loyalty that goes well beyond the norm. A Nielson survey found that only 21% of Gen-Xers are likely to leave their job after two years, which is about half the rate of Millennials (41%) and 5% below Baby Boomers (26%).1 
Even as they've settled into the establishment, Gen-Xers still haven't shaken the moniker of the "forgotten generation." Marketers and corporate CEOs tend to focus more on the other generations, as a recent CNBC study revealed. In a review of 17,776 corporate earnings report transcripts from FactSet, the study showed that the terms "Gen X" or "Generation X" were mentioned only 16 times.2 By contrast, Millennials (and related terms, such as "Gen-Y") were mentioned 620 times and Baby Boomers were mentioned 180 times.
Misguided Indifference
But the apparent indifference with which corporate America views the Gen-X generation seems misplaced, considering that they now have the highest labor force participation rate of all generations, and the second highest income level, slightly behind Baby Boomers.
Average individual earnings income for Gen-Xers is about $54,400 according to a recent study by Experian,3 which is just below the $57,700 earned by Baby Boomers, and about $20,000 more than the $34,100 earned by Millennials.
Gen-Xers also have more discretionary income, as the accompanying chart illustrates. Although there are about 20 million fewer Gen-Xers than Millennials, the aggregate annual spending of Gen-Xers on non-essential purchases exceeded Millennials by $80 billion – Gen-Xers accounted for 26% of total U.S. non-essential spending versus 21% for Millennials.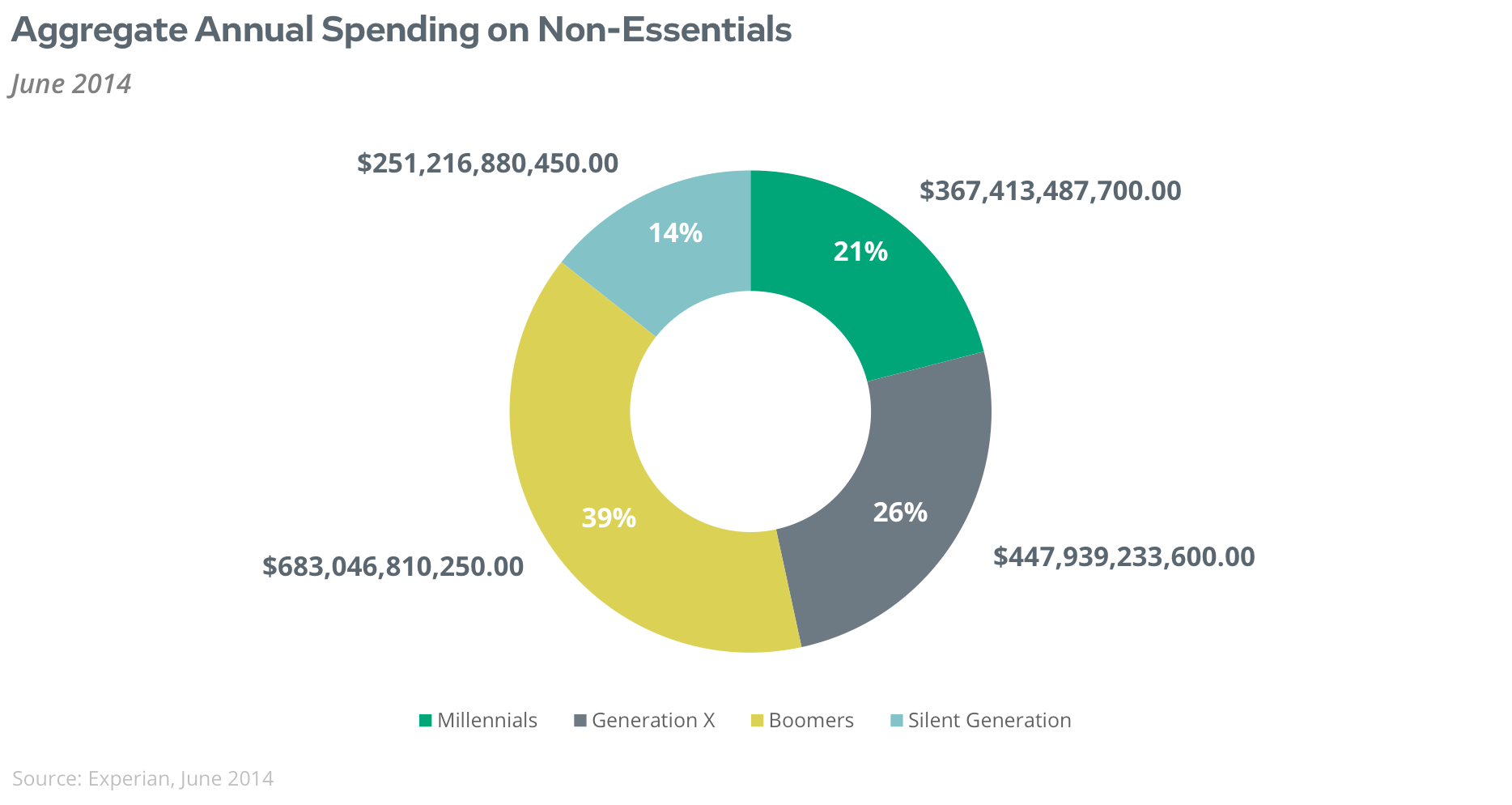 Gen-Xers find themselves in a better financial position than Millennials for a variety of reasons. Not only are they further into their careers – and higher up the salary curve – many Gen-Xers were also spared the paralyzing student debt that Millennials have had to cope with as college costs have skyrocketed. 
In 1981, as the first Gen-Xers were preparing to go to college, the annual cost of tuition, fees, and room and board – based on inflation adjusted 2016 dollars -- was about $7,540 at public schools and $16,630 at private colleges, according to College Board. As the earliest Millennials were heading to college in 2001, the cost had nearly doubled to $12,250 for state schools and $ 32,340 per year for private colleges. By 2016, the cost for state schools had nearly doubled again to $20,090, while private school students were paying an average of $45,370 per year.

---
Average Tuition, Fees and Room & Board
In 2016 dollars (Inflation adjusted)
| Year | Public Four-Year | Private Nonprofit Four-Year |
| --- | --- | --- |
| 1981-82 | $7,540 | $16,630 |
| 1991-92 | $9,630 | $25,070 |
| 2001-02 | $12,250 | $32,340 |
| 2011-12 | $18,270 | $40,450 |
| 2016-17 | $20,090 | $45,370 |
|   |   | Source: College Board, "Trends in College Pricing 2016" |
Diligent Investors
Gen-Xers seem determined to save some money for the future, according to a recent survey by the Schulman Research Center.4 The survey found that the vast majority of Gen-Xers plan to save some money over the next 12 months, including nine out of 10 "upscale" Gen-Xers and eight out of 10 "mass market" Gen-Xers.5 Some 50% of all Gen-Xers say saving for their children's education is a major goal.
Not only is saving important for Gen-Xers, they have also become the generation most likely to invest in the stock market. A recent Gallup Poll revealed that 62% of individuals aged 35 to 54 said they invest in stocks, versus 56% for those aged 55 and older and only 38% for those 18 to 34.6
In fact, Gen-Xers are also more likely to invest in mutual funds than other generations (albeit by a small margin). About 50% of Gen-Xers own mutual funds versus 49% of Baby Boomers and 32% of Millennials, according to a study by the Investment Company Institute.7
As their savings and investments increase, the next step for Gen-Xers is to develop an investment approach geared to their unique needs and objectives at their stage of life. 
For instance, if you're a Gen-Xer, have you determined your investment priorities? Are you focused primarily on your retirement savings or do you also need to put some money away for more immediate needs, such as your children's education or a new home?
To help you sort out your investment priorities, see "Money and Gen-Xers: Part 2, Prioritizing Investments across a Variety of Needs." 
1 Nielson, "Global Generational Lifestyles, November 2015.
2 CNBC.com, "Gen X…what Gen X? Companies virtually silent about group," May 6, 2015
3 Experian, "Millennials Come of Age," 2014
4 Schulman Research Center, Gen-Xers Saving Habits, 2015 
5 "Upscale" members either have a household income of more than $250,000 annually (about 36 percent of upscale Gen Xers, or 2 million adults) or a personal net worth over $1 million (64 percent of upscale Gen Xers, or about 4 million adults). Overall, upscale Gen Xers account for about 10 percent of all Gen Xers or 6 million adults. "Mass market" Gen Xers (those who don't fit the upscale definition) still have higher average incomes than their baby boomer or millennial counterparts.
6 Gallup, "Just Over Half of Americans Own Stocks, Matching Record Low", April 2016
7 Investment Company Institute, 2016 Investment Company Fact Book.
Well that's unexpected - your subscription request was not submitted. Please try again.
Gain From Our Perspective
Get Our Investing Insights Newsletter in Your Inbox.
SUBSCRIBE NOW
Gain From Our Perspective
Get Our Investing Insights Newsletter in Your Inbox.
SUBSCRIBE
Thanks for Signing Up!
Be sure to check your inbox for the Investing Insights newsletter to get the latest news and insights from Thrivent Mutual Funds.
Great news - you're on the list!
Looks like you're already on our mailing list. Be sure to check your inbox for the Investing Insights newsletter to get the latest news and insights from Thrivent Mutual Funds.