The 1st quarter of 2018 saw the return of market volatility, with head-snapping swings of the equity markets in both directions. What are the primary factors behind that volatility?
In simple terms, the market this year has been in a tug of war between two critical dimensions of stock market valuation. 
Early in the year, the market was focusing on the expectation for very positive earnings from corporations due to strong business fundamentals and the change in tax policy. But subsequently, the market began to question how to value these positive earnings expectations. This uncertainty has helped drive down valuations while increasing market volatility. 
At its most basic level, stock prices are determined by two critical dimensions – (1) expected corporate earnings and (2) the value that investors collectively put on those expected earnings. This collective valuation is the "price/Earnings ratio" or "multiple" (P/E). 
The first dimension in this tug of war – earnings – is fairly straight forward.  Historical earnings are an accounting fact, and expected earnings – although requiring a host of assumptions – are typically an extrapolation of historical trends. 
The second dimension, the P/E, is much less straight forward and can be influenced by a number of tangible and intangible elements. 
For instance, one of the fundamental components of valuation and the P/E multiple is interest rates. Low or falling interest rates are typically manifested in rising P/Es, while rising interest rates are manifested in lower P/Es. In broad terms, rising interest rates make fixed income investments more attractive to investors – which tends to diminish the relative appeal of equities.
The rise in interest rates this year has been one of the primary factors negatively affecting the equities market.
However a number of other issues – some tangible, others not so tangible – have also been contributing to depressed valuation. They include:
Concerns over a possible slowing economy
Higher potential inflation
Political policy, particularly concern over trade policy
Investor sentiment
The ebb and flow of the markets can be seen in changes over time in the P/E, as shown in the chart below. Valuation is now back above levels seen before the financial crisis of 2008 – but below the recent peak. Much of the increase in valuation was attributed to meaningful declines in interest rates. With interest rates now moving higher, it is not surprising to see the P/E and valuations declining again.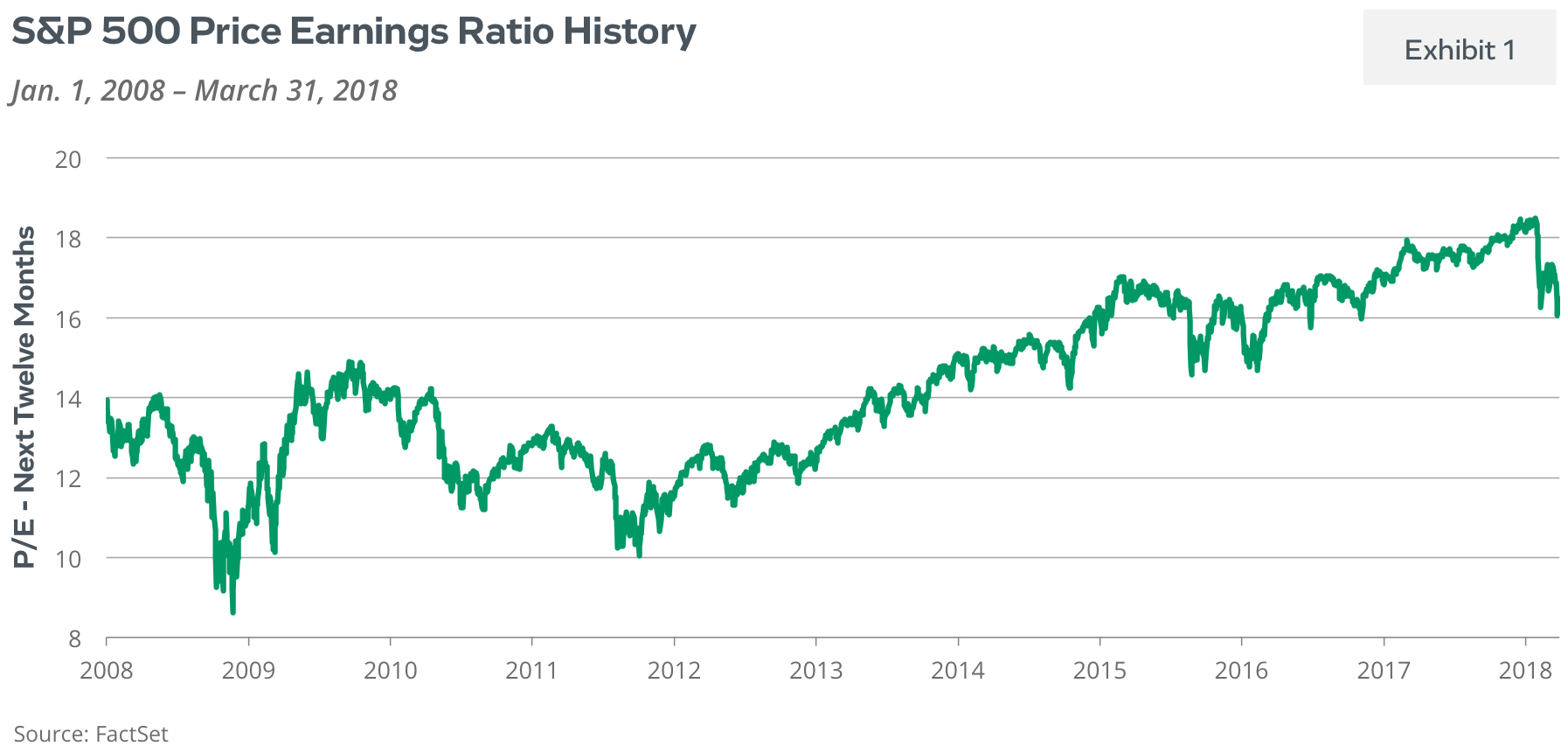 The following chart shows a correlation in projected earnings of the S&P 500 companies and the growth of the S&P 500 Index: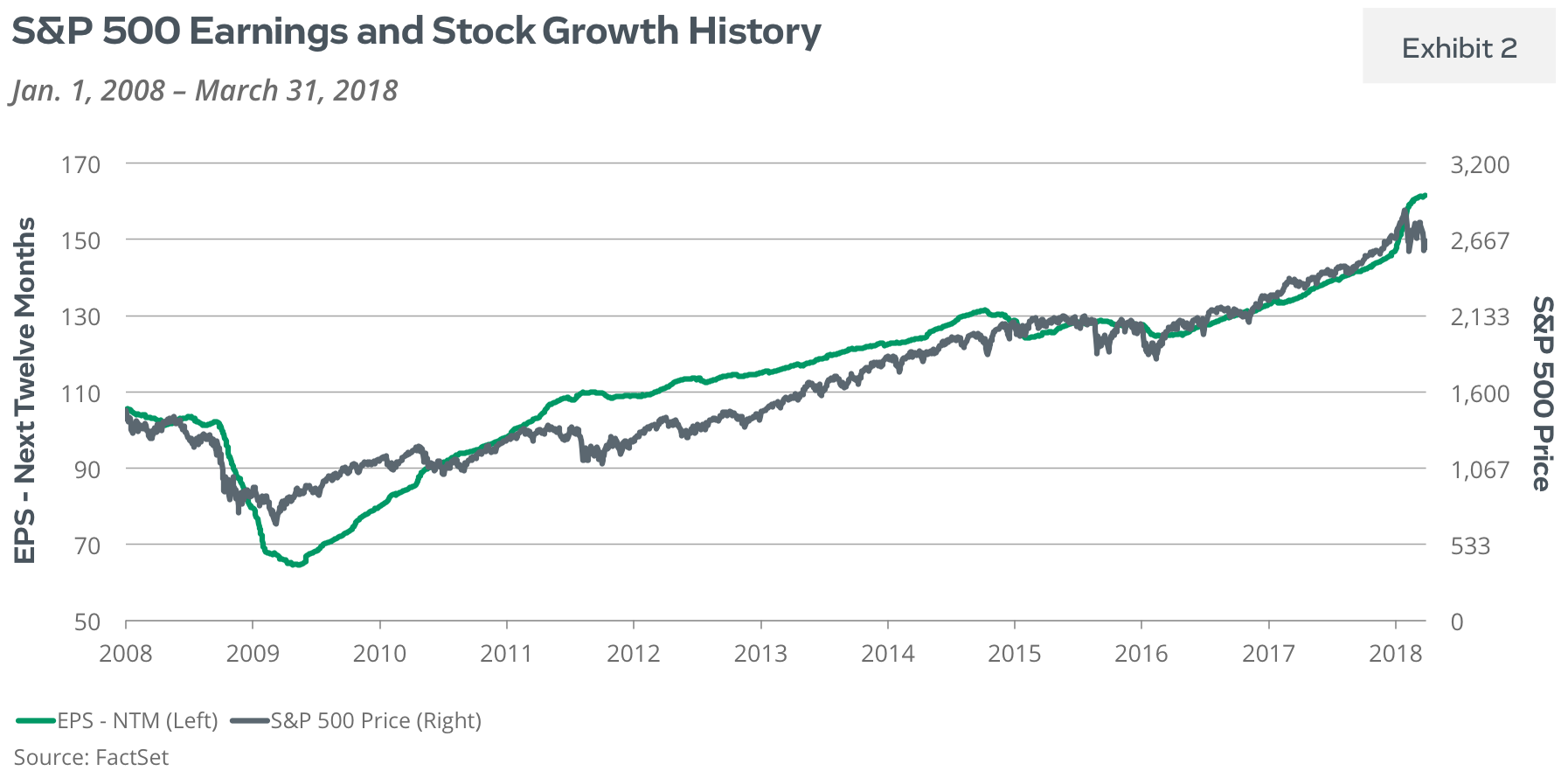 As the chart below illustrates, political policy and geopolitical uncertainty have reached a high level in recent months.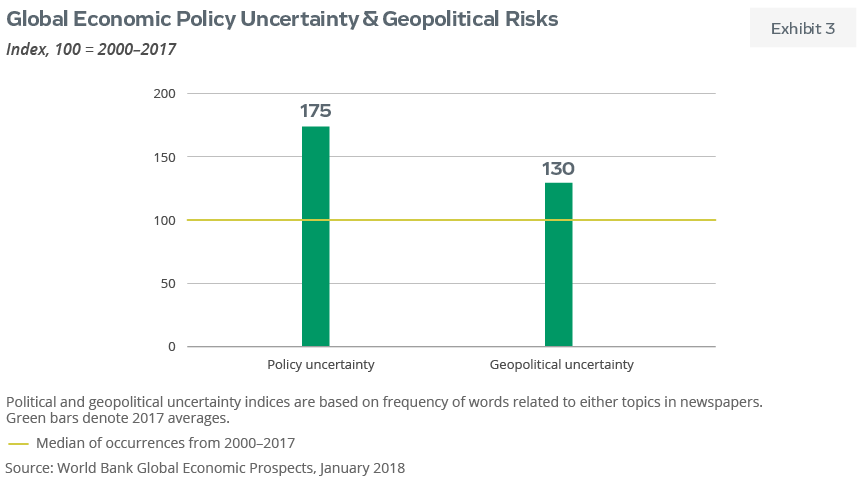 Our expectation remains that in the near term markets will remain buffeted by this "tug of war" between expected earnings growth on one hand and the drag to P/E valuation on the other hand. As such, investor return expectations should be tempered. However, as we've discussed in previous commentaries, in the long run it is earnings growth that really drives long term equity market returns.
Watch Points
Other factors that could weigh on the economy and the markets going forward include:

Fed plans to continue monetary tightening. The Federal Reserve Board has indicated that it will continue to tighten the money supply by reducing its portfolio of debt instruments and by continuing to raise the fed funds rate. The board raised the rate by 0.25% in March and is expected to raise it two or three more times in 2018 if the economy remains strong.
The job market should remain solid. After 89 consecutive months of job growth, the unemployment rate has dipped to just 4.1%. Adding new jobs may become increasingly difficult as the market tightens, but businesses have indicated a desire to continue adding workers. The tight market could drive up wages as businesses compete for qualified workers.
Inflation may pick up. With a strengthening economy, a strong job market and rising interest rates, we may see inflation pick up in the next few months. The industry consensus view for inflation is 2.3% for 2018, but we believe GDP growth could move over 3.0% in the coming years.
International developed markets no longer as promising. Equities in the international developed markets no longer look more attractive than domestic equities. Earnings estimates overseas have stagnated relative to strong U.S. earnings estimates as the dollar weakens and economic activity measures roll over (especially in Europe). An escalation in trade conflicts poses greater risks to most foreign developed markets due to their heavier reliance on export activity, diminishing financial prospects and suppressing investor sentiment. We feel it's appropriate to move to a more neutral position in international equities.
Economic strength in the U.S. should continue if…. personal income and consumer spending remain solid, wages improve, and corporate earnings continue to increase.
Stock Market Retreat Continues: See: 1st Quarter 2018 Market Recap
To see our Market Outlooks every month and learn more about our perspective on the markets, the economy, and investing, subscribe to our Investing Insights newsletter.
Media contact: Samantha Mehrotra, 612-844-4197, samantha.mehrotra@thrivent.com
All information and representations herein are as of 04/04/2018, unless otherwise noted.
The views expressed are as of the date given, may change as market or other conditions change, and may differ from views expressed by other Thrivent Asset Management associates. Actual investment decisions made by Thrivent Asset Management will not necessarily reflect the views expressed. This information should not be considered investment advice or a recommendation of any particular security, strategy or product.  Investment decisions should always be made based on an investor's specific financial needs, objectives, goals, time horizon, and risk tolerance.
Indexes are unmanaged and do not reflect the fees and expenses associated with active management. Investments cannot be made directly into an index.
S&P 500® Index is an index of 500 stocks chosen for market size, liquidity and industry grouping, among other factors. The S&P 500 is designed to be a leading indicator of U.S. equities and is meant to reflect the risk/return characteristics of the large cap universe.
Past performance is not necessarily indicative of future results.
Well that's unexpected - your subscription request was not submitted. Please try again.
Gain From Our Perspective
Get Our Investing Insights Newsletter in Your Inbox.
Subscribe now
Gain From Our Perspective
Get Our Investing Insights Newsletter in Your Inbox.
Subscribe
Thanks for Signing Up!
Be sure to check your inbox for the Investing Insights newsletter to get the latest news and insights from Thrivent Mutual Funds.
Great news - you're on the list!
Looks like you're already on our mailing list. Be sure to check your inbox for the Investing Insights newsletter to get the latest news and insights from Thrivent Mutual Funds.