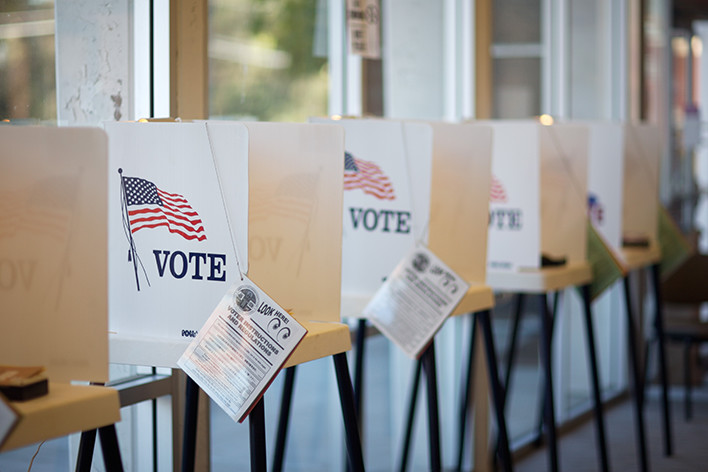 Octobers past have been known for some monumental market meltdowns, most notably the Crash of 1929, Black Monday in 1987, and the Great Recession in 2008 when the Dow Jones Industrial Average plunged 733 points (7.9%) on October 15.
Fortunately, there was no market crash this October, although we did see a 1.94% drop in the S&P 500 for the month. Otherwise, job growth continued (albeit at a slower rate than most previous months this year), the Fed held off on hiking interest rates again, and the price of oil fluttered around the $50-per-barrel range through most of the month before dropping about $4 in the final week while OPEC continued to haggle over a production limitation agreement.
In other words, it was business as usual on Wall Street. But lurking in the background was an elephant in the room known as the U.S. Presidential Election—2016. While presidential elections always seem compelling, controversial, historic, and, at times, bitter and divisive, this election season has been all of the above and more – like a show that we are all both watching and participating in at the same time.
Regardless of the winner, this election will have historic implications. If elected, one candidate would become the first woman president while the other, a businessman, would become the first president since General Dwight D. Eisenhower in 1952 to enter the office with no previous elected experience. At age 70, he would also be the oldest new president ever to enter the office, while his 69-year-old opponent would be the second oldest – just a few months shy of Ronald Reagan. How the election of either candidate would affect the markets and the economy remains to be seen.
But there are a few trends from past elections that may give us some insights on what to expect from the market in the weeks after the election – noting, of course, that past performance may not be viewed as an indication of future results.
Over the past 64 years, the market has been kindest to incumbents who are reelected. Every time an incumbent president has been reelected during that period – including Eisenhower, Johnson, Nixon, Reagan, Clinton, George W. Bush, and Obama – the S&P 500 has moved up from November 1 to December 31.
The markets have also done well when new presidents have been elected, except during times of crisis. The market went up from November 1 to December 31 in the first term election of Eisenhower, Kennedy, Nixon, Carter, George H.W. Bush, and Clinton, but went down after the first term election of Reagan, George W. Bush and Obama.
Reagan was elected during a tough economic crisis in 1980 while Obama won his first election in 2008 during the Global Financial Crisis. George W. Bush won the election in 2000, but the outcome remained in limbo for weeks as votes in Florida were recounted. The election was finally decided by a Supreme Court ruling December 12, five weeks after the election. The next day, Bush's opponent, Al Gore, conceded and accepted the election of Bush as the 43rd U.S. President. While you might have expected some relief on Wall Street once the election was settled, the S&P 500 actually dropped 2.8% through the final two-and-a half weeks of 2000, from 1371 to 1333.
Although the election polls in this year's campaign have fluctuated widely – and their validity often challenged – they have all revealed one constant. They all show strong majority support for each candidate from within their respective parties. In other words, regardless of who wins this election, it could all begin again in just three years. Can you say "sequel?" Stay tuned.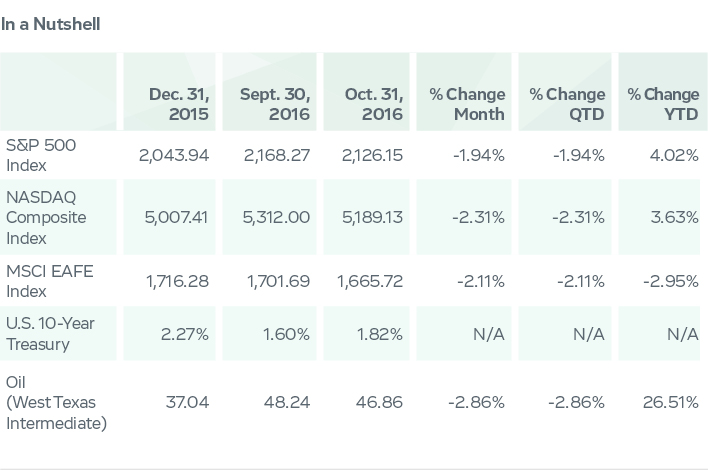 Drilling Down
Stocks Slip
After two months with very little fluctuation in the S&P 500, the market dropped 1.94% in October, from 2168.27 to 2126.15.  The S&P is still up 4.02% through the first 10 months of 2016.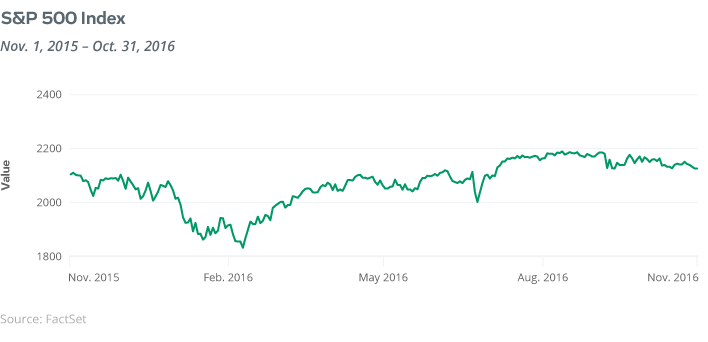 GDP Growth Spurt
U.S. GDP grew at an annualized rate of 2.9% in the third quarter of 2016, according to the "advance" estimate released by the U.S. Department of Commerce, Bureau of Economic Analysis (BEA) on October 28. That was a significant jump from the second quarter when GDP grew 1.4%.
The BEA attributed the strong growth to "positive contributions from personal consumption expenditures, an upturn in private inventory investment, an acceleration in exports, a smaller decrease in state and local government spending, and an upturn in federal government spending."
In its report, the Commerce Department also noted that "current-dollar personal income increased $153.6 billion in the third quarter, compared with an increase of $153.1 billion in the second, while disposable personal income increased $125.3 billion, or 3.6 percent, in the third quarter, compared with an increase of $140.6 billion, or 4.1 percent, in the second. Real disposable personal income increased 2.2 percent, compared with an increase of 2.1 percent in the second quarter."
Retail Sales Strengthen
After a tepid U.S. Census Bureau retail sales report in September showing a 0.3% monthly decline in retail sales in August, a new report issued October 14 showed sales in September up 0.6% from the previous month and up 2.7% year-over-year.
While we expect very little growth in year-over-year sales for mall-based retailers this holiday season, online sales continue to flourish. Online sales were up 15.8% from a year ago through the second quarter, according to the U.S. Department of Commerce. Online sales accounted for 8.1% of all retail sales through the first two quarters of the year versus 7.5% a year earlier. In all, retail sales (including food services), were up 2.9% year-over-year through the first nine months of 2016. (See: Online Sales Filling Santa's Sleigh This Year)
Jobs Still Moving Up
Job growth has slowed somewhat in August and September versus most previous months this year, but still showed an increase. According to the U.S. Department of Labor employment report issued Oct. 7, U.S. employers added 156,000 new nonfarm jobs in September, following a gain of 167,000 new jobs in August.  
We believe the decline in monthly job growth numbers this year is a natural result of the drop in the unemployment rate from 10% to about 5% over the past few years. At 5.0%, which was the rate reported in September, the economy is nearing full employment (which the Fed has defined as about 4.8%).
Job growth typically trends toward the growth rate of the working-age population, but not at twice the rate of population growth, as we've seen over the past few years of the recovery.  Now that we are at a fuller employment level, the important metric to watch will be wage growth. While employment growth only affects the new jobholders, wage growth affects all 135 million+ Americans with jobs. (See: Job Growth Slow in September for Second Straight Month)
Sector Returns
Most sectors have followed the general downward trend of the market this month, with a couple of exceptions. The S&P Financial Index was up 2.30% after trailing the averages last month in the wake of the Wells Fargo scandal. The only other sector in positive territory last month was Utilities, up 0.87%.
After a strong month in September, the S&P Energy sector stumbled again in October, down 2.91%. The other leading losers included Health Care, down 6.53%, and Telecom Services, down 6.47%.
Standard & Poor's recently added a new sector, Real Estate, which had been part of the Financial sector previously. Real Estate entered its inaugural month with a thud, dropping 6.47% for the month.
The table below details the monthly, quarterly and year-to-date performance of each of the 11 S&P 500 sectors: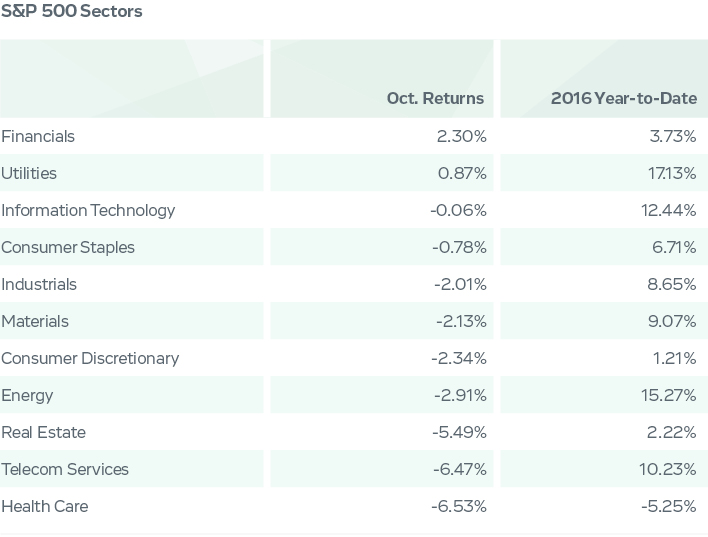 Bond Market: Still No Rate Hike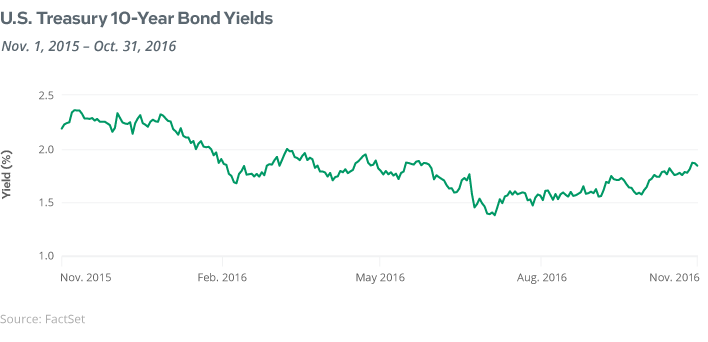 The Fed once again left interest rates unchanged in October as the economy continued its slow growth mode. The Fed has not raised rates since December 2015. The latest GDP report showing growth of 2.9% for the third quarter may help spur the Fed to raise rates after the election in November or December. (See: Where's that Fed Hike?)
Interest rates continued to move up, ending the month at 1.82% on 10-year U.S. Treasuries – well above the all-time low of 1.36% on July 8, 2016.  (See: Where to Find Income.) 
Dollar Rises Versus Euro and Yen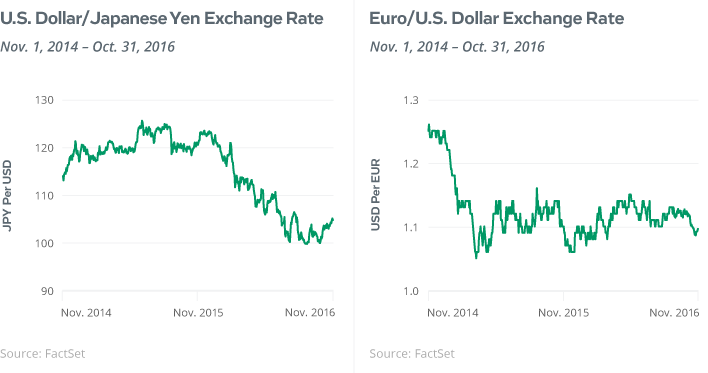 The dollar strengthened against both the Euro (by 2.46%) and the Yen (by 3.77%) during the month of October.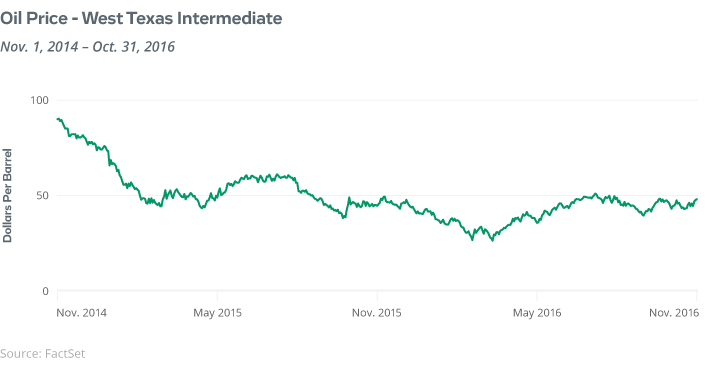 Oil prices took a last minute dive the final two days of the month to end October down 2.86%, from $48.24 per barrel on September 30 to $46.86 on October 31.  OPEC has continued to work toward a production limitation agreement designed to bring the supply of oil more in line with the demand.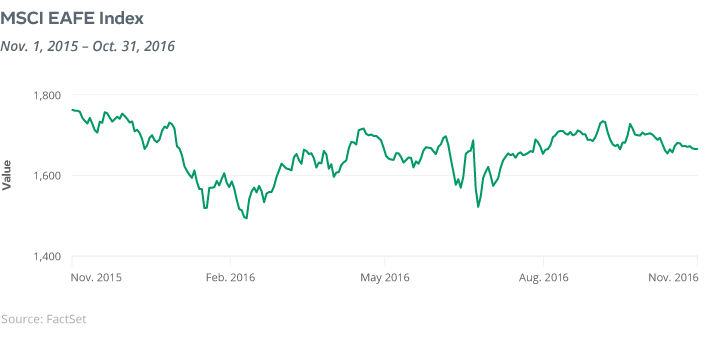 Similar to the U.S. stock market, the global equity markets retreated in October. After closing September 30 at 1701.69, the MSCI EAFE Index dropped to 1665.72 on October 31 – a 2.11% decline for the month. The MSCI EAFE is down 2.95% for the year. 
---
CIO Outlook
By: Russell Swansen, Chief Investment Officer, Thrivent Asset Management
What's ahead for the economy and the markets? Here's our assessment:
Headwinds
We continue to be concerned about sub-par corporate earnings and weak manufacturing output levels. The financial sector has also continued to struggle with lower margins due to low interest rates, higher regulatory costs and declining corporate banking activity. Some banks and financial institutions also face the prospect of delinquencies and defaults in the oil production sector as oil prices continue to struggle.
Although oil prices moved up slightly over the past month, the energy sector is still well short of a full recovery. However, strong GDP growth in the third quarter could persuade the Fed to raise interest rates in November or December. While a small rate hike could serve to strengthen the U.S. dollar – which could inhibit the competitiveness of U.S. exporters, we believe that a small rate hike would help net savers without adversely affecting the housing market or consumer spending.
Tailwinds
After two disappointing months, retail sales surged in October, up 0.6% month-over-month and 2.9% year-over-year, according to the U.S. Commerce Department. Historically, consumption accounts for about two-thirds of the U.S. economy – and has been the singular area of strength in the recovery so far, as manufacturing lagged. A strengthening in the consumer sector could help propel the economy to stronger growth moving forward.
New GDP growth figures showing real growth of 2.9% annualized in the third quarter also may provide a ray of hope that the economy is bouncing back. However, while the growth rate seems robust on the surface, the underlying details were not as strong.  Net trade added 0.8%, but that was driven by the huge surge in soybean exports due to a drought in South America. In addition, an inventory build-up added 0.6%.  Neither development is considered to be sustainable.
Domestic final sales (GDP less inventories and trade) were much weaker at +1.4%.  We consider that figure to be a better indicator of the underlying strength of the economy on an ongoing basis.
Although job growth slowed the past two months, the unemployment rate is still hovering at about 5%, which is considered to be close to full employment. This slow-down in monthly job gains is a natural trend as the economy nears full employment. However, we still see some weakness in the jobs picture. Although the labor force participation rate for those in their prime working years (25-54 year olds) moved up to its highest level since 2012 at 81.7% in September, it is still about 1.5 percentage points below the pre-recession level. 
While wage growth of 2.6% this year through September is encouraging, if wages continue to climb at a strong rate, that could impact corporate profit margins, which could become a headwind over the next 12 to 18 months.
Expectations
With Election Day just a week away, we believe much of the impact of a new president is already priced into the market. Although neither candidate would receive high marks in terms of their perceived ability to drive the economy, we believe that a president's influence on the economy is typically fairly modest. It is Congress that controls fiscal policy and the budget, so either of this year's leading candidates would likely face resistance from Congress – and perhaps gridlock – if they were to push for any substantive fiscal policy changes.
From an economic perspective, the stronger-than-expected GDP growth in the third quarter could bode well for the stock market going forward, although, as noted, the underlying details were not as impressive. As a result, we still anticipate a GDP growth rate of only about 1.5% for all of 2016, which is lower than the historic average.
Globally, over the next 12 months, we believe that China will have GDP growth of about 6%, Japan will have flat or negative growth, and Europe will have growth of about 1.6%. Actual reported annualized GDP growth through the second quarter of 2016 was 6.7% for China, 0.8% for Japan, and 1.6% for Europe.
In the U.S., despite weak corporate earnings growth and sluggish consumer spending, the economy has avoided recession so far, and we are not projecting a recession in the near term. We expect modest growth with a somewhat elevated risk of recession sometime in the next 12 months if job growth slows and consumer spending ebbs.
Media contact: Callie Briese, 612-844-7340; callie.briese@thrivent.com
All information and representations herein are as of 10/31/2016, unless otherwise noted.
The views expressed are as of the date given, may change as market or other conditions change, and may differ from views expressed by other Thrivent Asset Management associates. Actual investment decisions made by Thrivent Asset Management will not necessarily reflect the views expressed. This information should not be considered investment advice or a recommendation of any particular security, strategy or product.  Investment decisions should always be made based on an investor's specific financial needs, objectives, goals, time horizon, and risk tolerance.
Indexes are unmanaged and do not reflect the fees and expenses associated with active management. Investments cannot be made directly into an index.
S&P 500® Index is an index of 500 stocks chosen for market size, liquidity and industry grouping, among other factors. The S&P 500 is designed to be a leading indicator of U.S. equities and is meant to reflect the risk/return characteristics of the large cap universe.
Dow Jones Industrial Average (Dow) is an index that shows how 30 large publicly owned companies based in the United States have traded during a standard trading session in the stock market.
The NASDAQ (National Association of Securities Dealers Automated Quotations) is an electronic stock exchange with more than 3,300 company listings.
The MSCI EAFE Index measures developed-economy stocks in Europe, Australasia and the Far East.
West Texas Intermediate (WTI) is a grade of crude oil used as a benchmark in oil pricing.
Past performance is not necessarily indicative of future results.
Well that's unexpected - your subscription request was not submitted. Please try again.
Gain From Our Perspective
Get Our Investing Insights Newsletter in Your Inbox.
SUBSCRIBE NOW
Gain From Our Perspective
Get Our Investing Insights Newsletter in Your Inbox.
SUBSCRIBE
Thanks for Signing Up!
Be sure to check your inbox for the Investing Insights newsletter to get the latest news and insights from Thrivent Mutual Funds.
Great news - you're on the list!
Looks like you're already on our mailing list. Be sure to check your inbox for the Investing Insights newsletter to get the latest news and insights from Thrivent Mutual Funds.