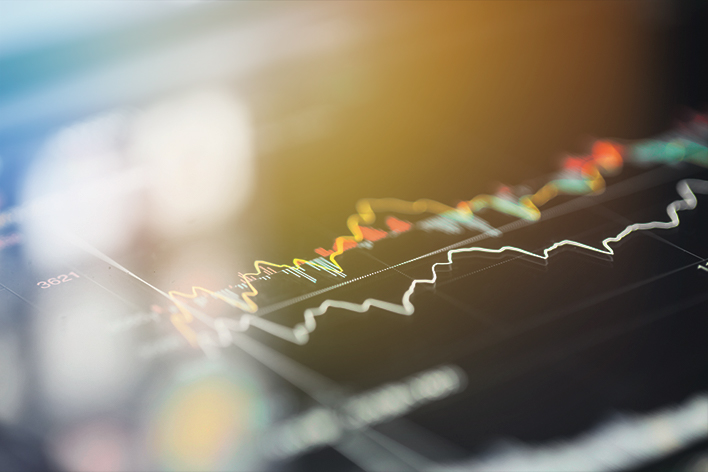 Market interest rates moved up in November with the election of a new president who has advocated for spending more on infrastructure and the military while cutting taxes. Fixed income investors drove rates higher over concerns that the combination of increased government spending and lower tax revenue could lead to a growing deficit and mounting inflation.
A large sell-off in the bond market pushed up rates on 10-year U.S. Treasuries from 1.82% at the end of October to 2.39% November 30. The mortgage market has also been affected. The average rate on 30-year mortgages went from about 3.5% in October to just over 4% in November, according to the Federal Home Loan Mortgage Corporation (Freddie Mac).
The stock market also climbed to a new high, continuing a post-election trend in which the market had moved up after 12 of the past 16 presidential elections. However, early results are no precursor of market performance once a president takes office. Of those 16 elections, by February 1 of the following year – shortly after the president took office – the market fell below its Election Day level seven of the 16 times.
Here are some other highlights from the month, covered in more detail later in this report:
Oil prices bounced around daily as OPEC negotiated over production cuts. Once they finally reached an agreement to reduce production in a November 30 meeting, oil prices closed the month up 5.51% at $49.44 per barrel (West Texas Crude).
Retail sales have been growing, with a year-over-year increase of more than 4%, according to the November U.S. Commerce Department retail report.
The unemployment rate remained at 4.9% as U.S. employers added 161,000 new jobs in October, according to the U.S. Department of Labor.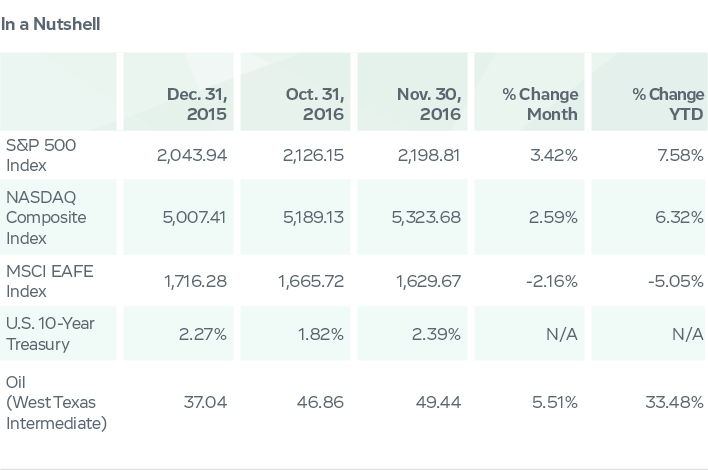 Drilling Down
Stocks Enjoy an Election Bump
The S&P 500 moved up 3.42% for the month. After closing October at 2126.15, the index ended trading on November 30 at 2198.81. The S&P 500 is up 7.58% through the first 11 months of 2016.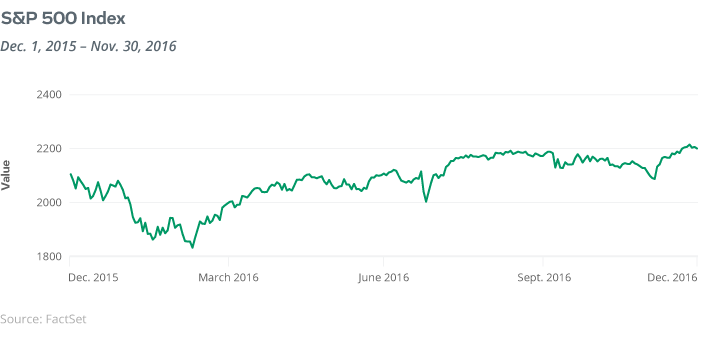 Retail Sales Strong
Retail sales have experienced a solid increase, according to the U.S. Department of Commerce retail sales report issued November 15. Retail and food services sales in October were up 0.8% from the previous month and up 4.3% year-over-year (adjusted for seasonal variation and holiday and trading-day differences). Retail and food services sales for September were also revised up in the new report to reflect a 1.0% increase from the previous month.
The non-store retailer segment (online sales) was the fastest growing segment, up 12.9% year over year.
Strong GDP Growth
Real gross domestic product increased at an annualized rate of 3.2% in the third quarter, according to a revised estimate released November 29 by the Bureau of Economic Analysis (BEA). That was an update of the original estimate of the 2.9% GDP growth issued a month earlier. The new 3.2% estimate reflects a larger-than-estimated increase in personal consumption expenditures.
Jobs Still Moving Up
U.S. employers added 161,000 nonfarm jobs in October, which is well below the average monthly job growth over the past two years, but the average hourly wage grew by 10 cents, according to the U.S. Department of Labor, Bureau of Labor Statistics, Employment Situation report issued November. 4.
Job growth, which had been rising faster than the population, has been trending down toward the growth rate of the working-age population. Despite the slower job growth, the unemployment rate is at 4.9%, which is around full employment (the Fed has defined as about 4.8%). We believe the declining pace of job growth is the natural result of the drop in the unemployment rate.
The labor force participation rate for those in their prime working years (age 25-54) improved slightly, inching up to 81.5%, which is the highest it has been since 2012. However, it is still 1.5% below the pre-recession level.
Sector Returns
Financial stocks led the way in November as market interest rates moved up. The S&P 500 Financials sector surged 13.94% for the month. Energy also rallied on news of a new OPEC agreement to cut production, moving up 8.40% for the month. Other strong sectors included Industrials, up 8.85%, Materials, up 6.86%, and Consumer Discretionary, up 4.70%.  
The table below details the monthly, quarterly and year-to-date performance of each of the 11 S&P 500 sectors: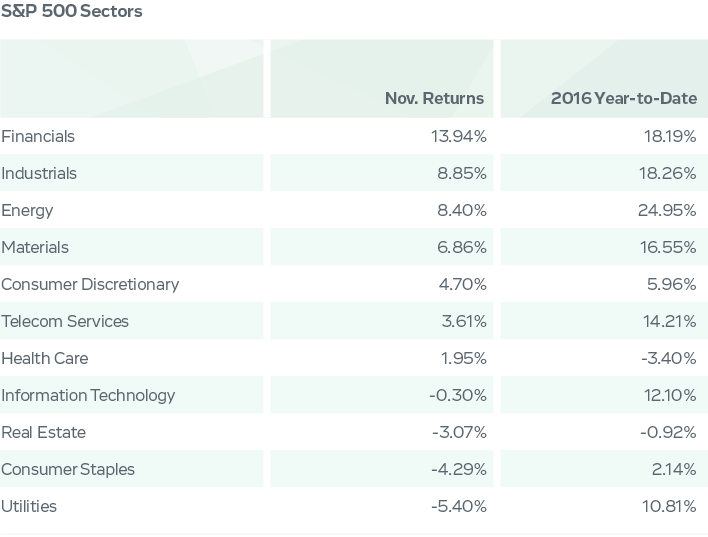 Bond Market: Market Rates Jump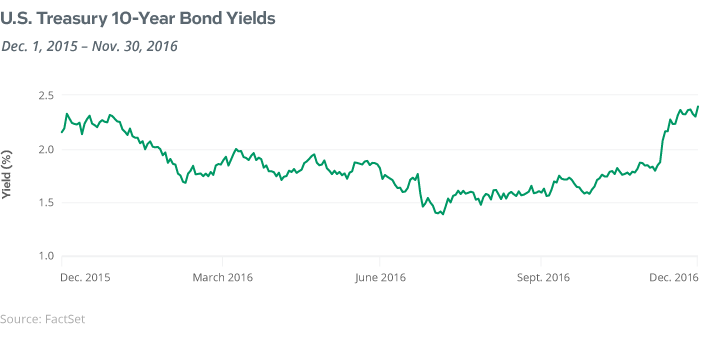 Although the Fed declined to raise rates in November, the Fed board still left open the possibility of a rate hike in December. So far in 2016 the Fed has not approved a single rate hike.
After ending October at 1.82%, the market rate on 10-year U.S. Treasuries moved up to 2.39% to end November.
Dollar Rises Versus Euro and Yen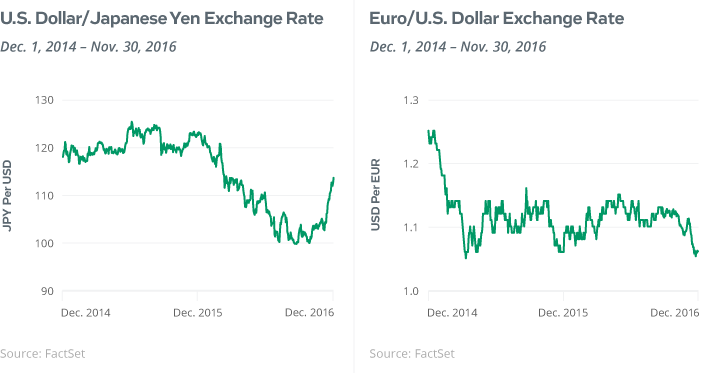 The dollar strengthened against both the Euro (by 3.23%) and the Yen (by 8.43%) during the month of November.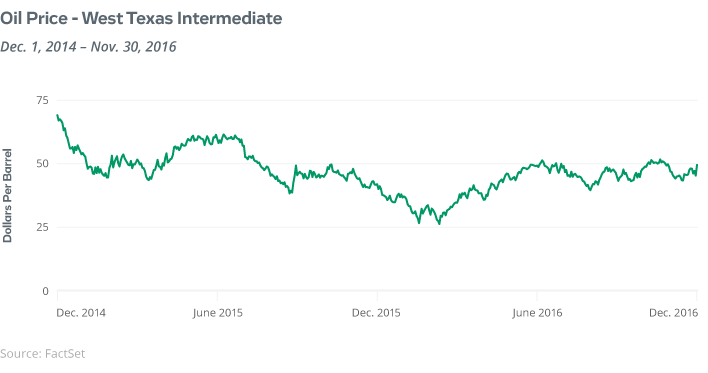 The oil market focus for the month was OPEC's November 30 meeting.  While signals were mixed leading up to the meeting, ultimately OPEC did agree to cut production by 1.2 million barrels per day, driving oil prices up on the month's final day to $49.44 – a 5.51% gain for the month.  Demand statistics have been fairly strong and should remain that way – or slightly better if economic growth improves after changes in Washington.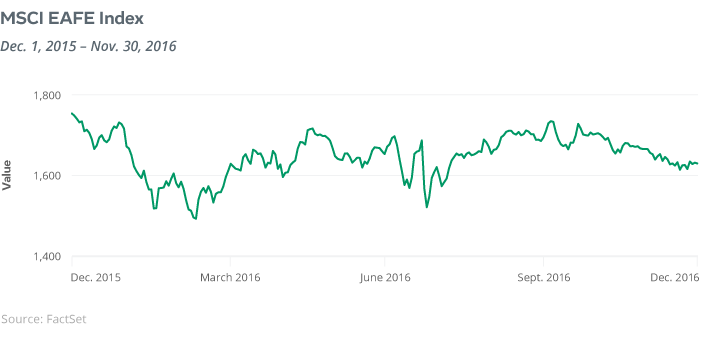 While the U.S. stock market moved up in November, the global stock market edged down, which we believe may be due to apprehension over the new U.S. presidential administration. After closing October 31 at 1665.72, the MSCI EAFE Index edged down to 1629.67 on November 30 – a 2.16% decline for the month. The MSCI EAFE is down 5.05% for the year.
---
CIO Outlook
By: Russell Swansen, Chief Investment Officer, Thrivent Asset Management
Heading toward a new year with a new presidential administration, here's what we see ahead for the economy and the markets: 
Headwinds
Financial stocks did well the past month on expectations that interest rates may be moving up under the new administration. However, banks still face slim margins due to low interest rates, higher regulatory costs and declining corporate banking activity.
We also continue to be concerned about sub-par corporate earnings and weak manufacturing output levels of U.S. corporations.
The dollar gained against most of the world's currencies in November, and could move up again if the Fed raises interest rates in December. A strong dollar makes imports cheaper but makes American goods and services less competitive abroad. However, we believe that the economy could absorb a small rate hike, which would help net savers without severely affecting the housing market, business investment, or consumer spending.
Tailwinds
The revised estimate of 3.2% GDP growth in the third quarter was encouraging although somewhat misleading. Net trade added 0.8%, but that was driven by a surge in soybean exports due to a drought in South America. In addition, an inventory build-up added 0.6%.  Neither development is considered to be sustainable.
Retail and food services sales have been strong this fall, with a 0.8% month-over-month increase reported in October, following a 1.0% gain in September. Year-over-year sales (adjusted for seasonal variation and holiday and trading-day differences) were up a solid 4.3%.
Although job growth has tapered off the past three months, the unemployment rate is just 4.9%, which the Fed considers to be around full employment. However, we believe the labor force participation rate for those in their prime working years (25-54 year olds) is still a concern. It has moved up slightly the past two months but remains 1.5 percentage points below the pre-recession level. 
Wages were up an average of 10 cents per hour to $25.92 in October, following an 8-cent increase in September, according to the Department of Labor. That marks a 2.8% year-over-year increase in average hourly earnings, which is an encouraging development, but if wages continue to move up at a strong rate, that could impact corporate profit margins, which could become a headwind over the next 12 to 18 months.
Expectations
Expectations for the incoming presidential administration have already had an effect on the economy, as market interest rates and mortgage rates have moved up. While Trump has announced ambitious plans for the economy, his influence will be tempered by Congress, which controls fiscal policy and the budget.
Globally, over the next 12 months, we believe that China will have GDP growth of about 6%, Japan will have flat or negative growth, and Europe will have growth of about 1.6%. Actual reported annualized GDP growth through the second quarter of 2016 was 6.7% for China, 0.8% for Japan, and 1.6% for Europe.
In the U.S., we expect modest GDP growth over the next 12 months of about 1.5% to 2.0%. Although we are not projecting a recession in the near term, we believe the risk of recession in the next 12 months remains elevated. However, that may be avoided if the tailwinds of job growth and consumer spending can offset the headwinds of weak corporate earnings growth and low manufacturing production.
Media contact: Callie Briese, 612-844-7340; callie.briese@thrivent.com
All information and representations herein are as of 11/30/2016, unless otherwise noted.
The views expressed are as of the date given, may change as market or other conditions change, and may differ from views expressed by other Thrivent Asset Management associates. Actual investment decisions made by Thrivent Asset Management will not necessarily reflect the views expressed. This information should not be considered investment advice or a recommendation of any particular security, strategy or product.  Investment decisions should always be made based on an investor's specific financial needs, objectives, goals, time horizon, and risk tolerance.
Indexes are unmanaged and do not reflect the fees and expenses associated with active management. Investments cannot be made directly into an index.
S&P 500® Index is an index of 500 stocks chosen for market size, liquidity and industry grouping, among other factors. The S&P 500 is designed to be a leading indicator of U.S. equities and is meant to reflect the risk/return characteristics of the large cap universe.
Dow Jones Industrial Average (Dow) is an index that shows how 30 large publicly owned companies based in the United States have traded during a standard trading session in the stock market.
The NASDAQ (National Association of Securities Dealers Automated Quotations) is an electronic stock exchange with more than 3,300 company listings.
The MSCI EAFE Index measures developed-economy stocks in Europe, Australasia and the Far East.
West Texas Intermediate (WTI) is a grade of crude oil used as a benchmark in oil pricing.
Past performance is not necessarily indicative of future results.
Well that's unexpected - your subscription request was not submitted. Please try again.
Gain From Our Perspective
Get Our Investing Insights Newsletter in Your Inbox.
SUBSCRIBE NOW
Gain From Our Perspective
Get Our Investing Insights Newsletter in Your Inbox.
SUBSCRIBE
Thanks for Signing Up!
Be sure to check your inbox for the Investing Insights newsletter to get the latest news and insights from Thrivent Mutual Funds.
Great news - you're on the list!
Looks like you're already on our mailing list. Be sure to check your inbox for the Investing Insights newsletter to get the latest news and insights from Thrivent Mutual Funds.