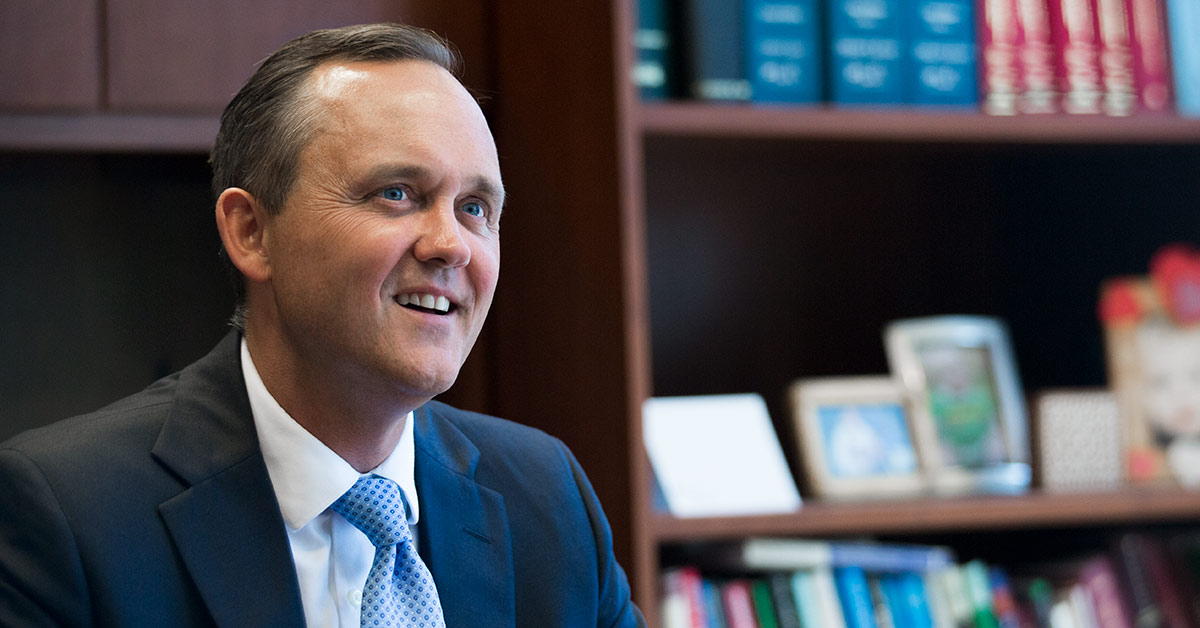 David Royal, who has served as President of Thrivent Mutual Funds since 2015, took on an expanded role July 1 as Senior Vice President, Chief Investment Officer (CIO) of Thrivent Financial following the retirement of Russell Swansen. A native of Madison, Wisconsin, David received both his undergraduate and law degrees at Yale University, and has spent the past 20 years working in the investment management industry. He joined Thrivent Financial in 2006.
His career in the asset management arena actually began as an intern in his final year of law school in 1996 when he was asked to attend the negotiations involving Morgan Stanley's acquisition of Van Kampen Investments. "From the very beginning, I was involved in asset management," says David. "I've worked with essentially every asset class you can think of – public or private – and I've worked with or represented almost every major asset management firm in the country in a variety of capacities as an investment management attorney."
Outside of Thrivent, David, his wife Stacey and their sons Walter and Stewart are active in their church in Long Lake, Minnesota. He also coaches his sons in baseball. Both boys, like their father, are also talented golfers.
In this wide-ranging interview, David details his plans and goals for the future of Thrivent's asset management division, identifies the biggest challenges he anticipates in his new role, and offers his philosophy on managing his team and helping investors be wise with money.
Q. You joined Thrivent in 2006 after spending 10 years with a large law firm in Chicago. Why did you decide to switch to a financial services firm like Thrivent?
We had just had our first child and we wanted a more balanced life. Being from Wisconsin, I was familiar with Thrivent and had a lot of respect for the organization and its mission, and I wanted to be a part of that. The job I took fit my skill set very well. I oversaw the legal work for the mutual funds, the insurance company's general account and what was known then as Thrivent Financial Bank (now Thrivent Federal Credit Union).
Q. What kind of changes have you seen in the organization since then?
The expansion of the common bond to all Christians is certainly the biggest change I've seen. But there are more subtle changes. For instance, when I joined Thrivent in 2006, I think we had a good investment operation, but over the past 11 years, we've really taken our investment capabilities to the next level. 
We're now managing asset classes we didn't manage back then; we've built out a quantitative research group; we've grown our number of analysts dramatically since then. Our capabilities really look nothing like what they looked like in 2006, particularly in terms of bottom-up fundamental research. Back then, for example, we didn't manage leveraged loans, but now they are a big part of our portfolio. We've also expanded our private equity team and built a large multi-billion dollar private equity portfolio.
Q. What impact did your predecessor, Russell Swansen, have on the culture of the asset management team?
Russ really brought a culture of professional, institutional asset management to Thrivent. He did that in a couple of ways: first by attracting and adding the right talent. We were able to attract some very good talent during the downturn of 2008 and 2009 when others were letting folks go. He also created the right incentives for asset management professionals in terms of their compensation and their metrics. If you get the right people and you give them the right incentives, you tend to have good investment results. That was his approach to running a financial management operation, and it's probably the most important thing I learned from him – get quality people, incent them properly, and let them do their job.
Russ also raised the level of confidence and competence of the investment team. The performance after Russ joined the firm was considerably stronger than it had been before. Russ established some true institutional parameters in terms of risk management which created a discipline and confidence that wasn't here before.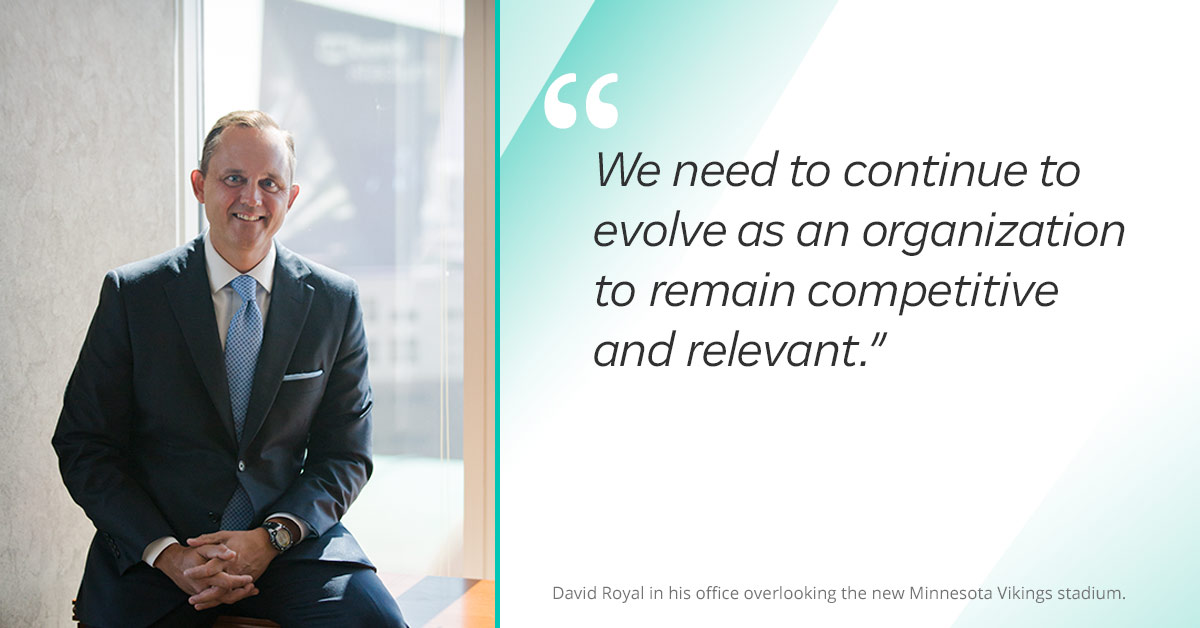 Q. What is your vision for Thrivent Asset Management in your first year as CIO?
We've had a lot of success in recent years and we want to keep the ship moving in the right direction. So we won't make any large scale changes in the short term, but we need to continue to evolve as an organization to remain competitive and relevant
Q. What do you see as your greatest challenges in your new leadership role?
Taking over as CIO after several years of very good performance with our investments and very good absolute returns in the market may be the biggest challenge I face right now. The markets have had a great run, but assets seem pretty rich nearly across the board. With stocks at a fairly rich valuation and interest rates poised to rise, finding value in the market has become increasingly difficult. So the biggest challenge I see is to try to build on and continue that success in the context of eventually anticipating a market downturn, and being in a position to manage through that effectively.
The theme that I have been trying to address with the investment team is "how do we make sure we're positioned in the best possible way for the next economic or market downturn, both to remain strong and stable as an organization but, even more so, to capitalize on opportunities and use our strong capital position to leverage those opportunistic investments?"
When the tech market bubble burst in the early 2000s – before Russ – the firm had to sell at the very bottom of the market—exactly the wrong time. We were much better positioned in 2008 and 2009. We went into the down market with a strong capital position, so we didn't have to do any forced selling. In fact, we were able to capitalize on some undervalued assets, such as non-agency mortgage-backed bonds, (that is, mortgage-backed securities that aren't guaranteed by a government agency) which we felt represented a significant opportunity in the market at the time.
Positioning ourselves for the inevitable market downturn is a lot harder than people may think. It can be very painful to be underweighted in risk assets – particularly equities – if the market continues to go up. But when the next market downturn comes – and no one knows when that will be – I would like for us to be in an even better position to capitalize on those types of opportunities.
Another challenge is retaining our current talent. We've attracted some very talented people over the years who have compiled some pretty great track records. How do we keep the great talent we have while continuing to grow and add more good people?
Q. How will your experience working with many of the nation's leading asset management firms before coming to Thrivent help you in your new role?
Every investment management firm is a little different in how they do things. That breadth of experience working with different firms has given me a good perspective in overseeing the very diverse investment management operation at Thrivent. The role of CIO at a firm like Thrivent is much too broad for one person to manage all those asset classes in a hands-on way. What you need is a breadth of experience and the perspective to allocate the responsibility properly and attract and retain the right people.
Q. What can you tell us about your plans for growth over the coming months or years?
Thrivent is on a journey to help even more Christians be wise with money. As part of that, we're distributing our funds through channels in which Thrivent has never distributed its products before. Our funds are available on ThriventFunds.com, and on the Schwab, Fidelity and TD Ameritrade retail and advisor platforms, among others. We're reaching out to a broader group of people than we ever have before in our effort to continue to grow both the assets of the funds and the number of people we're serving.
Q. What are you most excited about in the mutual fund and investment industry?
There are a lot of new things going on in the industry and new types of strategies that get a lot of attention these days, but what I get most excited about is our traditional bottom-up, fundamental research approach. I think our results the past few years have shown that there is very definitely a place for a traditional, bottom-up, active management strategy.
Q. Do you have a vision of where you would like Thrivent Asset Management to be in the next five to 10 years?
I'd like to see us double the size of our assets under management and at least double the number of shareholders we serve. What will that take? The people in our organization need to be nimble and agile, with the ability to adapt to market opportunities. No one knows what the investment industry is going to look like five years from now, let alone 10 years from now, so you can't have a 10-year roadmap for exactly how to get from point A to point B. That's why we need people who can adapt quickly to changing markets and industry trends in order to reach that goal.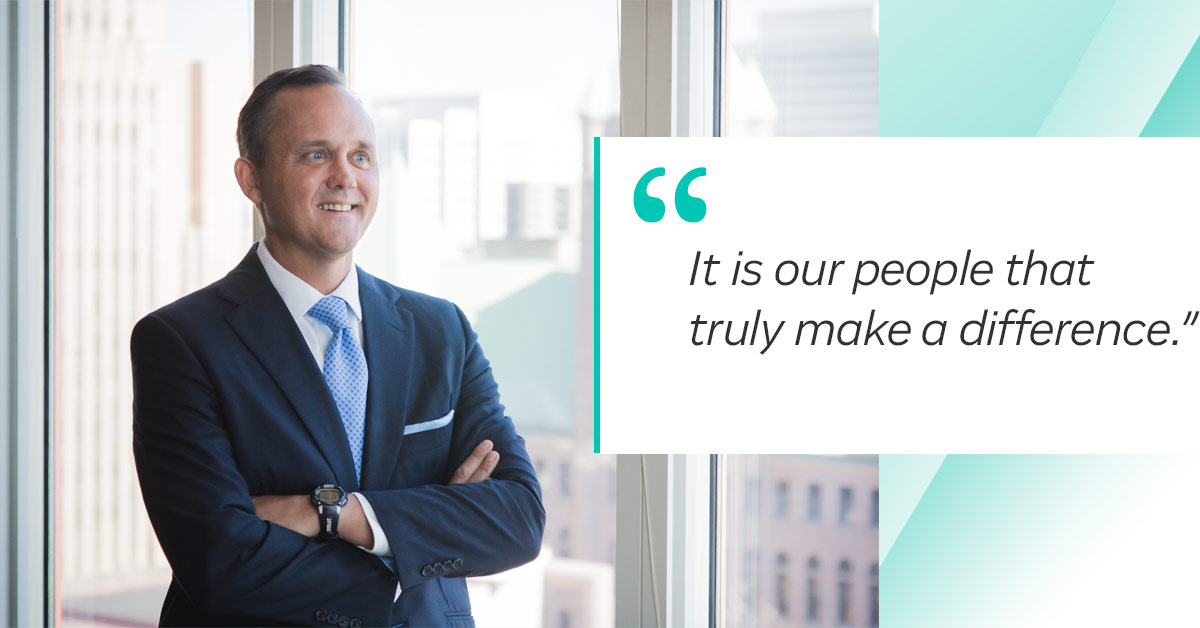 Q. What would you like investors in Thrivent Mutual Funds to know about the people behind their investments?
First, I'd like to thank them for the trust they have placed in us. We know there are many other investment choices in the market. We don't take for granted the trust and confidence our investors have in us. Instead, it is what motivates all of us to do the best we can at managing their money and helping them reach their financial goals.
Second, I want them to know it is our people that truly make the difference. We have an incredibly qualified and credentialed group of investment professionals. About 85% of our fund managers have their Chartered Financial Analyst designation, an advanced degree, or both, and nearly half have at least 20 years of experience in the investment industry. These are also people who work very hard and care deeply about Thrivent and its mission to help investors be wise with money. All of our portfolio managers take a long term view of the markets. We're investors, not traders.
Q. What are your thoughts on active versus passive investing, and which do you believe is best for investors?
We believe that most people need help. Study after study has shown that people who get help in one form or another outperform those who don't. Just to say that someone should be in an index fund is not the end of the story. Anyone can buy an ETF or index fund through a brokerage account, but with no help or advice, you may buy and sell at the wrong time, which can negate the benefits of a passive approach. Certainly there are some investors who are capable of doing ongoing asset allocation on their own, but we believe that most people need help in some form or another. For a lot of investors, that help can be delivered very efficiently and effectively through a solution-based, actively-managed mutual fund.
Q. What principles or philosophies have you successfully applied to your life and career? How do you see these translating as you now lead Thrivent's asset management business?
My management and professional philosophy has been to try to lead by example. Do the best work you possibly can yourself and expect others to do the same. As a manager, if you're doing good work and coming up with creative solutions, that will help and encourage your team to do the same.
All information and representations herein are as of 08/22/2017, unless otherwise noted.
The views expressed are as of the date given, may change as market or other conditions change, and may differ from views expressed by other Thrivent Asset Management associates. Actual investment decisions made by Thrivent Asset Management will not necessarily reflect the views expressed. This information should not be considered investment advice or a recommendation of any particular security, strategy or product.  Investment decisions should always be made based on an investor's specific financial needs, objectives, goals, time horizon, and risk tolerance.
Well that's unexpected - your subscription request was not submitted. Please try again.
Gain From Our Perspective
Get Our Investing Insights Newsletter in Your Inbox.
Subscribe now
Gain From Our Perspective
Get Our Investing Insights Newsletter in Your Inbox.
Subscribe
Thanks for Signing Up!
Be sure to check your inbox for the Investing Insights newsletter to get the latest news and insights from Thrivent Mutual Funds.
Great news - you're on the list!
Looks like you're already on our mailing list. Be sure to check your inbox for the Investing Insights newsletter to get the latest news and insights from Thrivent Mutual Funds.