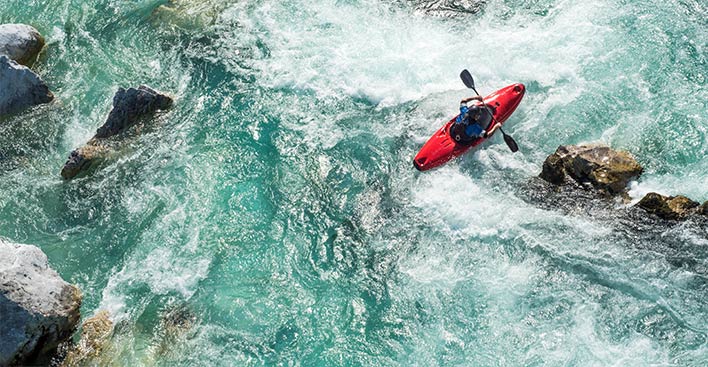 Volatility is always present in the financial markets, but as we've seen recently, the degree of volatility can vary significantly over time. 
During periods of heightened volatility – when uncertainty and investor emotions run high – it's important to revert to the basics and review the key elements that drive long term investment returns. One of those key elements is corporate earnings.
The 4th quarter of 2017 capped an impressive year for corporate earnings. Consensus earnings growth estimates for the S&P 500 had been about 12% for the 4th quarter, year-over-year. However, as actual earnings were reported, nearly 75% of companies posted earnings that exceeded expectations – a very high level.
The actual earnings growth rate for the final quarter of 2017 came in at about 15%, with revenue growth at about 8%. Reported earnings for all of 2017 were up a strong 12% on 7% revenue growth.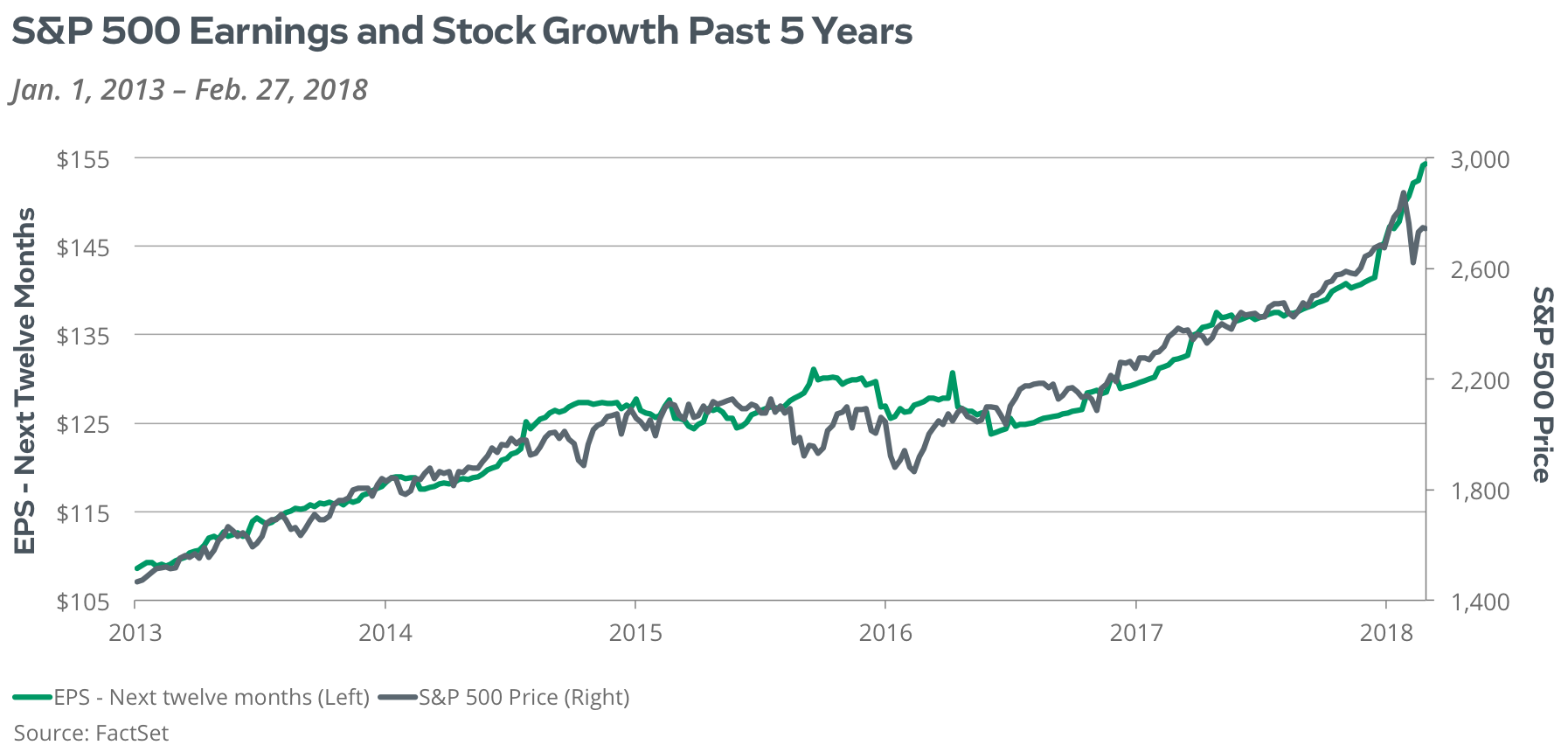 With global growth showing wide-spread improvement, it should not be surprising that earnings are trending higher, particularly for larger multi-national companies. Profit margins continue to hold at record levels as corporations maintain tight control on costs, and interest rates remain at historically low levels -- both of which are positive trends for equity investors.
What's Ahead?
With 2017 in the rear view mirror, investors are now focusing on expectations for 2018. These expectations are more uncertain due to the major impact of recently enacted tax legislation.
Prior to tax reform, earnings for the S&P 500® were expected to grow by 10% to 12%, as many of the fundamental strengths of 2017 continued to provide support into 2018. However, as corporations have begun to factor in the impact of the new tax law, expectations have been ratcheting up. Corporate earnings for 2018 are now estimated to grow about 19%, with revenue growth expected to remain robust at about 7% to 8%.
Although price-earnings ratios (P/E) have edged up steadily in recent years as stock prices rose, improving corporate earnings have helped keep P/Es from reaching unsustainable levels: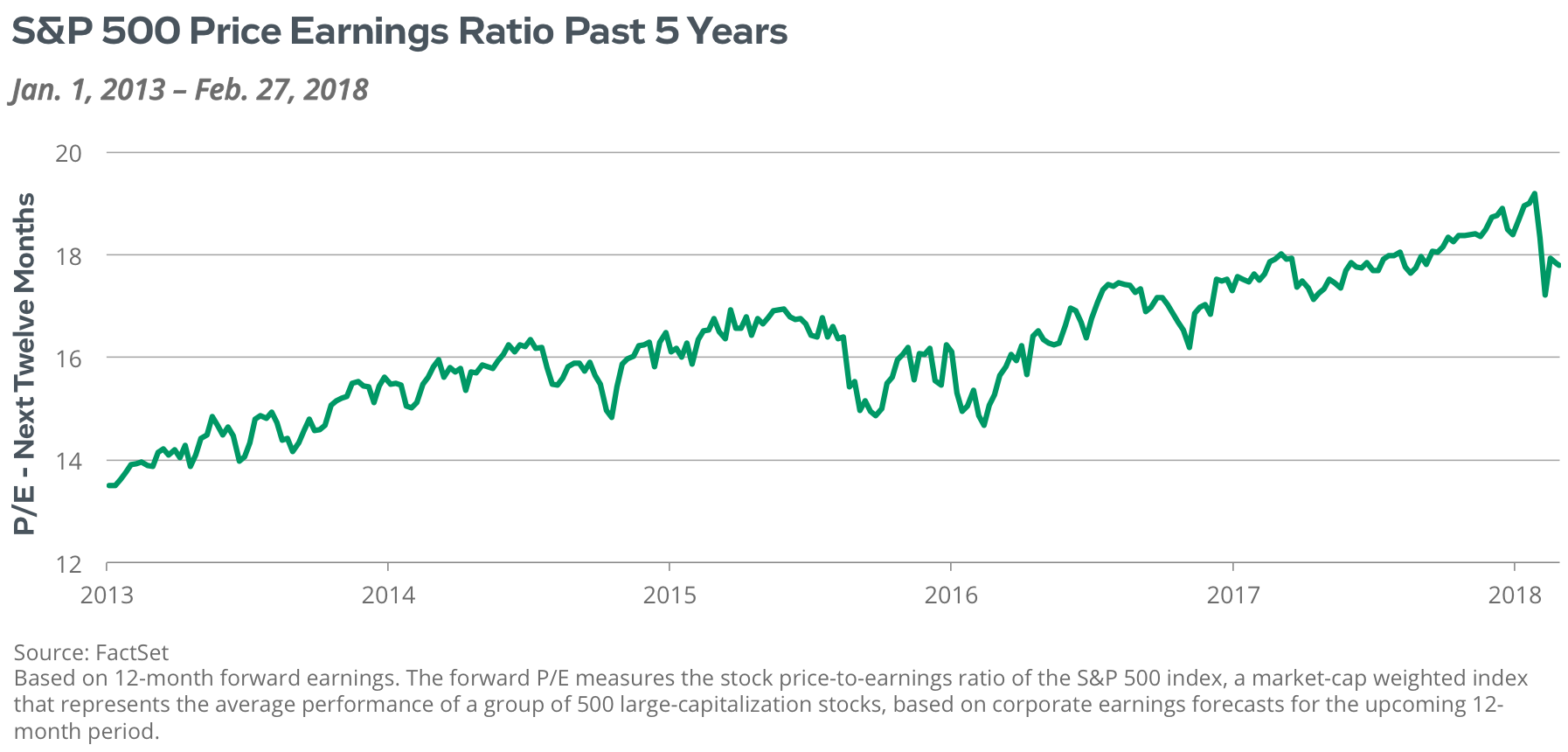 In addition to rising future earnings guidance from company managements, there is a growing amount of reinforcing evidence that corporate earnings will be meaningfully aided by changes in tax legislation. A number of companies have announced increases in dividends, share buybacks (record levels), employee bonuses, and new capital spending or investment initiatives. Corporations would not be taking these actions if improved earnings were not expected to materialize.
Although rising inflation and interest rates have helped spur a spike in volatility, investors should be encouraged by the positive and offsetting support that rising corporate earnings should provide for potential market returns.
Here are some of the other leading issues facing the economy and the markets in the near term:
Headwinds
Fed balance sheet reduction. The Federal Reserve Board declined to raise the Federal Funds target rate at its February meeting, but the board has indicated that at least three – and possibly four – small rate hikes could be in store for 2018. The Fed is expected to raise rates by 0.25% in March.
In addition to a gradual rate increase, the Fed began a long-term effort to trim its $4.5 trillion balance sheet in October 2017 by ending its policy of purchasing Treasury issues and mortgage-backed securities. With liquidity marginally diminishing, interest rates could rise, affecting stock and bond prices. Consumer spending, business development and other areas of the economy could also be affected. However, as the Fed cautiously and systematically reduces its balance sheet and its impact on the capital markets, we believe the current economy is strong enough to endure these monetary tightening measures.
Low wages. Despite strong employment growth, wages remain low, with only 2.9% wage growth over the past 12 months, according to the U.S. Department of Labor. However, wage growth has picked up slightly, with average non-farm payroll wages climbing $0.20 the past two months to $26.74 an hour.
Stock valuations. As noted above, stock prices have continued to climb the past few years. As a result, the P/E of the S&P 500® reached a 14-year high of over 18 in January before edging back down in February.1
Tailwinds
New tax law. The new tax law changes, including a significantly lower corporate tax rate, have already had a favorable impact on projected corporate earnings and capital investments, as we discussed above. That should also translate to favorable overall economic growth, with gross domestic product (GDP) growth expected to be bolstered by as much as 0.50% - 1.00% over the next few years. However, given the new tax law's complexity, it will take some time for its effects to be fully realized. (See: How Will the New Tax Law Affect You?)
Strong economy. The tax law could help boost 2018 gross domestic product (GDP) growth well beyond the 2.3% rate of 2017 and the 1.5% rate of 2016.
Retail sales growth. Retail sales have been strong in recent months, although they slipped 0.3% in January.2 Compared with a year earlier, retail sales are up 3.6%.
Personal income. With personal income on the rise (disposable personal income increased by 3.9% in the 4th quarter of 20173), consumers have more money to spend and invest.
Low unemployment. The unemployment rate has remained at a 17-year low of 4.1% the past few months.
Oil remains solid. Although oil prices sank with the equity markets in early February, they rebounded well throughout the remainder of the month. A strengthening oil market has led to a rebound in U.S. drilling and production operations. A strong oil industry could mean improving profits and an increase in well-paying jobs.
Expectations
We believe GDP growth could move over 3.0% in the coming years.
Combined with the tight labor market, the added boost in GDP growth could finally drive up wages. We believe employment will remain strong, although the low unemployment rate may make continued job growth increasingly difficult.
While stock valuations remain an issue, we believe these high valuations are justified if corporate earnings continue to rise, the economy remains strong, no imbalances or surprises emerge, and interest rates stay relatively low.
We expect volatility to continue in both the equities and fixed income markets as the Federal Reserve, European Central Bank and other central banks pursue a tightening monetary policy. Heightened geopolitical risks could also play a role in increased volatility in the coming year.
With the Fed's policy of raising short rates while reducing its bond portfolio, real returns from high quality bonds will continue to be low, and could even be modestly negative if inflation moves above 2% – as we expect.
The industry consensus view for inflation is 2.3% for 2018. This would be a continuation of a subdued trend that has been in place for a number of years. 
International developed market equities continue to look attractive relative to domestic equities. We remain neutral in our view toward emerging market equities.
Stability in China, and more importantly stability in foreign exchange markets, is essential for this market to continue to perform well.
In the U.S., the economic recovery should continue if personal income and consumer spending remain solid, wages improve, and corporate earnings continue to increase.
Stocks Bounce Back After Volatility Rocks Market. See February 2018 Market Recap.

Media contact: Samantha Mehrotra, 612-844-4197, samantha.mehrotra@thrivent.com
All information and representations herein are as of 03/01/2018, unless otherwise noted.
The views expressed are as of the date given, may change as market or other conditions change, and may differ from views expressed by other Thrivent Asset Management associates. Actual investment decisions made by Thrivent Asset Management will not necessarily reflect the views expressed. This information should not be considered investment advice or a recommendation of any particular security, strategy or product.  Investment decisions should always be made based on an investor's specific financial needs, objectives, goals, time horizon, and risk tolerance.
Indexes are unmanaged and do not reflect the fees and expenses associated with active management. Investments cannot be made directly into an index.
S&P 500® Index is an index of 500 stocks chosen for market size, liquidity and industry grouping, among other factors. The S&P 500 is designed to be a leading indicator of U.S. equities and is meant to reflect the risk/return characteristics of the large cap universe.
Past performance is not necessarily indicative of future results.
---
1 U.S. Bureau of Economic Analysis report on "National Income and Product" issued January 26, 2018
2 January 2018 advance monthly retail sales report issued February 14 by the U.S. Department of Commerce
3 U.S. Bureau of Economic Analysis report on "National Income and Product" issued January 26.
Well that's unexpected - your subscription request was not submitted. Please try again.
Gain From Our Perspective
Get Our Investing Insights Newsletter in Your Inbox.
Subscribe now
Gain From Our Perspective
Get Our Investing Insights Newsletter in Your Inbox.
Subscribe
Thanks for Signing Up!
Be sure to check your inbox for the Investing Insights newsletter to get the latest news and insights from Thrivent Mutual Funds.
Great news - you're on the list!
Looks like you're already on our mailing list. Be sure to check your inbox for the Investing Insights newsletter to get the latest news and insights from Thrivent Mutual Funds.