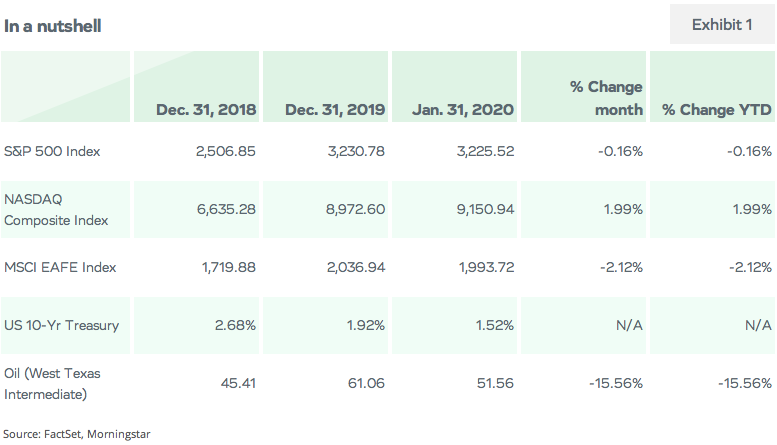 With the coronavirus epidemic spreading across the globe, fears over its impact on the economy have adversely affected the financial markets:
Stock prices tumble. The S&P 500® dropped more than 3% off its high for the month in the final days of January.
Oil prices plunge. Travel throughout Asia declined significantly due to fears over the coronavirus epidemic, driving down the demand for oil. As a result, oil prices have dropped nearly 20% from the January high. British Airways and three of the largest U.S. airlines – Delta, American and United – all announced plans to suspend flights between the U.S. and China, with no plans to resume flights any time soon. In fact, Delta indicated that its China flights will not resume until the end of April.
Bond yields sink. The yield on 10-year U.S. Treasuries dropped from 1.92% at the December close to just 1.52% at the end of January as investors ramped up purchases of bonds as a safe haven in the midst of the economic fall-out from coronavirus.
Current economic impact. Just as the Chinese economy and other economies around the world were showing signs of improvement, the coronavirus epidemic emerged as a potentially serious obstacle to these promising improvements taking root. It is difficult to assess how far this epidemic will spread, its virulence, and ultimately its effect on global growth.
The Chinese government and large multi-national corporations have taken unprecedented measures to close businesses on a vast scale, alter supply chains and freeze travel to combat this outbreak. Clearly these actions will disrupt and depress U.S. and global economic activity. As noted above, the energy markets have already been severely impacted.
Long-term impact. The impact of the Coronavirus on the global economy will be meaningful, but transient. Assuming the virus is contained and follows the patterns of past health events like SARS, we anticipate that growth could be negatively impacted in the 1st quarter by as much as 2% and recover strongly in the remainder of 2020. It is unlikely that all of the lost growth can be recovered, but a peak in infections yet in the 1st quarter will dictate whether global growth is able to exceed 3% (versus 3.1% in 2019) or something lower. Markets are currently assuming the optimistic scenario, which implies a pattern similar to that experienced with SARS in 2002-2003.
China will obviously be most impacted by the virus, especially its domestic consumption and service sectors, and they will almost certainly fall short of their 6% economic growth target for 2020. It is important to remember that it now accounts for 17% of the global economy versus 4% in 2003 during the SARS episode. As a result, the potential impact of coronavirus on global economies and markets is far greater and wider-reaching than during SARS. The main avenues in impacting global growth are through disruptions to trade and global supply chains, along with reduced demand from China, particularly oil and metals.
That said, the U.S. is among the most insulated from its impact given its lower dependence on exports and diversified economy. Europe and emerging markets are more exposed due to their more export- and manufacturing-dependent economies. Commodities, like oil, are also particularly exposed to weakness in Chinese demand, and some believe near-term oil demand could fall by as much as one-third. However, as dire as the potential impact is, the most likely scenarios are far more benign. Historical parallels, including SARS, show that the economic and financial impacts are temporary, and the recoveries swift.
We don't anticipate that this event will be any different, and believe it is more appropriate to focus on the more durable recovery in global manufacturing activity that was in place before the virus concerns emerged and will continue into 2021. The underpinnings of a strong U.S. consumer market, bolstered by exceptionally healthy employment trends, tentative-yet-sustained improvement in European economies, and still very low interest rates globally remain as strong supports.

Drilling down
U.S. stocks falter
The S&P 500 began the month with solid growth but took a dive as the coronavirus epidemic worsened. The index was down 0.16% for the month. The total return of the S&P 500 (including dividends) was down 0.04%. (The S&P 500 is a market-cap-weighted index that represents the average performance of a group of 500 large capitalization stocks.)
Retail sales rise
Retail sales were up 0.3% from the previous month in December and up 5.8% above the December 2018 total, according to the Department of Commerce report on January 16. Total sales for all of 2019 were up 3.6% from 2018. Motor vehicle sales were down 1.3% for the month in December but still up 4.1% versus a year earlier. Non-store retailers (primarily online), were up 0.2% for the month in December and up 19.2% versus a year earlier. Building materials were up 1.4% for the month and up 2.0% versus a year earlier. Department store sales were down 0.8% for the month and down 5.5% from a year earlier.
Employment growth continues
U.S. employers added 145,000 new jobs in December, according to the U.S. Bureau of Labor Statistics Employment Situation Report issued January 10. The unemployment rate ended 2019 at 3.5%, which is near a 50-year low. Job growth averaged about 175,000 per month in 2019, compared with an average monthly gain of 223,000 in 2018. Average hourly earnings rose by $0.03 in December to $28.32. For all of 2019, wages increased 2.9%.
Moderate GDP growth
GDP growth was estimated at 2.1% in the 4th quarter, according to the Department of Commerce in a January 30 report. (GDP is a broad measure of all the goods and services produced in the country.) The economy expanded by 2.3% in 2019, which is the lowest growth rate since 2016. Disposable personal income increased by 3.1% in the 4th quarter, compared with a 4.5% increase in the 3rd quarter. Real disposable personal income increased 1.5% for the quarter, compared with an increase of 2.9% during the previous quarter.
Sector performance mixed
After a strong start to the year, most of the 11 sectors of the S&P 500 were adversely impacted by the coronavirus outbreak. The sector that was the most impacted was Energy, which dropped 11.07% for the month. But six sectors still were still in positive territory for the month, led by Utilities, up 6.65%, Information Technology, up 3.96%, and Real Estate, up 1.42%.
The chart below shows the results of the 11 sectors for the past month: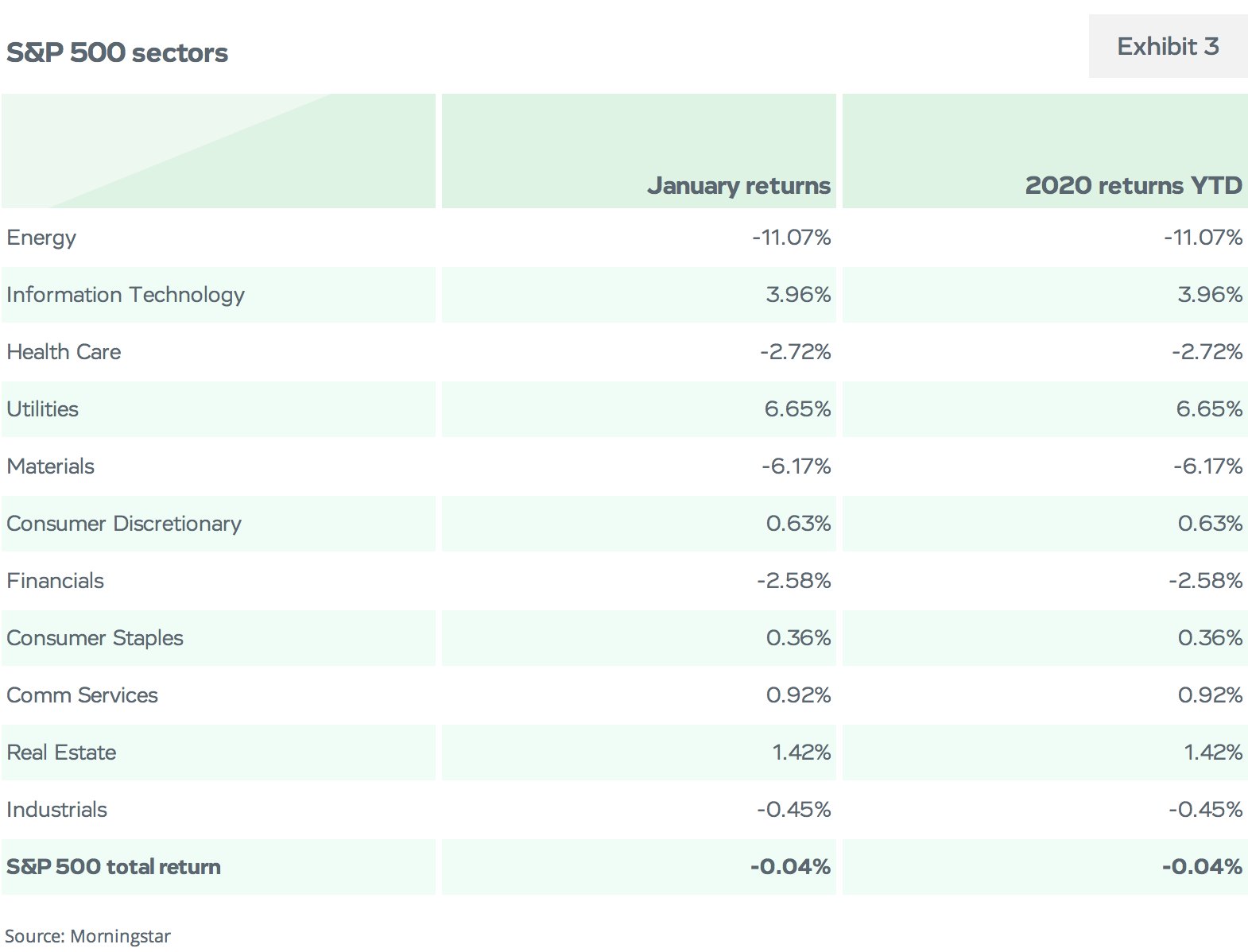 Treasury yields drop
The yield on 10-year U.S. Treasuries took a steep drop in January as global investors bought up bonds in a flight to safety amidst the growing coronavirus epidemic. After closing December 31 at 1.92%, the yield dropped 0.40% to just 1.52% at the January close.

Oil prices plunge
With global travel declining due to the coronavirus epidemic, oil prices dropped 15.56% for the month.  The price of a barrel of West Texas Intermediate, a grade of crude oil used as a benchmark in oil pricing, dropped from $61.06 at its December close to $51.56 at the end of January.
International equities sink
The coronavirus epidemic affected stock markets around the world. The MSCI EAFE Index, which tracks developed-economy stocks in Europe, Asia and Australia, was down 2.12% for the month.

---
All information and representations herein are as of 02/04/2020, unless otherwise noted.
The views expressed are as of the date given, may change as market or other conditions change, and may differ from views expressed by other Thrivent Asset Management associates. Actual investment decisions made by Thrivent Asset Management will not necessarily reflect the views expressed. This information should not be considered investment advice or a recommendation of any particular security, strategy or product.  Investment decisions should always be made based on an investor's specific financial needs, objectives, goals, time horizon, and risk tolerance.
Past performance is not necessarily indicative of future results.
Well that's unexpected - your subscription request was not submitted. Please try again.
Gain From Our Perspective
Get Our Investing Insights Newsletter in Your Inbox.
SUBSCRIBE NOW
Gain From Our Perspective
Get Our Investing Insights Newsletter in Your Inbox.
SUBSCRIBE
Thanks for Signing Up!
Be sure to check your inbox for the Investing Insights newsletter to get the latest news and insights from Thrivent Mutual Funds.
Great news - you're on the list!
Looks like you're already on our mailing list. Be sure to check your inbox for the Investing Insights newsletter to get the latest news and insights from Thrivent Mutual Funds.