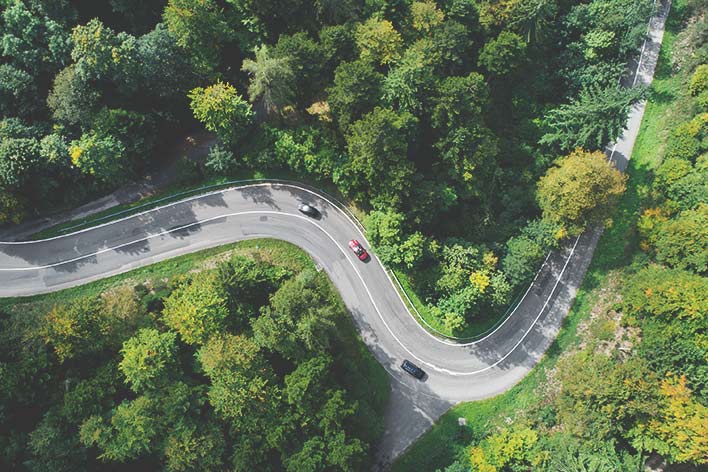 When short-term interest rates get as high as long-term rates, it usually means that something within the economy is slightly out of whack.
Known as the "flattening of the yield curve," this rare convergence of short and long-term rates has often been a precursor to recession.
The most recent round of flattening over the past few years has raised concerns that an economic downturn may be on the way. But the current flattening has come under some unusual circumstances that may have little to do with any weakness in the economy.
While short-term yields have certainly been edging up on long-term yields the past few years, other economic signs still favor a stable or strengthening economy.
What's Behind the Flattening Curve?
The bond market is comprised of a huge array of debt issues, all of which may have maturities as short as one day or as long as 30 years or more. Generally, the longer the term of the bond, the more risk it carries, which is why long-term bonds typically pay higher yields than short-term income securities.
As a result, the "bond market" is not characterized by one interest rate, but by many. When the full array of these yields is graphed by maturity, the resulting shape is typically an upward sloping line from lower short-term yields to higher long-term yields. The shape of this curve changes over time as economic and market dynamics evolve. See chart below: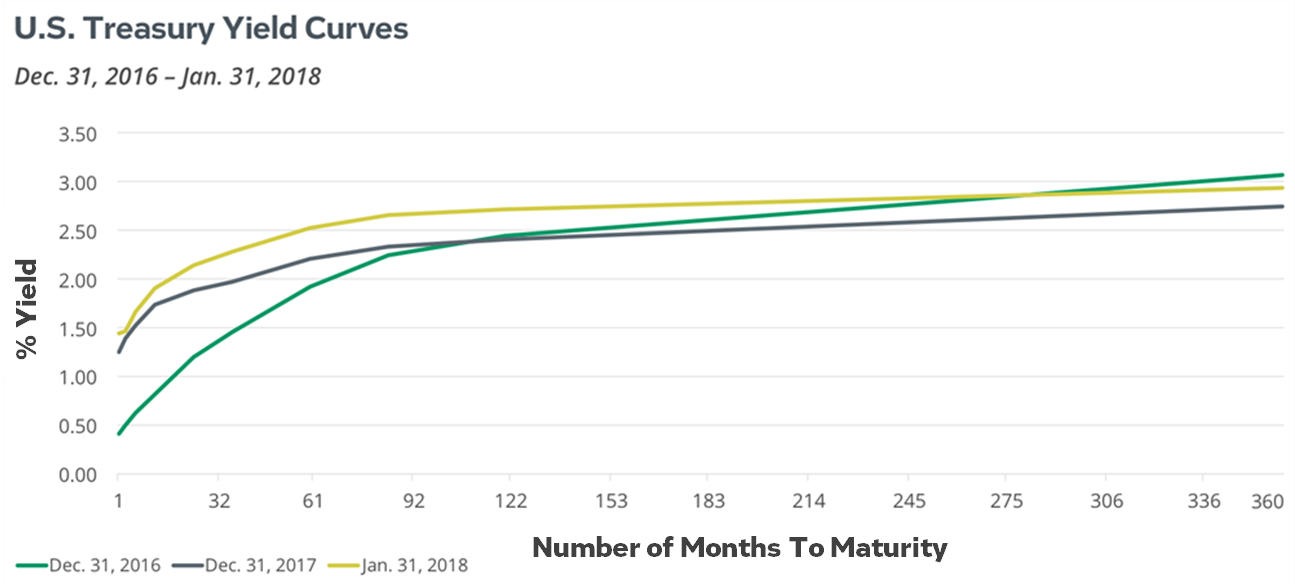 Although the yield curve is typically upward sloping, favoring long-term rates, when the rates begin to converge, the curve flattens. This typically happens when the Federal Reserve (Fed) is in "tightening" policy mode. As the Fed pushes up short-term rates to respond to the risk of rising inflation, long-term interest rates tend to hold their ground or even decline. The result is a "flattening" of the yield curve.
Historically Fed tightening has sometimes led to economic slowdowns or recession when they raise rates too high. Since the flattening yield curve can be an early byproduct of Fed tightening, it often happens just ahead of an economic downturn – but the flattening itself is not considered a cause of the downturn.
In the past few years, we've seen the yield curve flatten again as the Fed implemented another monetary tightening policy. However, despite the Fed tightening and the yield curve flattening, we see little evidence that a recession is just around the corner this time.
What's Different This Time?
Although the yield curve has indeed flattened over the past few years, it still remains upward sloping. In fact, the yield on 10-year U.S. Treasuries has moved up more than 0.3% in the past month, from 2.41% to 2.72% – one of the biggest monthly increases in several years.
Additionally, other typical "early warning" signals of economic distress have not materialized. In fact, many indicators show prospects for even stronger growth.
The flattening of the curve may also be distorted in this cycle due to the unprecedented involvement of global central banks in the bond market. With bond yields in many of the world's leading economies at historically low levels – including many issues with negative yields – investors have turned increasingly to U.S. notes and bonds. Their massive purchase of bonds has helped to push longer term interest rates meaningfully lower than they normally would be.
In addition, a flat yield curve is also a manifestation of investors' concerns over longer term inflation. With inflation running at under 2% for an extended period, and with little evidence thus far of an inflationary trend, the long-term bond yields have remained justifiably low.
What's Ahead?
Looking forward, our view is that the curve may continue to flatten somewhat, but we're probably close to the end of this flattening cycle.
The Fed is intent on moving short rates up to a more "normal" level, while fears of inflation remain subdued. In such an environment, the yield curve will flatten.
However, the very negative environment that would include an inverted yield curve (in which short-term rates actually exceed long-term rates) appears to be very unlikely. If inflation fears were to move higher, the yield curve would probably start to steepen with longer-term yields rising more rapidly than short-term yields.
Another possible catalyst for the yield curve to reverse course and enter into a steepening process would be a loss of confidence in the Fed. If investors lose confidence in the Fed's ability to conduct effective monetary policy, it could lead to inflationary levels well beyond the Fed's target. We remain watchful for either of these events to change the course of the yield curve.
Here are some of the other leading issues facing the economy and the markets in the near term:
Headwinds
Fed balance sheet reduction. As noted above, the Fed is in a monetary tightening mode, which will likely reduce liquidity marginally. Tighter money supply could drive up interest rates, slow the economy and affect stock and bond prices.
Wage growth. Despite strong employment growth, wages remain low, with only 2.5% wage growth over the past 12 months, according to the U.S. Department of Labor.
High stock valuations. Stocks have continued to move up, pushing the S&P 500® to new highs and a 12-month forward price earnings (P/E) level of over 18.1 That's the highest valuation level since 2004 (and more than three points higher than the historic average). (The forward P/E measures the stock price-to-earnings ratio of the S&P 500 index, a market-cap weighted index that represents the average performance of a group of 500 large-capitalization stocks, based on corporate earnings forecasts for the upcoming 12-month period.)

Tailwinds
New tax law. The new tax law changes, including a significantly lower corporate tax rate, should be moderately supportive of overall economic growth and corporate profitability. Economic growth should be bolstered by a fairly modest 0.50 - 1.00% over the next few years. However, given the law's complexity, it will take some time for its effects to be fully realized in terms of economic statistics and corporate earnings.

GDP growth. Although gross domestic product (GDP) growth slowed somewhat in the 4th quarter to 2.6% from 3.2% in the 3rd quarter, the economy appears to be solid in many key areas. In addition, 4th quarter growth has trailed 2nd and 3rd quarter growth the past several years, so slowing 4th quarter growth has been a common trend. We believe GDP growth could move over 3.0% in the coming years. Combined with the remarkably tight labor markets, this added boost to growth could also finally drive up wages.
Retail sales growth. Retail sales have been strong in recent months, with a 4.2% sales gain year-over-year through December 2017.
Personal income. Disposable personal income increased by 3.9% in the 4th quarter of 2017, which means consumers have more money to spend and invest.2
Oil rally. Oil prices have continued to rally the past five months, prompting a rebound in U.S. drilling and production operations. That may ramp up further if the supply continues to decline and prices continue to rise, strengthening the U.S. oil industry. A strong oil industry could mean improving profits and an increase in well-paying jobs.
See: January 2018 Market Recap: Stocks, Personal Income and Oil Prices on the Rise
Expectations
While stock valuations remain an issue that keeps us somewhat defensive, we believe these high valuations are justified if the economy remains strong, no imbalances or surprises emerge, interest rates stay relatively low, and corporate profitability continues to grow. Equity market returns in the U.S. will be particularly dependent on earnings growth this year, but favorable changes in corporate tax rates should enhance prospects for stock growth.
With the Fed's policy of raising short rates while reducing its bond portfolio, real returns from high quality bonds will continue to be low, and could even be modestly negative if inflation moves above 2%.
We expect volatility to pick up in both the equities and fixed income markets as the Federal Reserve, European Central Bank and other central banks pursue a tightening monetary policy. Heightened geopolitical risks could also play a role in increased volatility in the coming year.
International developed market equities continue to look attractive relative to domestic equities. We remain neutral in our view toward emerging market equities. Stability in China, and more importantly stability in foreign exchange markets, is essential for this market to continue to perform well.
We believe employment will remain strong, with the possibility of accelerating wage growth as the job market tightens. However, with unemployment at just 4.1% – which the Fed has suggested is full employment – continued job growth may become increasingly difficult.
The industry consensus view for inflation is 2.3% for 2018. This would be a continuation of a subdued trend that has been in place for a number of years. If the domestic and global economies continue to show solid growth, inflation could be a modest upside surprise.
In the U.S., the economic recovery should continue if personal income and consumer spending continue to rise, wages improve, and corporate earnings continue to increase.
Stocks, personal income and oil prices were all on the rise in January. See the latest details in the January 2018 Market Recap

Media contact: Samantha Mehrotra, 612-844-4197, samantha.mehrotra@thrivent.com
All information and representations herein are as of 02/01/2018, unless otherwise noted.
The views expressed are as of the date given, may change as market or other conditions change, and may differ from views expressed by other Thrivent Asset Management associates. Actual investment decisions made by Thrivent Asset Management will not necessarily reflect the views expressed. This information should not be considered investment advice or a recommendation of any particular security, strategy or product.  Investment decisions should always be made based on an investor's specific financial needs, objectives, goals, time horizon, and risk tolerance.
Indexes are unmanaged and do not reflect the fees and expenses associated with active management. Investments cannot be made directly into an index.
S&P 500® Index is an index of 500 stocks chosen for market size, liquidity and industry grouping, among other factors. The S&P 500 is designed to be a leading indicator of U.S. equities and is meant to reflect the risk/return characteristics of the large cap universe.
Past performance is not necessarily indicative of future results.
---
1 Factset, January 31, 2018
2 U.S. Bureau of Economic Analysis report on "National Income and Product" issued January 26, 2018
Well that's unexpected - your subscription request was not submitted. Please try again.
Gain From Our Perspective
Get Our Investing Insights Newsletter in Your Inbox.
Subscribe now
Gain From Our Perspective
Get Our Investing Insights Newsletter in Your Inbox.
Subscribe
Thanks for Signing Up!
Be sure to check your inbox for the Investing Insights newsletter to get the latest news and insights from Thrivent Mutual Funds.
Great news - you're on the list!
Looks like you're already on our mailing list. Be sure to check your inbox for the Investing Insights newsletter to get the latest news and insights from Thrivent Mutual Funds.