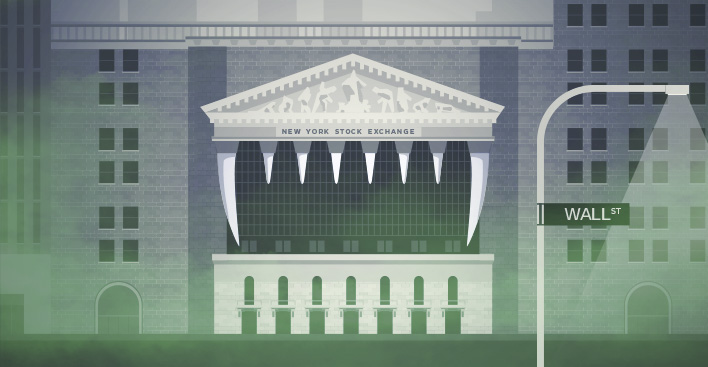 One of the defining characteristics of the U.S. stock market recovery from the Financial Crisis of 2008-09 has been the growing concern and commentary regarding the dominance of a small group of technology-centric stocks collectively referred to by the acronym "FANG" (or "FAANG" or "FAAMG").
This group includes companies that are at the forefront of emerging technology trends, such as social media, mobility, e-commerce, cloud infrastructures, and digital media.  They include Facebook (FB), Apple (AAPL), Amazon (AMZN), Microsoft (MSFT), Netflix (NFLX), and Alphabet/Google (GOOG).
It has become common for talking heads and columnists to suggest that this select group of stocks represents a bubble in the market, and is almost single-handedly leading the broad market higher in a pattern of narrowing breadth that imperils its sustainability. 
We disagree. 
Let's briefly look at some of the reasons we don't believe the current concerns of narrowing market leadership by FANG and other tech equities is an existential threat to the current positive market environment:
Market Cap Share
While the suggestion that the market sits precariously upon the shoulders of the FANG stocks is dubious, it is also undeniable that since 2012, FANG's share of the S&P 500 market capitalization has increased from 7% to approximately 15%, and their earnings have grown from 5% to approximately 10%, respectively. (The S&P 500 Index is a market-cap-weighted index that represents the average performance of a group of 500 large-capitalization stocks.)
These levels are nearly at historic peaks of market cap share for the five largest tech companies (16% during the Tech Bubble of 2000 and 20% during the "Nifty Fifty" era of the 1960s and 1970s), and worthy of some concern. 
Importantly, however, the share accounted for by today's five largest companies is more evenly distributed among significantly more profitable companies (see table below, where no single stock is more than 4% of the index):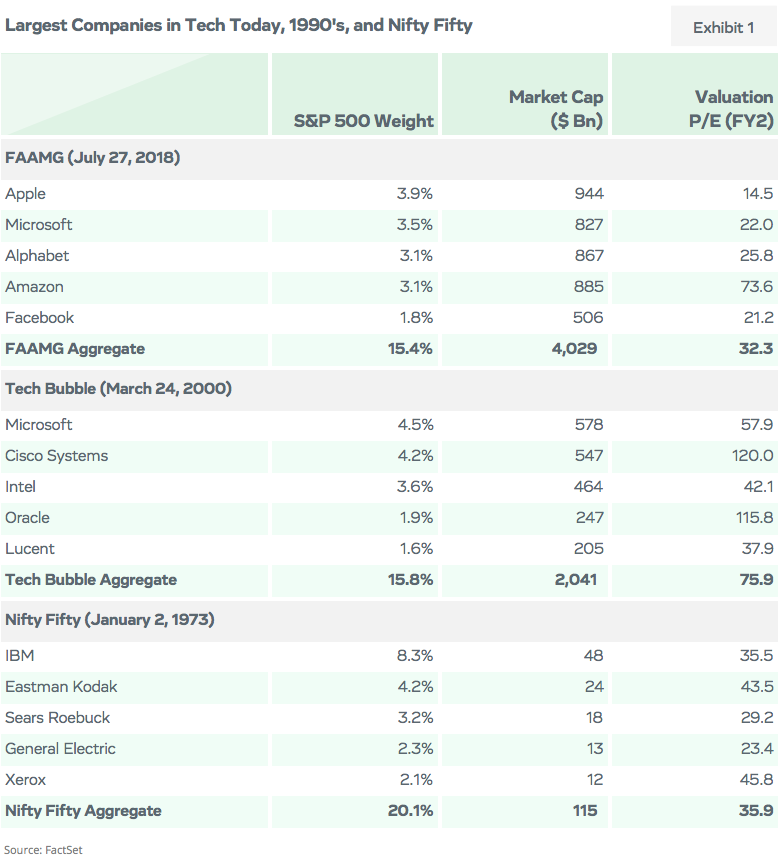 Another mitigating perspective suggesting suitable market breadth is how many of the lowest capitalization stocks of the S&P 500 equate to the same market capitalization represented by the five largest stocks (see the chart below).  This figure has remained between 200 and 275 since 2009, and well below the 360 level of the Tech Bubble of 2000: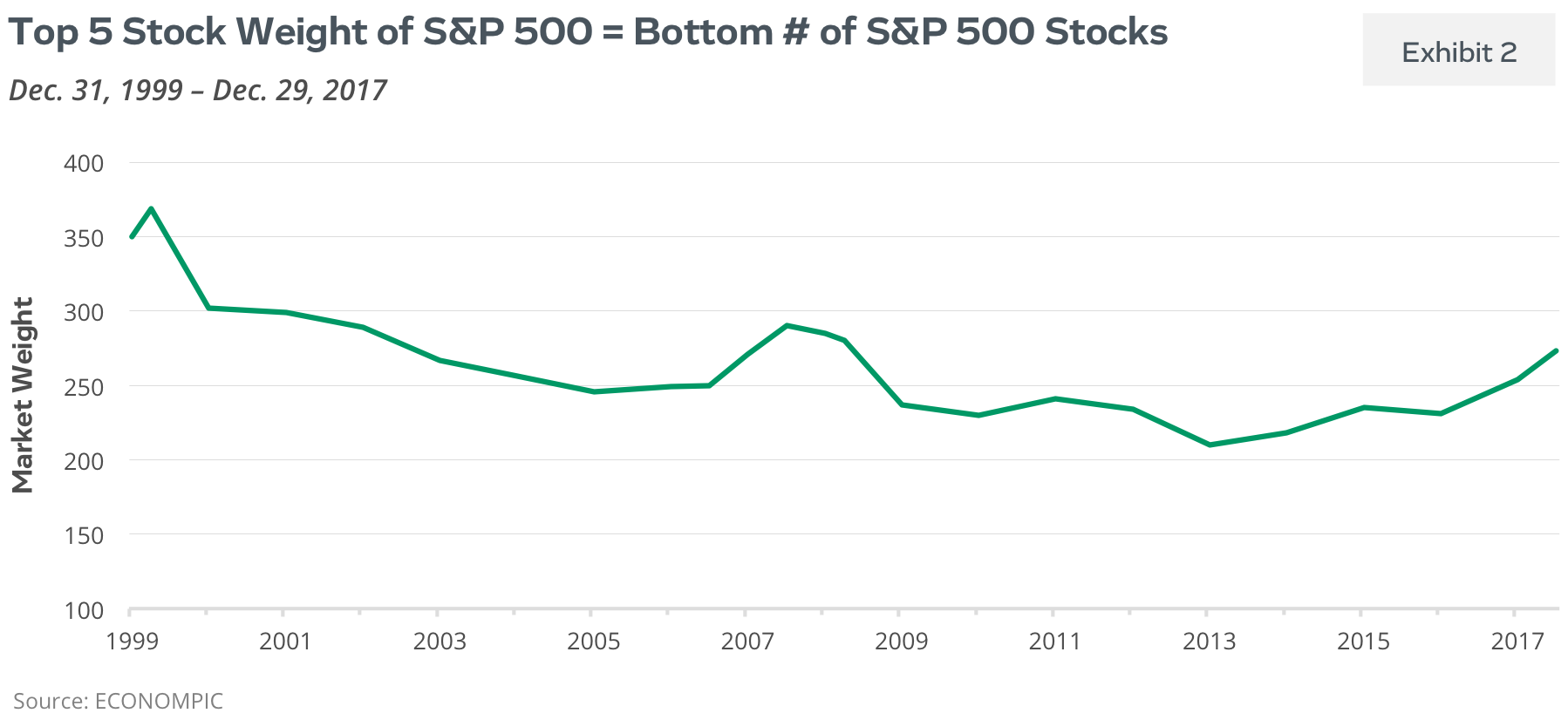 Sector dominance of market representation has always been a rotational characteristic of U.S. markets. From 1800-1850, the Finance and Real Estate sectors of the market accounted for 50% to 100% of market cap; from 1850-1920, Transports (rails) made up 30% to 70%; and from 1920-1970, Energy & Materials accounted for 25% to 45%. 
Since 1970, the Technology sector has assumed the leadership role from Energy & Materials, but has stayed below 30% – reflecting the market's greater diversity (and stability).  Granted, the end of each leadership period was disruptive, but the current environment is not extreme by historic standards, while Technology's growth leadership looks secure for at least the medium term. 
More broadly, over the past 30 years, the top 10 market capitalizations in the S&P 500 (all but one of which are currently technology stocks) have accounted for a range of roughly 18% to 25% of the index. At around 23%, today's share is far from an outlier, and isn't even among the five highest readings in the period.
Earnings Strength/Breadth
Noteworthy, as well, is the nature of the current earnings environment. Traditionally, periods of narrowing market breadth have been accompanied by a narrowing population of companies showing healthy earnings growth.  This could not be further from the truth in characterizing the current situation. 
Instead, earnings growth is robust and widespread across sectors. In fact, the second quarter is looking to be the second straight quarter with S&P 500 earnings growth in excess of 25% (10-15% organic) on sales growth of nearly 9%, with 10 of 11 sectors contributing positively. The top 10 stocks of the S&P 500 are contributing about 20% of the earnings growth, which is slightly below the 30-year average.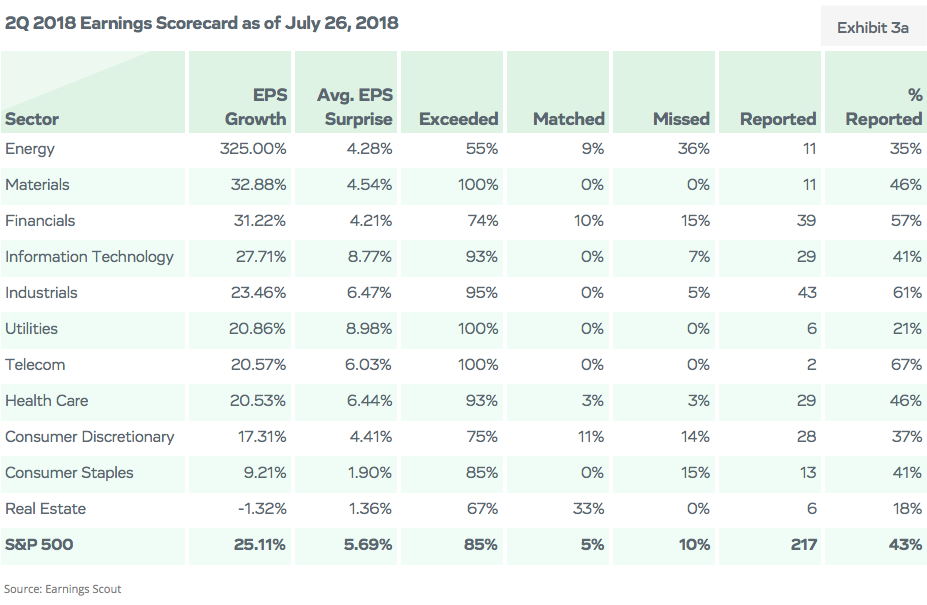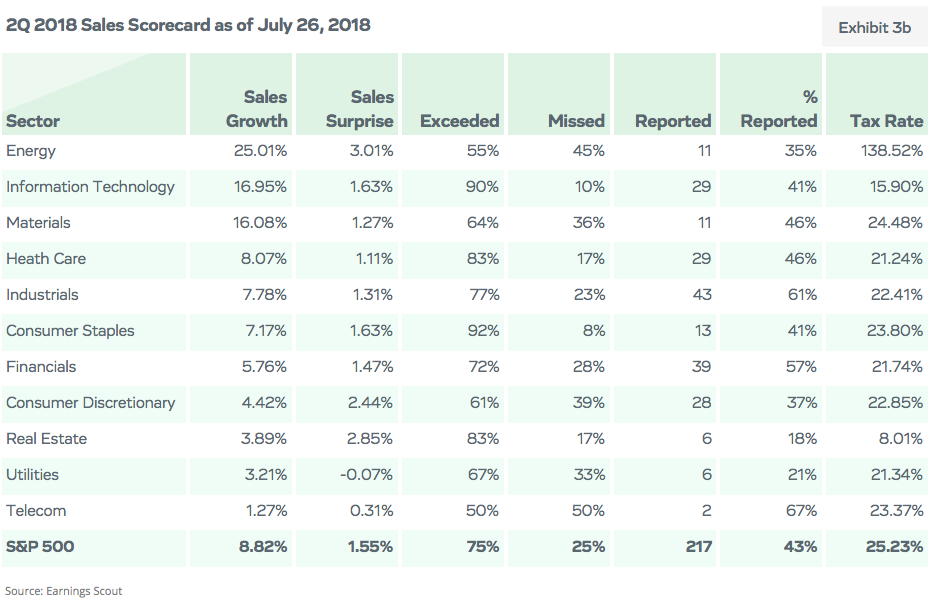 Performance
It has been popular to point out that the 2.65% return of the S&P 500 through the first half of 2018 would have dropped to -0.73%  without the gains from the FANG group of stocks (which returned 3.38% in the period)., However, the relatively small difference belies its significance. It should also be noted that the Energy, Healthcare, Real Estate and Utility sectors of the S&P 500 generated positive returns in the period while being FANG-free.
Further, the S&P 500's 2017 return of 21.8% would have been 19.4% without FANG, hardly implying narrow dependence. Beyond just FANG, though, there has been a narrowing of dependence that must be acknowledged. The top 10 stocks in the S&P 500 (referenced earlier) contributed 62% of the index's approximately 7% year-to-date return through July, and the Tech sector as a whole (after adding Amazon and Netflix) accounted for 76% of that return.
The bottom line is that market breadth has narrowed, as it tends to do in bull markets, but it has not narrowed to levels, or with accompanying characteristics, that are extreme or merit the abandonment of current strategies.
Our Outlook
FANG's market leadership is a residual of a broader market preference for technology and organic growth companies that is borne of an increasingly uncertain monetary policy and geopolitical environment that makes investors reluctant to adopt pro-cyclical exposures or own lower-growth companies exposed to higher input costs (inflation).
However, market gains have been consistent, if not spectacular, outside of growth and momentum elements of the market as earnings gains remain broad and robust (we project close to 25% in earnings-per-share growth for the third quarter for the S&P 500, with organic earnings-per-share growth of nearly 15%).  Outside of Tech, though, price gains have been limited to earnings gains, with little in the way of multiple expansions.
Conversely, there has been far less concern over rising stock valuations among momentum and growth companies, and valuations within that category have continued to expand (contributing to their appreciation).  Progress on tariff solutions and greater confidence in Fed actions and their impact could unleash a trading rotation away from Technology and FANG stocks into the more cyclical sectors of the market.
Regardless, we believe that FANG stocks specifically, and technology stocks generally, remain an attractive investment area for both the near term and the long term. Current growth and secular prospects remain at valuations that we believe are reasonable relative to historic levels – and relative to the rest of the market, against whom the FANG stocks enjoy four times the revenue growth and twice the net margin structure.
See: Rising Earnings and Strong Economy Boost Stocks: July Market Recap
To see our Market Outlooks every month and learn more about our perspective on the markets, the economy, and investing, subscribe to our Investing Insights newsletter.
Media contact: Samantha Mehrotra, 612-844-4197, samantha.mehrotra@thrivent.com
All information and representations herein are as of 08/01/2018, unless otherwise noted.
The views expressed are as of the date given, may change as market or other conditions change, and may differ from views expressed by other Thrivent Asset Management associates. Actual investment decisions made by Thrivent Asset Management will not necessarily reflect the views expressed. This information should not be considered investment advice or a recommendation of any particular security, strategy or product.  Investment decisions should always be made based on an investor's specific financial needs, objectives, goals, time horizon, and risk tolerance.
This article refers to specific securities which Thrivent Mutual Funds may own. A complete listing of the holdings for each of the Thrivent Mutual Funds is available on ThriventFunds.com.
Well that's unexpected - your subscription request was not submitted. Please try again.
Gain From Our Perspective
Get Our Investing Insights Newsletter in Your Inbox.
Subscribe now
Gain From Our Perspective
Get Our Investing Insights Newsletter in Your Inbox.
Subscribe
Thanks for Signing Up!
Be sure to check your inbox for the Investing Insights newsletter to get the latest news and insights from Thrivent Mutual Funds.
Great news - you're on the list!
Looks like you're already on our mailing list. Be sure to check your inbox for the Investing Insights newsletter to get the latest news and insights from Thrivent Mutual Funds.