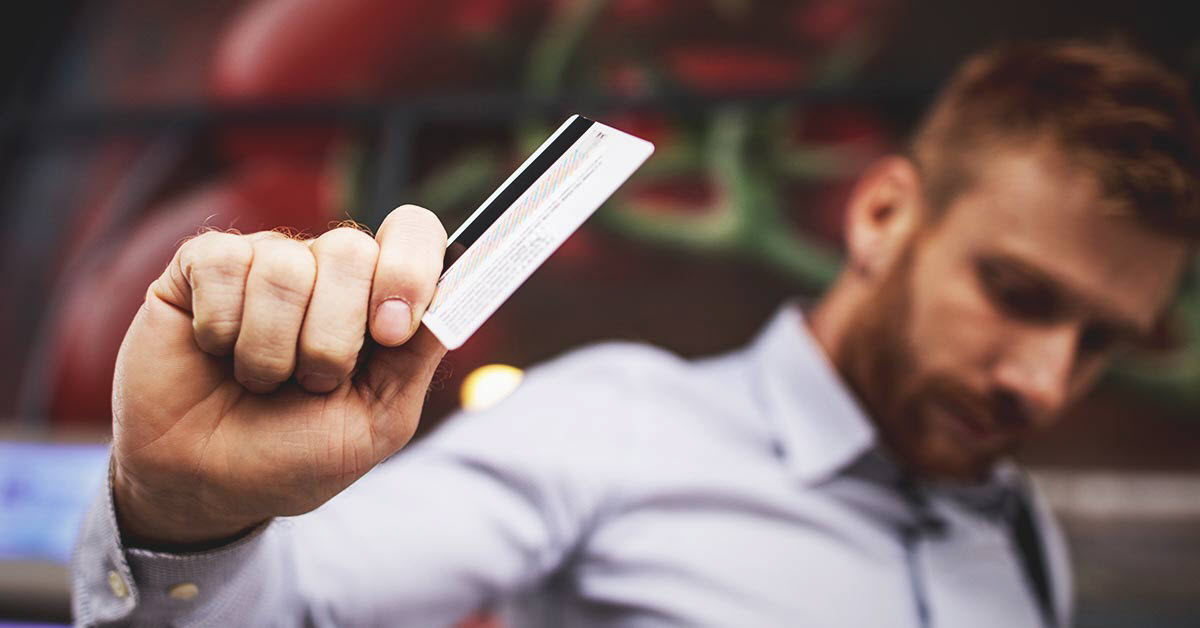 By most key measures, the American economy has been on a fairly sustained uptrend the past few years – a period when you might have expected consumers to begin socking away more money.
Employment has climbed for 83 straight months, stocks are on the second longest bull run in modern market history,1 personal income is up about 7% since 2015,2 and bank savings and CD rates are finally moving up toward the 1% range.3 Even the price at the pump has stayed well under $3 a gallon for the past three years. You might think consumers would use a few of those extra bucks to save for leaner times.
Counterintuitive as it may seem, however, consumers have been saving less and borrowing more as the economy improves. It's basic human nature. In a healthy economy, consumers feel more confident about spending their money.
Savings rates tend to be driven by fear and uncertainty. During the Great Recession, savings rates spiked to about 11% in 2012. But as the economy improved, savings rates dropped to the 5% to 6% range from 2013 to mid-2016, and have dropped again to 3.5% in 2017. In the months ahead, we could see the rate drop further as residents of Texas and Florida rebuild from Hurricanes Harvey and Irma.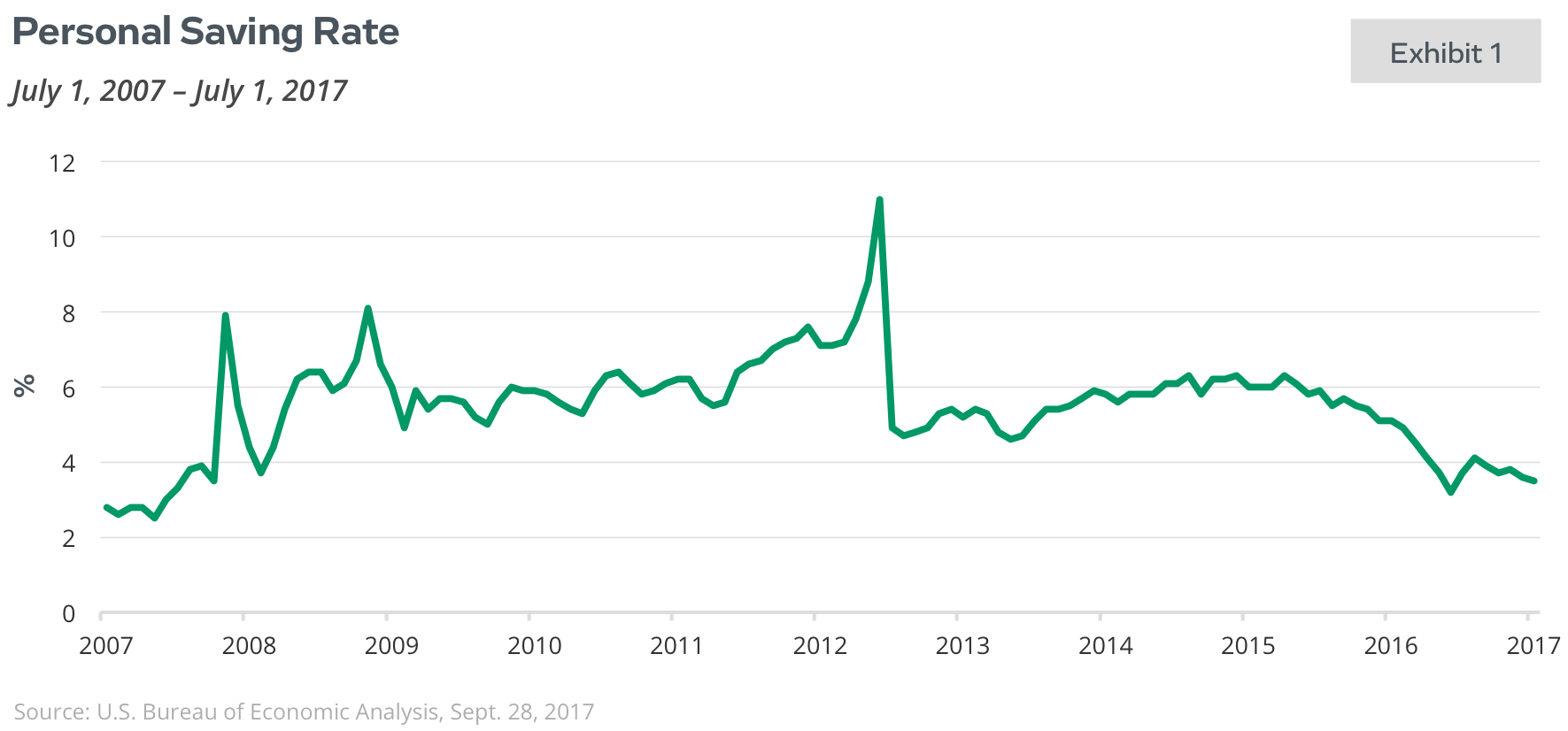 Not only are savings rates going down, but household debt has been going up for 12 consecutive quarters through the 2nd quarter to a record $12.84 trillion.4
On the bright side, consumers have been doing a better job of paying their bills. While household debt continues to rise, loan delinquency rates on mortgages, credit cards and revolving credit have dropped significantly since 2011, although student loan delinquencies have actually increased since then.5 (See graph below.)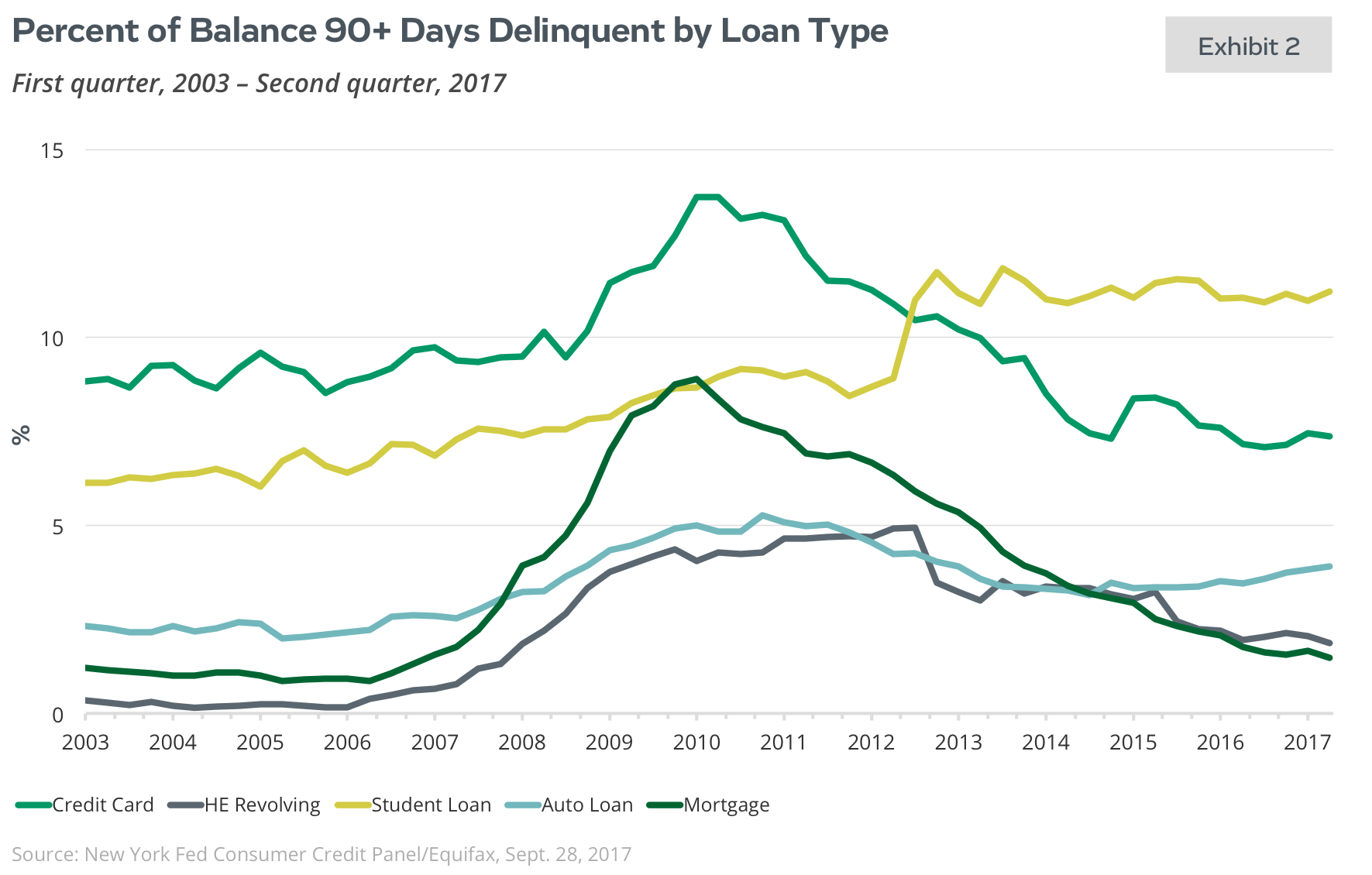 While complacency may be the primary force driving down savings rates, some other factors may also be complicit in the decline. Wage growth has been slow and health care and higher education costs have continued to escalate. The aging population could also be a factor. As Baby Boomers retire, they tend to stop saving and start spending.
In truth, consumer spending is an important driver of economic growth. The economy needs your dollars in order to continue to expand. But in these improved economic times, it might also be a good idea to put a few of those extra dollars away for a rainy day.
4th Quarter Economic Situation
What's ahead for the economy and the markets?
Headwinds
The Federal Reserve (Fed) announced its intentions to begin reducing its $4.5 trillion balance sheet of Treasury bonds and mortgage-backed securities in October in a long-term move often referred to as "unwinding the balance sheet." What it means is that the Fed will discontinue purchasing treasury and mortgage-backed securities and begin gradually reducing its debt holdings.
This marks the end of a monetary strategy originally initiated during the Great Recession to pump money into the economy. Now that the economy is on more stable footing, the Fed will reduce its assets by letting older debt securities mature without reinvesting in new debt securities.
While the asset reduction plan is considered a necessary move for the long-term, it creates uncertainties for the markets in the short term. Liquidity will be increasingly diminished over time, which may serve to bump up interest rates and modestly depress stock and bond prices. That could lead to reduced consumer spending and business investment, a reduction in commercial and residential construction, and other headwinds that could contribute to a slow-down in the economy.
But if done prudently and gradually, the monetary policy could help improve the economic foundation over the long term without significantly affecting the economy in the short term. (See: How Fed Monetary Tightening Could Affect the Economy)
Other headwinds include slow wage growth – up only 2.5% year-over-year – and historically low interest rates, although many banks have begun to pay around 1% on savings and money market accounts.
Retail sales growth has also been disappointing recently, with retail sales dropping 0.2% in August, according to the latest Retail Sales Report issued September 15 by the U.S. Department of Commerce.
Tailwinds
Several economic indicators have strengthened over the recent months. Personal consumption expenditures have increased for 30 consecutive months beginning February 2015,6 employment has increased for 83 consecutive months, and 2nd quarter GDP was solid at 3% annualized growth.
Oil rebounded well the past month, moving up to over $50 a barrel (West Texas Intermediate), which should be a positive development for the economy.
The hurricanes in Puerto Rico, Texas and Florida have had a devastating effect on those regions, but over the longer term, the rebuilding efforts could spur a slight bump in the economy. It may also help drive up wages, particularly in those areas.
The housing and construction market has been solid this year, while the building supplies sector has been among the strongest segments of the retail sales market.
Corporate earnings have improved modestly this year, and manufacturing activity appears to be on the upswing. Nearly 49% of manufacturing firms expect increases in manufacturing activity over the next six months, and only 7% expect decreases, according to the August Manufacturing Business Outlook Survey from the Philadelphia Federal Reserve Bank.
The dollar has declined versus most major currencies throughout 2017, including the Yen and the Euro, aiding the earnings of U.S. multinationals and exporters, as well as making U.S. companies more competitive abroad.
Expectations
While the Fed's new policy could have a dampening effect, we believe economic conditions are finally strong enough to buoy the economy as the Fed reduces its debt security holdings. But continuing discord in Washington, D.C., international concerns (particularly regarding North Korea), and potential changes in leadership at the Fed could all have an effect on the markets.
We believe the employment market will continue to add jobs this year, although perhaps at a slower rate. Continued job growth could drive a much-needed increase in wages.
We may see a rise in inflation growth this year, but it should not be a serious concern. The consensus view for inflation has been 2.4% for 2017 and 2.3% for 2018,7 which is somewhat higher than our projections. Inflation has been growing at less than 2% so far this year. But faster wage growth and increasing consumer spending could add to that rate of inflation.
In addition to the Fed's balance sheet reduction policy, the Fed board has indicated that it may approve one more rate hike by the end of 2017. (See: Fed Hikes Rates for Second Time this Year)
Globally, over the next 12 months, we expect European growth to continue its gradual improvement, China to have reasonable growth, but with some persistent fundamental risks due to past excessive credit growth, and emerging market economies to continue to improve.
Although we are aware of some obstacles to continued economic growth, we believe the risk of recession has continued to diminish.
For the recovery to continue, growth in consumer spending, wages and corporate earnings are all important. A continued rebound in oil prices could also aid the economy and the markets.
All information and representations herein are as of 10/01/2017, unless otherwise noted.
The views expressed are as of the date given, may change as market or other conditions change, and may differ from views expressed by other Thrivent Asset Management associates. Actual investment decisions made by Thrivent Asset Management will not necessarily reflect the views expressed. This information should not be considered investment advice or a recommendation of any particular security, strategy or product.  Investment decisions should always be made based on an investor's specific financial needs, objectives, goals, time horizon, and risk tolerance.
---
1 S&P 500 and Dow Jones Industrial Average
2 Bureau of Economic Statistics. Personal saving as a percentage of disposable personal income (DPI), frequently referred to as "the personal saving rate," is calculated as the ratio of personal saving to DPI. Personal saving is equal to personal income less personal outlays and personal taxes; it may generally be viewed as the portion of personal income that is used either to provide funds to capital markets or to invest in real assets such as residences.
3 Bankrate, September 2017
4 Federal Reserve Bank of New York, 2nd Quarter, 2017, Household Debt and Credit
5 Federal Reserve Bank of New York
6 Federal Reserve Bank of St. Louis Personal Consumer Expenditures as of Aug. 31, 2017
7 Organization for Economic Cooperation and Development
Well that's unexpected - your subscription request was not submitted. Please try again.
Gain From Our Perspective
Get Our Investing Insights Newsletter in Your Inbox.
Subscribe now
Gain From Our Perspective
Get Our Investing Insights Newsletter in Your Inbox.
Subscribe
Thanks for Signing Up!
Be sure to check your inbox for the Investing Insights newsletter to get the latest news and insights from Thrivent Mutual Funds.
Great news - you're on the list!
Looks like you're already on our mailing list. Be sure to check your inbox for the Investing Insights newsletter to get the latest news and insights from Thrivent Mutual Funds.