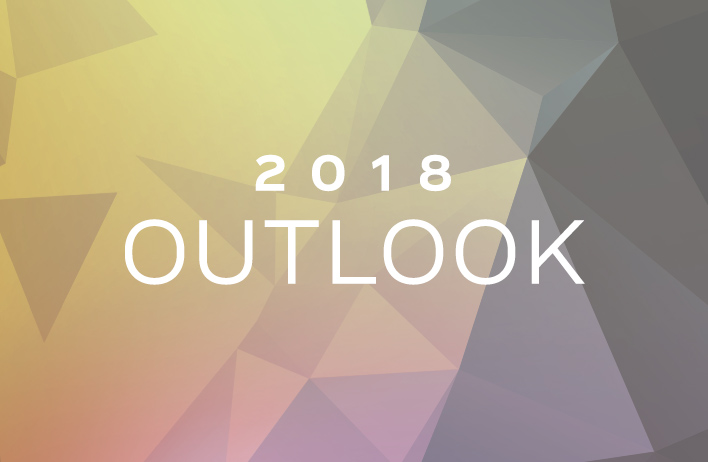 Although 2017 seemed to be very tumultuous in many ways, world economies and markets were remarkably stable and strong. Three key elements supported this favorable environment: continued expansionary global central bank monetary policy, robust global growth, and expectations over the positive impact of prospective changes in U.S. tax policy.
In assessing the outlook for 2018, it is important to review all three of these elements:
U.S. Tax Policy
Putting the political dimensions of the recent tax legislation aside, the new tax law changes should be moderately supportive of overall economic growth and corporate profitability. However, given the law's complexity, it will take some time for its effects to be fully realized in terms of economic statistics and corporate earnings.
Here are some of the major impacts that we anticipate:
Economic growth should be bolstered by a fairly modest 0.50 - 1.00% over the next few years. With gross domestic product (GDP) growing at about 2.5% over the past year, growth in the U.S. could finally move sustainably over 3.0%. Combined with the remarkably tight labor markets, this added boost to growth could also finally boost wages.
However, if additional wage growth does take hold, rising inflation could also filter into the economy. Longer term, some of the support to growth may fade or be eliminated altogether since some of the provisions in the law "sunset" after a period of time. Also, like "Obamacare", this law could become a political football, open to attack and modification in the years ahead if the congressional balance of power changes. 
The deficit is expected to increase by about $1.5 trillion. The government's dependence on borrowing to finance this widening gap will mean additional sales of U.S. Treasury securities. This additional supply along with the possibility of some wage inflation, could lead to higher long term interest rates. We believe an increase in interest rates may be beneficial to net savers without adversely affecting the economy or consumer spending. Despite four Fed Funds rate hikes in the past 13 months, consumers are still receiving very low yields on most savings accounts. For instance, money market accounts are now paying an average of just 0.14%, while 1-year certificates of deposit (CDs) are paying 0.42%.1 Five-year CDs offer a slightly better average rate of 1.0%.
After-tax corporate profitability and cash flow will improve due to the cut in the corporate tax rate from 35% to 21%. However, the law's effects will be varied across industries and across companies depending on their legal and capital structures.
Many companies already have an effective tax rate below 35%, and will see little benefit. However, high marginal tax paying companies – including many smaller firms – are more likely to see a material bottom line benefit. Capital intensive companies may also benefit from the immediate expensing of investment in equipment.
Companies with a high level of cash earned from overseas operations may also benefit from the new bill because it offers them an opportunity to bring that cash back to the U.S. at a lower tax rate. It remains to be seen what companies will do with this cash. Historically, repatriation programs have been directed at stock buybacks, thus returning cash to shareholders.
On the other hand, highly leveraged companies may be negatively impacted by the new legislation because it may limit their ability to deduct high interest expenses.
Central Bank Monetary Policy
We expect Jerome Powell, the new Chairman of the Federal Reserve (Fed), to continue the very gradual tightening of monetary policy that has been underway for the past two years. This will lead to somewhat higher short-term interest rates and a very slow run-off of the Federal Reserve's bond holdings. Thus far, this shift in monetary policy has not led to reduced liquidity, nor has it had a detrimental effect on the economy or the markets. In fact, since the Fed's modest tightening policy began, the yield on 10-year treasuries has only moved up an inconsequential 0.10%, GDP growth has been in the range of 2 to 3% and the S&P 500® index has climbed approximately 35% cumulatively over that time span.
Long-term interest rates have been kept in check by a very accommodative monetary policies followed by the European Central Bank and the Bank of Japan. Those policies have kept interest rates and large swaths of bond yields pinned below zero for the past few years. Such low interest rates abroad have made U.S. treasury bonds look quite attractive by comparison. But these policies are not expected to be reversed – following the U.S. Fed's policy path – until late in 2018 or early 2019.
Global Growth
For the first time in over a decade, growth around the world is expanding in a synchronized fashion. Even the chronically stagnant economies of Western Europe are expanding, and employment, while still a major long term problem, is improving.
Evidence of this global growth is seen in the impressive improvement in industrial commodity prices, particularly oil, lumber and copper. China has begun to move to a more consumer driven economy from one driven by heavy (and oftentimes uneconomical) industrial and real estate investment.
Developments on global trade, particularly the Brexit negotiations, are a key risk in the global growth outlook. Developments in China are also critical. Thus far these risks don't appear poised to untrack economies or markets, but there is a lot to be vigilant about in international developments in 2018.
Here are some other factors that could affect the economy and the markets in 2018:
Headwinds
Fed balance sheet reduction. As noted above, the shift in monetary policy has not led to reduced liquidity, nor has it had a negative impact on the economy or the markets. But over the long term, the policy will likely reduce liquidity marginally, which could drive up interest rates and affect stock and bond prices.
Slow wage growth. Despite strong employment growth, wages remain low, with 2.5% wage growth over the past 12 months, according to the U.S. Department of Labor.
Stock valuations. Stocks have continued to move up, pushing the S&P 500® to new highs and a 12-month forward price earnings (P/E) level of about 18.2.2 That's the highest level since 2004 (and more than three points higher than the historic average). (The forward P/E measures the stock price-to-earnings ratio of the S&P 500 index based on corporate earnings forecasts for the upcoming 12-month period.)
Tailwinds
In addition to the economic impact of the new tax plan discussed above, here are some additional economic factors that could help propel the economy in 2018:
Retail sales growth. Retail sales have been strong in recent months, with a 6.3% sales gain year-over-year through November 2017. Holiday sales were also strong this season, up 4.9% from a year ago, according to the Mastercard SpendingPulseTM survey issued December 26.3 It was the largest year-over-year increase since 2011.
Consumer spending. Personal consumption expenditures have increased for 33 consecutive months beginning February 2015.4
Oil recovery. Oil prices experienced a strong rebound during 2017 as the surplus in the global oil supply began to decline. OPEC is expected to continue its limited production policy, which means that the oil surplus could continue to ebb, driving prices higher. The rising prices have already prompted a rebound in U.S. drilling and production operations. That may ramp up further if the supply continues to decline and prices continue to rise, strengthening the U.S. oil industry. A strong oil industry could mean improving profits and an increase in well-paying jobs.
Declining dollar. The dollar has dropped versus most major currencies throughout 2017, aiding the earnings of U.S. multinationals and exporters, as well as making U.S. companies more competitive abroad. Reduced corporate taxes could add to that advantage.
European recovery. In Europe, the economy has continued to recover, although historically low interest rates and slow wage growth continue to be a concern for the economy.
Expectations
The three key elements of global growth, central bank policy and U.S. tax policy that supported 2017 economic and market performance all remain in place as we enter a new year.
However, U.S. and global stock markets, which had very strong returns in 2017, are already reflecting these favorable dynamics, with risk asset valuations at historically high levels. These high valuations are justified if the economy remains strong, no imbalances or surprises emerge, interest rates stay relatively low, and corporate profitability continues to grow. Thus we are sanguine on our outlook that these key elements will remain in place; however, stock valuations remain an issue that keeps us somewhat defensive in our overall view.
With the Fed poised to continue its policy of raising short rates while reducing its bond portfolio, real returns from high quality bonds in 2018 will continue to be exceptionally low, and could even be modestly negative if inflation moves above 2%.
Following the exceptionally low market volatility of 2017, we expect volatility to pick up in both the equities and fixed income markets in 2018 as the Federal Reserve, European Central Bank and other central banks pursue a tightening monetary policy. Heightened geopolitical risks could also play a role in increased volatility in the coming year.
We don't expect materially higher interest rates, but the risk/return trade-off in higher quality, longer maturity bonds remains unappealing. Tax law changes may benefit municipal bonds in that they may be one of the few areas where higher tax bracket investors can get tax advantaged returns relative to taxable bonds. Supply and demand dynamics also appear to favor the municipal bond market as we enter 2018.
Equity market returns in the U.S. will be particularly dependent on earnings growth in 2018. Tax policy changes may take some time to manifest itself in the market, but overall we expect it to be modestly positive. As mentioned previously, valuation is somewhat problematic, thus our more cautious position overall on U.S. equities. Although small cap stocks may benefit in the first part of 2018, and we are positioned for this, in the longer term our preference is for larger cap stocks which have relatively better valuations and are more poised to benefit from growth outside of the U.S.
International developed market equities continue to look attractive relative to domestic equities. However globalization continues to blur this distinction as multinational companies continue to operate successfully in multiple countries. We remain neutral in our view toward emerging market equities. Stability in China, and more importantly stability in foreign exchange markets, are very important for this market to continue to perform well.
We believe employment will remain strong, with the possibility of accelerating wage growth as the job market tightens. However, with unemployment at just 4.1%5 – which the Fed has suggested is full employment – continued job growth may become increasingly difficult. The industry consensus view for inflation is 2.3% for 2018. This would be a continuation of a subdued trend that has been in place for a number of years. If the domestic and global economies continue to show solid growth, inflation could be a modest upside surprise.
In the U.S., the economic recovery should continue if consumer spending continues to improve, wages and corporate earnings continue to rise, the oil industry remains stable, and consumer interest rates continue to move up.
The Economy and the Stock Market Pick up Steam in 2017. Get the latest details in the 2017 Market Recap.
Media contact: Samantha Mehrotra, 612-844-4197,samantha.mehrotra@thrivent.com
All information and representations herein are as of 01/02/2018, unless otherwise noted.
The views expressed are as of the date given, may change as market or other conditions change, and may differ from views expressed by other Thrivent Asset Management associates. Actual investment decisions made by Thrivent Asset Management will not necessarily reflect the views expressed. This information should not be considered investment advice or a recommendation of any particular security, strategy or product.  Investment decisions should always be made based on an investor's specific financial needs, objectives, goals, time horizon, and risk tolerance.
Indexes are unmanaged and do not reflect the fees and expenses associated with active management. Investments cannot be made directly into an index.
S&P 500® Index is an index of 500 stocks chosen for market size, liquidity and industry grouping, among other factors. The S&P 500 is designed to be a leading indicator of U.S. equities and is meant to reflect the risk/return characteristics of the large cap universe.
Past performance is not necessarily indicative of future results.
---
1 Bankrate, December 12, 2017
2 Factset, December 30, 2017
3 U.S. Department of Commerce, December 14, 2017
4  Federal Reserve Bank of St. Louis Personal Consumer Expenditures as of November 30, 2017
5 U.S. Department of Labor, December 8, 2017
Well that's unexpected - your subscription request was not submitted. Please try again.
Gain From Our Perspective
Get Our Investing Insights Newsletter in Your Inbox.
Subscribe now
Gain From Our Perspective
Get Our Investing Insights Newsletter in Your Inbox.
Subscribe
Thanks for Signing Up!
Be sure to check your inbox for the Investing Insights newsletter to get the latest news and insights from Thrivent Mutual Funds.
Great news - you're on the list!
Looks like you're already on our mailing list. Be sure to check your inbox for the Investing Insights newsletter to get the latest news and insights from Thrivent Mutual Funds.