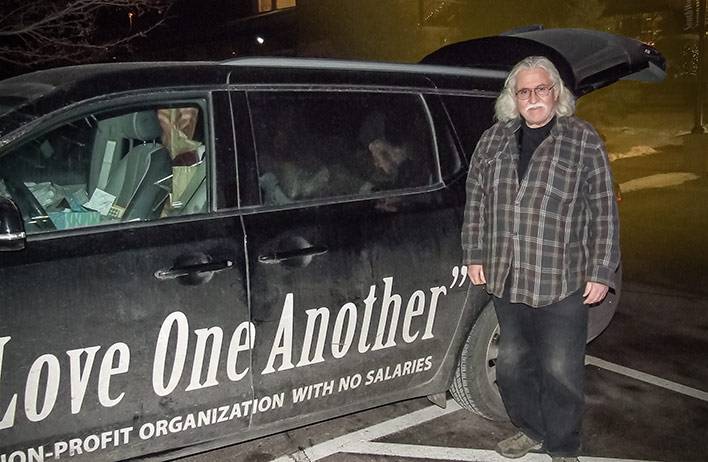 It's another bitter December night in Minneapolis. Biting arctic gusts, flurries and a dusting of new snow on the icy pavement make travel through the city streets and alleys particularly treacherous.
Allan Law isn't fazed. Been there, done that – thousands of times. Every night, 365 days a year, he faces the monumental task of passing out more than 2,200 sandwiches and other basic necessities to the homeless throughout the Twin Cities area. Whenever there are hungry mouths to feed – which is 24 hours a day, seven days a week—"the Sandwich Man" (as Law is known around town) feels compelled to be out on the streets doing his part to help.
That's why Law hasn't slept in his bed in 17 years. His grueling routine typically consumes about 20 hours a day. By night, he cruises the streets from 8 p.m. to noon the next day, looking for people in need. Then he spends his afternoons and early evenings picking up sandwiches and other provisions at churches, schools and businesses, occasionally speaking to volunteer groups, and dropping off his food and supplies at shelters and facilities that feed the homeless.
For Law, the days and nights blur together, with rarely more than three or four hours of sleep in any given 24-hour period. When he needs some shut-eye, Law may pull his van into a parking lot and doze off sitting up in the cab, or he may grab some winks at the apartment of his 100-year-old father before he heads back out for his afternoon chores.
"My doctor warned me that I need more sleep at night," says Law, "but I have too much to do. Most of the shelters and places that serve meals close up after dinner. There are still hundreds of hungry people on the streets all night long. That's why I need to be out there every night."
Since 2000, he has missed his daily routine on just two occasions. He spent eight days sidelined for cancer treatment before sneaking out of his care facility. "My phone was ringing all night every night I was there," he recalls. "People needed food or help. I had to go." He also missed two days for a trip to Washington, D.C., where he was honored for his community service before the U.S. Senate and the Supreme Court.
Otherwise, he's been on the job every day, rain, sleet or snow. "A few years ago, we had a blizzard, high winds, drifts, and 40-below wind chill factor," recalls Law. "My friend said, 'you're not going out in this, are you?' I said, 'that's right, I'm not going out in this . . . until I get my other boot on.' Those are the nights when people need you the most. There's not a night that goes by when I don't run into people who really, really need some help."
A Network of Giving
Law started his organization, Love One Another, 50 years ago at the age of 22 to help the people in the inner city area where he taught elementary school. "As a teacher, I met a lot of kids and families who didn't have enough food to eat or a place to live," says Law. "I felt there was a need there where I could help."
Love One Another really took off in 1999 after Law retired from teaching and started hitting the streets day and night. In the beginning, he persuaded SuperAmerica and Holiday service stations to donate their spare sandwiches rather than throw them out as the expiration date neared. "A lot of perfectly edible food was being wasted," says Law, "and I thought we could use those sandwiches to feed these people in need."
Since then, Law has enlisted the help of about 600 organizations, including churches, schools, youth groups, corporations, and other clubs and associations who donate food, money and volunteer hours.
Over the past two years, about 20 volunteer groups affiliated with Thrivent Financial – including corporate employees, Thrivent Financial Representatives, and other related groups – have contributed time or money to Love One Another. A key mission of Thrivent Financial is to help people be wise with money and live generously. You can learn more here. 
In all, about 9,000 people volunteer their time or resources each year to help Law feed the hungry. He still makes regular pick-ups at SuperAmerica, Holiday, Bobby and Steve's, and other businesses with surplus food, and gets occasional calls from event planners with extra meals from meetings, conventions, weddings, and other gatherings. But volunteers make the bulk of the 800,000 sandwiches he passes out each year.
He also hands out thousands of hats, coats, gloves, socks, protein packs, first aid kits, Christmas gifts, and other vital supplies each year – and hundreds of bus tokens every day. Law estimates that there are about 10,000 homeless people in the Twin Cities metro area, including 3,000 children under the age of 17. "Our primary goal is to help and feed as many of them as possible," says Law.
A native Minnesotan, Law isn't cowed by the frigid winters and icy streets. "I'm usually out in just a flannel shirt unless it's really cold (Minneapolis temperatures can plunge to as low as 25 below); then I might put on a second shirt."
But doing his business in the most troubled parts of town can have its hazards. "I've been robbed three times," says Law "and almost killed once." But the mean streets – and even the gangs – are usually kind to the Sandwich Man. He also has the respect of law enforcement, and gets called from time to time to help defuse tense situations. "If there's a confrontation, I step right in the middle," he explains. "They know me, and I can usually reason with them and get things calmed down."
Beyond Meals
Law's vision goes beyond feeding the homeless. In addition to the food program, Law also runs two other programs, Youth Builder, which Law founded in 1967 to provide inner city youth with free after school, weekend, and summertime activities; and Samaritans Outreach, which helps families in need with food, housing, counseling, chemical dependency, financial aid, and healthcare.
"Allan also tries to help people find jobs – or get training to help them find a job," explains Steve Aase, who assists Law with some of the operational duties. "Many of these people face difficult circumstances, including felony records. They need help to get over those hurdles and convince employers to give them a chance."
Love One Another runs on an annual budget of about $190,000 and dishes out approximately $1.6 million in food and supplies each year. Currently, the headquarters of Love One Another is in Law's home, where he stores a 60-day supply of sandwiches in 17 large freezers. He also rents four large storage units to stash supplies.
His organization is planning to rent a building to serve as the headquarters and supply center. "That would give us a place for volunteers to congregate and for us to store supplies," explains Aase. One volunteer, Teri Bennet of Minneapolis, recently started a gofundme.com post called "Alan Law Needs a Warehouse" that has raised more than $37,000 to help pay for the building.
Law's tireless dedication has not gone unnoticed. In addition to numerous media articles, including a feature on the NBC Nightly News, Law has been recognized for his work by three U.S. Presidents, and has received countless local and national honors, including the Jefferson Award from the American Institute for Public Service (which he received before the U.S. Senate), and the Jacqueline Kennedy Onassis Gold Medallion (which he received before the U.S. Supreme Court).
"For me," says Law, "these awards mean absolutely nothing. Zero. I didn't apply for them and I don't hang them on my wall." When he was informed a few years ago that he was the winner of a prestigious McKnight Foundation Award, Law tried to talk his way out of attending the banquet. "I didn't have time," he recalls. "I needed to be out on the streets." But Law had a sudden change of heart when he learned that the award came with a check for several thousand dollars. "I said 'Well, maybe I'd look good in a tuxedo after all. I'll be there.' I thought that money could go a long way."
"But I definitely don't do this for the awards," adds Law. "What keeps me going is seeing lives improving." A devout Christian, Law is not concerned about his place in heaven, but not because of his worldly deeds. "I'm going to heaven because I took Jesus as my Savior. These things I do, going out into the community, feeding the hungry and changing lives, I do because I need to. I have to be out there helping people, and I will be out there working every single day and night for the rest of my life."
*****
As he's leaving a local burger joint, Law spots a middle aged man in a booth waiting for his order. "How you doing tonight?" says Law. "Do you live around here?" After a little small talk, the stranger suddenly lights up. "Hey man, now I know who you are. I've met you before. You're the Sandwich Man! Let me shake your hand! Thank you for everything you do! God bless you!"
With a nod and a smile, Law is out the door and back into his van. It's nearly 7 p.m. on a Thursday night, and the Sandwich Man has places to go and people to feed.
How to Help
To find out more about Allan Law and Love One Another and learn how you or your organization can contribute or volunteer, go to http://www.mrdinc.org/.
You can also mail a donation to:
Love One Another 
7220 York Avenue South, #610 
Edina, MN 55435
If you have another favorite cause, you may wish to learn about an investment vehicle known as a "donor advised fund." These charitable investment accounts give you the opportunity to allocate your charitable contributions to a managed investment fund, including Thrivent Mutual Funds, where it could grow tax-free until it's passed on to charitable causes of your choosing. You'll receive a tax benefit for your donations, based on when and how you give. (See: Donor Advised Funds Mix Charity, Investing and Flexibility)
Thrivent Financial Representatives are registered representatives of Thrivent Investment Management, Inc. Thrivent Investment Management, Inc. is an SEC-registered investment adviser and broker/dealer, and a member of FINRA and SIPC and a wholly owned subsidiary of Thrivent Financial, the marketing name for Thrivent Financial for Lutherans.
Love One Another and Thrivent Distributors, LLC (the distributor of Thrivent Mutual Funds) are not affiliated entities.
This information should not be considered investment advice or a recommendation of any particular security, strategy or product. Investment decisions should always be made based on an investor's specific financial needs, objectives, goals, time horizon, and risk tolerance.
Well that's unexpected - your subscription request was not submitted. Please try again.
Gain From Our Perspective
Get Our Investing Insights Newsletter in Your Inbox.
SUBSCRIBE NOW
Gain From Our Perspective
Get Our Investing Insights Newsletter in Your Inbox.
SUBSCRIBE
Thanks for Signing Up!
Be sure to check your inbox for the Investing Insights newsletter to get the latest news and insights from Thrivent Mutual Funds.
Great news - you're on the list!
Looks like you're already on our mailing list. Be sure to check your inbox for the Investing Insights newsletter to get the latest news and insights from Thrivent Mutual Funds.