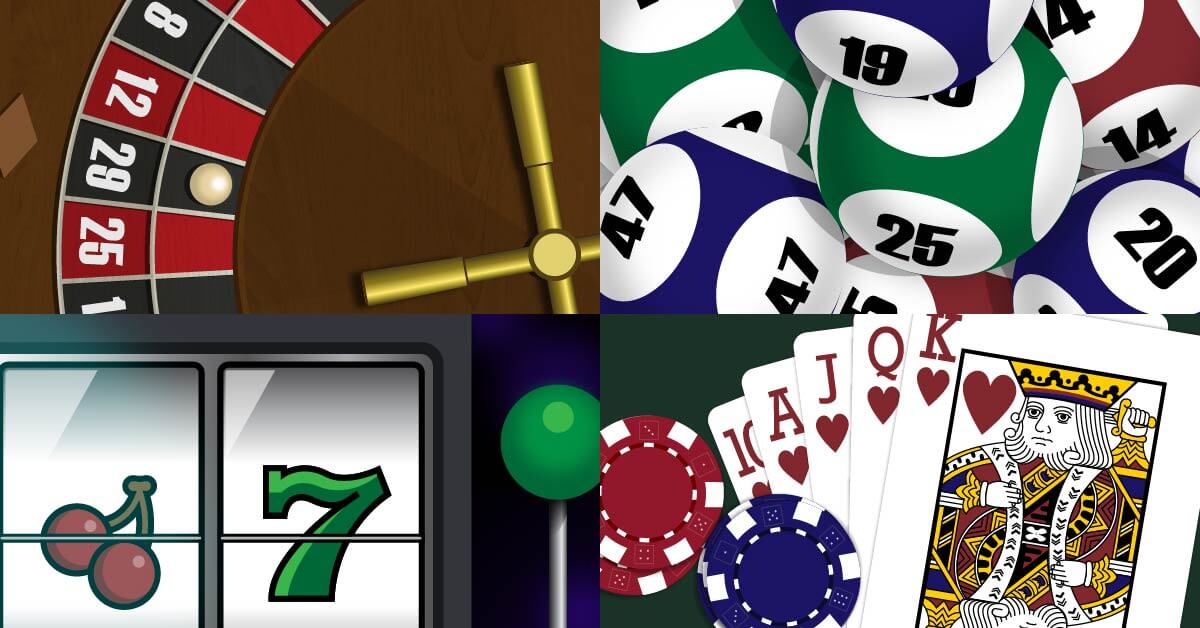 When we talk with responsible savers who are inexperienced in the investment market, one of the common concerns we hear is that they fear risk and believe that investing is essentially the same as gambling.
There are nearly endless ways to gamble with your money – buy a lottery ticket, bet the ponies, feed the slots, pull some tabs, spin the wheel, or roll the dice. While there may be some entertainment value in these activities, we don't look at any of them as financial strategies. We recommend you not gamble with your financial future and consider investing your money instead.
To be clear, you can lose money investing just as you can lose money gambling, and you can win money gambling just as you can earn money investing. Both investing and gambling involve risking capital in the pursuit of profits.
But there are significant differences between the two that you should understand before putting your hard earned money on the line. Let's compare the two to illustrate the important differences between investing and gambling.
Principles of Investing
Experienced investors typically develop a long-term plan that incorporates their investing goals, risk tolerance, time horizon, and investment knowledge. It is often helpful to work with an investment professional to assess and implement that plan. Monitoring the portfolio regularly is important to ensure it continues to meet your needs.
Investing should be viewed as a long-term, continuous process. Getting started and continually assessing and investing is key. The earlier you start investing, the longer you can take advantage of the effects of compounding – if your investment goes up, you will then start to earn a return on your return. To illustrate, if you contributed $100 per month to an account that earns an annual 7% return (compounded monthly), after 30 years, your $36,000 total investment would have grown to more than $120,000, as the table below illustrates:
Investing $100 per Month with a 7% Compounded Return
| | | | | |
| --- | --- | --- | --- | --- |
| Years Invested | Yearly Investment | Total Invested | Total Earned* | Total Holdings |
| 1 | $1,200 | $1,200 | $46.49 | $1,246.49 |
| 5 | $1,200 | $6,000 | $1,201.05 | $7,201.05 |
| 10 | $1,200 | $12,000 | $5,409.45 | $17,409.45 |
| 20 | $1,200 | $24,000 | $28,396.54 | $52,396.54 |
| 30 | $1,200 | $36,000 | $86,708.75 | $122,708.75 |
* Compounded monthly1
Hypothetical example is for illustrative purposes only. It is not intended to represent the performance of any particular investment product, nor does it take into consideration any product expenses or fees. The results would be reduced if the costs were included.

You should be aware that when you invest in the market, it is unlikely that you will have a constant rate of return every year. Markets and investments go through cycles. Some years your portfolio will grow at a faster rate, some years a slower rate, and some years it may even lose value. You may prefer to build a diversified portfolio by investing in different types of securities at the same time to help reduce risk and increase potential returns over the long-term. For instance, you can consider a combination of savings, income and growth related investments. Diversification won't eliminate all of your risk, but it will help cushion your portfolio from downturns during a market cycle.
To select your investments, you can do your own research or you can enlist an investment professional. Consider mutual funds as an option, as they can be well-diversified and professionally managed by an experienced portfolio manager. Look for funds that match your risk tolerance and investment objectives. By having a plan, you won't feel as if you are gambling with your money.
Risks of Gambling
As a gambler, the more money you gamble, the more you are likely to lose even if you spread your bets over multiple venues and over an extended period of time. Whether you're gambling at a casino, at the race track or in the lottery, the odds always favor the house. This is how casinos make their money.
When you gamble, you're not buying anything of value but rather placing a bet on a short-term one-off event or action with an uncertain outcome. When the event is over – the ponies have run, the roulette wheel has spun, the lottery numbers have been drawn – unless you defied the odds and won, your purchase would be worthless.
Here are your odds of winning two of the most popular games of chance:

Slot machines. Slot machine odds vary from game to game and venue to venue, but in Las Vegas the average payout is roughly 94%.2 That means that based on mathematical probabilities, for every $100 you wager, you would get a return of $94 – which adds up to a loss of $6 on every $100 wagered.

Roulette wheel. Place your bet on any of 38 numbers (1-36 and 0 and 00), or on a color (red or black), or whether the number is odd or even or high or low. Then spin the wheel in hopes of beating the odds. For an investment on a specific number, over time, your odds are 38-1 in order to win $35 ($36 including your $1 bet). Since the probability is that you would win one in 38 games and your return would amount to $36, mathematically, that means you would lose $2 for every 38 spins – that's a payout of 94.74% of money wagered – which translates into a loss of 5.26%.
Unlike investing, when you gamble, you can do little to plan or manage risk. You're relying on luck and emotion in taking a risk on an uncertain outcome that involves chance. If you choose to gamble, it should be for entertainment purposes, not for the purpose of attaining specific financial goals. 
With investing, you can have more control over your outcome. You can manage risk, have a long-term plan, do your research, and use professional investment managers if you want. With a systematic approach, your investments can help you reach your financial goals without gambling away your future. 
A great way to get started investing is with mutual funds which have built in diversification, which can help reduce risk, but not eliminate it. When you invest in a mutual fund, your dollars are invested in multiple securities which helps spread your risk. Learn more about Thrivent Mutual Funds.
---
1 Calculation source for table: thecalculatorsite.com
2 Source: LasVegasGambler.net


Well that's unexpected - your subscription request was not submitted. Please try again.
Gain From Our Perspective
Get Our Investing Insights Newsletter in Your Inbox.
Subscribe now
Gain From Our Perspective
Get Our Investing Insights Newsletter in Your Inbox.
Subscribe
Thanks for Signing Up!
Be sure to check your inbox for the Investing Insights newsletter to get the latest news and insights from Thrivent Mutual Funds.
Great news - you're on the list!
Looks like you're already on our mailing list. Be sure to check your inbox for the Investing Insights newsletter to get the latest news and insights from Thrivent Mutual Funds.