Do you have a new baby? You've probably already discovered that your tiny new family member comes with a host of big expenses.
In fact, raising a child through the age of 17 costs more than $230,000, according to the U.S. Department of Agriculture.i  And then comes higher education. For a public four-year school during the 2018-2019 school year, the average annual cost of tuition, room and board was $21,370 according to the College Boardii – and that's likely to go way up by the time your child graduates high school.

That's why it's never too early to begin investing for your child's future. And it's about more than just the soaring costs of higher education. Your child will very likely participate in many other cost-incurring experiences, such as summer camps, orthodontia, youth sports, hobbies, and even a future wedding. Taking the right steps now to prepare for your baby's financial future will take some thoughtful planning and discipline.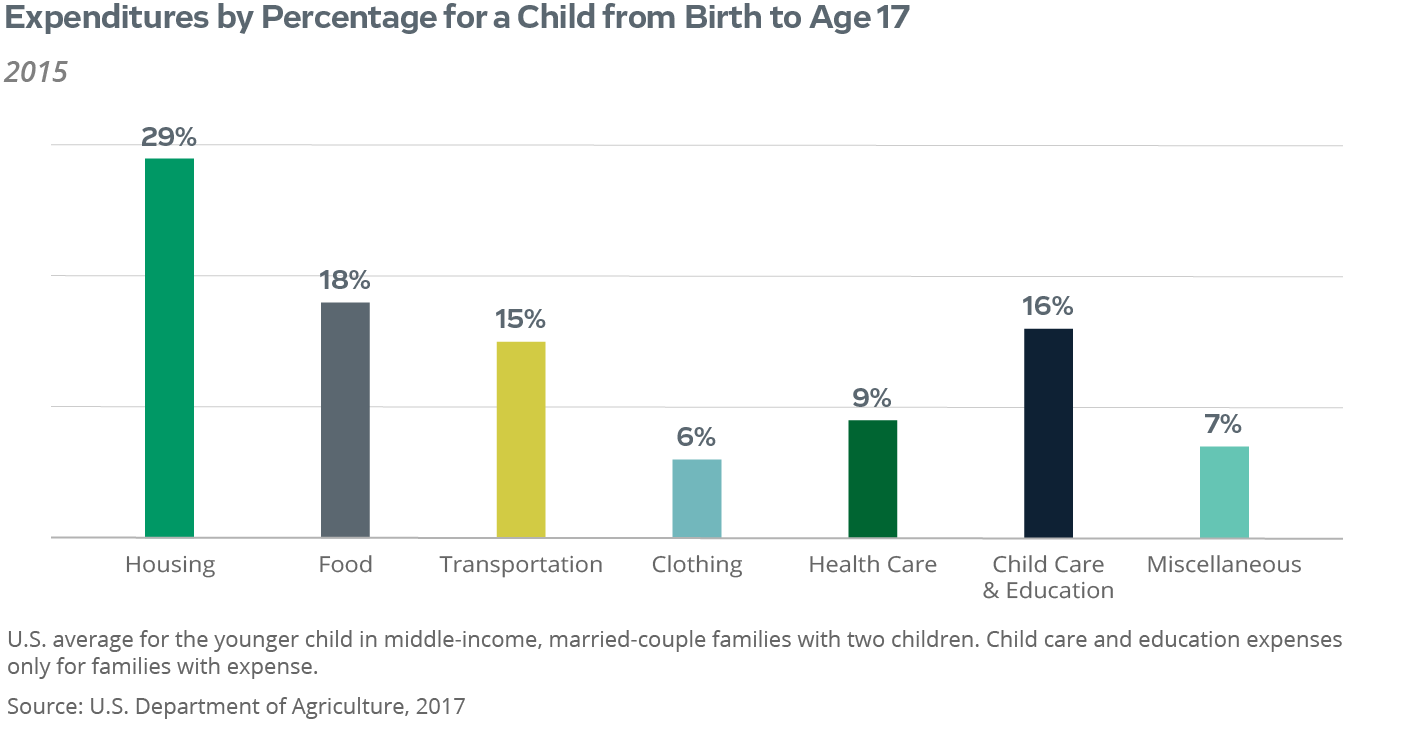 Steps to take for the near-term
Start saving now. Time is the biggest asset you have on your side—the sooner you start stockpiling savings, the longer that nest egg has to compound and grow. Even if you can only put away a small amount each month, every little bit will make a big difference in the end. (See: Start Building Your Nest Egg for Just $50 a Month)
Consider opening a brokerage account. If you'd rather the money you're putting away doesn't default to your child at age 18—or you're just looking for a way to sock funds away for future expenses like summer camp or tutoring—a brokerage account can be a convenient way to save. If you'll need the money in the short-term, consider investing in a low volatility investment, such as a money market fund. For the long-term, you may consider a more aggressive fund such as a stock fund or asset allocation fund. (See: Thrivent Equity Funds)
Involve the family. Especially when your kids are little—and even when they're bigger—they don't need a ton of gifts for their birthdays and holidays. If relatives ask what your little one wants, tell them you'd appreciate a contribution that could be used toward their college education or other needs, such as a class, music lessons or investment for future expenses. Even $100 a year from your baby's grandparents, invested in an account earning 5%, would be worth nearly $3,000 by the time they hit age 18.

Consider buying life insurance – on yourself and your spouse. Although this isn't a direct savings for your child, it's certainly a way to protect them in the future should something happen to you. Term life insurance is generally the most affordable way to get the most coverage, but you may find that permanent life insurance offers other helpful advantages, such as the ability to borrow against it for education or other needs.

Future Concerns
As your child grows up, he or she may need funds for education or just to get a start in life. Here are a couple different ways you may want to consider in order to prepare for that day.
Consider a Coverdell. A Coverdell Education Savings Account (CESA) offers you the ability to save up to $2,000 per child per year toward education expenses, as long as you are within the income limits. You can use the money toward eligible K-12 expenses or college costs, and anyone can contribute, including grandparents and family friends. (The annual limit, however, applies to all contributions.) As long as the money is used for qualified education expenses, distributions from the account are tax free. (See: Start Your Education Savings with a Coverdell Plan)
Consider an UTMA. Want to put money aside for your child? A Uniform Transfers to Minors Act (UTMA) custodial account lets you establish and manage assets for them, including stocks and securities. Once the account is established on behalf of your child, the assets are considered irrevocable gifts that belong to them. Contributions are unlimited (the contributions are considered gifts, and fall under the annual gift exclusion rule), and you can invest them in any of Thrivent's available mutual funds. The money must be used for the benefit of your child—and not just for education.

Any investment income that occurs belongs to your child, so it may be subject to the "Kiddie Tax": Just know that once your child reaches the age of majority (generally age 18 to 21, depending on the state), they'll have access to the funds for any purpose. (See: UTMA plans)
Don't Forget to Save for Your Own Retirement
No matter how important you consider your child's future to be, don't forget about yourself. Your own financial stability is just as important as your children's. In fact, part of your child's future success requires that they don't have to support you in your golden years. To ensure this, you'll need to save adequately for retirement.
One way to do that is through an Individual Retirement Account (IRA) or investing at work through a 401(k), both of which typically provide a tax benefit for working Americans.

Thrivent offers traditional and Roth IRA accounts, as well as SEP IRA accounts for the self-employed. The more you can put away each year, the better your chances of enjoying a comfortable retirement for you—and less financial worry for your offspring. (See: Traditional IRA versus Roth IRA: Which Is Right for You?)
i Department of Agriculture, "Cost of Raising a Baby," January 2017
ii College Board, "Tuition and Fees and Room and Board over Time," 2019
The concepts presented are intended for educational purposes only. This information should not be considered investment advice or a recommendation of any particular security, strategy, or product, nor is it intended to provide accounting, legal or tax advice. Please consult your tax or legal advisor regarding such matters. Thrivent employees and their representatives cannot provide legal or tax advice.
Well that's unexpected - your subscription request was not submitted. Please try again.
Gain From Our Perspective
Get Our Investing Insights Newsletter in Your Inbox.
SUBSCRIBE NOW
Gain From Our Perspective
Get Our Investing Insights Newsletter in Your Inbox.
SUBSCRIBE
Thanks for Signing Up!
Be sure to check your inbox for the Investing Insights newsletter to get the latest news and insights from Thrivent Mutual Funds.
Great news - you're on the list!
Looks like you're already on our mailing list. Be sure to check your inbox for the Investing Insights newsletter to get the latest news and insights from Thrivent Mutual Funds.