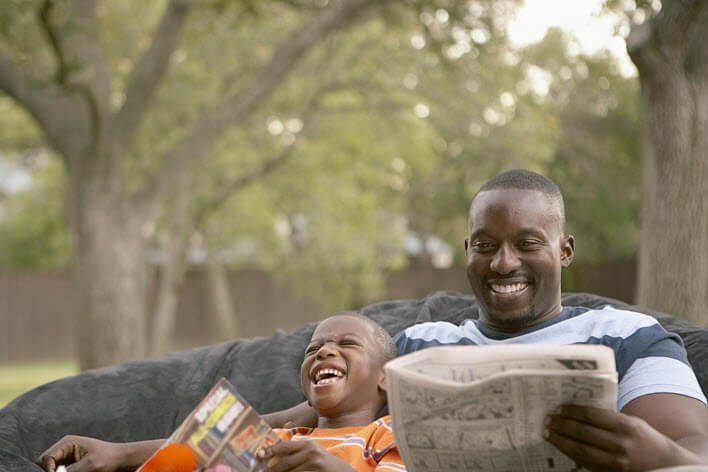 So you say you have no experience investing? You don't follow the markets? Economic discussions make your eyes glaze over? You wouldn't even know a subordinated debenture from a leveraged tranche? HA!
It doesn't matter. You can do this. Starting an investing plan may be much easier than you thought. 
You learned how to read, right? You learned how to add and subtract? You may even have learned to ride a bike – albeit, perhaps, with a few scrapes and bruises. Investing in mutual funds may be way easier and less painful.
When you invest in mutual funds, you don't have to follow the markets, keep track of the economy, or chain your life to an endless cascade of buy and sell decisions. 
Once you make one key decision – which mutual fund (or funds) best matches your long-term goals – and set your investment plan in motion, you may be able to head to a desert island, unwired, for years to come, while a professional money manager (or a team of professional money managers) make the critical investment decisions in your portfolio for you. Keep in mind, however, that while your investment may increase in value, you also face the risk of loss of principle with mutual funds and other investments.
Here's how to start:
Figure out how much you want to invest. You can start with as little as $50 a month1 with a Thrivent Mutual Funds account (See Start Building a Nest Egg at $50 a Month and How to Scrounge up $50 a Month). Or you can invest a lump sum of any amount of $2,000 or above. If you want to invest some money each month, you can set up an automatic purchase plan for the amount you want to invest, and the payments are automatically made for you (look mom, no hands) directly from your checking or savings account. 
Figure out your objective. Are you saving for retirement, maybe a house or a car? Are you saving for the short term or the long term – many years out? Your goals and investment timeline should help determine the type of fund or funds that you invest in, although there are other considerations, as well. For instance, you should take into account your overall portfolio, current financial situation, investing experience, time horizon and other investments you may have (such as a 401k plan at work) as well as your threshold for risk should also be considered. 
Pick a fund or a group of funds and begin your investment program. If you're not comfortable making your own decision on which mutual funds are best for you, you may wish to consult with a professional financial representative who can guide you in your decision – again based on your goals, timeline and threshold for risk. (See Do I need a Financial Representative?). Otherwise, select a fund or funds that you believe best lines up with your investment profile. Our investor quiz can be a place to start. Some of the more aggressive funds invest primarily in stocks, such as large stocks, small stocks, mid-sized stocks and international stocks, while income-oriented funds tend to invest in bonds and other types of income investments. You may also choose to invest in an asset allocation fund that holds a variety of different types of investments, including both stocks and bonds. There is a wide range of asset allocation funds available from moderately conservative to aggressive. See all the funds offered by Thrivent Mutual Funds.
Sit back, relax and let your portfolio managers do their job. Once you've made your choice and started your automatic purchase plan, you can go on with your life, and spend your time doing the things that are important to you while your fund managers track the market and the economy and make the critical buy and sell decisions in your portfolio. You may also want to periodically consider increasing your purchase amount to keep up with inflation or step-up your investment.
Here are some other questions you may still have:
What the heck is a mutual fund, anyway? For a technical description of a mutual fund, see this footnote,2 or our article explaining mutual funds, but in simple terms, when you invest in a mutual fund, you own a share of an entire portfolio of investments – usually stocks or bonds or both. As such, your single investment provides you with diversification across the entire fund portfolio. While diversification may not prevent losses, it may help mitigate losses in a down market. 
What does a mutual fund cost? Some mutual funds charge an upfront fee of up to 8.5% of assets invested (known as "front-end load" funds), while others may charge a fee when you sell your shares (known as "back-end load" funds). Other fund families charge no sales load (these are known as no-load funds). For instance, Thrivent Mutual Funds offers 21 no-load funds as "Class S shares." Nearly all funds charge an annual management fee. According to the Investment Company Institute, the average annual equity mutual fund expense ratio in 2015 was 0.68% of assets under management. To understand more about fees and expenses, and what to expect from Thrivent Mutual Funds, see "Mutual Fund Fees and Expenses." 
Active versus passive funds. Some funds are actively managed by a portfolio manager (or team of managers) while others, known as "index funds," are unmanaged and simply hold a portfolio of stocks that directly reflect the components of an index. For instance, an S&P 500 index fund holds a portfolio that exactly mirrors the Standard & Poor's 500 Index of 500 large capitalization stocks. You can't invest directly in an index, but a recent Thrivent Mutual Funds Active vs. Passive study showed that over the past quarter of a century, while the S&P 500 index and the Russell 2000 (small stock) index tended to perform better than actively-managed funds during bull markets, those indexes trailed the performance of their respective peer group of no-load, actively-managed funds during bear markets and periods of market turbulence.
Although there is a lot you could know and educate yourself on regarding mutual funds, you really only need to understand the fundamentals and take the steps as outlined above to get started. What are you waiting for?
Thrivent Mutual Funds offers a family of 24 mutual funds actively-managed by our more than 100 investment professionals. Investors can choose to build their own diversified portfolio with a combination of Thrivent Equity Funds and Thrivent Fixed Income Funds, or let us do it for them with one of our diversified Thrivent Asset Allocation Funds or Thrivent Income Plus Funds.
S&P 500® Index is an index of 500 stocks chosen for market size, liquidity and industry grouping, among other factors. The S&P 500 is designed to be a leading indicator of U.S. equities and is meant to reflect the risk/return characteristics of the large cap universe.
The Russell 2000® Index measures performance of small-cap stocks.
---
1. New accounts with a minimum investment amount of $50 are offered through the Thrivent Mutual Funds "automatic purchase plan." Otherwise, the minimum initial investment requirement is $2,000 for non-retirement accounts and $1,000 for IRA or tax-deferred accounts, minimum subsequent investment requirement is $50 for all account types.
2. A mutual fund is an investment company that continuously offers new equity shares in an actively managed portfolio of securities. All shareholders participate in the fund's gains or losses. Each mutual fund's portfolio is invested to match the objective stated in the prospectus. (Source: Kaplan University)
Well that's unexpected - your subscription request was not submitted. Please try again.
Gain From Our Perspective
Get Our Investing Insights Newsletter in Your Inbox.
SUBSCRIBE NOW
Gain From Our Perspective
Get Our Investing Insights Newsletter in Your Inbox.
SUBSCRIBE
Thanks for Signing Up!
Be sure to check your inbox for the Investing Insights newsletter to get the latest news and insights from Thrivent Mutual Funds.
Great news - you're on the list!
Looks like you're already on our mailing list. Be sure to check your inbox for the Investing Insights newsletter to get the latest news and insights from Thrivent Mutual Funds.