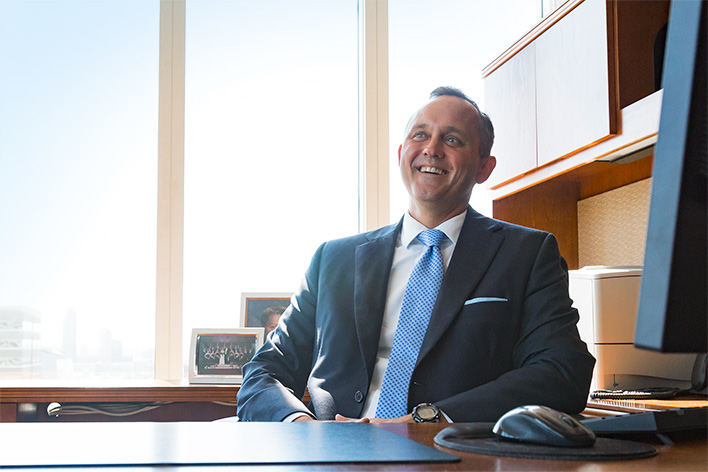 When my wife and I started dating many years ago, I told her I enjoyed woodworking. Which was kind of true. I had acquired a few tools and had recently built a coffee table and two end tables. Mostly, though, I was just trying to impress her. And from my comment about woodworking, my lovely wife drew the mistaken conclusion that I was handy.
Talk about over-promising and under-delivering! I am not handy; I am whatever is the opposite of handy. But my wife is a good sport. She will call our local handyman when something is broken and is sympathetic enough to allow me to save face by saying something like, "I'm sure Dave would have fixed this if he had had the time."
Please bear with me—I'm getting to an important point about personal investing. But first I need to introduce you to someone.
Meet Fred
Interestingly, incompetence in all things mechanical isn't something that runs in my family. Quite the opposite. My mother's family has operated a small metal fabrication business in Milwaukee since 1929. The business is now run by my uncle, and by my cousin, Fred. He and I were born the same year, grew up together, and now Fred has twin sons roughly the same age as my two boys. So we have a lot in common, except for one thing: Fred can fix absolutely anything. When Fred and his family come to our house to visit, my wife has a list of things for Fred to fix, which he seems to enjoy. (I talk to him and hand him tools while he works).
But Fred doesn't just fix things. He completely re-engineers them. We have a kitchen cabinet shelf that had been sagging and is now perfectly straight due to a complex contraption Fred designed and installed that involved a piece of specially fabricated stainless steel and a lot of other little parts, the function of which I don't remotely understand.
Whenever we visit Fred's house, he will nonchalantly tell us how his furnace went out so he rebuilt the whole HVAC system. When you have a special skill, it can be easy to forget that most others don't share your talent. One time when we were at Fred's house and he was explaining how he had handled some large-scale home repair issue, his wife acknowledged how convenient it was to have someone in the house who could build nearly anything and fix pretty much everything. She smiled and asked a perceptive question: "What do regular people do?"
What Regular People Do
I can tell you what regular people do: They get help.
I don't change the oil in my car; instead, I take my car to one of the major quick-change shops—and it's not because I don't want to get my hands dirty. There are really two reasons why I get help changing my oil. First, it would take me quite a bit of time, especially since I haven't changed the oil in a car in 30 years. A quick-change expert can take care of the process in 20 minutes and does it for a very reasonable price. Second, cars have gotten a lot more complicated since I was in high school, and I'm afraid I might do something wrong that could damage my car. I would prefer to spend my time on other things and not have to worry about making a catastrophic mistake. Instead, I get help.
So what does Fred do when he invests? After all, while Fred has an amazing talent when it comes to household engineering, he would be the first to say he's not an expert when it comes to the markets. Fred gets help when he invests, just like other "regular people" who invest. Fred and his family are longtime Thrivent members and work with a financial representative in their community, which gives them more time to spend doing the things they love to do.
It's OK to Get Help
In the print media and on television, you will often hear that you should simply buy and hold low-cost index mutual funds and ETFs (exchanged-traded funds) through an online brokerage account. That's not necessarily bad advice. If you are someone who is comfortable managing your own investments and have the discipline to rebalance your portfolio regularly and the temperament to stick with your allocations throughout the market's ups and downs, then purchasing a portfolio of index mutual funds or ETFs yourself may be a suitable strategy for you.
What troubles me is the implication you sometimes hear that if you work with a financial representative or if you purchase an actively managed mutual fund that you are making an unwise financial decision, or worse, that you are being taken advantage of. It would be cheaper for me to change my own oil, but it would never occur to me that my oil change professional wasn't providing me with a valuable service. Now, to be fair, investment management fees and expenses compound over time and can be very substantial, especially over longer-term horizons. Such fees can dwarf the $35 it costs each time to get my oil changed. However, managing your investments to achieve your own financial goals—I think most would agree—is even more important than routine auto maintenance.
Getting Help Can Improve Performance
To most regular people, it might seem obvious that getting help can improve investment results—just as I believe my car runs better when it is maintained by experts. There have been many extensive studies on this topic, but I'll just mention one.
Aon Hewitt conducted an analysis of more than 723,000 individual participants in employer-sponsored defined contribution plans from 2006-2012.1 The study compared the investment returns of those individuals who received "help" (defined for purposes of the study as people who invested through a managed account, purchased a target date fund, or received online investment advice) with those who did not. The study found that those who received help had significantly better investment returns than those who did not (by more than 3% annually, net of fees).
While the Aon Hewitt study analyzed help that was provided though managed accounts, target date funds or online advice tools, there are a variety of ways to receive help. An investor can work with a financial representative. An investor can also purchase funds that "embed" help in the product, such as a risk-based asset allocation fund. At Thrivent Mutual Funds, we offer all-in-one asset allocation funds that give you the ability to target a specific risk level. They are managed by professional asset managers who oversee the rebalancing of your investments and seek to capitalize on market opportunities. We believe that the Thrivent Asset Allocation Funds2 can be an efficient way for many investors to receive help with their investments.
And speaking of help, there's nothing we enjoy more than helping regular people like you be wise with money. That's our mission and that's who we are.
1 Help In Defined Contribution Plans: 2006 through 2012. Aon Hewitt, May 2014.
2 The Fund invests in other Thrivent Mutual Funds and in directly-held equity and debt instruments. The Fund is subject to its own fees and expenses and the expenses of the other funds in which it invests, and is subject to all of the risks of the other funds in which it invests. The value of the Fund is influenced by factors impacting the overall market, certain asset classes, certain investment styles, and specific issuers. The Fund may incur losses due to incorrect assessments of investments by its investment adviser.
Well that's unexpected - your subscription request was not submitted. Please try again.
Gain From Our Perspective
Get Our Investing Insights Newsletter in Your Inbox.
SUBSCRIBE NOW
Gain From Our Perspective
Get Our Investing Insights Newsletter in Your Inbox.
SUBSCRIBE
Thanks for Signing Up!
Be sure to check your inbox for the Investing Insights newsletter to get the latest news and insights from Thrivent Mutual Funds.
Great news - you're on the list!
Looks like you're already on our mailing list. Be sure to check your inbox for the Investing Insights newsletter to get the latest news and insights from Thrivent Mutual Funds.