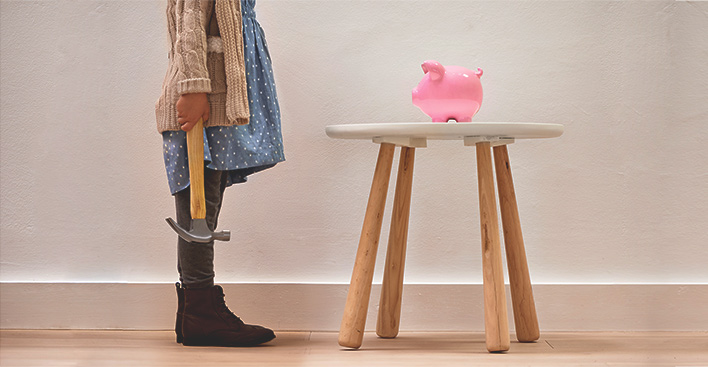 Despite the best of intentions, you've been getting nowhere with your investment plan.
By now, you may be starting to realize that if you can't get the investing process started, you'll fall further and further behind in your quest to build the savings you need to achieve your lifetime goals and, ultimately, retire comfortably.
But by the time you've paid your bills each month and covered your other expenses, there's no money left to save and invest. How can you get over that hump and get your investment program rolling when you're barely making ends meet?
There's no simple solution, but there are four relatively painless steps you can take to move forward with your investment plan:
1. Figure out where all your money is going
If you're consistently living from paycheck to paycheck, that's a tough way to save money. To get out of that rut, you need to figure out exactly where you are spending your money.
The first step is to track every dollar you spend. Add it up and evaluate where all of your money is going. That should shed some light on areas that may be draining more of your paycheck than warranted.
Some of your current expenses may be locked in, such as rent or mortgage payments, utilities, groceries, and transportation. But you may also notice a number of other monthly expenses that you may be able to slash in order to free up the money you need to invest.
For instance, how much are you spending to eat out? How much for entertainment or travel? What about clothing and accessories, recreational activities, music, tech toys, or your pets? Life is to enjoy, but if that enjoyment comes at a disproportionally high price, you could be sidetracking your long-term investment goals.
2. Find a way to cut expenses
Once you've identified exactly where all your money goes, then you can start the trimming process. Let's say you want to invest $50 a month. Look through all of your expenses – clothing, travel, dining, and all your other cost categories – and figure out which ones you can cut to get to $50.
That might mean that instead of four dinner or movie dates a month, you cut it to three. Or maybe you cut five of your other categories by $10 a month to get to $50. Set a budget, keep track, and stick with it, and you'll have your $50 a month. (See: How to Scrounge up $50 a Month)
That doesn't mean, however, that you should necessarily limit it to $50 a month. That's a good start, but if you want to build your investment account faster, there may be bigger expenses to consider. Here are some of the biggest budget killers:
Average Expenditures and Income of U.S. Consumers
Based on Average Individual or Family Income before taxes: $74,664 (2016)
| | |
| --- | --- |
| Category | Annual Cost |
| Apparel and services | $1,803 |
| Entertainment | $2,913 |
| Food away from home | $3,154 |
| Vehicle purchases | $3,634 |
| Other vehicle expenses | $2,884 |
| Housing | $11,128 |
Source: Bureau of Labor Statistics, Consumer Expenditures 2016, issued August 29, 2017
If you evaluate your own expenditures in these areas, you may see some good ways to cut your costs. Could you cut back on shopping and entertainment? Could you own a cheaper car, find a cheaper place to live, or take on a roommate to share expenses? If you're serious about building wealth, you need to consider all of the potential ways to save.
Here are some other expenses that can drain your savings:
Travel. Vacation costs can often get out of hand. According to a 2017 survey by LearnVest on "Money Habits and Confessions," 74% of those surveyed said they had taken on debt to pay for a vacation. Average debt was $1,108. On average, Americans spend 10% of their annual income on vacations, while a quarter of the survey respondents said they spend 15% or more.1
If you find that too much of your income is going toward vacation costs, you should consider cutting back on travel or finding a way to travel cheaper. (See: 26 Ways to Save on Travel)
Recreational vehicles. Recreational vehicles can be a fun way to spend your free time, but they can also be costly – especially for those on a limited budget. If you earn under $75,000 a year and own a boat, you're not alone. About 62% of motor boat owners earn under $75,000 per year.2
While the cost of a boat can be substantial, the annual maintenance and operational costs can be even higher. You may need a trailer and license plate fees, lake access fees, insurance, dock fees, storage fees, fuel, routine maintenance, and repairs. Add to that any skiing equipment, fishing tackle, bait, depth finders, and other maritime contraptions you may need to get the desired usage from your boat. Then there's the cost of food and beverages every time you and your friends head out to sea. The cost of owning a boat for a period of years – including related costs – can easily add up to tens of thousands of dollars – and often much more.
If the cost of your boat is bleeding you dry, consider other options, such as boating with friends or renting a boat on the days you want to hit the water. Rentals for a mid-size boat often range from $100 to $300 a day (or higher or lower depending on the boat). So if you only want a boat for an occasional afternoon cruise, renting could save you a boatload of money over the years, which you can then divert to your investment plan.
But if boating is in your blood, keep in mind that your boat could be taking a serious bite out of your long-term investments.
Pets. If you own pets, the companionship they bring may be the best bargain in your life. But they do impact your bottom line. The more you spend on Fido, the more you'll need to trim from your other discretionary expenses in order to free up some money for your investment plan.
The average annual cost of feeding and caring for a mid-sized dog is about $900, according to the American Society for Prevention of Cruelty to Animals (ASPCA). Start-up costs, such as leashes, cages, medical treatment, and training can add another $600 to first year ownership, and grooming and related procedures can add several hundred dollars more.
The ASPCA estimates first year costs, including annual expenses and start-up costs, would come to about $1,471 for small dogs, $1,779 for mid-sized dogs, and $2,008 for large dogs.
Cats are a little cheaper, with an average annual cost of about $800, and a total first year cost of $1,174 (and probably another $700 for a good vacuum cleaner). If you want some companions for your cat, a small bird costs about $317 a year (plus the price of a very secure cage), and a fish comes at the low, low price of just $27 per year (along with the cost of a really, really secure aquarium). Stocking an aquarium full of exotic fish, on the other hand, could cost hundreds or even thousands of dollars a year.
You may be able to cut some costs for your pets by buying food through a discount store or online. And you may be able to save more by shopping around for veterinarians in your area to make sure you're getting a fair price.
Few owners would dispute that the love they get from their pets is more than worth the roughly one grand a year they spend to own them, but if your flock of domestic buddies begins to grow, keep in mind, they're all lovable, but they're not cheap.
3. Put "found money" straight into your investment account
From time to time, you may come across "found money." When you do, consider investing it instead of spending it.
For instance, maybe you just made the final payment on your car. Congratulations! That's probably $200 to $400 that won't be coming out of your pocket each month. Why not immediately deposit that exact amount into a monthly investment plan. You've been getting by without that money in your budget before, so you should be able to continue to make ends meet even if you invest all of it each month.
Whether it's a payment for a car, a washer and dryer, home equity loan, or any other monthly bill that you've finally cleared up, you should consider rechanneling that money to your investment account.
The same thing goes for all of your other "found money." Whether it's a new job with a big raise, a small inheritance from your aunt, an unexpected tax refund, a winning lottery ticket, or a bonus from your company, resist the urge to spend it. Add it to your investment account and put that money to work for the long-term. (See: Putting Your Windfall to Work for the Long Term)
4. Save first, spend second
Once you're confident that you can cut your expenses without missing your mortgage, set up a monthly investment plan in which money is automatically withdrawn from your bank account or paycheck.
There are several ways to set that up:
Automatic investment account. You may want to set up an automatic investment plan that withdraws a set amount from your bank account each month to invest in the investment of your choice. (See: Start Building Your Nest Egg with Just $50 a Month)
401(k) plan. If you work for a company that offers a 401(k) or other tax-favored retirement plan, you should contribute as much as possible to your plan. The money contributed to a 401k retirement plan is deducted from your current gross income for tax purposes, thus typically reducing your income taxes in the years you contribute.
Your investments within the plan can grow tax-deferred until you withdraw the money (typically after you retire and may be in a lower tax bracket.) An added benefit at many firms is the company match in which the company also makes an additional contribution equal to all of or part of your contribution to the plan.
If you work for yourself or own your own small business, there are other ways to start building your nest egg with a tax-deferred retirement plan, including a "Simplified Employee Pension Plan" (SEP) that may allow you to contribute a portion of your earnings each year to a tax-deferred account. If you're self-employed, see: If You're Self-Employed You Can Still Benefit from a Tax-Deferred Retirement Plan.
Open an IRA. You may be able to take advantage of tax-deferred investing by opening an Individual Retirement Account (IRA). You may contribute up to $5,500 per year, depending on your earned income (or $6,500 if you're 50 or older) to either a traditional IRA or a Roth IRA. For more, see: Don't Miss the Tax and Savings Benefits of an IRA.
Even if you're just making ends meet, you can probably find a way to start building wealth through an investment plan. It may take discipline and sacrifice, but over the long run, you'll be happy you started finding ways to save your money instead of finding ways to spend it. (See: What's Holding You Back? Investing May Be Easier than You Thought)
The concepts presented are intended for educational purposes only. This information should not be considered investment advice or a recommendation of any particular security, strategy, or product. At Thrivent Mutual Funds, we recommend you consult your tax advisor to make sure you're getting the most out of your investments. Thrivent Mutual Funds and their representatives cannot provide legal or tax advice.
At Thrivent Mutual Funds, we recommend you consult your tax advisor to make sure you're getting the most out of your investments. Thrivent Mutual Funds and their representatives cannot provide legal or tax advice.
---
1 Learnvest.com,June, 22, 2017
2 National Marine Manufacturers Association, 2017 
Well that's unexpected - your subscription request was not submitted. Please try again.
Gain From Our Perspective
Get Our Investing Insights Newsletter in Your Inbox.
SUBSCRIBE NOW
Gain From Our Perspective
Get Our Investing Insights Newsletter in Your Inbox.
SUBSCRIBE
Thanks for Signing Up!
Be sure to check your inbox for the Investing Insights newsletter to get the latest news and insights from Thrivent Mutual Funds.
Great news - you're on the list!
Looks like you're already on our mailing list. Be sure to check your inbox for the Investing Insights newsletter to get the latest news and insights from Thrivent Mutual Funds.