The tone and direction of the Federal Reserve Board (Fed) has shifted to a less aggressive stance since last year as the Fed attempts to give the economy a little more breathing room. 
That means that there will likely be fewer – if any – rate hikes in the near term along with the possibility that the Fed may modify its policy of systematically reducing its large bond portfolio.  
With several potential headwinds now facing the economy, Fed Chairman Jerome Powell has indicated that the Fed may adjust its policy to help keep the economy on track. "Financial markets became more volatile toward year-end (2018), and financial conditions are now less supportive of growth than they were earlier last year." Powell said in his February 26 appearance before the U.S. Senate Committee on Banking, Housing and Urban Affairs. 
Powell said the U.S. economy has been buoyed by solid job growth and improving wages, and he viewed current U.S. economic conditions "as healthy and the economic outlook as favorable." But he has become increasingly concerned with the global economy: "Growth has slowed in some major foreign economies, particularly China and Europe. And uncertainty is elevated around several unresolved government policy issues, including Brexit and ongoing trade negotiations."
As a result, Powell said the Fed was "prepared to adjust any of the details for completing balance sheet normalization in light of economic and financial developments."
Hitting the Pause Button
Since December 2015, the Fed has raised rates nine times from approximately 0% to a range of 2.25 – 2.50%. Four of those rate hikes came in 2018, but the Fed indicated that it may raise rates no more than one time in 2019.
In addition to pausing the rate hikes, the Fed may also put its recent policy of reducing its $4.5 trillion balance sheet on hold. 
During and after the Great Recession, the Fed pursued a policy of injecting more stimulus into the economy by aggressively purchasing U.S. Treasury bonds and mortgage-backed securities. It reversed course in October 2017 by letting its bond portfolio decline as shorter-term bonds matured or were paid down.  This strategy of "unwinding the balance sheet," was considered necessary to systematically reduce the central bank's debt level and its stimulating influence on the capital markets.
But with perceived economic and market volatility challenges arising, the Fed appears to be modifying that strategy.  As Powell explained in his Senate testimony: "In the longer run, the size of the balance sheet will be determined by the demand for Federal Reserve liabilities such as currency and bank reserves."  Although this is a fairly technical explanation, it indicates how the Fed is acutely aware of the degree to which its policies are affecting the growing interconnectedness of stock and bond prices to the performance of the real economy. 
Stock and bond markets have reacted favorably to this perceived shift. The stock market has had an impressive run to higher levels, even in the face of an expected deceleration in the rate of corporate profit growth.
Meanwhile, longer term bonds have also risen in price as yields have declined well off of their peak level in November 2018.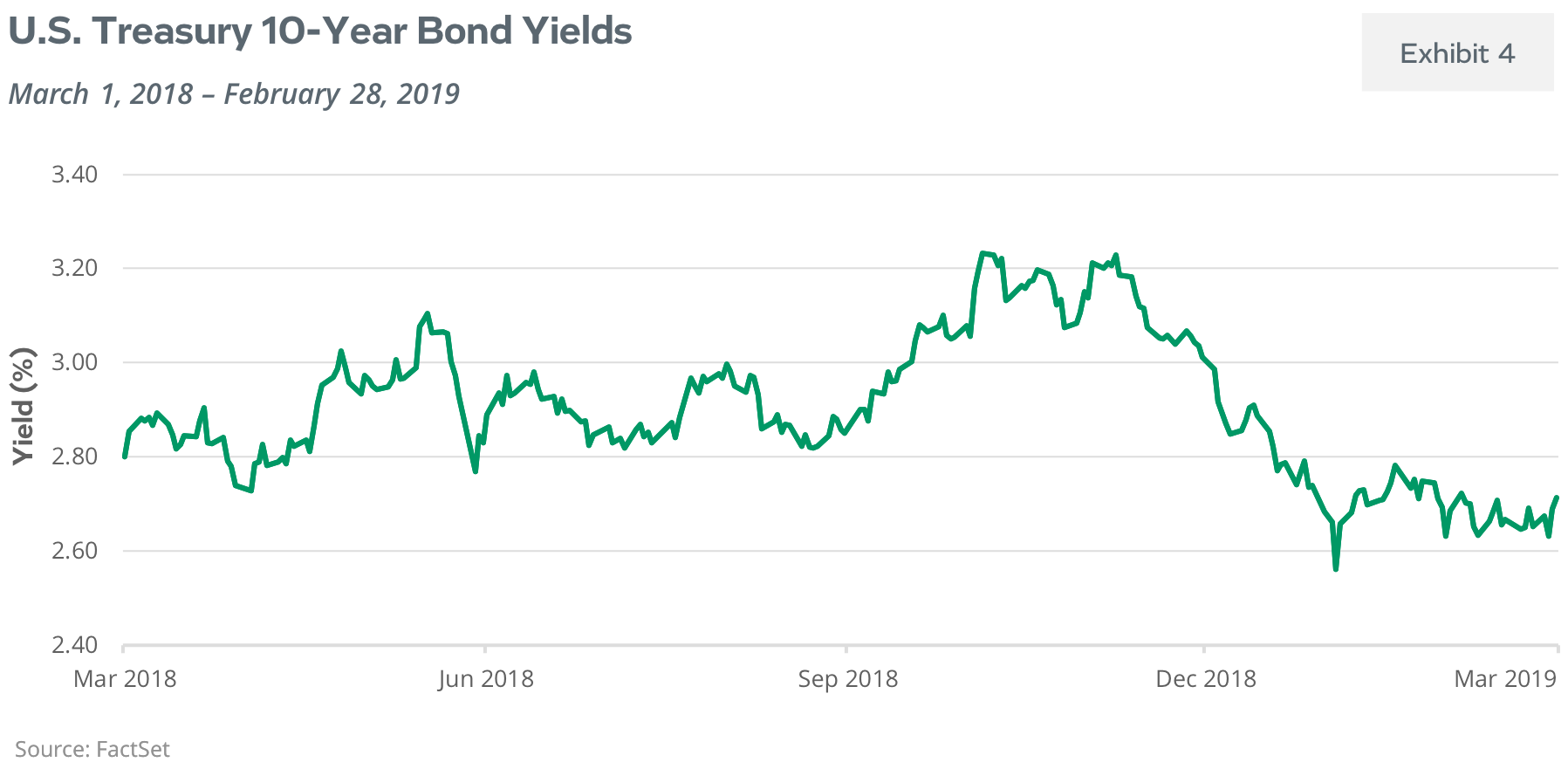 The Fed's policy shift comes amidst a relatively healthy environment as it pertains to employment, consumer spending, and still strong corporate fundamentals.  Annual inflation is still about 2%. Ten-year Treasury rates and mortgage rates remain low, and short-term rates and money market rates are modest but still offer an improved return for investors.
We believe the Fed's new policy is prudent for the near term, but it could prove problematic in the long run. With rates still at historically low levels and the Fed balance sheet still well over $4 trillion, the Fed would have limited flexibility to react to an economic downturn. In a best-case scenario, if the economy begins to strengthen, the Fed should resume its monetary tightening policy to move toward more normal rate and balance sheet levels, affording it greater flexibility to respond if the economy begins to ebb.
All information and representations herein are as of 03/01/2019, unless otherwise noted.
The views expressed are as of the date given, may change as market or other conditions change, and may differ from views expressed by other Thrivent Asset Management associates. Actual investment decisions made by Thrivent Asset Management will not necessarily reflect the views expressed. This information should not be considered investment advice or a recommendation of any particular security, strategy or product.  Investment decisions should always be made based on an investor's specific financial needs, objectives, goals, time horizon, and risk tolerance.
Past performance is not necessarily indicative of future results.
Well that's unexpected - your subscription request was not submitted. Please try again.
Gain From Our Perspective
Get Our Investing Insights Newsletter in Your Inbox.
Subscribe now
Gain From Our Perspective
Get Our Investing Insights Newsletter in Your Inbox.
Subscribe
Thanks for Signing Up!
Be sure to check your inbox for the Investing Insights newsletter to get the latest news and insights from Thrivent Mutual Funds.
Great news - you're on the list!
Looks like you're already on our mailing list. Be sure to check your inbox for the Investing Insights newsletter to get the latest news and insights from Thrivent Mutual Funds.