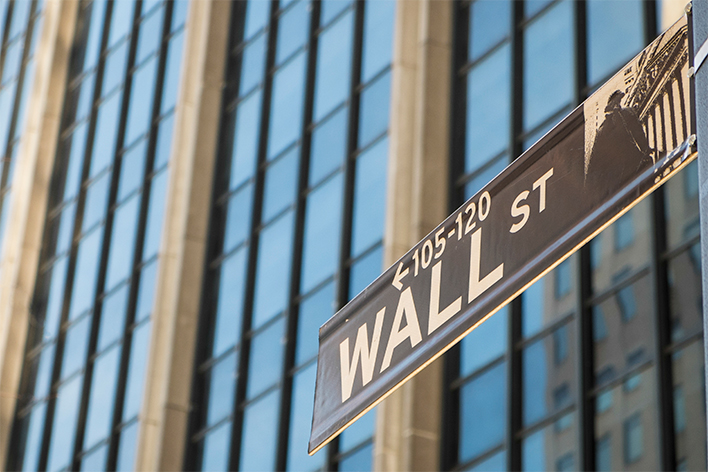 Strong job growth continued for the second consecutive month, as non-farm payroll jobs rose by 255,000 in July, according to the U.S. Department of Labor Employment Report issued August 5. The combined total of 547,000 new jobs for June and July represents the highest two-month total of 2016. 
(The June total was revised up from 287,000 to 292,000 – the highest single month of job growth since October 2015).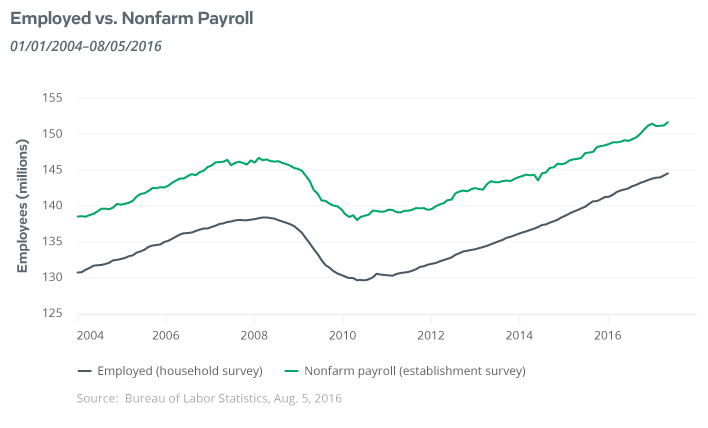 The U.S. economy has added an average of about 206,000 jobs per month over the past 12 months.
In spite of the surge in new hires, unemployment remained steady at 4.9%.  In fact, even after adding more than half a million jobs in the past two months, unemployment is actually up slightly from the 4.7% rate in May, as more Americans continue to enter the workforce seeking employment.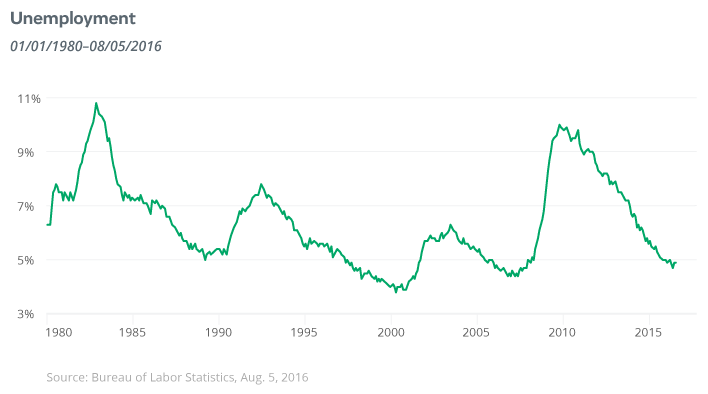 The labor force participation rate has edged slightly higher to 62.8% in July from 62.7% in June and 62.6% in May.
However, the labor participation rate for those in their prime working years (25 - 54) continues to hover near a 30-year low. The participation rate for that demographic was at 83.4% in January 2007 – prior to the Great Recession – and gradually eroded to less than 81% in 2015 for the first time since 1984. It inched up over 81% early this year, and measured 81.2% in July.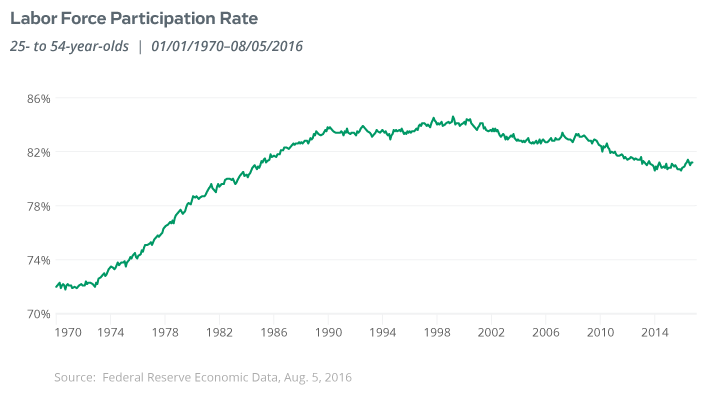 The job growth has come in several key sectors, according to the report:
The professional and business services sector added 70,000 jobs in July and has added 550,000 jobs over the past 12 months.

Health care employment increased by 43,000 for the month, with 477,000 jobs added over the past 12 months.
Financial activities employment rose by 18,000, with a total of 162,000 new jobs over the past year.
Leisure and hospitality continued to move up with 45,000 new jobs for the month.

Here are some other highlights from the report:
Average hourly earnings for all employees on private nonfarm payrolls increased by 8 cents in July to $25.69. That represents a 0.3% increase for the month and 2.6% year-over-year, which is a faster pace than inflation.  The consumer price index for all urban consumers (CPI-U) had increased by just 1.1% year-over-year through June.
The average work week, a leading indicator, increased by 0.1% to 34.5 hours – the first gain in six months.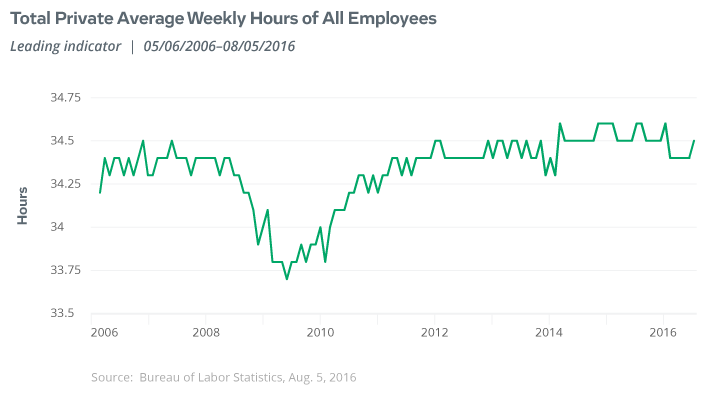 Initial unemployment claims, also a leading indicator, remain at a historically low level.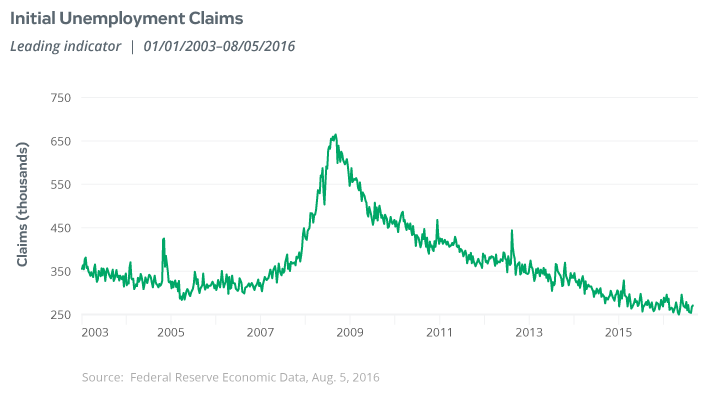 We believe the continued strength of the job market will encourage the Fed to raise interest rates eventually. The last rate hike was in December 2015.  We also believe increasing rates would be beneficial to net savers without adversely affecting the economy, the housing market or consumer spending – particularly if the job market remains strong.
Our outlook for 2016 gross domestic product (GDP) growth in the U.S. remains modest at around 1%. That is somewhat lower than the average analyst view of 1.5%, according to the August Blue Chip survey report (which is based on a monthly survey of more than 50 leading business economists). 
The 1.5% projection represents a significant drop from the 1.8% average projection a month earlier. Throughout 2016, we have been projecting slightly lower GDP growth than the consensus estimates of the Blue Chip survey.
Media contact:  Callie Briese, 612-844-7340; callie.briese@thrivent.com 
Well that's unexpected - your subscription request was not submitted. Please try again.
Gain From Our Perspective
Get Our Investing Insights Newsletter in Your Inbox.
SUBSCRIBE NOW
Gain From Our Perspective
Get Our Investing Insights Newsletter in Your Inbox.
SUBSCRIBE
Thanks for Signing Up!
Be sure to check your inbox for the Investing Insights newsletter to get the latest news and insights from Thrivent Mutual Funds.
Great news - you're on the list!
Looks like you're already on our mailing list. Be sure to check your inbox for the Investing Insights newsletter to get the latest news and insights from Thrivent Mutual Funds.
The views expressed are as of August 8, 2016, may change as market or other conditions change, and may differ from views expressed by other Thrivent Asset Management associates. Actual investment decisions made by Thrivent Asset Management will not necessarily reflect the views expressed. This information should not be considered investment advice or recommendations of any particular security, strategy or product.
Past performance is not a guarantee of future results. Investment decisions should always be made based on an investor's specific financial needs, objectives, goals, time horizon, and risk tolerance.
Asset management services are provided by Thrivent Asset Management, LLC, a wholly owned subsidiary of Thrivent Financial, the marketing name for Thrivent Financial for Lutherans.