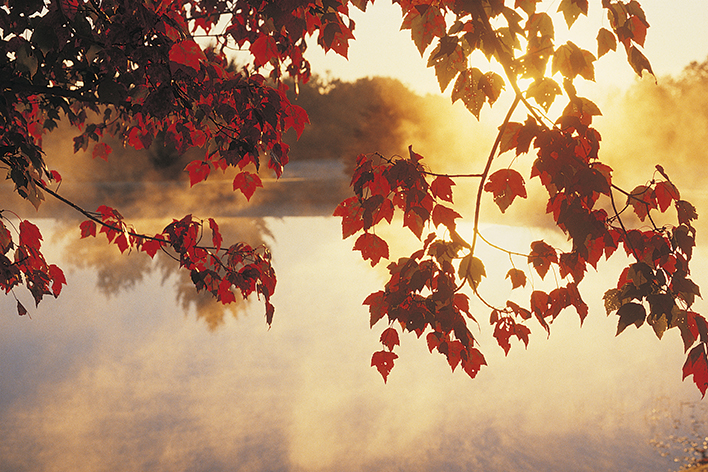 The current bull market has now stretched to nearly 91 months, dating back to March 2009 – the second longest run in U.S. history without experiencing a drop of 20% (or more) from a closing high.
But while the bull trudges on, the pace of market growth and the vitality of the economy have provided little to pique investors' interest or their expectations. Although the S&P 500 was up slightly for the quarter, it took a small step back the past two months.
Equity markets around the world have been in a similar holding pattern, with the MSCI EAFE global index up just under 1% for the month, although it did move up nearly 6% for the quarter.
In its September meeting, the Federal Reserve Board evaluated the current state of the economy and once again concluded that we are not yet ready for another hike in interest rates. The Fed has not increased rates since December 2015.
Here are some other highlights from the third quarter covered in more detail later in this report:
Oil prices moved up in the final days of the month as OPEC agreed to cut production in a September 28 meeting.
Retail sales have been flat in recent months, according to the U.S. Commerce Department.
U.S. employers added almost 700,000 new non-farm employees in the past three reported months, according to the U.S. Department of Labor.
Government bond rates remain at historically low or negative levels around the world. (See Where to Find Income.)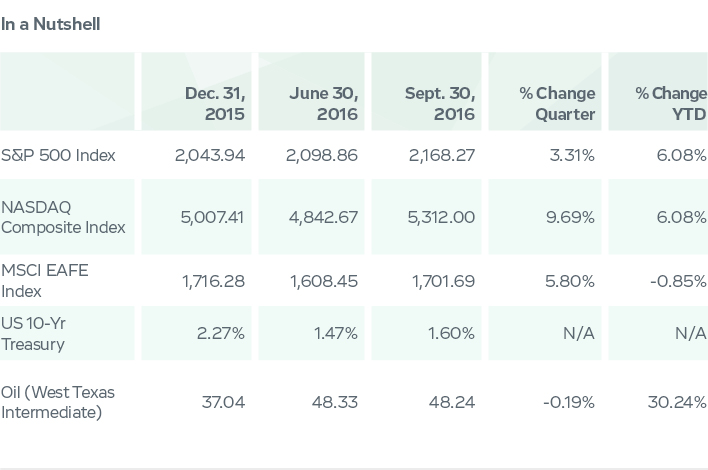 Drilling Down
Stocks are Stalling
Amidst the sluggish economy, the S&P 500 has experienced very little movement in recent months. It closed September 30 at 2168.27, nearly unchanged from its 2170.95 level August 31, but up 3.31% for the quarter.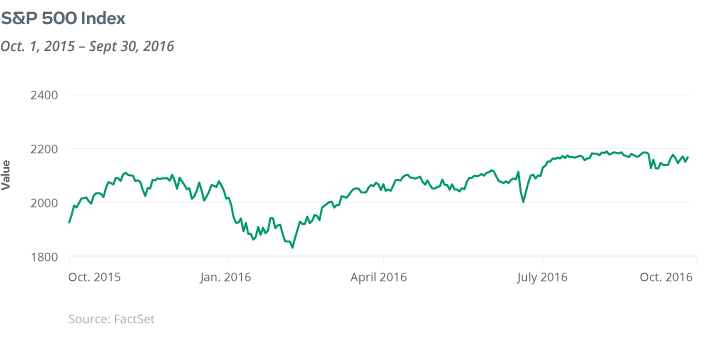 Lull in Consumer Spending
After a strong second quarter, retail sales tailed off in July and August, according to the September 15 U.S. Department of Commerce retail report. Retail sales were up just 0.1% in July (from the previous month) and declined 0.3% in August. However, on a year-over-year basis, the numbers looked more positive.  For the most recently-reported three-month period – June through August – retail sales were up 2.4% from a year earlier.
While online sales continue to flourish, traditional retail sales, particularly department stores, have struggled. Retail trade sales were down 0.5% in August from July, but up 1.4% from last year. Non-store retailers (mostly online sales) were up 10.9% from August 2015, while Health and Personal Care Store sales were up 7.8%.
Jobs Still Climbing
The economy added nearly 700,000 nonfarm jobs the past three reported months, according to the latest U.S. Department of Labor Employment Report issued September 2.
August was the weakest of the three months with just 151,000 new jobs, compared with 271,000 in June and 275,000 in July.
The unemployment rate remained unchanged at 4.9%, with a total of approximately 7.8 million unemployed persons currently looking for work. The number of long-term unemployed (those jobless for 27 weeks or more) also remained at the same level – approximately 2.0 million Americans – which accounted for 26.1% of the unemployed.
The labor force participation rate also stayed the same at 62.8%, which is a historically low level. (See: U.S. Jobs Increase in August but Growth Rate Slows)
Sector Returns
The past month has been a mixed lot for the S&P 500 sector indexes. Although the financial sector is up 4.59% for the quarter, it is down 2.72% for the month. The decline comes in the wake of a scandal involving sales tactics at Wells Fargo. Banks and other financial stocks are also showing weakness as a result of declining margins on savings and other accounts in this low yield environment.
The materials sector was off 1.25% for the month, but up 3.71% for the quarter, while Consumer Staples stocks were down 1.46% for the month and down 2.63% for the quarter.
Market leaders include Information Technology, up 2.44% for the month and 12.86% for the quarter, and Utilities, up 0.39% for the month, but down 5.91% for the quarter.
The table below details the monthly, quarterly and year-to-date performance of each of the 10 S&P 500 sectors: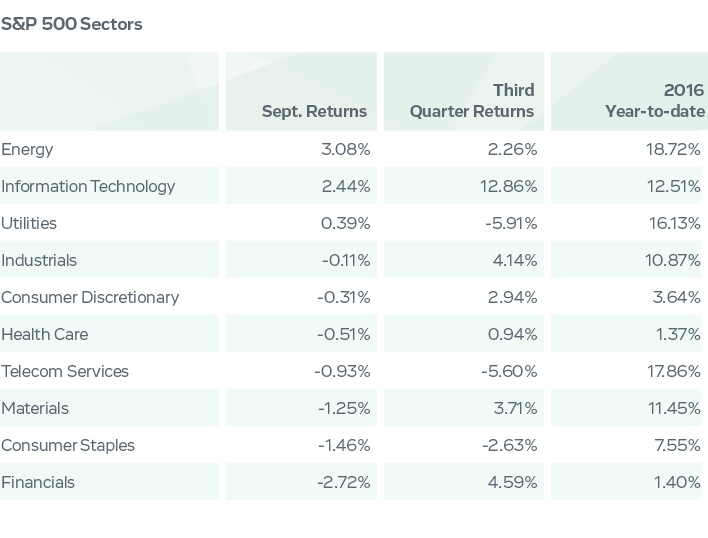 Bond Market: No New Rate Hike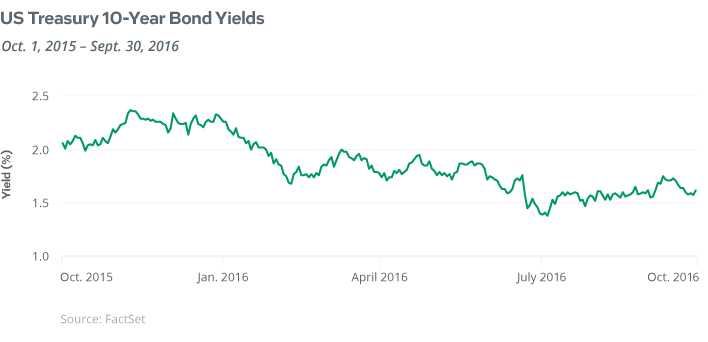 Although there was some speculation the Federal Reserve would raise rates in September, a continued slow economy persuaded the board to put off an interest rate hike for another month – and probably longer. They are not expected to raise rates in October just prior to the election.
But we may see action by the Fed later in the year if the economy starts to strengthen. (See: Where's that Fed Hike?)
Interest rates stayed about the same in September, but have edged up slightly for the quarter. After dropping to an all-time low of 1.36% on July 8, 10-year U.S. Treasury yields have recovered slightly to end September at 1.60%.
U.S. bond yields continue to be compressed by strong sales from global investors looking to improve upon the negative rates in Europe and Japan. In all, more than $10.9 trillion in (non-U.S.) government bonds now carry negative interest rates, according to the September yield report from Fitch Ratings. (Negative interest rates refer to a monetary policy in which bank deposits and government bonds actually return less than the investor deposits. See: Where to Find Income.) 
Equity Earnings Projections Declining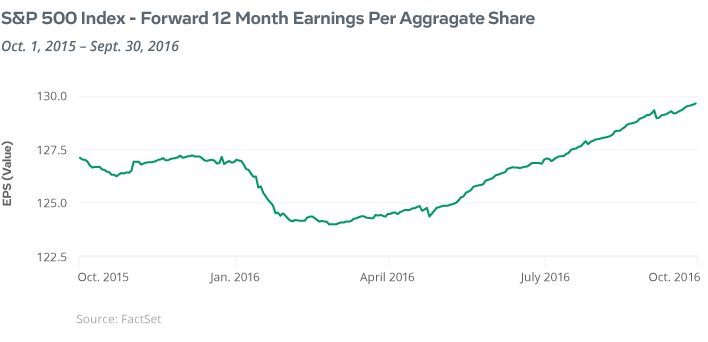 The consensus 12-month forward aggregate earnings for the S&P 500 was $129.69 at the close of the third quarter, up slightly from $126.88 at the end of the second quarter.
Although 2017 consensus estimates are still projecting aggregate earnings per share growth of 13-14% (down from 18%), revenue growth of 5-6%, and record margins, we continue to believe that those expectations, while not impossible, are too optimistic in a world of 2% gross domestic product (GDP) growth, low productivity, and rising wage and interest expenses. 
Forward Price/Earnings (P/E) Ratio and Earnings Yield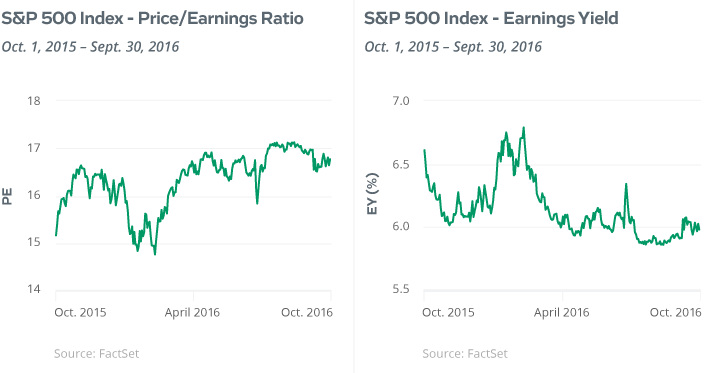 The forward 12-month P/E ratio for the S&P 500 ended the third quarter at 16.8, up slightly from the second quarter close at 16.6, and from the 16.1 P/E at the start of 2016.
While the 16.8 P/E level is still within a reasonable range based on historic levels, we remain doubtful of further expansion until we see stronger corporate earnings and GDP growth.
The forward 12 months earnings yield for the S&P 500, which is directly correlated to the P/E, ended the quarter at 5.98%, which was down slightly from the 6.0% yield at the close of the past two quarters. The forward earnings yield had been declining slowly since 2011 when it reached a high of 7.4%.
At their current level, these three fundamental factors (12-month forward earnings, P/E, and earnings yield) reveal the difficulty the market faces in continuing to climb. Earnings growth is very slow, and the P/E ratio is somewhat above the historic average (which is 14.5). While the P/E often drops during periods of lower earnings expectations, historically low interest rates in the fixed income market are helping to keep investors interested in equities. Although the equity earnings yield remains at a relatively low level of about 5.98%, it is still significantly higher than the market interest rate for 10-year Treasuries, which has recently been around 1.6%. 
Dollar does Little for the Month and Quarter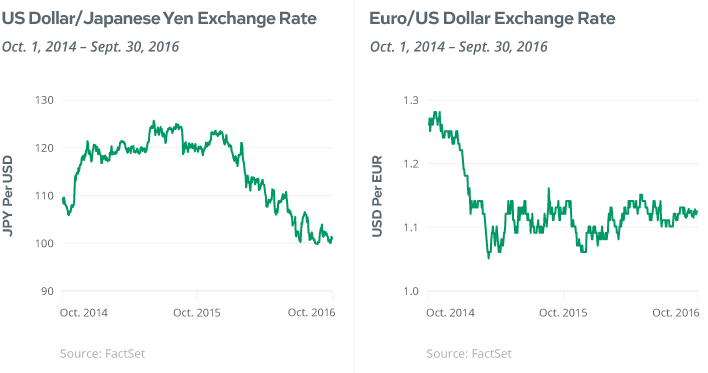 The Euro moved up 1.16% versus the dollar over the past quarter.
The Japanese Yen gained 1.29% versus the dollar during the quarter, with most of the gain coming after Japan announced a $45 billion economic stimulus package August 1.
Oil and Gold Up for the Month but Down for the Quarter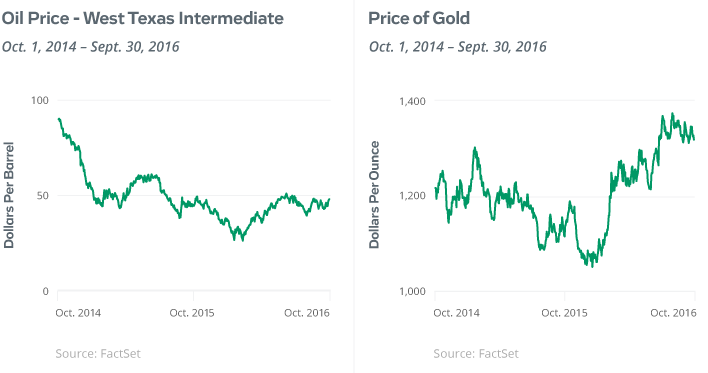 Oil prices rallied at the end of the month after OPEC countries agreed to cut production to narrow the gap between oil supply and demand in a September 28 meeting. However, details of the agreement remain to be hammered out, so the effectiveness of the policy remains tentative. Oil prices moved up 7.9% in September, but still lagged for the quarter, down 0.19%. Oil began the quarter at $48.33 per barrel (West Texas Intermediate), and ended the quarter at $48.24.
Gold prices, which had surged to a two-year high of $1,367.10 per ounce on August 2, retreated during August to close the month at $1,311.40. But gold edged back up in September, closing at $1,317.10 on September 30 – a gain for the month of 0.4%.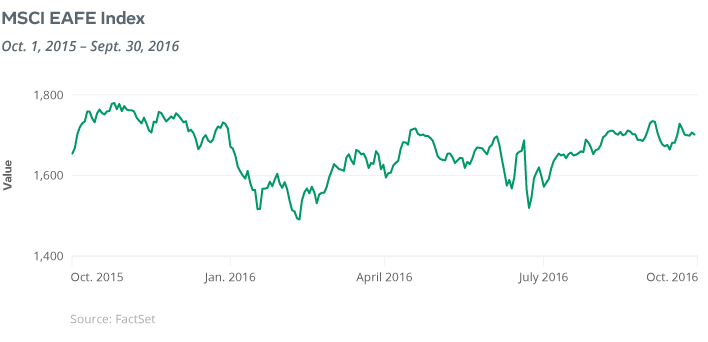 Global equity markets had a slow month, up less than 1%, as measured by the MSCI EAFE Index, but had a strong quarter, up 5.8% since the June 30 close.
Fast-Forward: Outlook for the Markets
What's ahead for the economy and the markets? Here's our assessment:
Headwinds
Retail sales had shown some encouraging signs early in the summer, but sales have flattened the past two months, raising some new concerns about the strength of the economy. Historically, consumption accounts for about two-thirds of the U.S. economy – and has been the singular area of strength in the recovery so far, as manufacturing lagged. A weakening in the consumer sector would have bigger than usual consequences for the economy under current conditions.
We also are concerned about sub-par corporate earnings and weak manufacturing output levels.  
The financial sector continues to be plagued by lower margins due to low interest rates, higher regulatory costs and declining corporate banking activity. Some banks and financial institutions also face the prospect of delinquencies and defaults in the oil production sector as oil prices continue to struggle.
Concern over the weakness in energy, the financials and much of the corporate market has weighed on the Fed's decision to leave interest rates unchanged. We believe, however, that a small rate hike would help net savers without adversely affecting the housing market or consumer spending. However, a rate hike could lead to a stronger dollar, which would dampen the competitiveness of U.S. exporters.
Tailwinds
Job growth continued to be a strong point of the economy over the past quarter, with nearly 700,000 new nonfarm jobs, although job growth was down somewhat in August. But with retail sales flattening, there has been very little incentive for stock market growth or improved economic expectations.
Wage growth has been fairly encouraging throughout the year, but if wages spike and impact corporate profit margins, that could prove to be a headwind over the next 12 to 18 months.
Expectations: An Election Bump?
One thing we know about the fourth quarter 2016 is that a new U.S. President will be elected, and with that change in leadership will come a change in the world as we know it. Whether it's an incremental change or a radical, sweeping change – and how the economy and markets respond to the policies of the new president – remains to be seen.
But in the early going, the market has usually greeted newly-elected presidents favorably, although it has been even more positive toward incumbents who are reelected. Looking back to election years over the past 64 years, the S&P 500 has moved up from November 1 to December 31 every time an incumbent has been reelected, including Eisenhower, Kennedy, Johnson, Nixon, Reagan, Clinton, George W. Bush, and Obama.
The markets have also done well when a new president has been elected except during times of economic crisis. For instance, the market went up from November 1 to December 31 in the first term election of Eisenhower, Kennedy, Nixon, Carter, George H.W. Bush, and Clinton, but went down after the first term election of Reagan, George W. Bush and Obama, all of whom took office in the midst of a bear market or economic crisis.
But early reactions are no precursor of market performance once a president takes office. While the market went up from November 1 through December 31 in 12 of the last 16 election years, by February 1 of the following year – shortly after the president took office – the market remained in positive territory (above the November 1 level) only nine of the 16 years.
What will happen after this election? Only time will tell.
In terms of economic factors that could affect the market, we think GDP growth will remain slow in the coming months.  Real GDP increased at an annual rate of 1.4% in the second quarter of 2016 and by 0.8% in the first quarter, according to the September 29 economic report from the U.S. Department of Commerce, Bureau of Economic Analysis. The consensus outlook for GDP growth for all of 2016 has been in the range of 1.5%, according to the Blue Chip survey, which is based on a monthly survey of more than 50 leading business economists.  However, we expect GDP growth to be about 1.0% for 2016.
Globally, over the next 12 months, we believe that China will have GDP growth of about 6%, Japan will have negative growth, and Europe will have growth of about 1.6%.
Despite weak corporate earnings growth and sluggish consumer spending, the U.S. economy has avoided recession so far this year, and we are not projecting a recession in the near term. However, we still believe the risk is elevated for a mild recession beginning sometime in the next 12 months if job growth slows and consumer spending remains stagnant.
In order for economic growth to strengthen, we believe that solid job and wage growth must continue, that retail sales must rebound, and that manufacturing output and corporate earnings must begin to improve. 
Media contact: Callie Briese, 612-844-7340; callie.briese@thrivent.com
Well that's unexpected - your subscription request was not submitted. Please try again.
Gain From Our Perspective
Get Our Investing Insights Newsletter in Your Inbox.
SUBSCRIBE NOW
Gain From Our Perspective
Get Our Investing Insights Newsletter in Your Inbox.
SUBSCRIBE
Thanks for Signing Up!
Be sure to check your inbox for the Investing Insights newsletter to get the latest news and insights from Thrivent Mutual Funds.
Great news - you're on the list!
Looks like you're already on our mailing list. Be sure to check your inbox for the Investing Insights newsletter to get the latest news and insights from Thrivent Mutual Funds.
All information and representations herein are as of 9/30/16, unless otherwise noted.
The views expressed are as of the date given, may change as market or other conditions change, and may differ from views expressed by other Thrivent Asset Management associates. Actual investment decisions made by Thrivent Asset Management will not necessarily reflect the views expressed. This information should not be considered investment advice or a recommendation of any particular security, strategy or product. Past performance is not a guarantee of future results.  Investment decisions should always be made based on an investor's specific financial needs, objectives, goals, time horizon, and risk tolerance.
Indexes are unmanaged and do not reflect the fees and expenses associated with active management. Investments cannot be made directly into an index.
The S&P 500® Index is a market-cap weighted index that represents the average performance of a group of 500 large-capitalization stocks.
The NASDAQ (National Association of Securities Dealers Automated Quotations) is an electronic stock exchange with more than 3,300 company listings.
The MSCI EAFE Index measures developed-economy stocks in Europe, Australasia and the Far East.
West Texas Intermediate (WTI) is a grade of crude oil used as a benchmark in oil pricing.
Performance data cited represents past performance and should not be viewed as an indication of future results. Current performance may be lower or higher than the performance data quoted.