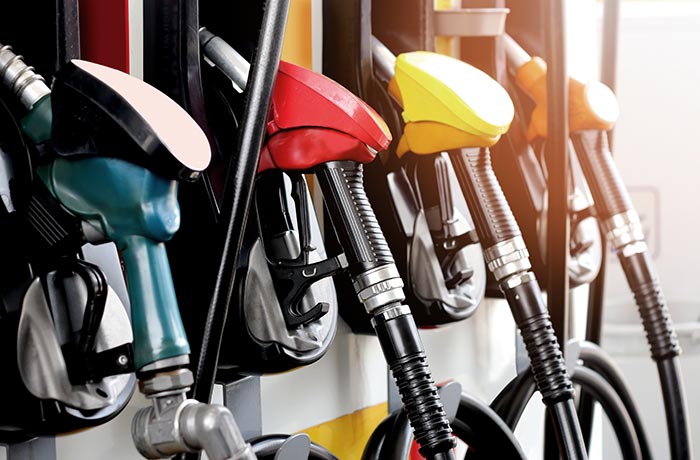 In case you haven't needed to visit your local service station for a fill-up lately, you may not be aware that prices at the pump have fallen to an average of under $2 a gallon for regular – the lowest level in nearly 20 years. The national average is around $1.90 per gallon.
The reason behind the drop in prices is that demand has shriveled as motorists have stayed home and airline travel has slowed to a crawl.
The Transportation Security Agency (TSA) data notes that commercial airline passenger counts have dropped by about 95%. During the 2008-2009 Great Recession, oil demand dropped by about 5% over the course of 15 months. This time demand is forecast to drop by about 25% to 30% in a matter of weeks. 
The supply/demand mismatch was exacerbated in March after a failed OPEC meeting when Saudi Arabia hiked production as part of a price war with Russia. But as the oil glut mounted, Saudi Arabia and OPEC, along with several other oil producing nations, reversed course and agreed to cut production by about 9.7 million barrels a day beginning in May. But that was nowhere near sufficient to compensate for the steep drop in global demand.
Even with promised cuts, storage space is nearing full capacity. Onshore storage capacity is essentially fixed. Traders can store oil in offshore tankers, but rental rates for supertankers have increased by more than 10-fold in less than two months.
What's ahead?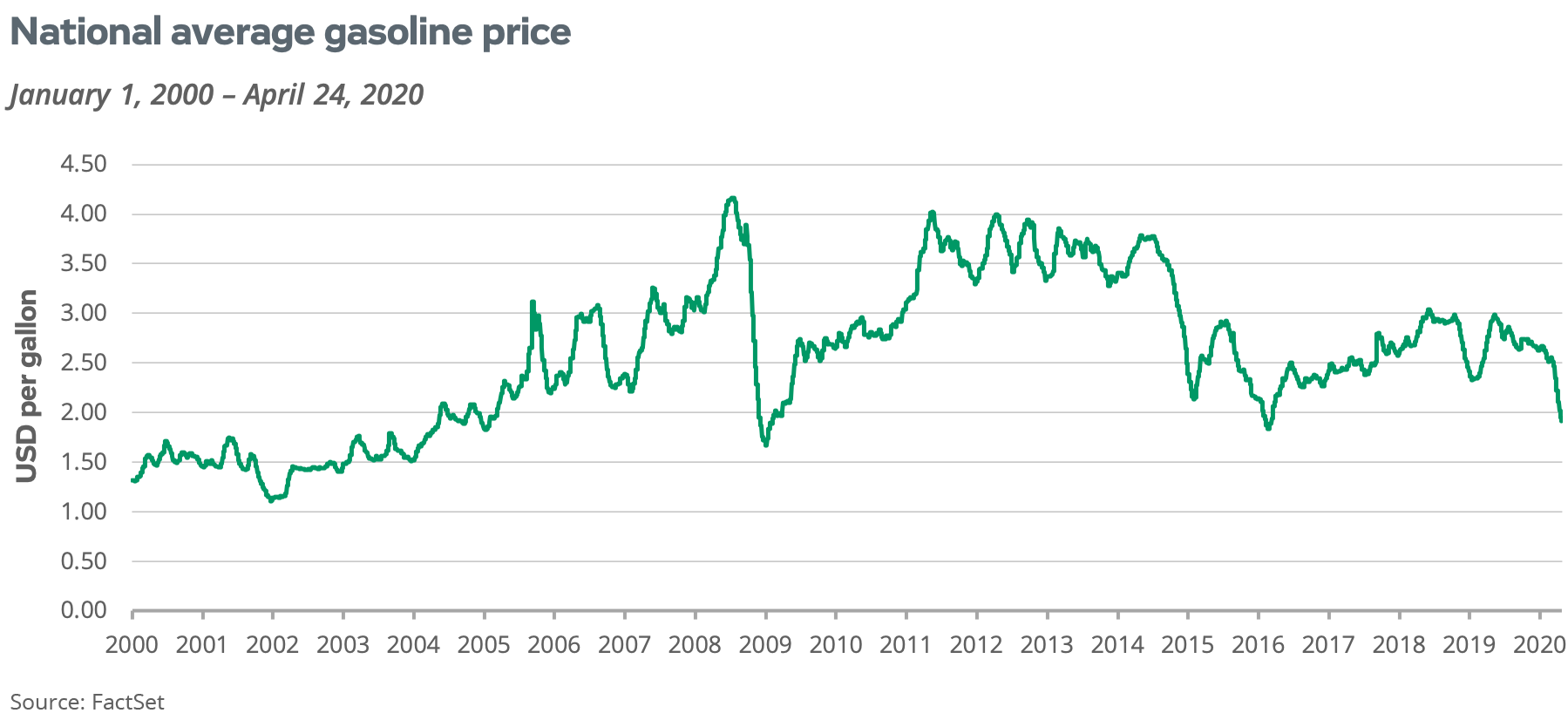 There is a saying in the oil industry that "the cure for low prices is low prices." Behavior in the domestic oil industry is changing dramatically as capital budgets are slashed, employment is reduced, and a focus on servicing, if not cutting debt, becomes a priority.
We expect that capital will not flow to the industry, new wells will not be drilled, and old wells will be shut down. Furthermore, wells shut down today might not return tomorrow, as sub-surface damage is possible after prolonged disuse. This industry response will probably persist until oil prices approach $40 - $50 per barrel. In short, the economics of supply and demand, combined with the financial demands of credit and capital allocation, will make this change in behavior a necessity.
So far, the U.S., which is the world's leading oil producer, has not committed to making substantial cuts in production, in part because production comes from private companies unlike with most OPEC nations where governments control the output. Still, U.S. producers may have no choice but to cut production.
In fact, at current physical market prices, most U.S. producers can no longer produce oil profitably. We believe that hundreds of U.S. oil producers could file for bankruptcy this year and in 2021 if oil stays at this price level.
How long will gasoline prices remain at these levels?
While travel will eventually pick up as the effects of the pandemic subside, it is expected to be many months before travel returns to previous levels and inventories are drawn down. But the industry is cyclical and there will be an upcycle at some point.
Since gasoline prices are tied closely with oil prices, we probably won't see gasoline prices rising until the oil glut is reduced and automobile and airline travel resume to more normal levels. That could be months away.
What is going to happen in the oil industry?
Many oil production companies that had funded themselves in the high yield bond market had hedged their price risk at about $50, so they have bought some time. However, there are significant debt maturities that will have to be refinanced this year and through 2022. It is possible after this severe downcycle concludes, surviving companies will be far more financially disciplined and attractive to generalist investors. 
With energy stock and bond prices at such distressed levels, some opportunities are emerging – but it's still early. Energy bonds of some surviving companies will provide equity-like returns for long-term investors. We are focusing on companies with no refinancing needs until 2025 and that have superior acreage positions which can be developed profitably at low breakeven oil prices. The bonds of some of these possible survivors are trading at 50 to 60 cents on the dollar.
Thrivent's oil investment strategy
In the equity market, we are targeting quality companies that are well-positioned with superior returns on invested capital, line-of-sight to improved returns, with trusted management teams. For a commodity-reliant industry where the low-cost provider has the long-term advantage, these characteristics are particularly important. 
Commodity price risk is inherent for energy companies. We are favorable toward companies that do not layer financial leverage on top of commodity leverage. We have taken advantage of severe price movements among energy equities to further increase allocations to the highest quality companies.
All information and representations herein are as of 04/28/2020, unless otherwise noted.
The views expressed are as of the date given, may change as market or other conditions change, and may differ from views expressed by other Thrivent Asset Management associates. Actual investment decisions made by Thrivent Asset Management will not necessarily reflect the views expressed. This information should not be considered investment advice or a recommendation of any particular security, strategy or product. Investment decisions should always be made based on an investor's specific financial needs, objectives, goals, time horizon, and risk tolerance.
Any indexes shown are unmanaged and do not reflect the typical costs of investing. Investors cannot invest directly in an index.
Past performance is not necessarily indicative of future results.
---
Well that's unexpected - your subscription request was not submitted. Please try again.
Gain From Our Perspective
Get Our Investing Insights Newsletter in Your Inbox.
SUBSCRIBE NOW
Gain From Our Perspective
Get Our Investing Insights Newsletter in Your Inbox.
SUBSCRIBE
Thanks for Signing Up!
Be sure to check your inbox for the Investing Insights newsletter to get the latest news and insights from Thrivent Mutual Funds.
Great news - you're on the list!
Looks like you're already on our mailing list. Be sure to check your inbox for the Investing Insights newsletter to get the latest news and insights from Thrivent Mutual Funds.