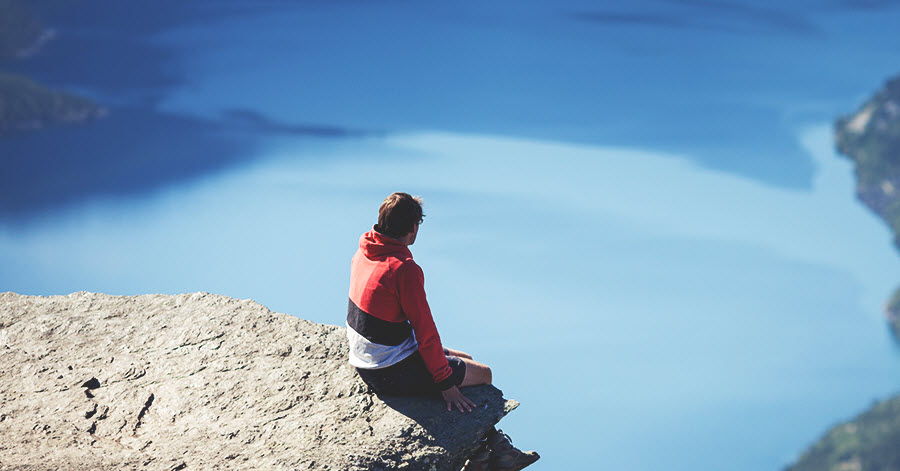 No one likes to lose money, but risk and the likelihood of periodic market declines are part of the price of admission to investing.
You can evade market risk by avoiding the investment world altogether. Put your cash in the drawer, under your mattress or deposit it in a bank, where savings and CD yields have been averaging well under 1%.1
No matter what you do as an investor, you will probably face a risk of some kind. In fact, even if you don't invest at all and simply hold onto your cash, you're still facing inflation risk – the risk that the rising cost of living will dilute your buying power.
For instance, if you had put aside $1,000 cash 30 years ago in 1987, the buying power of that money would have dropped to less than half today – just $457 (in 1987 dollars).2 It might make you feel safer to sit on your cash, but it is losing value every day due to the impact of inflation.
A World of Risks
Stocks are the most popular types of investments, with more than half of Americans – 52% -- invested in the market either through individual securities or mutual funds, ETFs or similar investments.3 Millions of Americans also own bonds, either through funds or as individual securities.
But despite their popularity, stocks and bonds both carry multiple risks.
Among the risks stock owners face: 
Market risk: the risk that the overall market will drop
Sector risk: the risk that the industry or market your stock is in will drop
Economic risk: the risk that the economy will slump and drag down the stock market
Individual stock risk: the risk that your specific stock will encounter difficult times and drop in value
Geographical risk: the risk that the country or region you are invested in will hit hard times driving down the price of stocks in that market.
Fixed income investments, such as bonds, also carry a variety of risks, such as interest rate risk. If interest rates rise, typically the market value of many fixed rate bonds tends to drop because investors can buy similar bonds with higher rates, reducing the attractiveness of the older, lower-yielding bonds.
You may be able to minimize interest rate risk by investing in very short term bonds or notes, but they typically pay a very low return, which would open you up to further inflation risk. You might avoid inflation risk by investing in high-yield bonds, but, again, you face interest rate risk as well as credit risk, which is the risk that the bond may default and become worthless.
Why Risk It?
With all these risks, why would more than half of Americans invest their money in stocks or bonds? The answer, quite simply, is that over time, the rewards of many investments have tended to outweigh the risks.
For instance, despite all of its volatility, the S&P 500® stock index4 has grown by an average of 11.45% per year over the past 50 years (through 2016), while 10-year U.S. Treasury bonds have provided an average annual yield of about 7.08% and 3-month T-Bills have averaged 4.88%.5 While past performance may not be indicative of future returns, those historic returns easily outpaced the average annual rate of inflation, which has been about 4.07% over the past 50 years.6 While T-Bills have averaged 4.88%, current fixed income yields are less attractive since they have been near historic lows – about 2.2% for 10-year Treasuries and 0.9% for 3-month T-Bills,7 which both trail the average annual rate of inflation.
There are, however, other bonds, such as corporate bonds, with yields that have been high enough to beat inflation in recent years. But while they overcome inflation risk, they are still susceptible to interest rate risk (market yields rising) and credit risk (the issuer defaulting).
Reaching Your Goals May Require Risk
For many individuals with ambitious long-term savings goals, taking on investment risk may be one of the only plausible potential avenues to achieving those goals.
For instance, let's say you hope to retire in 30 years, and after calculating your anticipated retirement expenses, and factoring in the impact of inflation, you determine that you'll need about $2 million for your retirement. (See: How Much Will You Need to Retire?)
To reach $2 million with no risk and no return on your savings – no ups and no downs – you would need to save $66,667 per year ($5,556 per month) for 30 years. While socking away nearly $70,000 per year may be feasible for some well-compensated individuals, it would be well beyond the realm of possibility for most Americans.
But by taking on some investment risk, you may still be able to reach your goal while saving significantly less each month.
With a relatively conservative approach to investing that earns a long-term return of 5% per year (after expenses), an investment of just $2,500 per month would grow to $2.09 million after 30 years (see graph below). Keep in mind that this is a hypothetical example for illustrative purposes only, and is not intended to represent the performance of any particular investment. Your investments may have different results, including the possibility of loss of principal.
The key to the lower monthly outlays is your return on investment. As the table below shows, more than half of your total of $2.09 million would come from the return on your investment. Your total amount invested during that period would be $900,000 with the remainder, $1.19 million, coming from your investment returns.
| | | | | |
| --- | --- | --- | --- | --- |
| Annual Return % | Monthly Investment | Total 30-yr contribution | Investment Return ($) | Balance after 30 yrs |
| 0% | $5,556 | $2,000,000 | 0 | $2,000,000 |
| 5% | $2,500 | $900,000 | $1,193,235 | $2,093,235 |
| 10% | $1,000 | $360,000 | $1,939,140 | $2,299,140 |
But what if you can only afford to save $1,000 a month? As the above table shows, you could reach $2 million in 30 years at $1,000 per month if you can generate an average investment return of 10% per year.
That would mean taking on more risk, but, as mentioned above, the S&P 500® has averaged a return of more than 11% per year over the past 50 years. Although you can't invest directly in an index, you can invest in mutual funds that invest primarily in stocks and that, in some cases, may provide returns similar to the performance of the index. Again, this is a hypothetical example, and your investments could lose money or be higher or lower than the market average.
While stocks may be volatile in the short term, the performance of the overall stock market has tended to even out over the long term as the economy moves through its various cycles.
As the above table illustrates, with the 10% annual return example, your $1,000 monthly contributions would add up to $360,000 during the 30-year period, while your investment return would total $1.94 million – more than five times the dollar amount you invested – to reach the $2.3 million total balance.
The graph below illustrates the monthly contribution required to reach about $2 million after 30 years based on no return, a 5% return or a 10% return: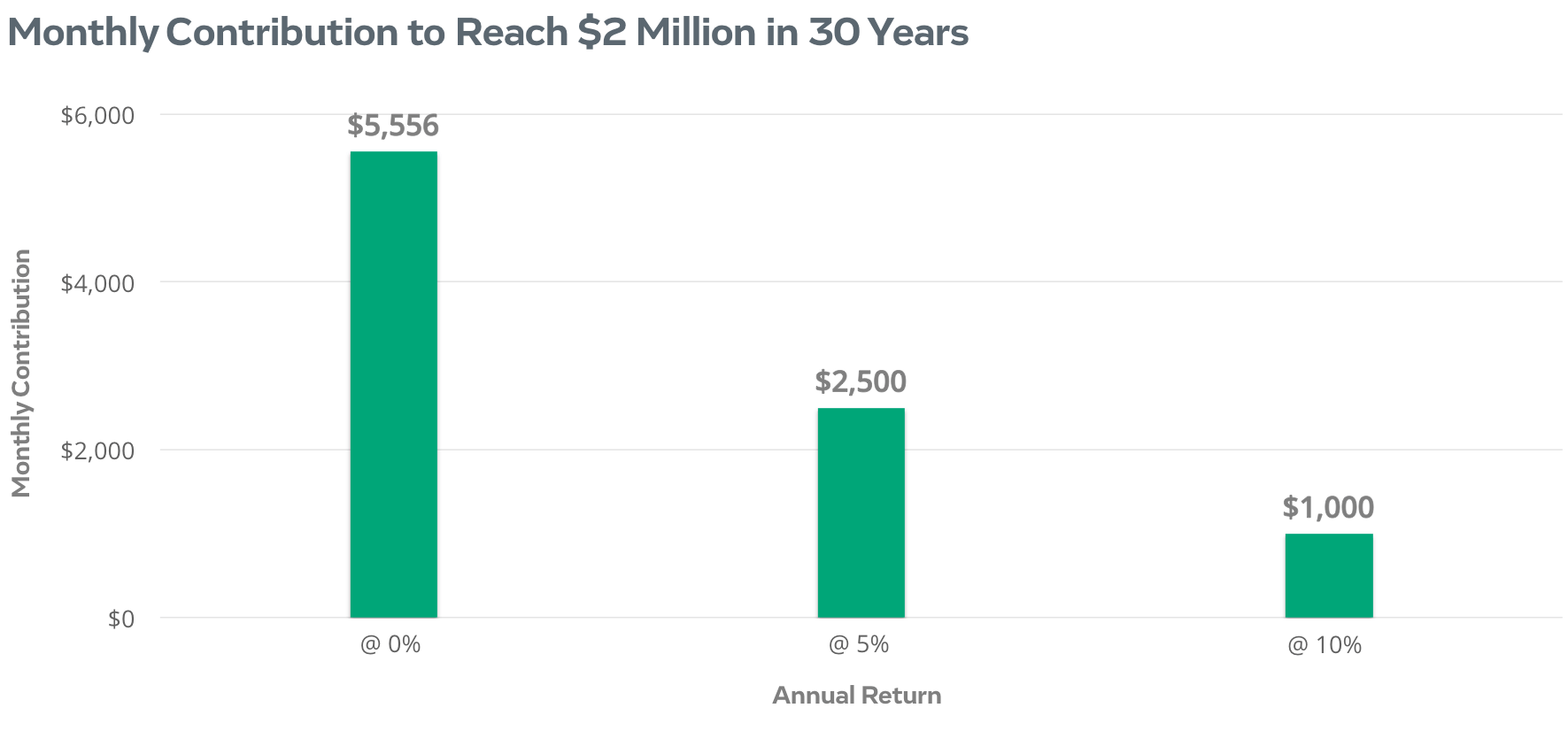 The monthly amount you invest and the investment choices you make – whether your portfolio is mostly stocks (or stock funds), bonds (or bond funds) or a diversified mix of both – should be based on your own means, goals and threshold for risk. But remember, avoiding one type of risk may mean facing another, including the risk of failing to reach your retirement goals.
---
1 Federal Deposit Insurance Corp. (FDIC), June 1, 2017
2 Dollar Times calculator http://www.dollartimes.com/
3 Gallup, "Just Over Half of Americans Own Stocks," April 16, 2016
4 The S&P 500® Index is a market-cap weighted index that represents the average performance of a group of 500 large-capitalization stocks.
5 New York University, Annual Returns on Investment 
6 InflationData.com 
7 FactSet, June 1, 2017
Well that's unexpected - your subscription request was not submitted. Please try again.
Gain From Our Perspective
Get Our Investing Insights Newsletter in Your Inbox.
SUBSCRIBE NOW
Gain From Our Perspective
Get Our Investing Insights Newsletter in Your Inbox.
SUBSCRIBE
Thanks for Signing Up!
Be sure to check your inbox for the Investing Insights newsletter to get the latest news and insights from Thrivent Mutual Funds.
Great news - you're on the list!
Looks like you're already on our mailing list. Be sure to check your inbox for the Investing Insights newsletter to get the latest news and insights from Thrivent Mutual Funds.