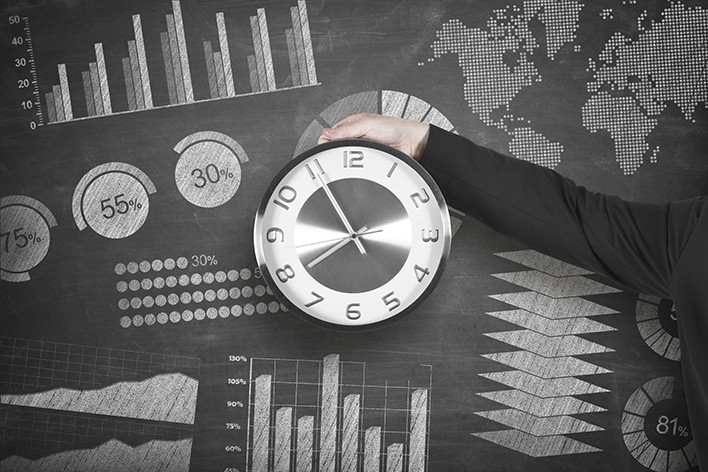 When the stock market starts to fluctuate, do you make a move to try to boost your returns? That impulse to act on movements in the market could cost you a surprising amount of money in the long-run, according to several case studies of investor behavior.
Volatility often tests the resolve of investors. The more volatile the market, the more likely investors are to shed their stocks and head to the sidelines.  But volatility is a normal part of an active market. If you're a long-term investor with a timeline of 10-years or more, selling your stocks or mutual funds during a volatile period may have a negative impact on your long-term returns, according to those studies. 
For instance, if you had sold out your S&P 500 stocks during the mortgage crisis of 2008-2009 – without returning to the market – you may have missed out on a sustained market recovery that actually exceeded the previous market high.    The S&P 500 Index rebounded over 200 percent from the depths of the Great Recession in March 2009 through the first quarter of 2016.
Before you succumb to the lure of market timing, here are some important factors to consider:
The infinite conundrum
Market timing involves multiple decisions through an endless cycle of fickle market and economic conditions. Even if your first move is on the money – selling your shares at the market's peak – your good fortune is quickly on the line again when you try to correctly guess exactly when to re-enter the market.
And then the conundrum begins again. In the end, it's a tedious, time-consuming and imperfect pursuit that rarely leads to a positive outcome. As Warren Buffett once put it, "the only value of stock forecasters is to make fortune-tellers look good."
You're betting against the house
When you time the market, you may be betting against the brightest, most experienced analysts on Wall Street who may be trying to do the same thing you are—make timely buying and selling decisions in an attempt to beat the market averages. Do you really want to go up against an industry of highly-trained and experienced investment professionals in your spare time?
Yet even with all their experience and resources, Wall Street repeatedly gets it wrong. The fact is, if anyone could consistently get it right, they'd soon dominate the market. So far, that hasn't happened. You're not likely to be the first.
So even if you've tried market timing and enjoyed a little luck, please heed the words of noted economist John Kenneth Galbraith: "There are two kinds of forecasters – those who don't know and those who don't know they don't know."
If you're so smart, why ain't you rich?
It would seem that if ever a consortium of amateur investors could beat the odds, it would be the geniuses of Mensa. This exclusive bastion of brainiacs with IQs in the top 2 percent, did, indeed, once pit their collective wits against the stock market through a Mensa Investment Club.
The results were not pretty. Revenge of the nerds, this was not.
A 2001 study by Eleanor Laise1 that compared the club's returns with the overall market over a 15-year period from 1986 to 2001 showed rather conclusively that smarter isn't necessarily better. While the S&P 500 grew by a whopping average annual return of 15.3 percent during that period, the Mensa club averaged a dismal 2.5 percent.
Over the 15 years, the market grew by a total of more than 700 percent, while the Mensa portfolio managed a paltry gain of less than 50 percent. Moral: Next time you're tempted to make a move in the market, play dumb; do nothing.
The hard facts
Over the years, a number of studies have highlighted the difficulty of market timing, but none more convincingly than an annual study led by Louis S. Harvey of DALBAR, Inc. The 2015 version of the DALBAR study on "Quantitative Analysis of Investor Behavior,"  showed a remarkably broad chasm between market timers and those who simply bought and held.
DALBAR compared the average return of all U.S. stock mutual fund investors to the S&P 500 Index over a 20-year period through 2014. The study showed that mutual fund investors, left to their own devices and market timing maneuvers, would have done far better by simply sitting on their hands.
On average, investors earned less than a third of the money that they would hypothetically have earned by investing in the S&P 500 and holding for the long term. During the 20-year period, the annualized  S&P 500 return was 9.85 percent while mutual fund investors reaped a significantly lower average of just 5.19 percent (after fund fees and expenses).
In dollar terms, starting with a $10,000 investment, by the end of the 20-year period, the average mutual fund investor would have earned about $17,500, ending with a grand total of about $27,500 (Investor returns are calculated to capture realized and unrealized capital gains, dividends, interest, trading costs, sales charges, fees, expenses, and any other costs.); the buy-and-hold S&P investor would have, hypothetically, earned more than triple that return – about $55,000 in total earnings – amassing a grand total of about $65,000. 
For comparative purposes, it is important to note that no fees or expenses were included in the returns of the hypothetical S&P investor because the S&P is an unmanaged index that cannot be traded.  (Performance figures are based on how an initial $10,000 investment would have changed over time after fund fees and expenses.)
Past performance is not necessarily indicative of future results.
All information and representations herein are as of 05/31/2016, unless otherwise noted.
The views expressed are as of the date given, may change as market or other conditions change, and may differ from views expressed by other Thrivent Asset Management associates. Actual investment decisions made by Thrivent Asset Management will not necessarily reflect the views expressed. This information should not be considered investment advice or a recommendation of any particular security, strategy or product.  Investment decisions should always be made based on an investor's specific financial needs, objectives, goals, time horizon, and risk tolerance.
S&P 500® Index is an index of 500 stocks chosen for market size, liquidity and industry grouping, among other factors. The S&P 500 is designed to be a leading indicator of U.S. equities and is meant to reflect the risk/return characteristics of the large cap universe.
---
1The study is entitled "If We're so Smart, Why Aren't We Rich? The Inside Story of How a Select Group of the Best and the Brightest Bungled the Easiest Stock."
Well that's unexpected - your subscription request was not submitted. Please try again.
Gain From Our Perspective
Get Our Investing Insights Newsletter in Your Inbox.
SUBSCRIBE NOW
Gain From Our Perspective
Get Our Investing Insights Newsletter in Your Inbox.
SUBSCRIBE
Thanks for Signing Up!
Be sure to check your inbox for the Investing Insights newsletter to get the latest news and insights from Thrivent Mutual Funds.
Great news - you're on the list!
Looks like you're already on our mailing list. Be sure to check your inbox for the Investing Insights newsletter to get the latest news and insights from Thrivent Mutual Funds.