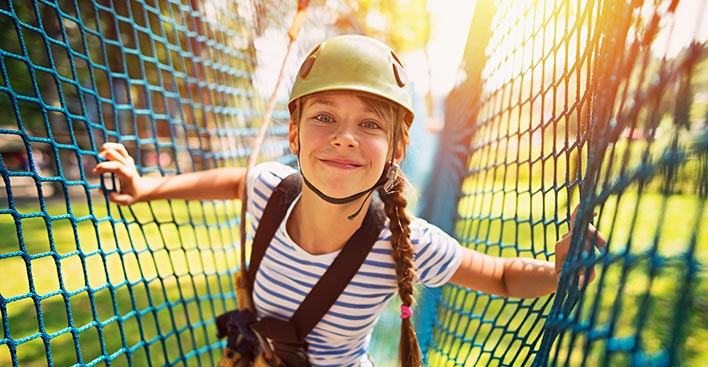 ---
You don't have to keep your emergency fund in cash under the bed. Here are some suggestions for putting it to good use.
Having an emergency fund is an important part of your financial plan. It's especially crucial when you understand that 40% of American adults say they couldn't cover an unexpected $400 expense without borrowing or selling something, according to the Federal Reserve.1
How to build your safety net
No one knows when the next downturn will come, but when it does, it will be good to have a safety net. At the very least, it's prudent to have three to six months of living expenses saved in case of emergencies—anything from losing your job to a surprise medical bill to a major urgent home repair.

That doesn't mean you need to save three to six months of salary, per say. If you lost your job, you should have enough saved to cover three to six months of necessary expenses for a few months: rent or mortgage, food, utilities and insurance, for instance. You probably wouldn't be making any after-tax investments, and you'd be less likely to dine out or attend big ticket events, so you won't need to replace 100% of your paycheck.

If you don't have at least three months of savings in an account right now, make it a priority to pile it up. That may mean putting off other purchases and major travel until you've amassed enough to cover your bases.


On paydays, see how much money you can funnel into this account while still leaving enough income to cover your necessities. To make the process easier, you could set up an automatic transfer on paydays from your checking account to a savings account—you'll save first and spend second, which is the key to a successful savings plan.
Should I save or invest my safety net funds?
Where you put this money is another consideration. Initially, you may want to start with the safest place possible, such as a bank savings or checking account. But keep in mind that at the present time, those accounts may pay little or no interest.
You may want to consider stashing your cash in a money market fund which may yield more in dividends, such as the Thrivent Money Market Fundii.  The fund typically requires a $1,000 minimum investment, but you can start lower by setting up a $100-per-month automatic investment account. (See: How to Start Building Your Nest Egg for Just $50 a Month)
As your emergency fund grows, you might not want to keep all of it in an account that offers little or no growth opportunity. If you're earning a good salary, your emergency fund might eventually balloon to $25,000 to $50,000, which is a lot of cash to be earning little or no return. Over time, with inflation at about 2% per year, the value of your savings will decline if you aren't earning at least that much annually.
As your emergency fund grows, consider shifting some of your money to more conservative funds, such as the Thrivent Moderately Conservative Allocation Fund, to give your nest egg the potential for growth. This fund is the most conservative option in Thrivent Mutual Funds' suite of asset allocation funds, seeking long-term capital growth while providing reasonable stability of principal. Keep in mind that asset allocation funds can lose money, but they do offer greater diversification than individual securities or traditional equity funds that invest almost entirely in stocks. While diversification can't prevent losses, it may mitigate those losses in a down market.
Developing an emergency fund strategy
Although it may be tempting to invest your emergency fund earnings in something slightly more aggressive, that can essentially defeat the purpose of an emergency fund. If your emergency fund takes a big dive in a bad market, it may wash away much of the money you'd been counting on for a rainy day. The idea of an emergency fund, after all, is to give you a safe source of cash in times of need.
If you're forced to use your emergency cash, you need to develop a spending strategy. You may decide to spend down any cash you have in a bank account or money market fund first, and then, if necessary, turn to the cash you have invested in mutual funds.
If you ultimately need to tap into your emergency fund, you should make it a priority to build it back up after you get back on your feet by setting aside money at regular intervals until you've reached your target.

Over time, having an adequate emergency fund can lend you peace of mind and a fallback plan in the case of a job loss or market downturn. Once you've built up a generous reserve, keeping the money in the right place can help you maintain its value.
1The Federal Reserve "Report on the Economic Well-Being of U.S. Households," May 22, 2018
iiYou could lose money by investing in Thrivent Money Market Fund. Although the Fund seeks to preserve the value of your investment at $1.00 per share, it cannot guarantee it will do so. An investment in the Fund is not insured or guaranteed by the Federal Deposit Insurance Corporation or any other government agency. The Fund's sponsor has no legal obligation to provide financial support to the Fund, and you should not expect that the sponsor will provide financial support to the Fund at any time.
Well that's unexpected - your subscription request was not submitted. Please try again.
Gain From Our Perspective
Get Our Investing Insights Newsletter in Your Inbox.
Subscribe now
Gain From Our Perspective
Get Our Investing Insights Newsletter in Your Inbox.
Subscribe
Thanks for Signing Up!
Be sure to check your inbox for the Investing Insights newsletter to get the latest news and insights from Thrivent Mutual Funds.
Great news - you're on the list!
Looks like you're already on our mailing list. Be sure to check your inbox for the Investing Insights newsletter to get the latest news and insights from Thrivent Mutual Funds.