Baby Boomers came of age in the shadow of the "Greatest Generation" – those World War II veterans who came home to a booming economy where life-time employment and a retirement pension were the norm in corporate America.
But the rules changed for Baby Boomers, the post-war generation born between 1946 and 1964. 
Now ranging in age from the early 50s to the early 70s, the Baby Boomer generation saw pensions scaled back or eliminated by most companies, they saw the cost of their children's higher education skyrocket, and they lived through technological advances and changes in the corporate landscape that made millions of jobs obsolete. 
Adding to the financial woes of the Baby Boomers were two stock market crashes after 2000 that wiped away trillions of dollars1 from their collective wealth.
As a result, many Baby Boomers are now ill-prepared for their retirement:
About 55 percent of households of individuals age 55-64 have less than $25,000 in retirement savings, including 41 percent who have zero, according to a recent Government Accountability Office (GAO) Retirement Security study.2
Among those who do have some retirement savings, the median amount is about $104,000 for households age 55-64 and $148,000 for households age 65-74, according to the GAO study. That may be a good start, but it's likely not enough to finance a comfortable retirement for the next 20 to 30 years. 
Among Americans age 55 or over who are still working, a study by the Employee Benefit Research Institute showed that only 35% had a retirement savings total of more than $250,000, another 18% had more than $100,000, but 28% had under $10,000.3
Savings and Investments, by Age
Table results based on the question: about how much money would you say you (and your spouse) currently have in savings and investments, not including the value of your primary residence or defined benefit plan assets? (2017 Workers n=876)
|   | Age 25-34 | Age 35-44 | Age 45-54 | Age 55+ |
| --- | --- | --- | --- | --- |
| Less than $1,000 | 34% | 20% | 22% | 18% |
| $1,000-$9,999 | 24% | 11% | 11% | 10% |
| $10,000-$24,999 | 11% | 14% | 8% | 4% |
| $25,000-$49,999 | 11% | 7% | 7% | 5% |
| $50,000-$99,999 | 7% | 14% | 11% | 8% |
| $100,000-$249,999 | 10% | 17% | 15% | 18% |
| $250,000 or more | 3% | 17% | 27% | 35% |
Source: Employee Benefit Research Institute and Greenwald & Associates, 2017 Retirement Confidence Survey. Figures and n-sizes from all years presented exclude those who answered "Don't know" or refused to answer.
---
Despite their lackluster savings rates, Baby Boomers are still well ahead of the younger generations in terms of total investments – which is to be expected since they've been in the workforce longer. In fact, Baby Boomers account for 40% of mutual fund-owning households in the U.S. and 53% of mutual fund assets, as the chart below illustrates. In other words, Baby Boomers hold more assets in mutual funds than all of the other generations combined.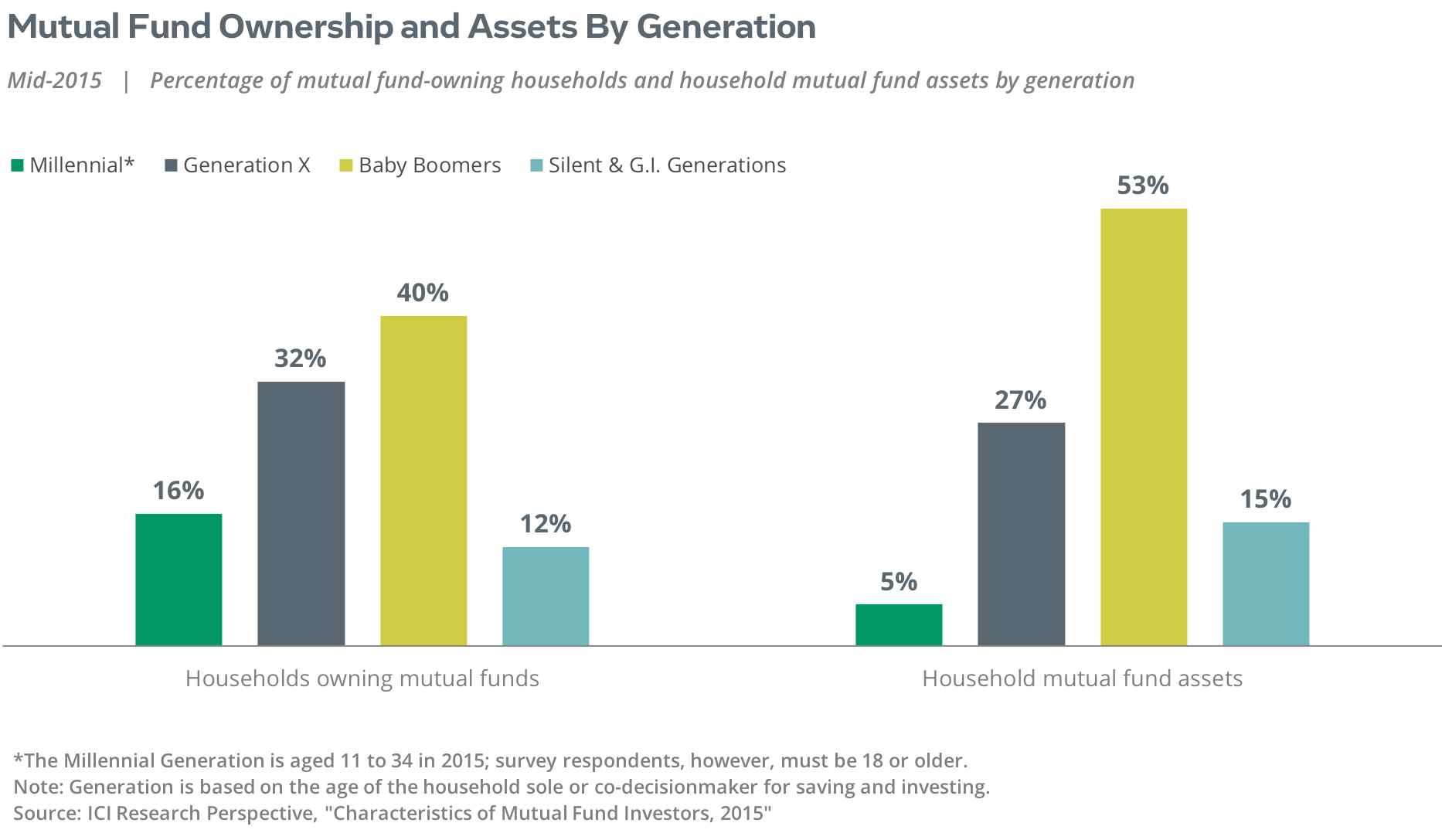 But while many Baby Boomers have put away a fair amount of savings, they may still need to stick to a tight budget to make their savings last. While the concept of outliving one's savings isn't new to this generation of retirement aged individuals, the problem appears to be growing. In 1935 when the Social Security Act became law, the average lifespan in America was 61.7 years.4 As a result, many working Americans didn't live long enough to retire or require any retirement savings (or Social Security benefits). 
But by 2016, life expectancy in the U.S. had climbed to 79 – and for those who were already 65, the average age of death was projected at about 84.5 In other words, if you retire at age 65, there's a good chance you'll live another 20 years – and possibly beyond.
Working Longer
With a longer life to pay for, seniors need a bigger nest egg to make it through the final decades. That's why, for many Baby Boomers, working longer isn't really a choice but a necessity.  
A number of factors, including better health and longevity, have made it more feasible for people to work well into their 60s and 70s. A job market that has warmed up to the experience and work ethic of older Americans has also made it possible for a growing number of Baby Boomers to prolong their careers. 
As a result, the number of workers 65 and over has more than doubled over the past two decades. About 9 million Americans in that age group were employed either full or part time in 2016, according to the U.S. Department of Labor. In the 20-year period from 1994 to 2014, the number of workers 65 and over increased by 117%: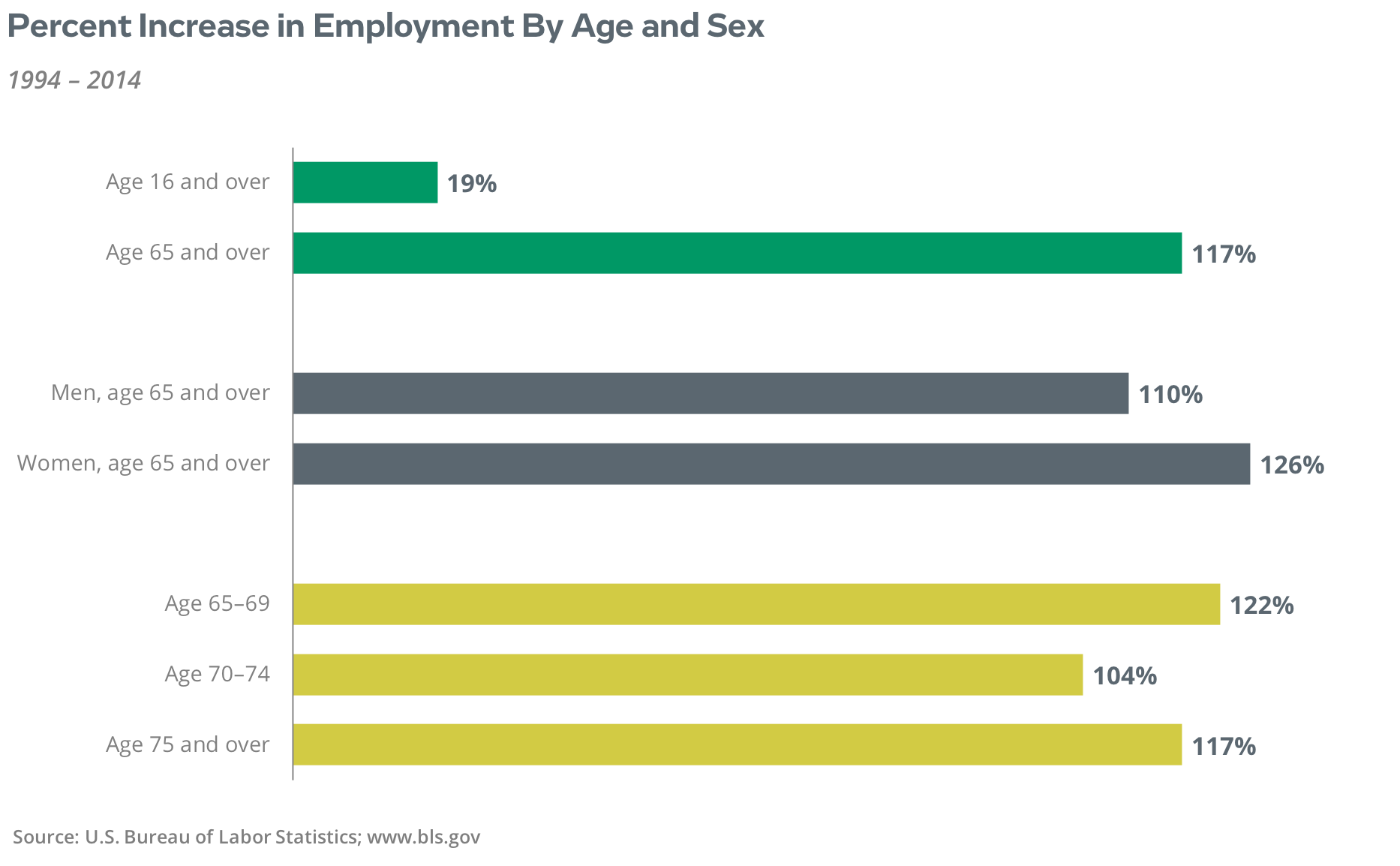 In all, about 19% of Americans 65 and over reported being employed full or part time in 2016, which is well above the roughly 13% in 2000, according to the Bureau of Labor Statistics. But as the number of older workers has been rising, younger workers have seen stagnation or even declines in employment.  During that same 16-year period from 2000 to 2016, the employment rate for the general population declined from about 64% to about 60%.6
That trend is expected to continue with workers age 65 to 74 projected to grow by 56% by 2024, and workers 75 and older projected to grow by 86%. As the chart below illustrates, the growth of the older workforce will be far greater than younger workers: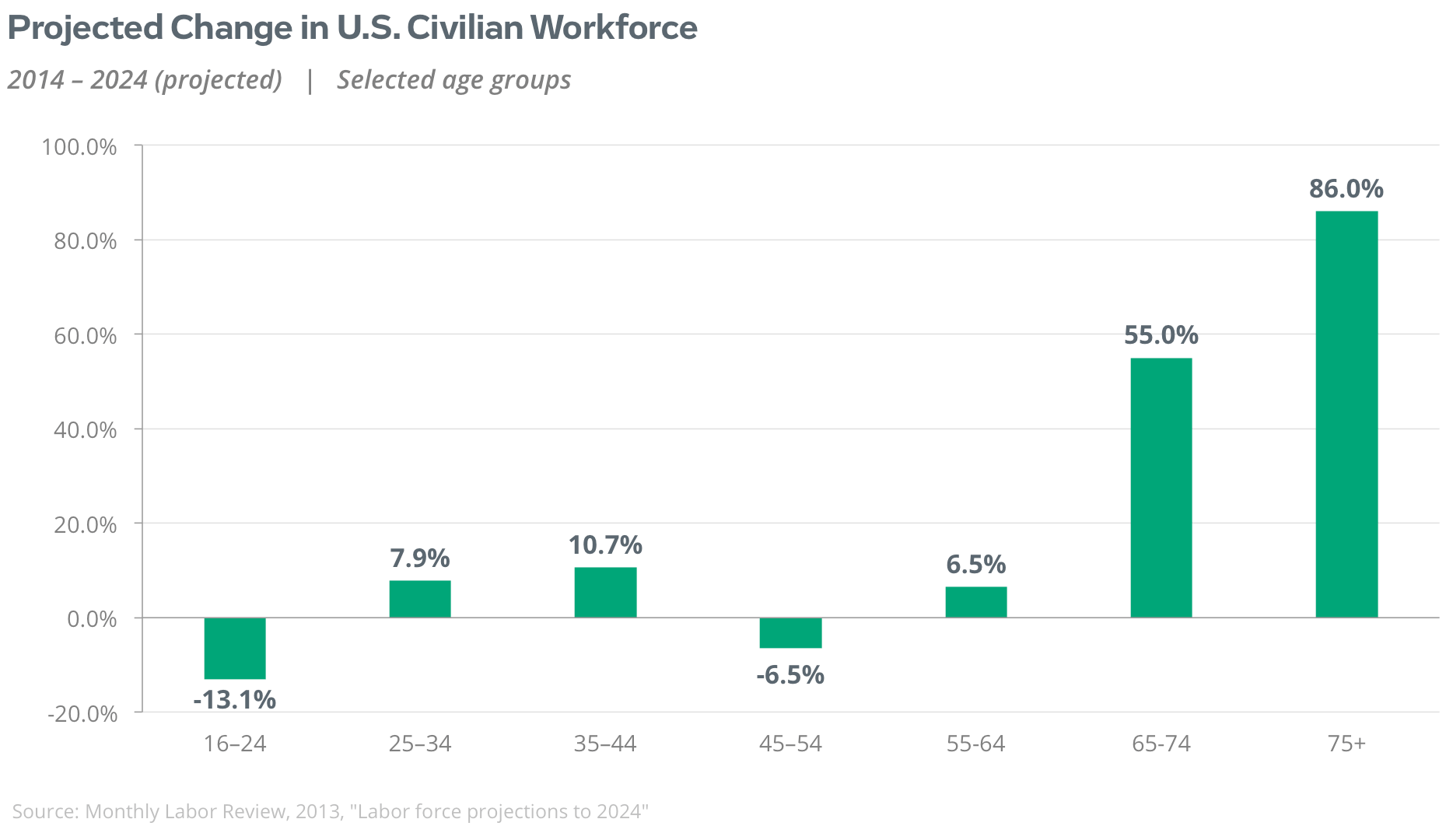 Baby Boomers have also become surprisingly active in the entrepreneurial arena. Entrepreneurs between 55 and 64 accounted for about 26% of all new businesses launched in 2015 – nearly double the percentage from 20 years earlier in 1996 when that group made up only 14.3% of the start-up businesses, according to a study by the Kauffman Foundation.7
With greater financial need, greater longevity and better health, working well past the age of 65 is likely to be a fact of life for many Baby Boomers.
The next step for Baby Boomers who hope to someday enjoy a comfortable retirement is to put together a sound investment strategy to cover the costs of their twilight years. 
If you're a Baby Boomer, are you already well on your way to a comfortable retirement? Or are you struggling to figure out how you'll make ends meet when your working days are over? What steps can you take to build a more secure retirement? 
Continue reading: Part 2. Money and Baby Boomers: Now What? Forging Your Personal Path to Retirement
1 Wall Street Journal, "Total Global Losses From Financial Crisis: $15 Trillion," Oct. 1, 2012.
2 Retirement Security: Most Households Approaching Retirement Have Low Savings, May 2015. www.gao.gov 
3 Employee Benefit Research Institute, 2017 Retirement Confidence Survey.     
4 National Center for Health Statistics, National Vital Statistics Reports.
5 CDC/NCHS, National Vital Statistics System, Mortality
6 U.S. Department of Labor, Bureau of Labor Statistics, 2016
7 Kaufman Foundation, "The Kaufman Index of Start-Up Activity 2015" 
Well that's unexpected - your subscription request was not submitted. Please try again.
Gain From Our Perspective
Get Our Investing Insights Newsletter in Your Inbox.
SUBSCRIBE NOW
Gain From Our Perspective
Get Our Investing Insights Newsletter in Your Inbox.
SUBSCRIBE
Thanks for Signing Up!
Be sure to check your inbox for the Investing Insights newsletter to get the latest news and insights from Thrivent Mutual Funds.
Great news - you're on the list!
Looks like you're already on our mailing list. Be sure to check your inbox for the Investing Insights newsletter to get the latest news and insights from Thrivent Mutual Funds.