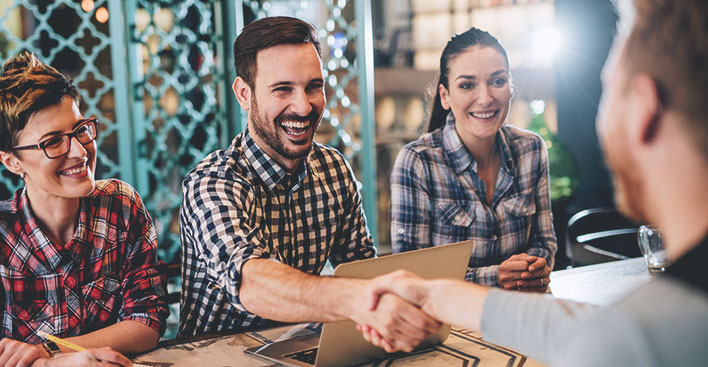 If you recently accepted a job with a new company, you may be leaving something important behind – your 401(k) retirement plan.
Even if you're in no rush to close out your 401(k) account at your former employer, keeping it there may not be an option – particularly if you have $1,000 or less in your 401(k).
Unless you withdraw the money or roll it over to another account, in most cases, your plan administrator has the option of paying the money directly to you, minus, 20% in income tax withholding. If you have between $1,000 and $5,000, and you don't elect to receive the money or roll it over, the plan administrator may deposit it in an IRA in your name. (See: IRS Rollovers).
But even if you're allowed to leave your money in your old plan, you should weigh the options before making a decision. You may find it easier to let your money ride in your former employer's plan, rather than moving your funds over to your new employer's 401(k) or an IRA.  You might also find that you like the investment options in your old plan better than the choices in your new employer's plan.
However, there are also some compelling reasons to consider taking it with you in the form of a rollover. Before you roll your money over to an Individual Retirement Account (IRA) or to your new employer's 401(k) plan (if the employer has a plan), here are some factors to consider:
1. Consolidation makes it easier to track and manage your money
If you go through a series of career changes, over time you may find yourself enrolled in multiple 401(k) plans. It may become cumbersome keeping track of all the accounts and managing your asset allocation across several different portfolios.
2. You could pay more in fees with extra retirement accounts
There are fees associated with 401(k) plans, as well as IRAs, that may include sales loads, commissions, fund expenses, advisory fees, plan administration, and customer service.

In some cases the employer pays some or all of those expenses for their employees – but not always for ex-employees. So the more 401(k) plans you have from previous jobs, the more fees you may be paying. You may be able to minimize the fees by consolidating your accounts. (See: FINRA Rollovers to Individual Retirement Accounts)

3. You may find more investment choices or services elsewhere
Most 401(k) plans have a limited array of mutual funds or similar investment options from which to choose. You may find that you have more choices – and possibly better service options – in a different type of qualified plan.   In many cases, the choices are far greater in an IRA than in the typical 401(k) accounts. While most employer plans have a limited number of funds from which to choose, many IRA plans allow you to invest in a much broader range of funds and, in many cases, a wide universe of stocks, bonds and other investments.
The importance of the additional investment choices will depend, in part, on how satisfied you are with the options available under each plan. For example, if you are satisfied with the selection of funds available in your old plan, you may not regard an IRA's broader array of investments as an important factor.
4. You may want earlier access to or more protection of your assets.
While employees who leave their job between age 55 and 59½ may be able to take penalty-free withdrawals from their 401(k) plan, withdrawals generally may not be made from an IRA without penalty until age 59½. Also, employer plan assets normally have unlimited protection from creditors under federal law, while IRA assets are protected in bankruptcy proceedings only. State laws vary in the protection of IRA assets in lawsuits.
Where to Move Your Money
If you decide to transfer out of your former company's plan, you have three primary options:
Cash it out and pay the taxes and potential penalties.
Roll over the money to your new company's 401(k) plan or other employer-sponsored retirement plan such as a 403(b) or SEP-IRA – assuming they have a plan.
Roll it over to a traditional IRA or Roth IRA.
According to the Financial Industry Regulatory Authority (FINRA), "each choice offers advantages and disadvantages, depending on desired investment options and services, fees and expenses, withdrawal options, required minimum distributions, tax treatment, and the investor's unique financial needs and retirement plans. The complexity of these choices may lead an investor to seek assistance from a financial adviser, including a broker-dealer."
Cash it out
If you cash out your 401(k), you would typically be required to pay taxes on the withdrawal at your ordinary income tax rate and if you are under age 59 ½ , you would normally be assessed a 10% penalty fee for early withdrawal unless an exception applies.  Due to the potential for these taxes, your employer is required to withhold 20% of your distribution towards the federal income tax you may owe.  

The early withdrawal penalty may not apply for those who terminated service with their employer at age 55 or over.  There are also some other penalty exceptions, including hardships. For more see: IRS 401(k) Early Withdrawal Rules.


Roll it over to your new company's plan
If you decide to roll over your money to your new company's 401(k) plan, your former plan administrator would execute the transfer of assets. At that point you would likely be required to reallocate your money to the mutual funds or other investment options offered in the new employer's plan.
Roll it over to a traditional IRA
Rollovers from 401(k) plans to IRAs account for most IRA assets in the U.S. According to FINRA, more than 90% of the assets flowing into IRA accounts have traditionally come from rollovers, primarily from employer plans.i
If you don't already have an IRA account, you may be able to open an account online.  Once your account is set up, rolling over your 401(k) is a routine matter that should be handled by your plan administrator, although it may also take some effort on your part to provide all the necessary information. (See Rollovers: Moving Your 401k and Retirement Assets for more information.)
If you choose to open an IRA with Thrivent Mutual Funds, make sure to select "Retirement Plan Rollovers" when choosing your account type. That way we'll lead you through all the steps necessary to set up an IRA as well as provide help to make the request to your former employer to rollover the 401(k) assets.  
As with a rollover to another 401(k), when you roll over your 401(k) to an IRA account you can allocate your money to various funds or other available investment options . As part of the Thrivent Mutual Funds step-by-step online account establishment process, investors select the mutual funds in which they want to invest.
An investor who holds employer stock in a former employer's plan that has had significant appreciations should consider the negative tax consequences of rolling the stock to an IRA. If employer stock is transferred in-kind to an IRA, any appreciation would be taxed as ordinary income upon distribution.
FINRA suggests that "the tax advantages of retaining employer stock in a non-qualified account should be balanced with the possibility that the investor may be excessively concentrated in employer stock. It can be risky to have too much employer stock in one's retirement account; for some investors, it may be advisable to liquidate the holdings and roll over the value to an IRA, even if it means losing long-term capital gains treatment on the stock's appreciation."
Roll it over to a Roth IRA
If you roll over your 401(k) money to a Roth IRA, you would typically have to pay federal taxes on the rollover amount at your ordinary income tax rate, but you would not be stung with the 10% penalty for early withdrawal. Once the money is in your Roth IRA, your investments would typically grow tax-deferred within the account.
Distributions from a Roth IRA can be tax-free; however, under most circumstances, any distributions could not be withdrawn tax-free until you reach the age of 59 ½ – and after you've had the account for at least five years.  If you take a distribution before that, it could be taxable and the 10% penalty for early withdrawal could apply as well. Specific requirements apply to amounts rolled over into a Roth; see Making Sense of Rollovers and Transfers for more information.  
There is one other unique benefit of a Roth IRA. With a 401(k) or traditional IRA plan, you are required to take minimum distributions after age 70 ½, but there is no such requirement with a Roth IRA. The money can stay in your Roth IRA account for as long as you live, potentially accumulating tax-free gains for years to come (although your beneficiaries would be subject to required minimum distributions). (See: The Power of Pairing Your 401(k) with a Roth IRA)
 Before you make your final decision on how to handle your 401(k), at Thrivent Mutual Funds, we recommend you consult your tax advisor to make sure you're getting the most out of your investments. Thrivent Mutual Funds and their representatives cannot provide legal or tax advice. (See more on The pros and cons of rolling over your 401(k) investments.)
---
i FINRA Rollovers to Individual Retirement Accounts. December 2013.
Well that's unexpected - your subscription request was not submitted. Please try again.
Gain From Our Perspective
Get Our Investing Insights Newsletter in Your Inbox.
SUBSCRIBE NOW
Gain From Our Perspective
Get Our Investing Insights Newsletter in Your Inbox.
SUBSCRIBE
Thanks for Signing Up!
Be sure to check your inbox for the Investing Insights newsletter to get the latest news and insights from Thrivent Mutual Funds.
Great news - you're on the list!
Looks like you're already on our mailing list. Be sure to check your inbox for the Investing Insights newsletter to get the latest news and insights from Thrivent Mutual Funds.