On the face of it, investing with mutual funds may seem somewhat daunting and mysterious.
What fund or funds should I choose? What kind of account do I need? How much money do I need to start? How long does an account take to set up? What happens when I need to take money out? What about taxes? How do I invest money into a mutual fund? To help take some of the mystery out of the process, here's a step-by-step breakdown of what happens when you invest in a mutual fund—from how you get started to when you need to start withdrawing your money.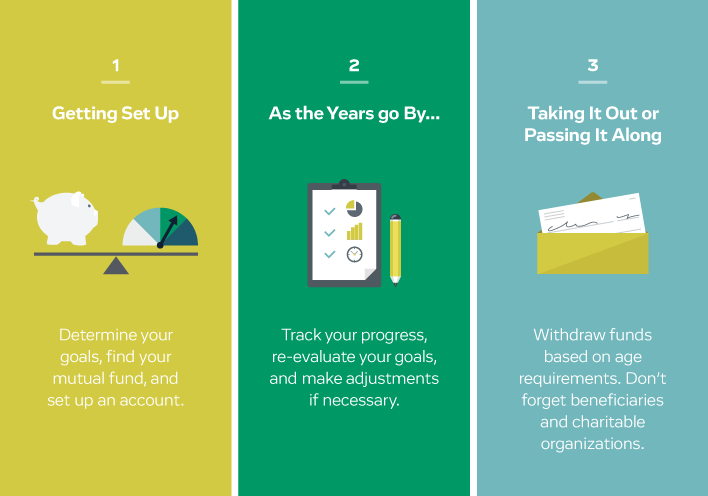 1. Getting Set Up
Define Your Goals
First off, you need to think about the reason you're investing, what your goals are, and when you'll probably need to access your money. Different mutual fund accounts have different rules about taxes and withdrawals, so the account type you choose to put your mutual fund in should align with your investing goals:
Next, you're going to need some seed money–more is good, but you can get started with a Thrivent mutual fund with as little as $50 a month with an automatic recurring investment ($100 for the Thrivent Money Market Fund and Thrivent Limited Maturity Bond Fund). This may not seem like a lot, but by starting small and starting early can pay off because returns can grow exponentially over time.
Finding Your Mutual Fund
Finally, you'll need to choose a mutual fund to invest in. There are a lot of choices. Some funds, such as asset allocation funds, are designed to align with the level of risk investors are willing to tolerate in exchange for greater growth potential. Other funds focus on particular parts of the economy—like natural resources or utilities—or on certain types of stocks and bonds. There are also funds targeted to investing goal timelines. With so many fund options and types it can be helpful to compare funds, which can be done here. To learn more about an individual fund, review the prospectus. Every fund has a prospectus, which is a required document that outlines all of the information about the fund. It is a great resource to review before deciding on a fund. For a good overview of mutual funds and how they work, read the What is a Mutual Fund? article.
Thrivent Mutual Funds offers more than 20 funds across four categories—enough options to cover most mutual fund investing needs without being overwhelming. Chances are, there's probably a fund to match your needs.
Setting Up An Account
Once you have your account type, the amount of money you're going to start off with, and have selected a mutual fund that aligns with your goals and risk tolerance, you'll need to go ahead and set up a mutual fund account. You can complete an application with Thrivent Mutual Funds online. Different accounts will require slightly different pieces of information to complete the application, but here are the kind of things you'll want to have handy:
Full names of people to be included as account owners and beneficiaries
Social Security numbers
Your bank account number and the bank's routing number
Contact information like email and phone numbers
While not the only way to start, you can easily transfer money from your bank to start your new mutual fund account. This can be set up as a one-time transfer or recurring contribution that meets the minimum requirements for the mutual fund and account type. With Thrivent Mutual Funds, once you've completed the application (it should only take 10 minutes), you'll be asked to set up online access for your account, including your User ID and password. Your account will be active, but it will take a few days for your initial contribution to appear.
2. As Years Go By…
Tracking Your Progress
Unless you're actively buying and selling your shares, a mutual fund account doesn't require very much day-to-day oversight on your part. Thrivent Mutual Funds has fund managers and analysts who work to ensure that the fund's holdings and allocations remain aligned with the fund's strategic goals (so you don't have to) and level of risk. All of your account details are always available online and you can set your preferences to receive email confirmations of purchases or notices when new documents are available, such as quarterly statements. You can also opt for paper or digital delivery of key documents.
Dealing With Taxes
No matter the account type you've chosen, you'll probably receive tax forms every year. These will be mailed to you and will also be available online. More information about the different tax forms, who should expect to receive them, and when they will be made available can be found in the Tax Resource Center. Be sure you share all tax forms you receive with your tax advisor.
Making Adjustments
As the years pass, you should consider checking back in on your investing goals and risk tolerances to ensure your investment approach still fits your future needs. Also, it's a good idea to consider gradually increasing your retirement contributions over time, especially if your income increases over the years. For more information about IRA contribution types and limits, review our IRA contribution limits page.
It's also a good idea to revisit the beneficiary designations for your accounts and make sure they're up-to-date and remain consistent with how you want to pass along your investments. For more information about the different types of beneficiary options, read the Why It Pays to Have a Beneficiary Plan article.
Weathering the Ups and Downs
When you invest in the market, there are going to be bad days and good days, but historically the stock market has trended upwards over the long haul.  Since most mutual funds are structured with some level of diversification of holdings, it should make these inevitable market swings much more tolerable.  However, keep in mind that while diversification can help reduce market risk, it does not eliminate it. For more information on staying invested through the market ups and downs, read the Top 4 Long-Term Investment Strategies to Help Increase Gains article.
3. Taking It Out or Passing It Along
Withdrawals
Remember those goals? Once you reach them or reach a certain age, you need to think about what to do with your mutual fund investment.  If you have a general investment account (single or joint ownership) you are free to withdraw your money at any time without restriction.  If you've invested in a retirement account, here are some options:
At age 59½ or over, you can start taking penalty-free withdrawals of earnings from IRAs (earlier withdrawals can also be taken if you fit certain criteria).
At age 70½, Required Minimum Distributions (RMDs) need to be taken from traditional IRAs.
Roth IRAs don't require any withdrawals by the current account holder. Therefore this type of account can be passed along to your beneficiaries as an inherited IRA if you wish.
Remember, your beneficiaries can also be charitable organizations and distributions can be used to donate to charities.
Our IRS Contribution and Distribution Rules article provides a more detailed exploration of your options. Ultimately, there are potential tax ramifications for both you and your beneficiaries whenever you take a distribution from a mutual fund account, so it's wise to discuss all of this with your tax advisor.  
Whatever you decide, make sure to do your research and consider all of your options. If you have any questions, a financial representative is here to help.
At Thrivent Mutual Funds, we recommend you consult your tax advisor to make sure you're getting the most out of your investments. Thrivent Mutual Funds and their representatives cannot provide legal or tax advice.
Thrivent financial professionals are registered representatives of Thrivent Investment Management, Inc. Thrivent Investment Management, Inc. is an SEC-registered investment adviser and broker/dealer, and a member of FINRA and SIPC and a wholly owned subsidiary of Thrivent, the marketing name for Thrivent Financial for Lutherans.
Well that's unexpected - your subscription request was not submitted. Please try again.
Gain From Our Perspective
Get Our Investing Insights Newsletter in Your Inbox.
Subscribe now
Gain From Our Perspective
Get Our Investing Insights Newsletter in Your Inbox.
Subscribe
Thanks for Signing Up!
Be sure to check your inbox for the Investing Insights newsletter to get the latest news and insights from Thrivent Mutual Funds.
Great news - you're on the list!
Looks like you're already on our mailing list. Be sure to check your inbox for the Investing Insights newsletter to get the latest news and insights from Thrivent Mutual Funds.