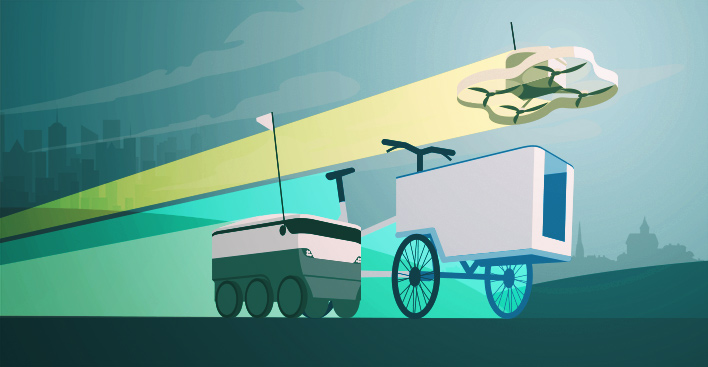 Squadrons of drones dispatched to rural homes like storks delivering their bundles of joy; robotic carts rolling down neighborhood sidewalks for doorstep drop-offs, bikers blitzing the downtown streets on bulky cargo bikes, and an Uber-like dispatch force dropping off packages right to your car trunk or inside your home – that's the future (and, in some cases, the present) of Amazon delivery.
As Amazon pursues its perpetual quest to distribute its goods faster and more efficiently, it is slowly erasing and replacing the traditional concept of shipping and delivery.
While one-day shipping was once considered the benchmark for delivery services, Amazon has been shattering that concept with ever-faster distribution methods that may someday lead to 30-minute deliveries for tens of thousands of popular consumer and business items.
But there are many bridges to cross in order for Amazon to bring this vision together. Not only does it mean developing a raft of breakthrough transportation technologies and organizing a rapid-fire fulfillment and dispatch system, it may also mean building a vast network of distribution outposts in nearly every populous neighborhood in America (and beyond).
While the promise of 30-minute delivery is actually nothing new – pizza joints and florists figured out how to do it long ago – the reality of quickly sorting, packing and delivering any of thousands of different perishable and nonperishable products to a massive customer base requires a far more sophisticated approach.
Here are some of the key delivery process components on Amazon's radar:
Distribution Network
Amazon continues to expand and improve its distribution network with new facilities being added throughout the U.S. and global markets. But as the company works to improve its local delivery system, it will need to move beyond the traditional warehouse distribution centers, and penetrate the local neighborhoods with distribution centers that serve each local area.
How will that work? The final mile of delivery tends to be the most expensive and inefficient part of the delivery process. While Amazon has not shared its blueprint for handling the final mile, we believe that the company will need to set up an extensive network of local distribution centers that can facilitate quick delivery.
In or near most well-populated U.S. neighborhoods, there's a good chance you'll find a strip mall and at least one Walgreen, CVS or other retail pharmacy. Amazon may need to adopt that same model of multiple outlets in close proximity to its customer base in order to make its local delivery concept practical. A perfect solution, ironically, may be renting distribution space in neighborhood strip malls with vacant store space created, in part, by competition from online shopping sites.
When orders come in, they would be routed to the closest distribution outlet where they would be quickly filled and sent off for delivery via the most efficient transportation option. The method of delivery would vary depending on the type of order and the destination.
Delivery Modes
Cargo bikes. For downtown and other urban areas, pedal or motorized bicycles equipped with large container boxes can be used to quickly hustle products to their destination.
Robo-carts. For residential and urban settings, Amazon is expected to ultimately use automated rolling carts that can be programmed to travel down sidewalks or pathways to drop packages off for residential and business customers. While the technology is still being refined, robotic carts are already being tested in the United Kingdom and Washington, D.C.  The leader in developing self-driving robotic delivery carts is Starship Technologies, which is based in London, England. According to the company, the six-wheel Starship delivery carts are designed to deliver goods locally in 15 to 60 minutes, and have been tested in more than 100 cities around the world. Although they travel to their destination autonomously, they are monitored by humans who can take over control at any time.
Delivery drones. While drone deliveries are still a mode of the future, Amazon has started testing drones for deliveries in the United Kingdom. According to Amazon, the plan is to use its "Amazon Prime Air" drone fleet to deliver packages up to five pounds in 30 minutes. Most drone deliveries are expected to be in the rural areas. While the concept may seem like science fiction, according to Amazon, "one day, seeing Prime Air vehicles will be as normal as seeing mail trucks on the road."
Delivery cars. Amazon has created an Uber-like delivery service called Amazon Flex that relies on independent drivers who are available to deliver packages to businesses and residential customers. The company is currently recruiting drivers for many cities throughout the U.S., offering $18 to $25 per hour for drivers willing to make the deliveries for Amazon.
Secure deliveries. Amazon has already developed a delivery system that drops off your order in a more secure location, such as your car trunk, inside your front door at home, or to a locked storage unit at a store or other location convenient to you. Through Amazon Key, you can give Amazon the ability to open your door or car trunk to deliver packages securely so you don't have to worry about your deliveries disappearing from your doorstep. You even have the opportunity to watch motion clips on your smart phone while the delivery is in process. To expand the business further, Amazon recently acquired a company called Ring, which has developed a special video doorbell delivery system for in-home deliveries, as well as other related security gear, such as solar security cameras, floodlight cameras and an in-home alarm system.
The technology to deliver products faster and more efficiently is already available or in development at Amazon, but the infrastructure to facilitate that rapid delivery is still a work in progress.
If Amazon is able to pull it all together, the possibilities for consumers become endless: You discover you need a new blouse or a new tie for an event that evening – a simple voice command can set your 30-minute delivery in motion. Or you realize that you forgot to buy the shrimp cocktail sauce for your party that evening – and guests will be arriving within the hour. A simple voice command could bring the sauce to your door before the guests begin to arrive.
For many consumers, Amazon has already changed the way they shop. Perfecting the 30-minute delivery could add a whole new dimension to online shopping.
All information and representations herein are as of 06/04/2018, unless otherwise noted.
The views expressed are as of the date given, may change as market or other conditions change, and may differ from views expressed by other Thrivent Asset Management associates. Actual investment decisions made by Thrivent Asset Management will not necessarily reflect the views expressed. This information should not be considered investment advice or a recommendation of any particular security, strategy or product.  Investment decisions should always be made based on an investor's specific financial needs, objectives, goals, time horizon, and risk tolerance.
This article refers to specific securities which Thrivent Mutual Funds may own. A complete listing of the holdings for each of the Thrivent Mutual Funds is available on ThriventFunds.com.
Well that's unexpected - your subscription request was not submitted. Please try again.
Gain From Our Perspective
Get Our Investing Insights Newsletter in Your Inbox.
Subscribe now
Gain From Our Perspective
Get Our Investing Insights Newsletter in Your Inbox.
Subscribe
Thanks for Signing Up!
Be sure to check your inbox for the Investing Insights newsletter to get the latest news and insights from Thrivent Mutual Funds.
Great news - you're on the list!
Looks like you're already on our mailing list. Be sure to check your inbox for the Investing Insights newsletter to get the latest news and insights from Thrivent Mutual Funds.