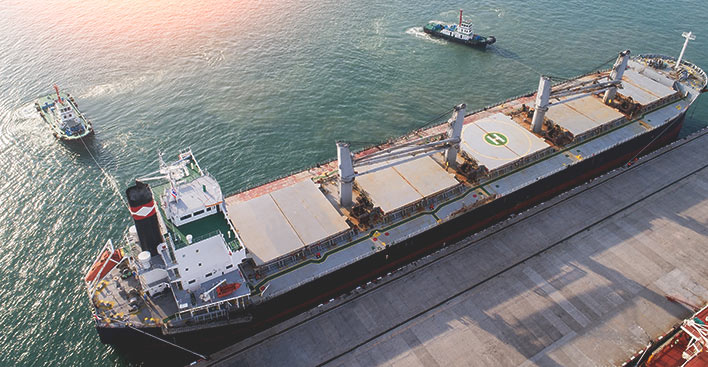 International trade has burst front and center as a growing concern for the U.S. and global economies and financial markets.  Until recently, this issue was considered a trade "war of words," but now there is increasing sentiment that it is escalating into a true trade war.
International trade has become increasingly important throughout the world, including the U.S.  Total U.S. trade, which is the combination of exports and imports, represents about 27% of total domestic economic activity, as shown in the chart below.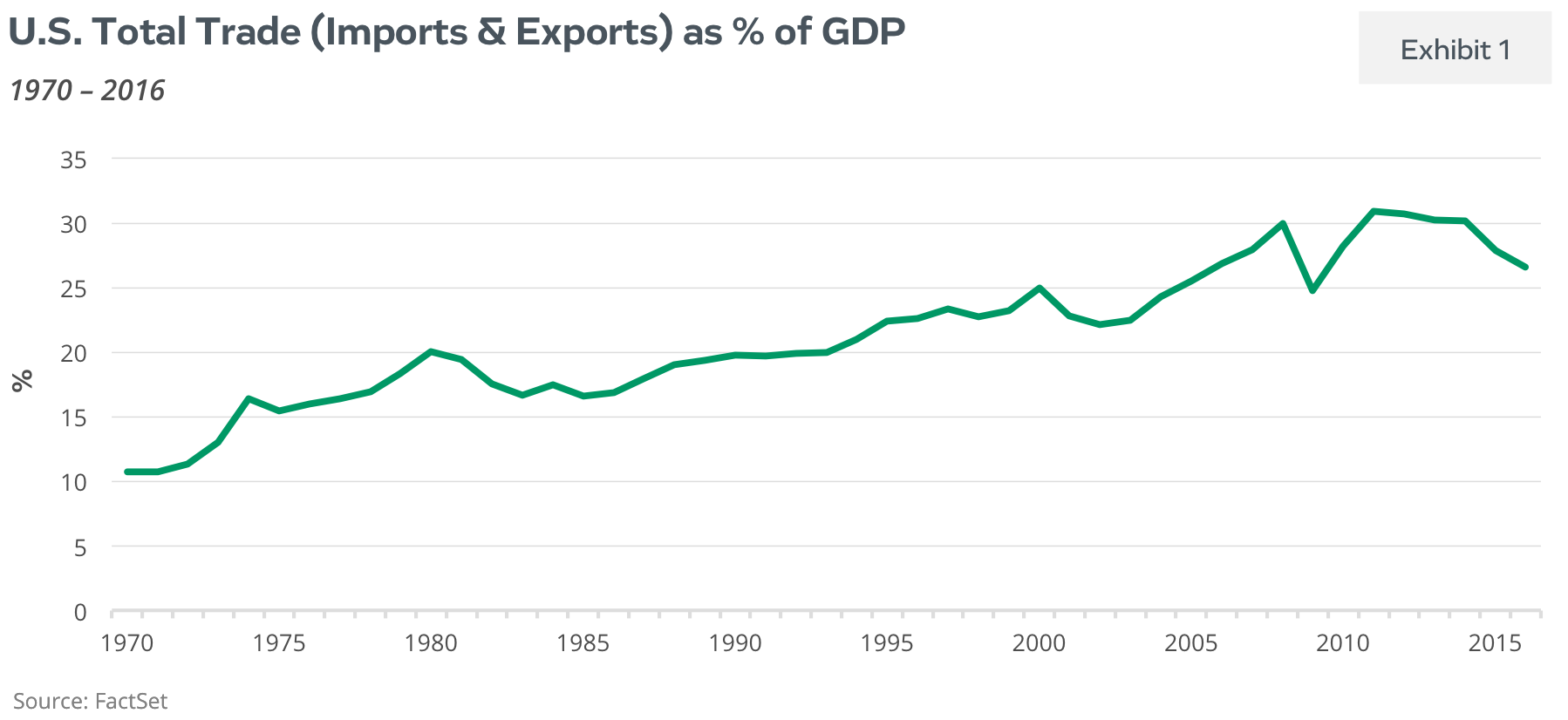 Although total trade has increased, imports have grown much more rapidly than exports, causing a large trade deficit. As shown below, the trade deficit for the United States has been in a range of $40 to $50 billion per month over the past 10 years.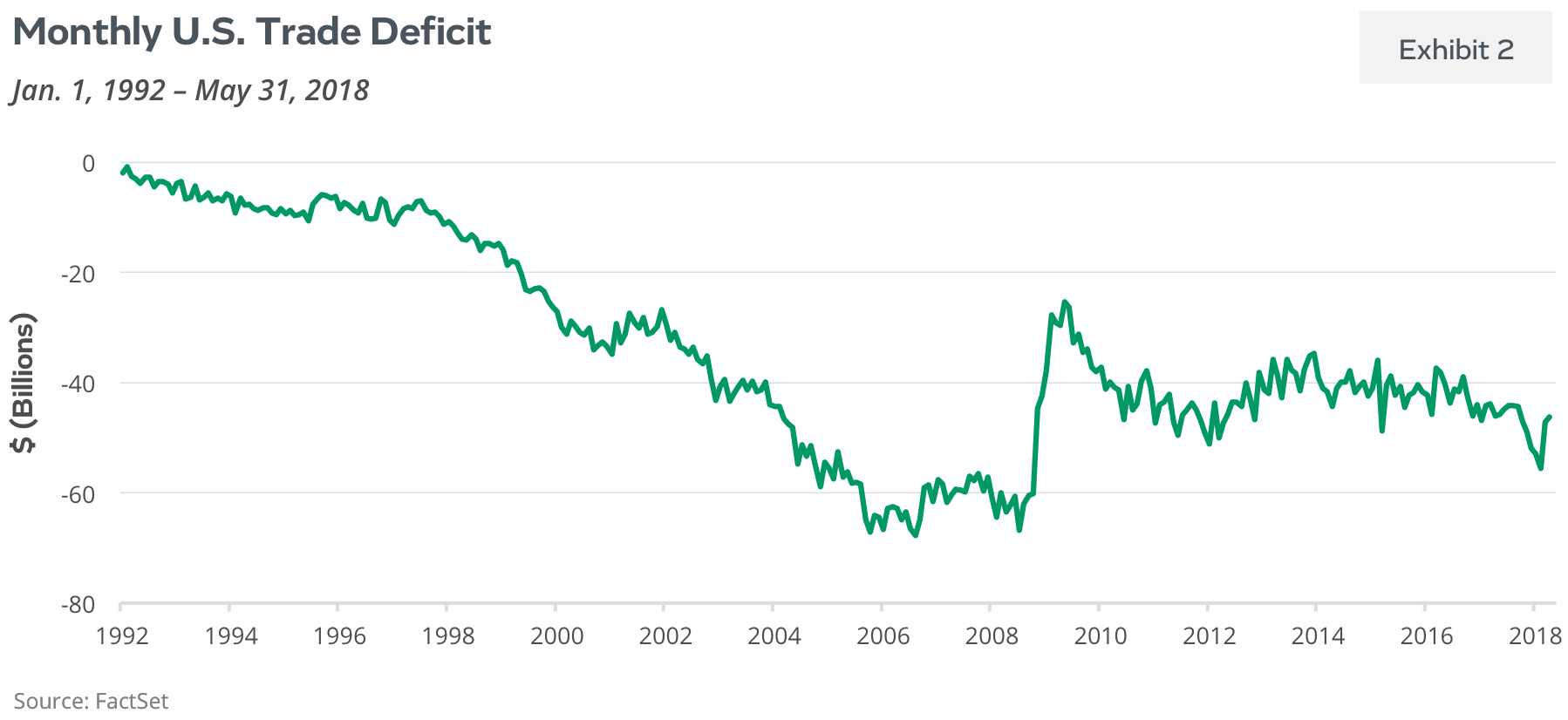 Trade involves not just hard goods, but services and intellectual property as well.  As economies evolve to become more reliant on services and intellectual "know-how," protecting these dimensions has become more important.  This is a key element of the current trading relationship friction.
Specifically intellectual property appropriation, either through forced transfer or outright theft – particularly by the Chinese – has become a critical problem.  It is estimated that Chinese theft of intellectual property, such as trade secrets, counterfeit goods and pirated software, costs the U.S. economy between $225 billion and $600 billion a year, according to recent estimates by the U.S. Trade Representative.i
The Trump administration has been attempting to address trade concerns and reduce the deficit by imposing tariffs on selected imports.
The reasoning is multifaceted from both a policy and political perspective, but the goal is to improve the longer term growth trajectory of the US economy by boosting exports and diminishing imports.
Potential Economic Impact
Investors and economists are generally skeptical of attempts to influence domestic economic growth through the blunt tool of tariffs.  Our historical experience with tariffs and the inevitable resulting trade wars – particularly the Smoot-Hawley tariffs of the 1920s – has been negative.  The Smoot-Hawley tariffs of the 1920's are widely believed to be the primary cause of the Great Depression.
The risks from an escalation in trading tensions are numerous:
The global economy has become vastly more interconnected over the past two decades, particularly in the area of complex global supply chains that are involved in the manufacturing of more sophisticated and value-added goods.  This complexity adds to the difficulty in understanding the ultimate impacts of imposing tariffs, thus increasing the risk of policy mistakes – and the markets hate uncertainty.
Global economies and multinational companies have taken advantage of low interest rates over the past decade by taking on more debt. Modest declines in economic activity that may result from trade friction could more quickly affect economic and financial performance as servicing higher debt levels becomes more difficult.
Trade wars are likely to have an impact on currency valuations, but more importantly on the volatility of those valuations.  Unpredictable currency swings would add to investor and market uncertainty.
As other countries have announced tariffs to counter the U.S. tariffs, we've begun to see some backlash from U.S. firms, such as Harley Davidson. The company recently announced plans to move some of its U.S. production to Europe to avoid a 20% tariff that Europe plans to impose on Harley Davidson motorcycles imported from the U.S.
Tariffs can add to inflation pressures in certain countries.  Tariffs raise prices on imported goods, thus providing an incentive for domestic competitors to raise prices as well.
Assessing the probability that we are moving from a trade "war of words" to a true trade war is challenging given the political and economic policy variables that are at play.  The hope is that the heightened rhetoric and initial posturing on tariffs are little more than negotiating tactics, and that cooler heads will ultimately prevail.  
However, investors should never rely on hope in making investment decisions.   As such, monitoring the trade situation is currently very important, warranting significant attention and caution.
A Look Ahead
Where is the U.S. economy headed in the 3rd Quarter? Here are some of the key issues we are watching:
The stock market has been volatile recently – and is down about 5% from its January high – but we believe the current volatility represents a correction rather than the beginning of a bear market.
Rising interest rates could impact large debt issuers, as government, corporate and individual borrowers must pay more to service their relatively high debt levels.
Corporate earnings remain solid and price-to-earnings multiples have moderated in the past few months as the stock market has taken a breather.  But we are still cautious that return expectations should be tempered.
Although there is some concern about the flattening of the yield curve, we don't believe that there is a bond bubble ahead.  Bond market valuation remains unattractive relative to inflation risks.  The technical backdrop will now be a challenge without the big central banks buying bonds.
We expect the employment picture to remain strong, as many businesses face a shortage of qualified workers.
The economy still seems solid, with no evidence of an impending recession, although several issues, such as trade conflicts and rising interest rates, have dampened the 3rd Quarter outlook somewhat.
See: Volatile Market Buoyed by Stock Buybacks: 2nd Quarter Market Recap
To see our Market Outlooks every month and learn more about our perspective on the markets, the economy, and investing, subscribe to our Investing Insights newsletter.
Media contact: Samantha Mehrotra, 612-844-4197, samantha.mehrotra@thrivent.com
All information and representations herein are as of 07/02/2018, unless otherwise noted.
The views expressed are as of the date given, may change as market or other conditions change, and may differ from views expressed by other Thrivent Asset Management associates. Actual investment decisions made by Thrivent Asset Management will not necessarily reflect the views expressed. This information should not be considered investment advice or a recommendation of any particular security, strategy or product.  Investment decisions should always be made based on an investor's specific financial needs, objectives, goals, time horizon, and risk tolerance.
This article refers to specific securities which Thrivent Mutual Funds may own. A complete listing of the holdings for each of the Thrivent Mutual Funds is available on ThriventFunds.com.
Past performance is not necessarily indicative of future results.
---
i U.S. Trade Representative, "Findings of an Investigation Related to Chinese Theft of Intellectual Property," March 2018.
Well that's unexpected - your subscription request was not submitted. Please try again.
Gain From Our Perspective
Get Our Investing Insights Newsletter in Your Inbox.
Subscribe now
Gain From Our Perspective
Get Our Investing Insights Newsletter in Your Inbox.
Subscribe
Thanks for Signing Up!
Be sure to check your inbox for the Investing Insights newsletter to get the latest news and insights from Thrivent Mutual Funds.
Great news - you're on the list!
Looks like you're already on our mailing list. Be sure to check your inbox for the Investing Insights newsletter to get the latest news and insights from Thrivent Mutual Funds.