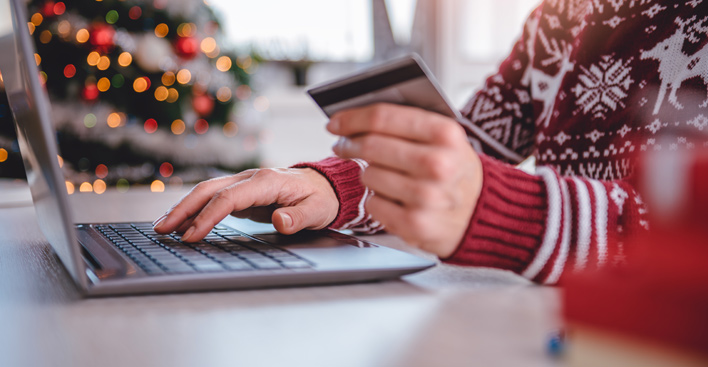 If you've ever emerged from the holidays cash poor and buried in credit card debt, you're not alone. About three-quarters of Americans (76%) have exceeded their holiday budgets in the past – by an average of $263, according to a recent survey by TD Bank.i And 2019 holiday sales are expected to increase by 4% over last year, according to the National Retail Federation.ii
Consumers expect to spend an average of $1,496 per household for holiday expenses in 2019, according to a survey from Deloitte.iii About a third of that is for gifts, with the rest going to socializing, entertaining and home furnishings.
But giving gifts and making merry doesn't have to empty your wallet. Generosity is an admired quality, but if you tend to spend more than you can afford on holiday gifts and events, here are a few tips to help you survive the holidays without running up your credit card debt:
Set a budget. This seems obvious, but it's a step that a lot of people skip. Take a minute and really think about how much you have available to spend this season, and what you'll need to spend it on. Include everything—gifts, wrapping paper, décor, cards, shipping, entertainment, socializing, and travel expenses. Divide up your available cash by category—then stick to it.
Make a list (and check it twice). Now that you have some idea of what you want to spend on gifts, divide it up by recipient. A simple Excel spreadsheet can work for this. Then track how much you've spent on each person. You'll be much less likely to pick up "just one more" gift for your mother-in-law if you know you've already hit your budget for her.
Start shopping early. You may be able to save money if you start earlier in the year rather than frantically wrapping up your holiday shopping in the final days. In fact, according to a survey from Coinstar, most people purchase their gifts throughout the year either when they find the right gift (33%) or when they go on sale (27%). About 7% of respondents say they complete the bulk of their shopping before Thanksgiving.iv
Simplify family presents. Got a huge clan? Buying gifts for your extended family can add up quickly. Suggest a gift exchange in which all the adults draw names and buy for just one person. Or maybe it's time to skip gifts for adults and focus only on the kids. You can also suggest setting a spending limit, so people don't get overwhelmed. Think about what kind of strategy might work best for your crew.
Consider investment gifts. If gifts have gotten out of hand for the younger people in your life, consider giving them the gift of investing by starting a mutual fund account in their name or an Coverdell Educational Savings account.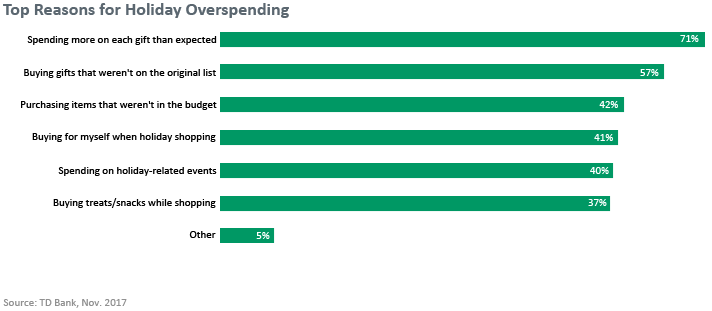 Give what you can afford. It's easy to get caught up in the holiday spirit and spend big on someone who always spends big money on you. But not everyone shares the same life circumstances, and if a $50 gift is what you can afford, then it's the right gift to give. Keep in mind that gifts with a personal touch—homemade items, for instance—are often more special to the recipient than something off the shelf. (And they frequently cost less.)
Skip the holiday dinner. Throwing one, that is. Instead, invite people over for hors d'oeuvres and a signature holiday drink. You'll save on food and the stress of cooking for a crowd – or paying a caterer. Better yet, consider throwing a post-holiday party in January when everyone is less pressed for time. You'll enjoy getting to see people without the holiday anxiety.
Use online money-savers. Look online for special coupons, promo codes or offers on gifts you plan to give. You can find a number of sites that offer discounts or money back on purchases.
Steer clear of the tchotchke aisle. You know the one—that area of every store that sells silly little stuff that no one really needs. Often, they're pegged as "stocking stuffers," but how many stockings are you actually stuffing? Purchase half a dozen side gifts and you will likely have dropped an extra C-note on things no one will really appreciate. Skip those items and make your way to the register with only what you planned to buy.
Start saving in January. It may be too late now to muster a full year's worth of savings, but if you start after the holidays, you can set aside some money to help you cover expenses next holiday season. Even if you save only $50 a month, that would add up to $550 by the following December to help defray your costs. The easiest approach may be to start a systematic savings plan in which money is automatically deducted from your pay each month for deposit in a savings or investment account.
You might also consider abstaining from buying gifts for yourself – a habit that snares nearly one in four Americans each year.v And to keep the holiday budget further in check, you might also cut back on attending pricy holiday events or performances.
The holidays can be an expensive time, especially for the generous, the charitable and the sociable, but with a little planning and a lot of restraint, you may be able to survive the season of giving without butchering the budget.
---
The concepts presented are intended for educational purposes only. This information should not be considered investment advice or a recommendation of any particular security, strategy, or product.

i TD Bank, Merry Money Survey, 2017

ii National Retail Federation, Holiday Sales, October 2019

iii Deloitte, 2019 Holiday Survey

iv Coinstar, Holiday Survey, October 2017
v Mintel.com, "nearly one quarter of Americans buy themselves gifts on holidays," December 2017.
Well that's unexpected - your subscription request was not submitted. Please try again.
Gain From Our Perspective
Get Our Investing Insights Newsletter in Your Inbox.
Subscribe now
Gain From Our Perspective
Get Our Investing Insights Newsletter in Your Inbox.
Subscribe
Thanks for Signing Up!
Be sure to check your inbox for the Investing Insights newsletter to get the latest news and insights from Thrivent Mutual Funds.
Great news - you're on the list!
Looks like you're already on our mailing list. Be sure to check your inbox for the Investing Insights newsletter to get the latest news and insights from Thrivent Mutual Funds.