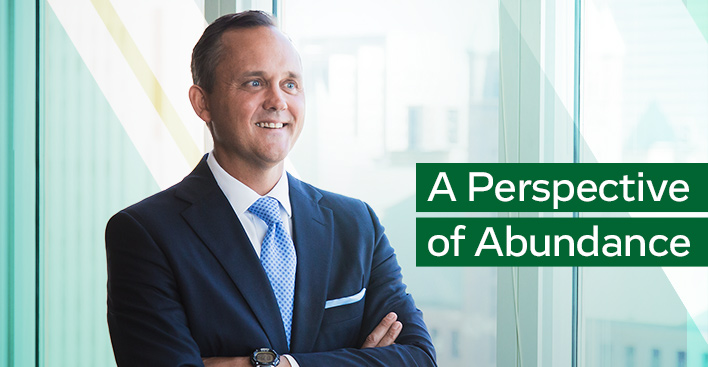 Thrivent Asset Management, the investment adviser to Thrivent Mutual Funds, has been hiring talented investment professionals over the past number of years. This is in part due to our significant growth in assets and sales -- our sales have grown over 30 percent each of the past two years and are off to a great start in 2018. 
But the groundwork for our success was, in my opinion, laid roughly a decade ago. During the economic crisis of 2008-2009, when many other asset management firms had stopped hiring, were letting people go or even shutting down entirely, we were adding some great talent that became available.  We were able to do so because of the financial strength and stability of our parent organization, Thrivent. 
I mention this both because I am tremendously proud of the team of over 100 investment professionals that we've assembled at Thrivent Asset Management, and also to make a point about how we manage money for you and, ultimately, about how we all think about money. 
The Thrivent Mutual Funds Difference
What I've learned from interviewing virtually every candidate we hire to join our investment division is that the stability of our organization is a clear point of attraction at Thrivent. Hedge funds often come and go, but at Thrivent we plan for the very long term.  But when I interview candidates I also get some great questions – these are smart folks, after all. One question I'm often asked is: How is working at Thrivent different from working at other asset management firms?
To be honest with people, I tell them that a large portion of the time, what we do in Thrivent's investment operation isn't all that different from what goes on at other asset management firms. We do bottom-up research to pick stocks we believe in for the long run. We do careful credit analysis to select bonds we think offer good value. And we work hard on asset allocation, relying both on the in-depth analysis of our quantitative researchers and our expertise in allocating across asset classes in our mixed-asset funds to seek to provide superior returns. 
But another portion of the time, working at Thrivent is very different from working at most other financial services firms, and I'd like to share an example:
I was at a meeting not long ago with some other members of Thrivent's executive team, and we were discussing Thrivent's mission to help people be wise with money. Specifically, we discussed what it means to have an "abundance mentality."  Approaching money from an attitude of abundance means being thankful for all that we have without being envious of others. It means thinking about how we can express our gratitude by being generous to others. And an abundance mindset also means knowing "what is your enough?"
Later the same day, I had the honor of addressing a sizable group of our investment professionals who had significantly outperformed their benchmarks the prior year. I figured I should offer some opening remarks but wasn't quite sure what to say, other than "thank you." I had in my mind the discussion from earlier that day about an abundance mentality and decided I should say something about what such an attitude means for how we manage your money. 
A perspective of abundance in asset management isn't necessarily a simple thing to articulate. But it's easy to say what an abundance mentality doesn't mean. It doesn't mean that when a fund gets a bit ahead of its benchmark, we stop seeking to outperform and try to ride our past performance.  An abundance mentality doesn't mean that we believe some level of risk-adjusted performance is "good enough." 
The Abundance Mentality
I can assure you that our team of investment professionals will always do our best to provide you with superior investment returns. Investment managers are a competitive bunch and we are no exception. And I don't think that an abundance mentality is inconsistent with seeking the best possible investment results.  Indeed, I believe an attitude of abundance actually contributes to our investment process.
A mindset of scarcity would say that investing is a zero-sum game and that we shouldn't deviate too much from our benchmarks. Even if we like the investment potential of a company, we realize there are lots of smart people out there in the market, so we'd better not invest all that much. Such an attitude can lead to what the investment industry refers to as "closet indexing." A manager will stick close to his or her index so as not to underperform by too much – all but guaranteeing that the manager will, in fact, underperform since an active manager, to outperform a benchmark, must outperform by an amount greater than the fees charged. 
So when I spoke that evening to our investment team, I told them how I believed that the success we've had has been due in no small part to an abundance mentality. Our team of 22 equity analysts works hard to find companies we can believe in and invest in for the long term. Our 17 credit analysts scour companies' financials and other information to try to find bonds that represent good value. While we, of course, have stringent risk controls, we're not afraid to take significant positions in stocks or bonds that we identify as attractive. At Thrivent Asset Management, we don't view investing from a scarcity mindset: We seek to outperform for you each and every day.
And I'm proud to say we've had some success in that regard.  Earlier this year, Thomson Reuters Lipper named Thrivent Mutual Funds the "Best Overall Small Fund Family" (under $61 billion) for the third year in a row. 
Thomson Reuters Lipper, a widely followed mutual fund rating company, gives awards that recognize consistent, risk-adjusted performance. Thrivent Mid Cap Stock Fund won its Lipper category for multiple time periods.  It was number one for the five-year period (out of 290 funds) and ten-year period (out of 196 funds). Congratulations to Brian Flanagan, who has managed our Mid Cap Stock Fund for that entire period and to the rest of the investment team for this extraordinary achievement!
We feel blessed to come to work each day to manage the assets you've entrusted to us. We hope that as each of you moves along your own journey to be wise with money, you will view all you have as a blessing as well and share in a mindset of thankfulness, generosity and abundance.
Overall Group Award Methodology: Overall Group Awards are given to the best large and best small fund families separately. Small fund family groups need to have at least 3 distinct portfolios in each of the equity, bond and mixed-asset class groups to qualify for the Overall Group award. For the 2018 Thomson Reuters Lipper Fund Awards (based on three-year period ending 11/30/2017), a small fund family is defined as having assets of $75.3 billion or less. For the 2017 Thomson Reuters Lipper Fund Awards (based on three-year period ending 11/30/2016), a small fund family was defined as having assets of $63.5 billion or less. For the 2016 Award (based on three-year period ending 11/30/2015) it was defined as assets of $57.7 billion or less. Money Market assets are excluded.  The Lipper Awards for Best Overall Small Fund Family are based on a review of 30 fund families for 2018, 32 fund families for 2017 and 27 fund families for 2016.  The Overall Group award is given to the fund family with the lowest weighted average decile ranking of its respective asset class results based on the Consistent Return (Effective Return) value of the eligible funds per asset class. In cases of identical results, the lower average percentile rank will determine the winner. Sales charges are not taken into consideration. Some Thrivent Mutual Funds may have had fee waivers in effect. If they hadn't been in effect performance would have been lower. See ThriventFunds.com or the Prospectus for current waiver information.  Award for the U.S. Region only.  
Fund award methodology: The highest Lipper Leader for Consistent Return (Effective Return) value within each eligible classification determines the fund classification winner over three, five, or 10 years. Sales charges are not taken into consideration. Award for the U.S. Region only.  
Class S shares for Thrivent Mutual Funds have no sales charges.
From Thomson Reuters Lipper Awards, ©2018 Thomson Reuters. All rights reserved. Used by permission and protected by the Copyright Laws of the United States. The printing, copying, redistribution, or retransmission of this Content without express written permission is prohibited.
---
All data represents past performance. Past performance does not guarantee future results. The investment return and principal value of the investment will fluctuate so that an investor's shares, when redeemed, may be worth more or less than the original cost. Current performance may be lower or higher than the performance data quoted. See performance results current to the most recent month-end.
Well that's unexpected - your subscription request was not submitted. Please try again.
Gain From Our Perspective
Get Our Investing Insights Newsletter in Your Inbox.
Subscribe now
Gain From Our Perspective
Get Our Investing Insights Newsletter in Your Inbox.
Subscribe
Thanks for Signing Up!
Be sure to check your inbox for the Investing Insights newsletter to get the latest news and insights from Thrivent Mutual Funds.
Great news - you're on the list!
Looks like you're already on our mailing list. Be sure to check your inbox for the Investing Insights newsletter to get the latest news and insights from Thrivent Mutual Funds.