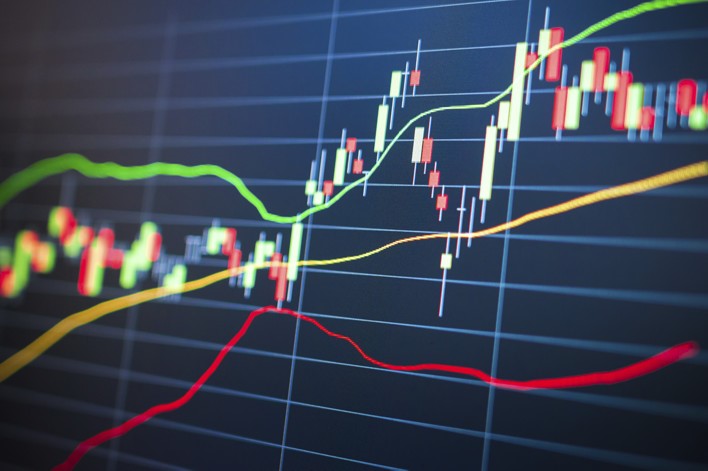 Market volatility often strikes fear in the hearts of stock market investors. But volatility is a fact of life in the market—a product of the ongoing tug-of-war between bulls and bears as they react to the endless swings in economic conditions and investor perceptions.
A century ago, when asked his opinion on the direction of the stock market, J.P. Morgan offered this succinct reply: "It will fluctuate."
Those words of wisdom still apply today. If you want to invest in the stock market, the fact is, you need to get comfortable with volatility. It will always be with us. And, while many investors are cowed by its presence, there is no evidence to suggest that volatility is any more likely to be a precursor to a down market than it is to a rising market. 
If you're a long-term investor, short-term volatility shouldn't even be on your radar, nor would it be a wise decision to sell out your shares every time market volatility intensifies. That would be an exercise in futility – and a likely prescription for underperformance. 
Yet every time the market begins to teeter, fear ensues, and investors begin dumping shares. It's a common reaction woven into our DNA. When we become fearful, the fight or flight instinct kicks in, and we feel we must do something, anything. So, blindly, we flee.
But there are no saber tooth tigers on our heels – no reason to retreat. Investors are better served to overcome those primitive instincts and know when to simply stand pat. 
Holding on through volatile markets should become much more palatable once you view volatility in a historical context. Markets go up, markets go down, but over time, the trend has been overwhelmingly positive. While no one can predict the future, so far, every bear market (a decline of 20 percent or more) was followed by a bull market recovery of at least 20 percent within a year – and, in many cases, substantially more, as the table below shows.  It illustrates the performance of the stock market after some of the steepest market declines of the past 70 years: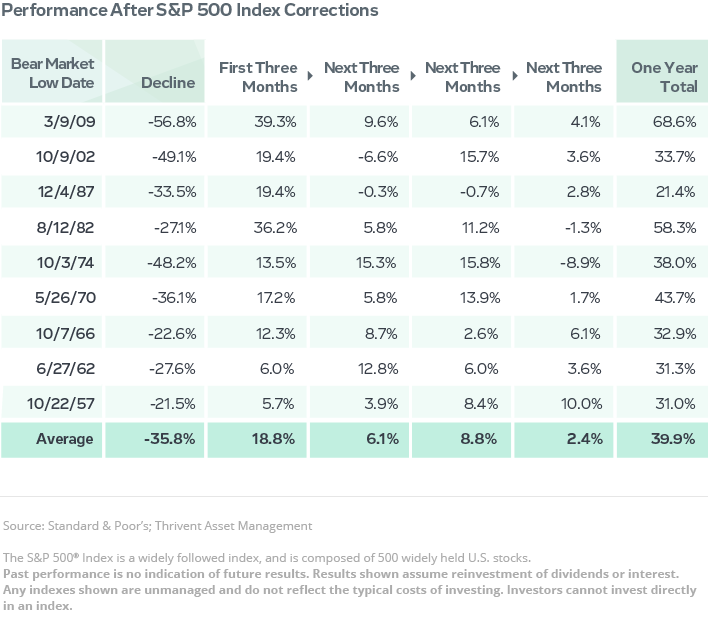 The following table shows that, over time, the S&P 500 has experienced significantly more positive years than negative. In fact, almost 75 percent of all calendar years since 1922 have been positive. And the magnitude of positive years has generally been greater than negative years, as well: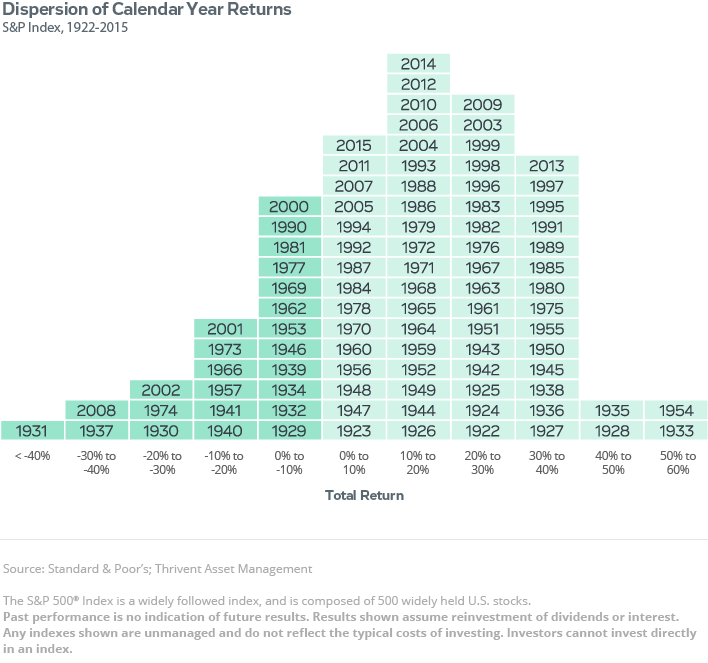 Reducing the Effects of Volatility 
Once you realize that volatility is inevitable, there are some steps you can take and strategies that you can adhere to that may help smooth out the bumps and help mitigate the effects of the volatility.
1. Diversify
While you can't eliminate volatility, by spreading your assets around – or investing in an asset allocation mutual fund – you can reduce the volatility of your own portfolio. The following chart demonstrates how diversifying your portfolio can reduce volatility and improve returns during volatile market periods.
The chart shows the returns and standard deviation (volatility) over the past 17 years of five different Morningstar Target Risk Indexes that represent various levels of diversification (with a mix of assets that may include stocks, bonds and other types of investments).  The baseline is represented by the S&P 500, which shows a return level of roughly 5% and a standard deviation of around 15. The Morningstar Conservative Target Risk Index had about the same return with dramatically less volatility, while the other indexes were somewhat more volatile than the Conservative Index, but had better returns. They also all had both better returns and lower volatility than the S&P 500 Index.
Keep in mind that bonds can be volatile, too, particularly in times when credit quality comes under pressure or when interest rates are rising. However, bonds typically have lower volatility than stocks over longer time periods, and since the two asset classes can often be correlated in the opposite direction (when stocks go down, many bond sectors tend to rise), so while multi-asset portfolios could have lower returns over the long term than an all-equity index like the S&P 500, they will usually have lower volatility, too, often resulting in a smoother ride for investors.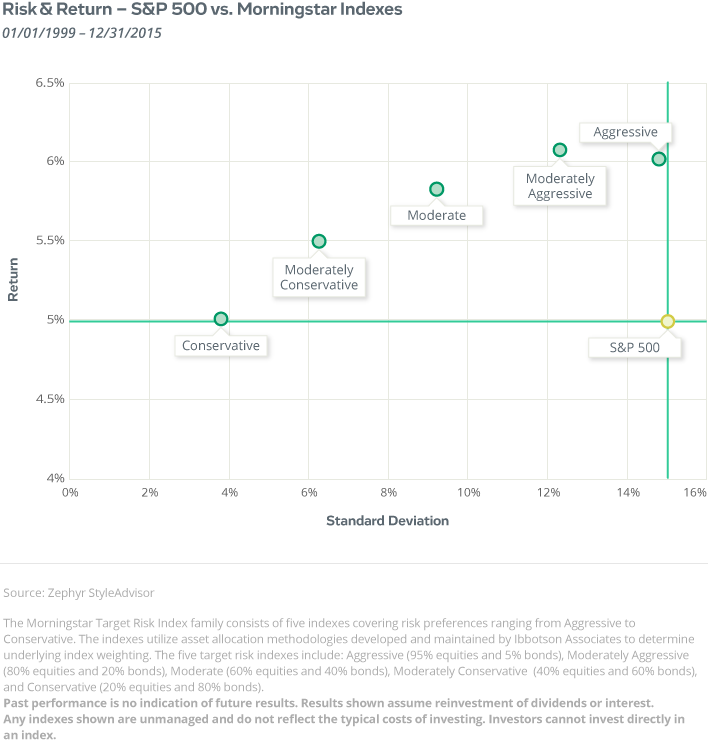 2. Don't try to time the market
There are a number of good reasons to avoid trying to time the market, the most important of which is the possibility that it may result in lower long-term returns.
Perhaps the most glaring problem with market timing– trying to buy or sell stocks ahead of major market moves – is that it requires the ability to foretell the future, which no one has been able to do on a consistent basis. Over time, as you try to guess when to get out of the market and when to get back in, your mistakes may drive down your returns significantly.
The following table illustrates a market-timing worst case scenario. Based on the S&P500 Index, if you had sold out at the most inopportune times over the past two decades and were not invested on the best performing days, instead of capturing the 8.09 percent average annual return of the overall market, you could have ended up in negative territory: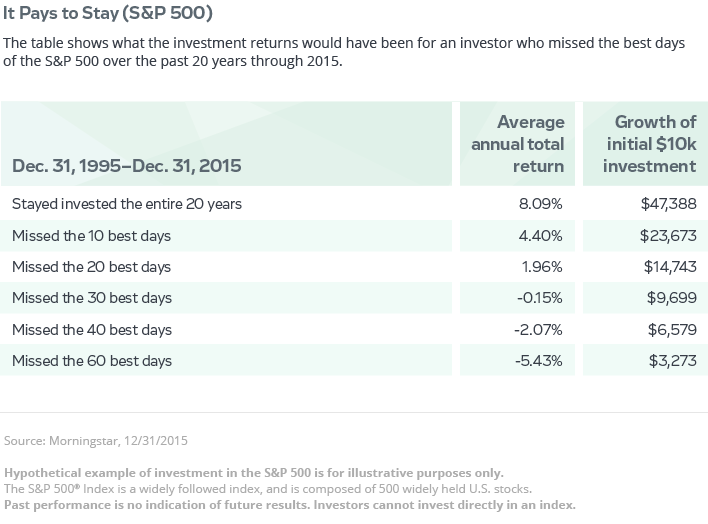 3. Keep buying even during volatile periods
Dollar cost averaging – the practice of investing a set amount in an investment, such as a stock mutual fund, on regular periodic intervals --has been a popular approach because it compels investors to invest the same dollar amount on a consistent periodic basis no matter what the market is doing. As a result, your dollars may buy more shares when the market is low and fewer shares when it's high.
And perhaps, more importantly, it also compels you to ignore market volatility and continue to participate actively in the market. 
Past performance is not necessarily indicative of future results.
All information and representations herein are as of May 31, 2016, unless otherwise noted.
The views expressed are as of the date given, may change as market or other conditions change, and may differ from views expressed by other Thrivent Asset Management associates. Actual investment decisions made by Thrivent Asset Management will not necessarily reflect the views expressed. This information should not be considered investment advice or a recommendation of any particular security, strategy or product.  Investment decisions should always be made based on an investor's specific financial needs, objectives, goals, time horizon, and risk tolerance.
This article refers to specific securities which Thrivent Mutual Funds may own. A complete listing of the holdings for each of the Thrivent Mutual Funds is available on ThriventFunds.com.
S&P 500® Index is an index of 500 stocks chosen for market size, liquidity and industry grouping, among other factors. The S&P 500 is designed to be a leading indicator of U.S. equities and is meant to reflect the risk/return characteristics of the large cap universe.
Well that's unexpected - your subscription request was not submitted. Please try again.
Gain From Our Perspective
Get Our Investing Insights Newsletter in Your Inbox.
SUBSCRIBE NOW
Gain From Our Perspective
Get Our Investing Insights Newsletter in Your Inbox.
SUBSCRIBE
Thanks for Signing Up!
Be sure to check your inbox for the Investing Insights newsletter to get the latest news and insights from Thrivent Mutual Funds.
Great news - you're on the list!
Looks like you're already on our mailing list. Be sure to check your inbox for the Investing Insights newsletter to get the latest news and insights from Thrivent Mutual Funds.