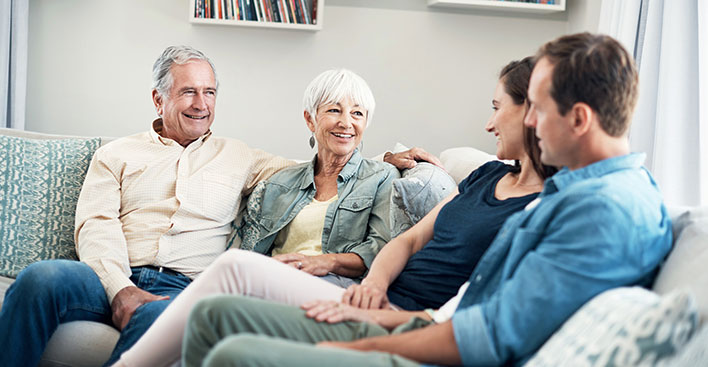 ---
As your parents age, they're likely to need a hand with their money. Here's what to consider.
The longer your parents live, the more likely it is that they'll need your help managing their finances. In fact, you might even end up managing those finances yourself.
About 23% of individuals aged 65 to 69 need help managing their finances, and that balloons to about 69% of those aged 85 and older, according to a 2017 report from the American Geriatrics Society.i There are certainly many reasons why Mom and Dad might need a hand. Older Americans are highly susceptible to financial fraud. A recent U.S. Senate report estimated that older Americans lose at least $2.9 billion a year to various scams.ii
So it's smart to be prepared to step in—and to prepare your parents for that possibility. It won't be easy. One way to make it easier on both of you is to make their financial portfolios simpler and more flexible.
Why Your Parents May Need Your Help
It's possible that your parents will ask for your help without your prompting. Perhaps they're having difficulty remembering things. Perhaps they simply want to get it off of their plates and concentrate on other aspects of their lives.
That call for help could come from both parents or just one. If your mother handled the finances and then passed away or became unable to continue, Dad might be at a loss about how to proceed on his own.
Even if they don't ask for your assistance, you might see signs that they need it. You notice the memory lapses or the physical infirmities that make it difficult for them to go to the bank or confer with their financial advisor.
You might also see that they're susceptible to telephone or online scams. They might be tempted by a too-good-to-be-true investment "opportunity" that promises big rewards with little risk. Or maybe there's a beloved but irresponsible family member who sees your mom or dad as a soft touch.
And if your parents are affluent, their assets and investments are likely to be complex. As they age, they may need help in developing strategies for preserving as much of their capital as possible. That can mean juggling payout schedules of annuities and other investments, for instance.
How to Offer Help
How would you go about offering your help to your parents?
In a word, diplomatically. It's a difficult step to take because there are so many potential hidden landmines. Many of these are emotional. Your parents might feel that they're losing some independence.
Intertwined with your financial management duties will be the issue of where your parents will live. Should they stay in their home, or move to a senior residence? And if they do move, what will their options be? Will they be able to live independently, or will they need some level of assistance? Should they buy or rent?
The more assistance they'll need, the higher the cost of their housing facility. Will their monthly income from Social Security, a pension, IRAs, and investment income cover those monthly expenses? If not, how much will you need to take out from their investment portfolio? How long will those assets last before they're tapped out?
Clearly, parental finances can get complicated. One way to consider simplifying them is to begin to consolidate their investments into a portfolio of mutual funds.
Mutual funds embrace a range of investment vehicles, offering you and your parents the flexibility and variety to tailor and adjust their holdings based on their needs, objectives and threshold for risk. Here are some of the ways a mutual-fund investment plan can be designed, based on specific needs and goals:
Do your parents need more income? A fixed-income mutual fund that invests in government or corporate bonds that may generate a steady return. Please note, however, that bond funds – like stock funds – carry risk and can lose money. (See: Thrivent Fixed Income Funds)
Do they want capital appreciation for future generations? An equity fund is intended to deliver higher returns than fixed-income funds, although they also carry a higher risk of loss of capital than bond funds. (See: Thrivent Equity Funds)
Do they want some growth — but with somewhat less risk? A moderately conservative asset allocation fund might be the way to go. This type of fund typically allocates more money into bonds and cash than in equities. (See: Thrivent Asset Allocation Funds)
While there are no guarantees on returns, and mutual funds do carry risk and may lose money, they do allow you and your parents to spread the risk over numerous stocks, bonds, and other investments. This diversity could allow returns on one investment to help balance or even outweigh a loss in another. You also can change investment options and weights as your parents' financial needs change.
Start Now
Before things get too complicated, have "the talk" with your parents as soon as you can. Sit down and let them know that you're willing to help manage their finances whenever they might be ready. Ask them if they can share the details of their portfolio.
You'll probably also want to discuss wills, trusts and other estate planning matters. In time, other issues might arise, such as long-term care and care insurance. If your parents begin to have more difficulty making decisions and managing their affairs, you may encourage them to name you or one of your siblings their power of attorney.
To make sure all of these matters are in order, you and your parents might benefit by meeting with an attorney who specializes in estate planning. The sooner you can discuss these issues and make plans to handle them, the easier it will be for you and your parents to ultimately make the transition.
Whatever you decide, make it clear to your parents that you have their best interests in mind. And speaking of clarity: Be transparent in your dealings. Regularly review the performance of their assets and the options they have available.
Keeping things as simple and as clear as possible will make this challenging duty a little easier for both you and your parents. And it will also allow you to enjoy more time with your mom and dad while you have the chance.
---
i American Geriatrics Society, "Difficulty Managing Medications and Finances in Older Adults," April 2017
ii U.S. Senate, "Aging Committee Examines Law Enforcement's Efforts to Crack Down on Fraud That Costs Seniors Billions Annually," January 16, 2019.
Well that's unexpected - your subscription request was not submitted. Please try again.
Gain From Our Perspective
Get Our Investing Insights Newsletter in Your Inbox.
Subscribe now
Gain From Our Perspective
Get Our Investing Insights Newsletter in Your Inbox.
Subscribe
Thanks for Signing Up!
Be sure to check your inbox for the Investing Insights newsletter to get the latest news and insights from Thrivent Mutual Funds.
Great news - you're on the list!
Looks like you're already on our mailing list. Be sure to check your inbox for the Investing Insights newsletter to get the latest news and insights from Thrivent Mutual Funds.