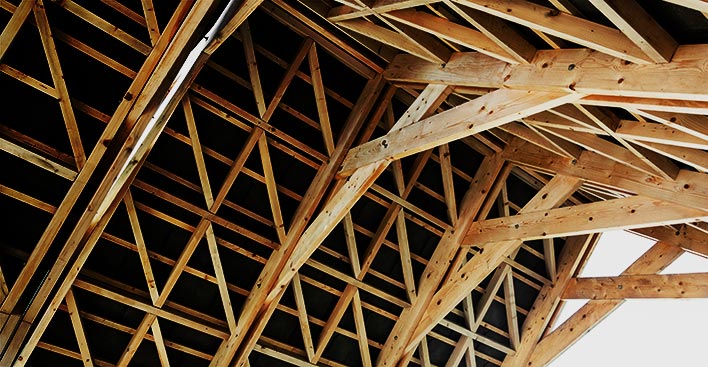 ---

After enjoying the longest bull market run in U.S. stock market historyi, investors may find it easy to overlook the fact that markets can also go down. As new economic challenges emerge, some of the gains you may have earned during the bull market could quickly vanish if we enter a down market.
That's why this may be an ideal time to consider investment strategies designed to mitigate your losses in a down market. Below, we've laid out a handful of strategies that you may find helpful.
But first, let's be clear: Even if you follow one of these strategies (or several of them) rigorously, there's no guarantee that your assets won't decline in value as the overall market declines. But these strategies could help mitigate your losses and potentially continue your income stream amidst the choppy waters:
Many eggs, many baskets. Whether or not you expect the market to remain strong for the foreseeable future, it may be a smart strategy to put your eggs in several baskets—that is, in several asset groups feeding into the performance of the portfolio.

One of the strongest arguments for diversification is represented in this "quilt chart":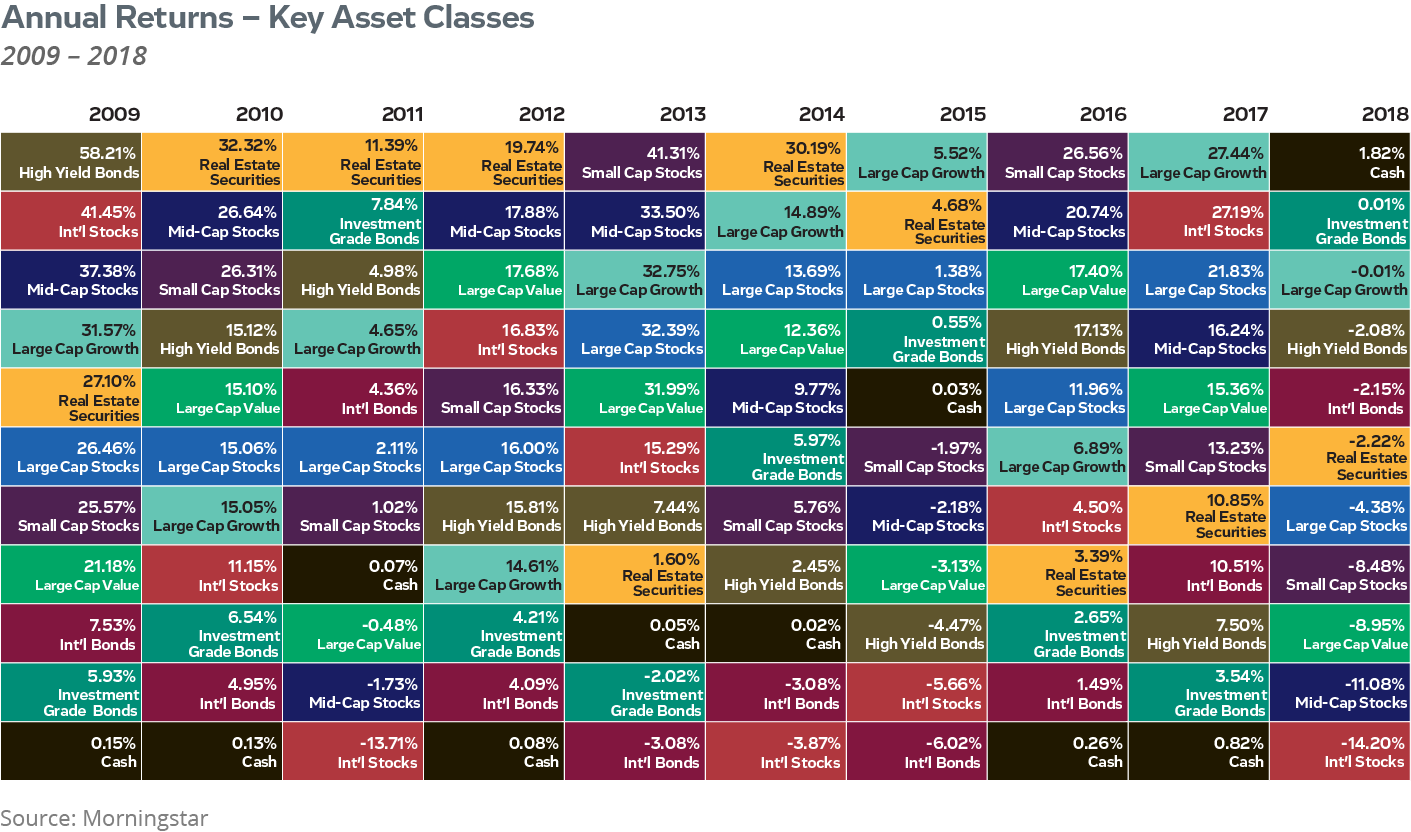 The above quilt chart compares 10 years of annual performance for 11 different asset groups. It demonstrates that different types of assets perform differently relative to the other asset groups from year to year. For instance, the chart shows that the performance of Mid-Cap Stocks (in the blue box) exceeded the performance of most other asset classes during four of the past 10 years, but it has also been among the worst performers within the same time period.

This demonstrates the importance of diversification, since each asset class tends to vary in performance from one year to the next. An asset class that leads all categories one year could trail the next year.

Again, diversification doesn't eliminate risk. And note, too, that these asset classes often increase and decrease in value during a single year, although at different percentages. And note that in 2018, the only asset to gain any significant return was cash—a low-risk, low-yield place to put your investment capital. Still, diversification may help reduce losses during stock market fluctuations.


Diversified mutual funds. One way to achieve diversification is through asset allocation funds. These funds seek to reduce volatility by distributing assets into different buckets of investments. These buckets typically include a variety of equity securities, bonds and other fixed income securities. (See: Asset Allocation Funds Can Help Tame Volatility)

The diversification these funds offer may make them less volatile than the performance of a single equity category. While it is true that more conservative portfolios may tend to have lower potential returns over the long term, in the down times, their losses tend to be more modest than those of more aggressive investments.

Although these asset allocation funds can't shelter you entirely from the ups and downs of the market, they may lower your exposure to the stock market through diversification into other asset groups, such as bonds. And that could help your portfolio weather market volatility over the short or long term.


Non-correlated assets. Look back at that quilt chart. It suggests that when one asset declines, another may rise. In other words, their performance isn't correlated—they don't rise (or fall) together. The idea behind investing in non-correlated assets, then, is to balance the ups and downs of those assets.  

One thing to keep in mind: Non-correlation doesn't mean there's a hard-and-fast relationship between assets. Two assets that perform in opposite ways one year can correlate the next. And as we've mentioned, asset classes often rise (or fall) together in a single year. Again, the idea is to diversify to spread the risk. (Thrivent Mutual Funds offers more than 20 stock, bond and asset allocation funds.)


An emergency fund. This is an excellent strategy whatever the market. Even if the bull keeps running, other emergencies could rear their ugly heads. The standard is a savings fund that can cover six months of expenses, but even a few months' worth of easily accessible savings can help.


Periodic rebalancing. Whether the market has been up or down (or both), it's worth rebalancing your portfolio from time to time. If most of your investments have been in stocks or stock funds during the past decade, you might find that you now have more money in equities than you expected — and more than you're comfortable with — especially if you want to mitigate your losses in a potential downturn.

A periodic review of your asset allocation can also be helpful to see whether it conforms to your current risk tolerance and your financial needs. By looking at how your various investments have performed over the long haul, you might decide that your previous asset balance needs to change. Perhaps it's time for more bonds and fewer stocks, for instance. That's a decision to make based on what you consider your current tolerance for risk – how close you are to retirement, for instance. If retirement is a long way off, you may still opt to stay fairly aggressive.

And if you're expecting to write a big check in the next year, such as for a larger house, lakeside cabin, a tuition payment, or a bucket-list vacation, you'll want to design your portfolio so that you can cash in some of your investment assets when you need to.
Professional money managers often use some more sophisticated techniques to try to mitigate losses in their portfolios, including hedging, stop losses, and options. But it's best to leave those complicated tools to managers handling massive amounts of assets. These strategies generally aren't appropriate for individual investors.
Think Long-Term
Perhaps the supreme strategy is to stay calm and try not to overreact. History teaches that the bear market will return — at some point. But constantly tinkering with your portfolio based on a few days of market drops may be counterproductive and could even end up ultimately hurting your performance. It can be a sucker's bet to try to time the market. (See: The Folly of Market Timing)
Instead, consider creating a mix of assets—stock funds and bond funds in particular or asset allocation funds—that may minimize your losses during a downturn. That way, you may be in a good position to take advantage of the market when it returns to bull territory.
In short, think long-term. Make a plan and stick to it. At the same time, make your plan flexible enough to adjust to changes in your family's needs.
iThe recent bull market began in March 2009 and continued into 2019. A common definition of a bull market is a period during which the market never drops 20% or more from a closing high.
iiIn the chart:
Cash is represented by the Bloomberg Barclays US Treasury Bill 1-3 Month Index, which measures the performance of public obligations of the U.S. Treasury with maturities of 1-3 months.
High-Yield Bonds are represented by the Bloomberg Barclays US Corporate High-Yield Bond Index, which measures the performance of fixed-rate non-investment-grade bonds.
International Bonds are represented by the Bloomberg Barclays Global Aggregate Index ex-USA, which measures the performance of global investment grade fixed-rate debt markets that excludes USD-denominated securities.
International Stocks are represented by the MSCI All Country World Index ex-USA, which is a free float-adjusted market capitalization index that is designed to measure equity market performance in all global developed and emerging markets outside the U.S.
Large Cap Growth Stocks are represented by the S&P 500 Growth Index®, which measures the performance of large-cap growth stocks.
Large Cap Stocks are represented by the S&P 500 Index®, which represents the average performance of a group of 500 large cap stocks.
Large Cap Value Stocks are represented by the S&P 500 Value Index®, which measures the performance of large-cap value stocks.
Mid-Cap Stocks are represented by the S&P MidCap 400 Index®, which measures the performance of mid-cap stocks.
Real Estate Securities is represented by the Real Estate sector of the S&P 500 Index®.
Small Cap Stocks are represented by the S&P SmallCap 600 Index®, which measures the performance of small-cap stocks.
Investment-Grade Bonds are represented by the Bloomberg Barclays US Aggregate Bond Index, which measures the performance of investment grade, U.S. dollar-denominated, fixed-rate taxable bond market, including Treasuries, government-related and corporate securities, MBS (agency fixed-rate and hybrid ARM passthroughs), ABS, and CMBS.
Past performance is no indication of future results. Results shown assume reinvestment of dividends or interest. All indexes shown are unmanaged and do not reflect the typical costs of investing. Investors cannot invest directly in an index. Index performance is not indicative of the performance of any Thrivent investment product.
Stocks are more volatile than bonds, and stocks of small and medium-sized companies will generally experience more price volatility than larger-company stocks. Bonds are also subject to risk, including credit and interest rate risk. High-yield or "junk" bonds fluctuate in price more than investment-grade bonds. International investing is
subject to additional risks, including currency, economic and political risk.
While diversification can help reduce market risk, it does not eliminate it. Diversification does not assure a profit or protect against loss in a declining market.
Well that's unexpected - your subscription request was not submitted. Please try again.
Gain From Our Perspective
Get Our Investing Insights Newsletter in Your Inbox.
Subscribe now
Gain From Our Perspective
Get Our Investing Insights Newsletter in Your Inbox.
Subscribe
Thanks for Signing Up!
Be sure to check your inbox for the Investing Insights newsletter to get the latest news and insights from Thrivent Mutual Funds.
Great news - you're on the list!
Looks like you're already on our mailing list. Be sure to check your inbox for the Investing Insights newsletter to get the latest news and insights from Thrivent Mutual Funds.