We recently talked with half a dozen recent college graduates regarding their thoughts and plans on investing. While they don't necessarily see retirement as a pressing concern, most still recognize the value of getting an early start on their investment plan.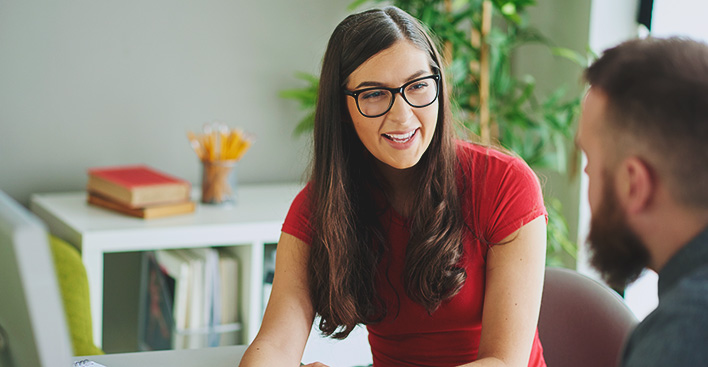 There's a lot going on for new college graduates. They may be moving into a new place, starting a new job, and pocketing a real paycheck for the first time—in addition to dealing with all the subsequent bills that come with post-college life.
They may be buried in student debt – the average 2017 graduate left school with $39,400 in student loans, according to Student Loan Hero.i And nearly six out of 10 recent graduates already have credit card debt, according to MagnifyMoney.ii
The good news is that some recent graduates are already saving toward the future, even though they may still have significant debt. For instance, Ryan Janning and his wife, Jaimie Thimmesh Rachie—both 2017 graduates—are socking money into their respective company 401(k) plans. For them, college classes on finance made an impact.
"We saw the difference between what happens if you start investing when you're 22, out of college, versus when you start at 32," says Rachie, 23, who works in consulting. "The difference was pretty obvious." (See: How Much Are You Missing Out on Every Day You Don't Invest?)
Both graduates viewed 401(k) savings as a non-negotiable once they started earning paychecks. "When we each got our job offers, we calculated how much we would need to put in," says Ryan Janning, 23, who is a commercial credit analyst. "We definitely planned that out and tried to put in as much as we could to get the matching contribution from our employers." 
They're saving now to build a nest egg for future endeavors. They'd like to buy a house one day, and eventually they'd like to start a family. They're also thinking about their future work lives. "We are pretty interested in starting our own business later on down the line," Rachie says. "Starting our investment planning now is a little more about knowing we might go a year or two without one when we're in our mid 30s or 40s because of our career goals." (See: The Power of Pairing Your 401(k) with a Roth IRA)
Is the couple thinking about retirement specifically? Not exactly. "I don't feel like someone who's counting down to 65," Rachie says. "I think it's more the security and safety net of having something in case all else fails."
Starting Early
For Kamil Strycharz, another 2017 graduate, socking away cash is something he's been doing for years. "Ever since I was 16 and started working, I've always had money," says Strycharz, 22, who works as a digital content coordinator.
Now he lives with his parents while he pays off his student loans, and he's saving for a move back to Chicago, where he went to school. He's also putting away 10% of his salary toward retirement. His company matches the full 10%. "You can't go wrong with free money," he says. Once he moves, he anticipates putting more money into the stock market.
For Strycharz, investing has always been an interest, from engaging in stock picking competitions in high school to taking wealth management classes in college. He's actively involved in monitoring his retirement investment picks, and he dabbles a bit in cryptocurrency. "Almost every finance person I've talked to is heavily against it, because it's so risky," he says. "But I'm young, and I believe in it, so why not be risky now? Looking ahead, 10 years from now I don't expect to be investing in a lot of the same types of things I'm invested in now."
On the more extreme end, Matt Kurpiel also lives at home—and saves at least 80% of his paycheck after contributing to his Roth 401(k). "I put in 7% of my gross income and [the company] pays another 7%," says Kurpiel, 23, who graduated in 2017 and works in finance. "The 80% I save is also invested, but in more conservative, low-risk, products like CDs or money-market mutual funds. The goal is to be able to purchase real assets, like real estate, or even help fund a startup."
Kurpiel also invests a little on the side, for fun and spending money. "I usually don't invest more than 3% to 4% of my liquid assets," he says. "These are normally short-term plays, of which the returns, if any, and principal I use to fund my travels around the world or latest gadget purchases."
Chad Zollinger just graduated in May 2018, but he's already set up a 6% paycheck deposit into his 401(k). "I feel like I still have a ton to learn, and I'm just asking for advice from everyone," says Zollinger, 26, who works as a content marketing specialist. "I'm sure a lot of college graduates feel this way, just jumping into the adult financial world. My investing [advice] is something that I got from a friend: 'You should start doing this right now.'"
Zollinger is also saving money toward an eventual house—"one with more outdoor space than indoor," he says—and putting $60 a month into a Health Savings Account. "That's for future expenses," he says. "I don't have any health issues right now."
For Kali Mann, 22, her investing priority is more immediate—she's been saving money for a move to Los Angeles, and to support herself during slow work times once she's there.
"For the last year I worked for a network television show in Chicago," says Mann, who graduated in late 2017 and works in the art department in the film and television industry. "In LA, I'll probably professionally start with freelancing. My goal was to save up enough money so in the case that there are lulls in my employment, I feel comfortable living day to day."
She's also saving for the longer-term, but it's not high on her list. "I recently opened up a Roth IRA," she says. "Other than that, I don't have any sort of retirement plan. I don't plan on putting a lot of thought or energy into it until I'm 24 or 25. Right now, it's not on my radar."
With college debts to cover along with the extra costs of striking out on their own, recent graduates may find it difficult to free up the cash to fund an investment plan. But those with the resolve to start investing at an early stage may reap the rewards of that resolve over the long-term.
The views expressed are solely those interviewed and not necessarily those of Thrivent Distributors, LLC. This information should not be considered investment advice or a recommendation of any particular security, strategy or product. This article is not intended to represent a specific client experience with Thrivent Mutual Funds and may not be representative of those of other investors and does not indicate future performance or success. Investment decisions should always be made based on an investor's specific financial needs, objectives, goals, time horizon, and risk tolerance.
---
i Student Loan Hero, "A Look at the Shocking Student Loan Debt Statistics, May 2018
ii MagnifyMoney 2017 Survey of Recent College Graduates, May 2017
Well that's unexpected - your subscription request was not submitted. Please try again.
Gain From Our Perspective
Get Our Investing Insights Newsletter in Your Inbox.
SUBSCRIBE NOW
Gain From Our Perspective
Get Our Investing Insights Newsletter in Your Inbox.
SUBSCRIBE
Thanks for Signing Up!
Be sure to check your inbox for the Investing Insights newsletter to get the latest news and insights from Thrivent Mutual Funds.
Great news - you're on the list!
Looks like you're already on our mailing list. Be sure to check your inbox for the Investing Insights newsletter to get the latest news and insights from Thrivent Mutual Funds.