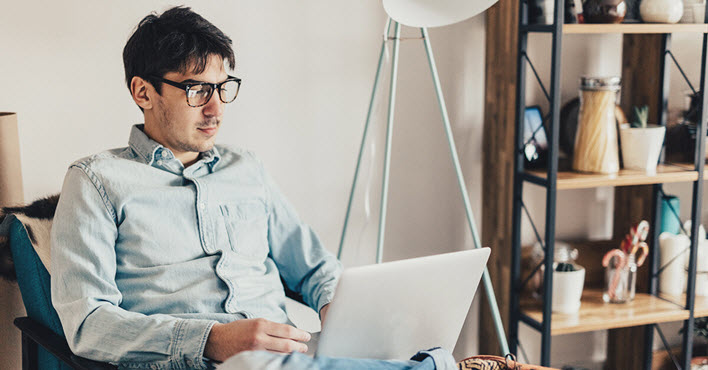 Millennials are an eclectic generation with many interests, but "retirement planning" is typically nowhere near the top of the list.1 Strapped with lower wages and higher student debt than the generations before them, Millennials often have more pressing financial worries than retiring 30 to 50 years down the road.
Fortunately, that ambivalence toward investing is beginning to change. As they've gotten older – and better compensated – Millennials have shown a growing interest in the markets. By putting some of their money to work now, they hope to achieve their financial aspirations in the years ahead. 
If you're a Millennial, here are six ways to start building wealth in the market: 
Invest at work
If you work for a company that offers a 401k or other tax-favored investment program, you should contribute as much as possible to your plan. The money contributed to a 401k retirement plan is deducted from your current gross income for tax purposes, thus typically reducing your income taxes in the years you contribute. 
Your investments within the plan grow tax-deferred until you withdraw the money (typically after you retire and may be in a lower tax bracket.) An added benefit at many firms is the company match in which the company matches all of or part of your contribution to the plan. If you don't take advantage of your 401k plan, you could be leaving money on the table. 
If you don't work for a company with a 401k plan, you may be able to receive a similar tax advantage by contributing some of your wages to an Individual Retirement Account (IRA). (See: Don't Miss the Tax and Savings Benefits of an IRA)
Sooner is better
With student loans and other debts to pay, it may be hard to come up with enough extra money to invest. But you don't have to start with a big investment, and the sooner you start, the more time you'll give your investments to potentially grow and compound. Even on a cramped budget, you may be able to squeeze out $50 a month to invest. (See: How to Scrounge Up $50 a Month to Invest)
You can open a mutual fund account with as little as $50 a month through the Thrivent Mutual Funds automatic investment plan.2 (The $50 starting amount is available only when setting up a $50-per-month systematic investment plan.). Starting could be easier than you think.
Over the long run, that small investment may bring big results. Putting just $50 a month into an investment plan that earns 5% to 10% per year could help you build a nest egg of $7,600 to $9,600 in 10 years, $20,000 to $36,000 in 20 years, $40,000 to $100,000 in 30 years, and $74,000 to $279,000 in 40 years when you may be ready to retire. (These examples are hypothetical for illustrative purposes only. They are not intended to represent the performance of any particular investment product, nor do they take into consideration any product expenses or fees. The results would be reduced if the costs were included.) (See: Building Your Nest Egg on $50 a Month)
Longer timeline may favor more aggressive strategy
As the youngest generation of investors, Millennials would generally be expected to be the most aggressive investors since they have a longer timeline of 30 to 40 years before retirement. That gives you more time to ride out the ups and downs of the market. You should also consider your overall portfolio, financial situation, investing experience, and investment objectives.
While markets may be volatile in the short term, their performance tends to even out over the long term as the economy moves through its various cycles. Even though stocks may lose value in any given year – and not all equity investments increase in value, and may, in fact, lose money – over the past 50 years, the Standard & Poor's 500 Index of large capitalization U.S. stocks has grown by an average annual rate of about 11%.3 Although you can't invest directly in an index, you can invest in mutual funds that invest primarily in stocks and that, in some cases, may provide returns similar to the performance of the index. (See: Is Now the Time to Consider Actively Managed Funds?) 
There are four key areas of equity fund investing: large capitalization funds, mid-cap funds, emerging growth funds, and international funds. Investing in an equity fund would give you a strong position in the stock market, but investing a portion of your savings in each type of fund would give you broader diversification, with a stake in large, medium and small companies, as well as foreign companies. (See: Mutual Funds 101)
Investing for interim goals
When it comes to financial goals, retirement is only one of many life goals that may benefit from early saving or investing. If you plan to buy a house, a new car, a boat, a cabin or any other large ticket purchase, starting a savings or investment plan may move you toward your goal more quickly. If you have children, you may want to start an investment plan to help fund their education by contributing to a Coverdell Education Savings Account, 529, or a Roth IRA. (See: Start Your Education Savings with a Coverdell Plan)
Shorter-term goals may mean a less aggressive investment strategy. If you hope to use your investment savings in the next five to 10 years, you might choose a more moderate and diversified mutual fund, such as an asset allocation fund that invests in a diverse portfolio of stocks, bonds and other investments. Although diversification – with several asset groups feeding into the performance of the portfolio – does not eliminate risk, it may help reduce losses during stock market fluctuations. 
(Thrivent Mutual Funds offers four asset allocation funds that are automatically diversified and range from moderately conservative to aggressive.)
Just Do It
While investing may not be appropriate for everyone, a good first step in building your financial future would be to launch a savings or investment plan – even if you have no experience in those areas.  Millions of Americans of all generations have invested in the market through 401k plans, IRAs and personal accounts. For Millennials, the sooner you start your investment plan, the sooner you'll begin to learn the nuances of the investment markets. (See: What's Holding You Back? Investing May Be Easier than You Thought)
Investing success could be the next frontier for the Millennial Generation. They've already put their imprint on the culture of our society and they're making strides toward greater prominence in the workforce. As their role in the workforce increases and their wages rise, there is little reason to believe Millennials won't also follow the lead of the Baby Boomers and Gen Xers by assuming a growing presence in the investment markets. 
1 Urban Land Institute: Generation Y: Shopping and Entertainment in the Digital Age, 2013
2 New accounts with a minimum investment amount of $50 are offered through the Thrivent Mutual Funds "automatic investment plan." Otherwise, the minimum initial investment requirement is $2,000, with a minimum subsequent investment requirement of $50 for non-retirement accounts. For IRA or tax-deferred accounts, the minimum initial investment requirement is $1,000 and the minimum subsequent investment requirement is $50. 
3 New York University, "Annual Returns on Stock, T.Bonds and T.Bills: 1928 – Current"
Well that's unexpected - your subscription request was not submitted. Please try again.
Gain From Our Perspective
Get Our Investing Insights Newsletter in Your Inbox.
SUBSCRIBE NOW
Gain From Our Perspective
Get Our Investing Insights Newsletter in Your Inbox.
SUBSCRIBE
Thanks for Signing Up!
Be sure to check your inbox for the Investing Insights newsletter to get the latest news and insights from Thrivent Mutual Funds.
Great news - you're on the list!
Looks like you're already on our mailing list. Be sure to check your inbox for the Investing Insights newsletter to get the latest news and insights from Thrivent Mutual Funds.