Millennials are projected to overtake Baby Boomers in 2019 as the nation's largest generation,1  with the population of Americans between the age of 23 and 38 expected to reach 73 million. That's about 22% of the U.S. population (327 million).
Although they are sometimes saddled with an underachiever stereotype, many Millennials are highly motivated:
Millennials are driven to succeed in their careers. More than half of working Millennials (53%) said they are motivated to reach the very top of their profession, compared with just 38% of Generation X and 25% of Baby Boomers, according to a study by Experian.2 In addition, 28% of employed Millennials described themselves as workaholics, on par with both Boomers and Gen-Xers.
Millennials are entrepreneurial.  Millennials account for about 25.5% of all new start-up businesses,3  according to a recent study by the Kauffman Foundation.
Millennials are more educated than other generations. Among Millennials, 36% of women and 29% of men have at least a bachelor's degree. For both sexes, that's a higher percentage than any other generation.4
But despite their strong educational backgrounds and ambitions, the perception that many Millennials still live with one or both parents is actually based in fact. A recent report from Zillow Research found that nearly 22% of people ages 23 to 37 live with their mothers, up from 12.7% in 2000.5 In fact, more Millennials live in their parents' home than any other living arrangement – including living with their spouse – according to a 2017 U.S. Census Bureau report.6
Fewer opportunities, more debt
There are a couple of good reasons Millennials are staying at home in record numbers – low wages and high student loan debt.
The Great Recession led to the loss of millions of jobs just as many Millennials were entering the workforce. As a result, they've had difficulty finding well-paying career opportunities. In 1975, only 25% of men, aged 25 to 34, had incomes of less than $30,000 per year (inflation adjusted). By 2016, that share rose to 41% of young men, according to the U.S. Census Bureau report.6 But while men have seen their workforce roles diminish, women have taken a more prominent role. Between 1975 and 2016, the share of women aged 25 to 34 who were homemakers fell from 43% to 14% as more women flooded the workforce.
Compared with the generations before them, Millennials have gotten the short end of the stick. The average annual wage of Millennials is about 40% lower than the average wages of Gen-Xers and Baby Boomers.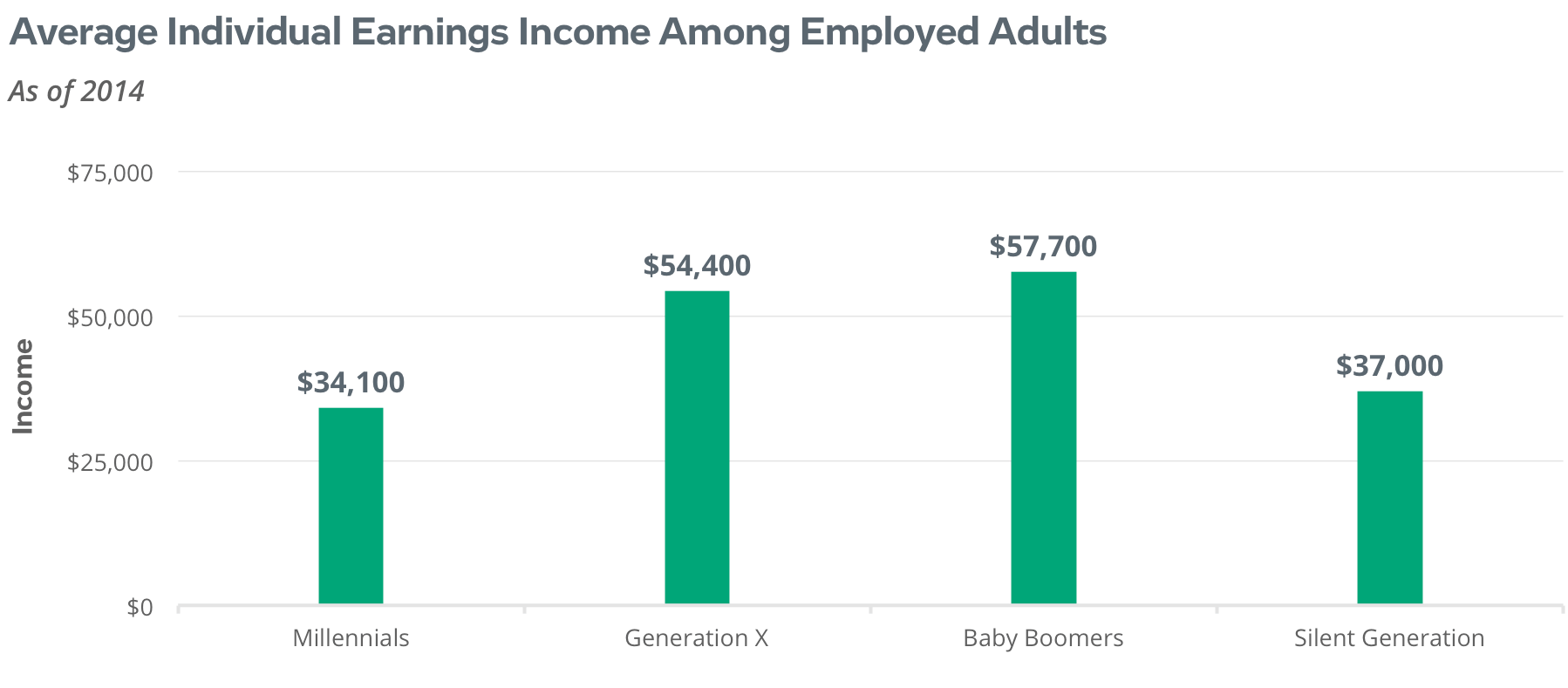 Student loan debt is the other culprit keeping Millennials stowed away in their parents' basement. In all, about 44 million Americans have student loan debt totaling about $1.25 trillion, and nearly 30 million of those are under 40 years old.8 The amount of debt has also been growing. In 2017, the average student loan balance for Millennials was $10,600, more than double the average Gen-Xers owed in 2004.9
That's particularly burdensome for the age group with the highest unemployment rate and the lowest average annual wage. And it may explain why about one in three of all 18- to 34-year-olds still relies on their parents for financial assistance.

A preference for cash over stocks
Because of their financial straits, Millennials are the least likely age group to invest in the stock market. Only about one-third of 18- to 35-year olds say they invest in the market either directly by buying stocks,  through mutual funds or a retirement account, according to a 2016 Bankrate survey. (See chart below.)
But while they are off to a slow start investing, older Millennials have picked up the pace: 44% of those 26 to 35 say they are invested in the market versus only 18% of those between 18 and 25.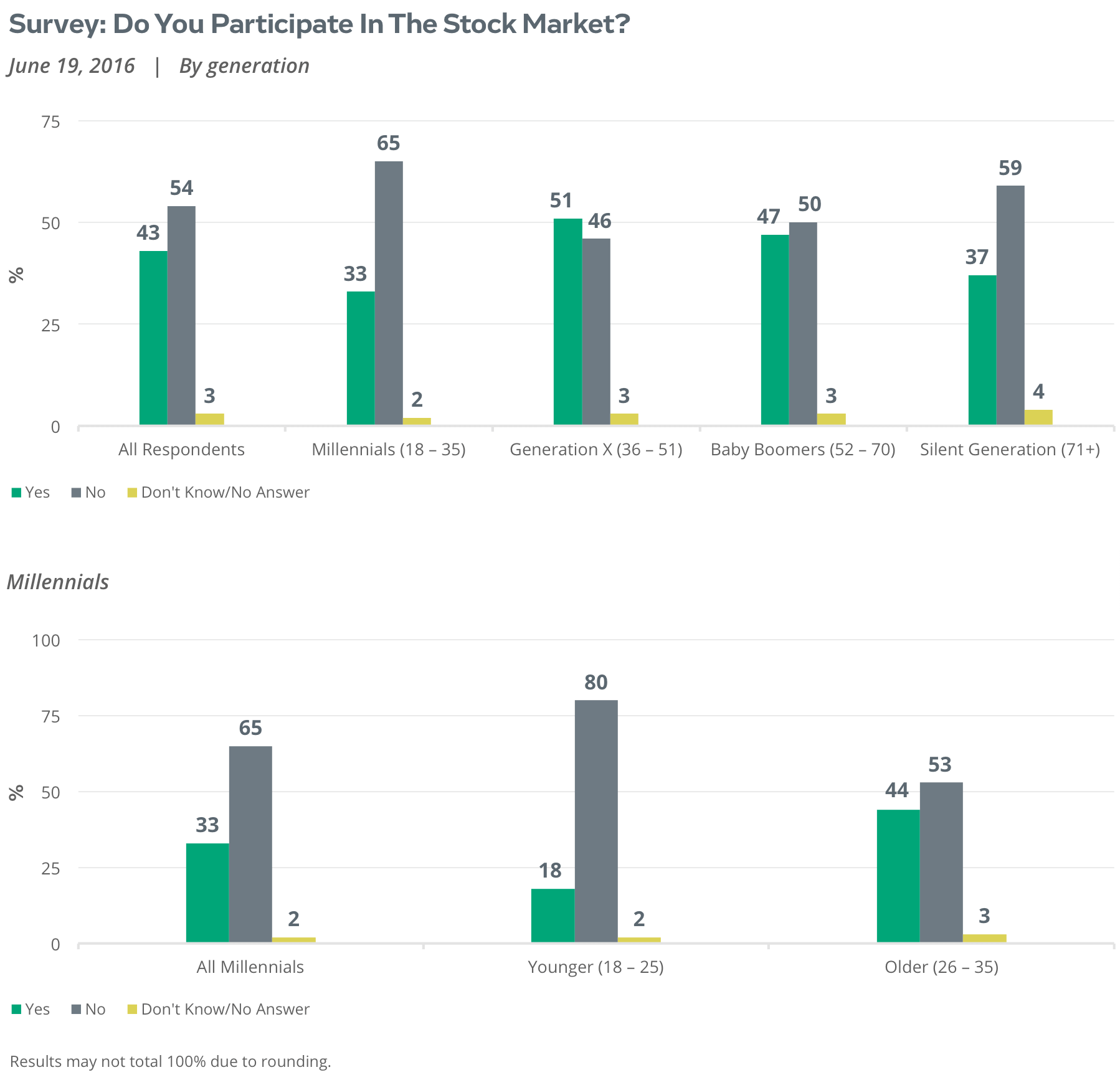 Driven, diverse, tech-savvy, and well-educated, Millennials on the whole have not yet achieved the level of success to which they aspire. But as they reach their 30s and 40s, their finances and careers will most likely improve. And as their incomes rise, savvy Millennials may be establishing a greater presence in the investment markets.

The series continues. check out Money and Millennials - Part II: Building wealth on a budget
1 Pew Research Center, "Millennials Projected to Overtake Baby Boomers as America's Largest Generation," March 1, 2018
2 Experian, Millennials Come of Age, 2014
3 Kauffman Foundation, 2017 National Report on Early-Stage Entrepreneurship, February 2019
4 Pew Research Center, "How Millennials Today Compare with Their Grandparents 50 Years Ago," March 16, 2018
5 Zillow Research, "14 Million Millennials Still Live With Mom," May 6, 2019
6 U.S. Census Bureau, The Changing Economics and Demographics of Young Adulthood: 1975–2016, April 2017
7 Experian, Millennials Come of Age, 2014
8 Forbes, "Student Loan Debt Statistics in 2019: A $1.5 Trillion Crisis," Feb. 25, 2019
9 CNBC, "Here's How Much the Average Student Loan Borrower Owes When They Graduate," May 20, 2019

Well that's unexpected - your subscription request was not submitted. Please try again.
Gain From Our Perspective
Get Our Investing Insights Newsletter in Your Inbox.
Subscribe now
Gain From Our Perspective
Get Our Investing Insights Newsletter in Your Inbox.
Subscribe
Thanks for Signing Up!
Be sure to check your inbox for the Investing Insights newsletter to get the latest news and insights from Thrivent Mutual Funds.
Great news - you're on the list!
Looks like you're already on our mailing list. Be sure to check your inbox for the Investing Insights newsletter to get the latest news and insights from Thrivent Mutual Funds.