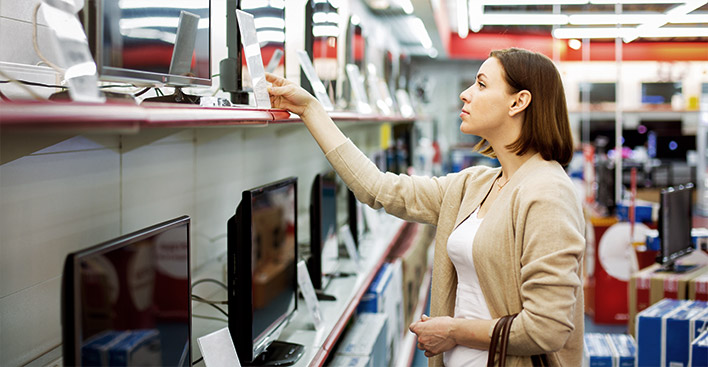 Wage growth the past few years has barely exceeded the cost of living, but that hasn't prevented consumers from ramping up spending. Their recent spending spree has helped many retailers shake off an industry slump to post surprisingly strong sales and earnings this year.
While Amazon has long enjoyed stellar growth of its online sales, many of the brick and mortar retailers have been struggling in recent years. This summer, however, some of the nation's leading retailers have reported surprisingly strong results.
For instance, Walmart and Target both posted their largest comparable sales growth in more than a decade, Best Buy has significantly outperformed analysts' estimates the past four quarters, and Nordstrom recently topped its quarterly earnings estimate by more than 10% and raised its earnings guidance for the next full year.
What's behind the rising retail numbers? A handful of factors are driving the unexpected retail rebound:
More people working. Although real wage growth has been stagnant, employment has been strong, with 94 consecutive months of job gains and a 3.9% unemployment rate, according to the August Department of Labor August Employment Situation Report. That means millions more Americans are drawing a paycheck, affording them the ability to spend more freely.
Consumer spending on the rise. Personal consumer spending is up 2.3% from a year ago, according to the Department of Commerce Personal Income and Outlays report issued August 30.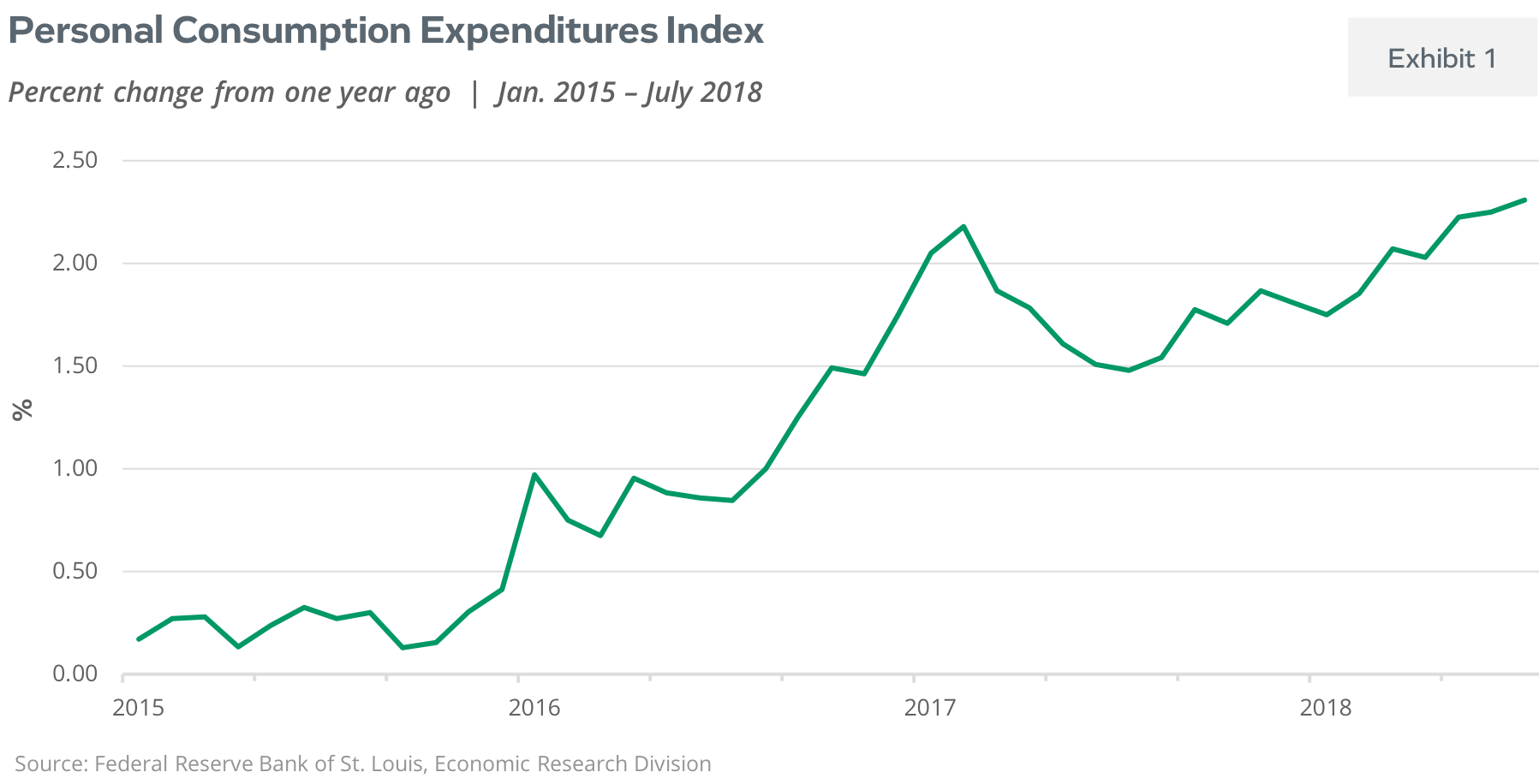 Consumer confidence peaks. Americans are spending more because of their increasing confidence in the economy. In August, consumer confidence reached its highest level since October 2000, according to the Conference Board Consumer Confidence Survey, released August 28. "Overall, these historically high confidence levels should continue to support healthy consumer spending in the near-term," according to Lynn Franco, Conference Board Director of Economic Indicators.
Low personal savings rates. Personal savings rates continue to be at a historically low level, according to the U.S. Bureau of Economic Analysis. The personal savings rate has been about 7% of disposable personal income during 2018, which is well below the historic median of about 10%. Consumers tend to spend more and save less during a strong economy when they have a higher level of confidence in the economy.
Household debt reaches all-time high.  After 16 consecutive quarterly increases, household debt reached its highest level ever in the second quarter of 2018 at $13.29 trillion, according to the Federal Reserve Bank of New York, Center for Microeconomic Data. Mortgage balances, the largest component of household debt, rose to a total of $9 trillion during the second quarter. Auto loan balances increased by $9 billion to reach $1.24 trillion, continuing a six-year upward trend.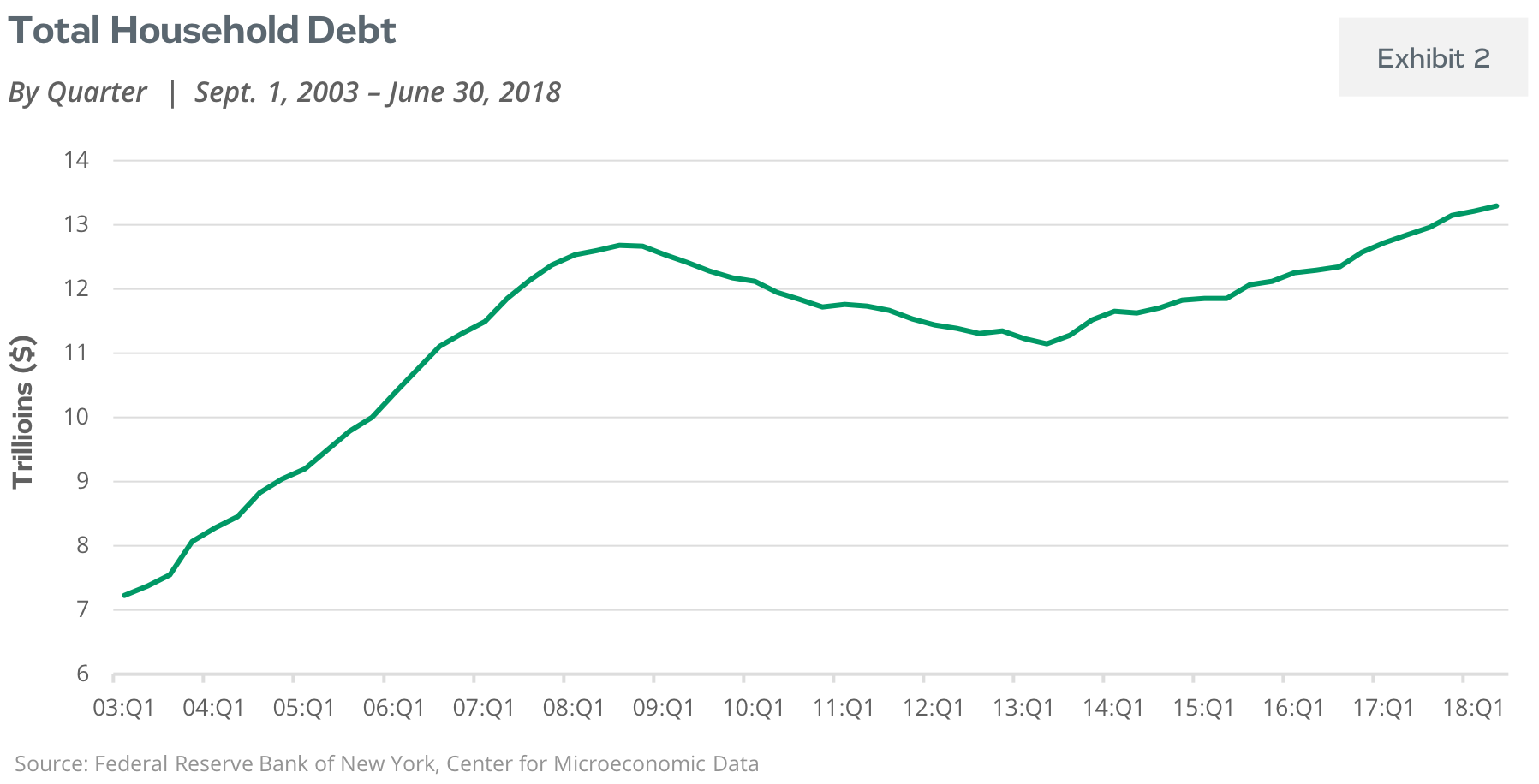 Personal wealth also at all-time high. In spite of stagnant real wages, high debt and low personal savings levels, American consumers still have reason to feel positive about their financial well-being. The nine-and-a-half-year bull market has helped drive personal net worth to an all-time high. Stock market gains are not included in the "personal savings rate," but when you add that to the equation, Americans truly are feeling wealthier. Known as the "wealth effect," historically after a strong rise in the stock market, consumers feel more confident about their personal finances and tend to increase their spending – which has been a key factor in the current consumer spending spree.
The wealth effect should help drive consumer spending as long as the stock market continues to rise. Since consumption accounts for about 68% of U.S. gross domestic product (GDP), strong consumer spending should help keep GDP growth on pace in the near term. But if the bull market stumbles, we may need to see real, sustained wage growth in order for consumers to help keep the economy growing.
See: U.S. Stocks Reach Longest Bull Run in Modern Market History: August Market Recap
To see our Market Outlooks every month and learn more about our perspective on the markets, the economy, and investing, subscribe to our Investing Insights newsletter.
Media contact: Samantha Mehrotra, 612-844-4197, samantha.mehrotra@thrivent.com
All information and representations herein are as of 09/04/2018, unless otherwise noted.
The views expressed are as of the date given, may change as market or other conditions change, and may differ from views expressed by other Thrivent Asset Management associates. Actual investment decisions made by Thrivent Asset Management will not necessarily reflect the views expressed. This information should not be considered investment advice or a recommendation of any particular security, strategy or product.  Investment decisions should always be made based on an investor's specific financial needs, objectives, goals, time horizon, and risk tolerance.
This article refers to specific securities which Thrivent Mutual Funds may own. A complete listing of the holdings for each of the Thrivent Mutual Funds is available on ThriventFunds.com.
Well that's unexpected - your subscription request was not submitted. Please try again.
Gain From Our Perspective
Get Our Investing Insights Newsletter in Your Inbox.
Subscribe now
Gain From Our Perspective
Get Our Investing Insights Newsletter in Your Inbox.
Subscribe
Thanks for Signing Up!
Be sure to check your inbox for the Investing Insights newsletter to get the latest news and insights from Thrivent Mutual Funds.
Great news - you're on the list!
Looks like you're already on our mailing list. Be sure to check your inbox for the Investing Insights newsletter to get the latest news and insights from Thrivent Mutual Funds.