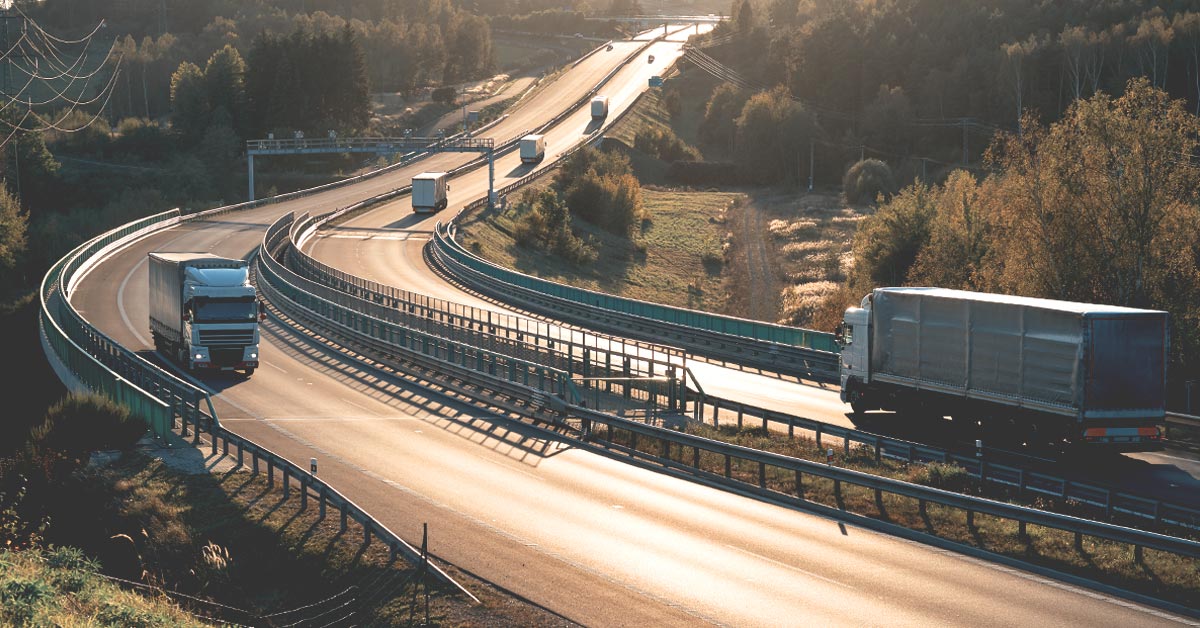 The economy appears to be picking up steam as U.S. gross domestic product (GDP) grew at a healthy 3% annualized rate in the 3rd Quarter, following a 3.1% annualized gain in the 2nd quarter, according to the U.S. Department of Commerce GDP report October 27.
Recovery efforts from the hurricanes in Texas and Florida have also contributed to a surge in other economic indicators, according to data from the U.S. Department of Commerce. For instance, retail sales jumped 1.6% in September and consumer spending increased a full 1.0% from August, as consumers in the hurricane-affected areas bought automobiles and auto parts, building materials and other related supplies to rebuild from the storms. (See: The Economic Impact of Hurricanes Harvey and Irma)
Personal consumption expenditures have also increased for 31 consecutive months, according to the U.S. Bureau of Economic Analysis.
Here are some other highlights from the month covered in more detail later in this report:
Stocks move up. Stocks moved up solidly for the month, with the S&P 500 climbing 2.22%.
Employment growth disrupted. Employment dropped by 33,000 in September as hurricanes in Texas and Florida disrupted business, but the growth trend in jobs is expected to resume as businesses return to normal.
Oil continues to recover. Oil prices continued to rise for the second straight month, helping to strengthen the recovery in the oil industry.
What's ahead for the economy? See the November Outlook: Economy Has Brightened but Challenges Still Loom by Mark Simenstad, Chief Investment Strategist, Thrivent Asset Management.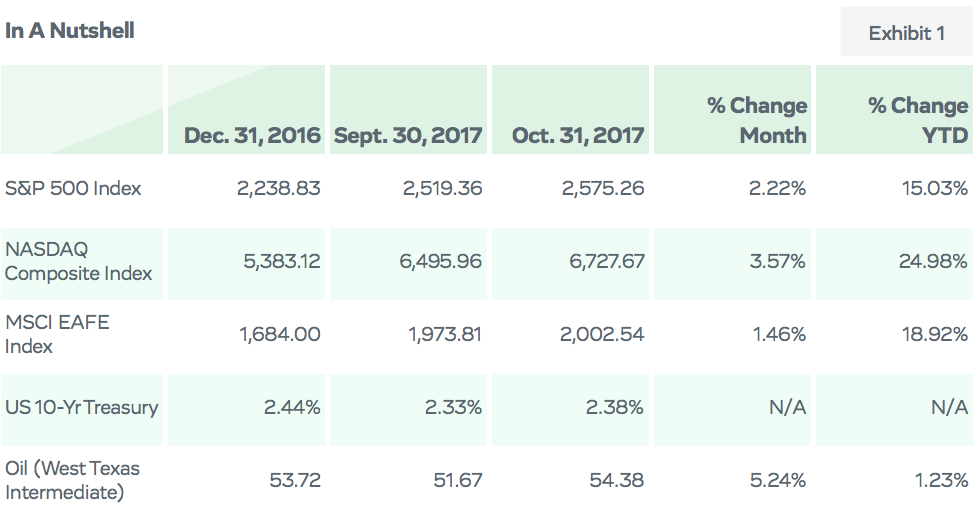 Drilling Down
U.S. Stocks Edge Up Again
The S&P 500 was up modestly for the month, from 2,519.36 at the September close to 2,575.26 on October 31 – a 2.22% gain for the month and a 15.03% gain for the year. The total return of the index was 2.33% for October and 16.91% for the year.
The NASDAQ ended October at 6,727.67, which represented a 3.57% gain for the month and a 24.98% gain for the year.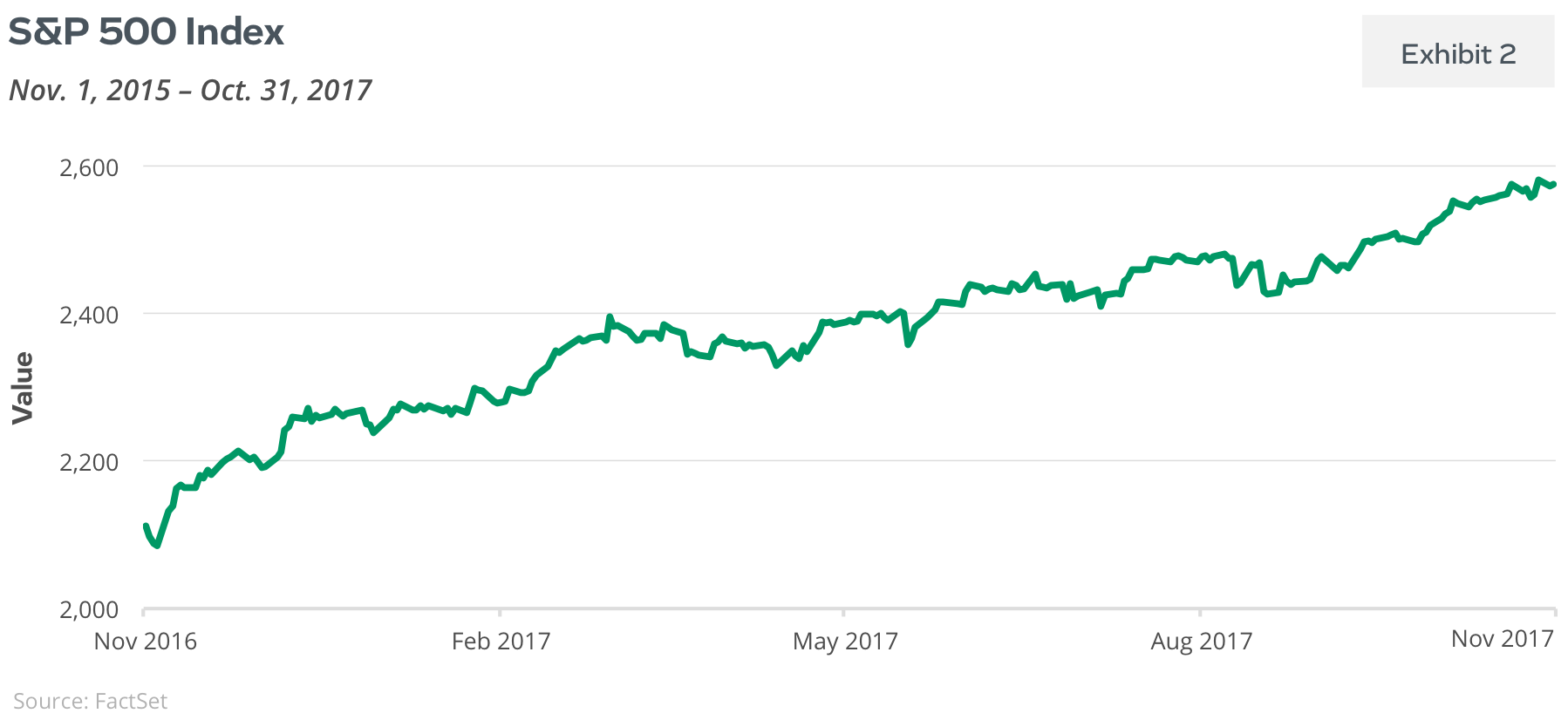 Retail Sales Surge Amidst Hurricane Recovery
Retail sales were up 1.6% in September as hurricane survivors in Texas and Florida opened up their pocketbooks to rebuild from the storm damage. The gain was the largest in 2 ½ years and followed a 0.1% decrease in August, according to the U.S. Department of Commerce Retail Sales Report issued October 13.
Auto and auto parts sales experienced their biggest increase since March 2015 – a 3.6% gain for the month – as consumers replaced or repaired autos damaged in the storm. Gasoline station gross sales moved up even more – a 5.8% increase – which resulted from a hike in gasoline prices after oil refineries and production were impacted across Texas. 
One other area that has been bolstered by the recovery is the building materials and garden equipment sector, which was up 2.1% for the month and 10.7% year-over-year. (See: Retail Sales Have Biggest Jump in 2 ½ Years in Wake of Hurricanes)
Employment Growth Stalls But Unemployment Sinks
After 83 consecutive months of job growth, the streak ended in September as economic activity was slowed by Hurricanes Harvey and Irma in Texas and Florida. Employment fell by 33,000 jobs during the month, according to the U.S. Bureau of Labor Statistics.
Despite the drop of 33,000 jobs, the unemployment rate dropped 0.2% to 4.2% as a net 331,000 people dropped out of the work force. That is the lowest unemployment rate since 2000. The drop in jobs in September came after the economy gained 169,000 jobs in August and 138,000 in July. Wage growth has improved over recent months. Average hourly earnings for all employees on private nonfarm payrolls rose by 12 cents to $26.55 during the month. Over the past 12 months, average hourly earnings have increased by 74 cents, or 2.9%. (See: Hurricanes Knock Job Growth Off Track but Unemployment Rate Falls)

Sector Returns
Several sectors posted solid gains in October, led by Information Technology, up 7.76%, Utilities, up 3.90%, Materials, up 3.87%, and Financials, up 2.93%. Information Technology also leads all sectors for the year, up 37.24%.
The Energy sector, which was up 9.94% in September, declined 0.66% in October despite a solid gain in oil prices. Telecom Services took a big hit in October, down 7.62%. It has posted the worst performance of all sectors in 2017, down 11.95% for the year.
The chart below shows the results for all 11 sectors: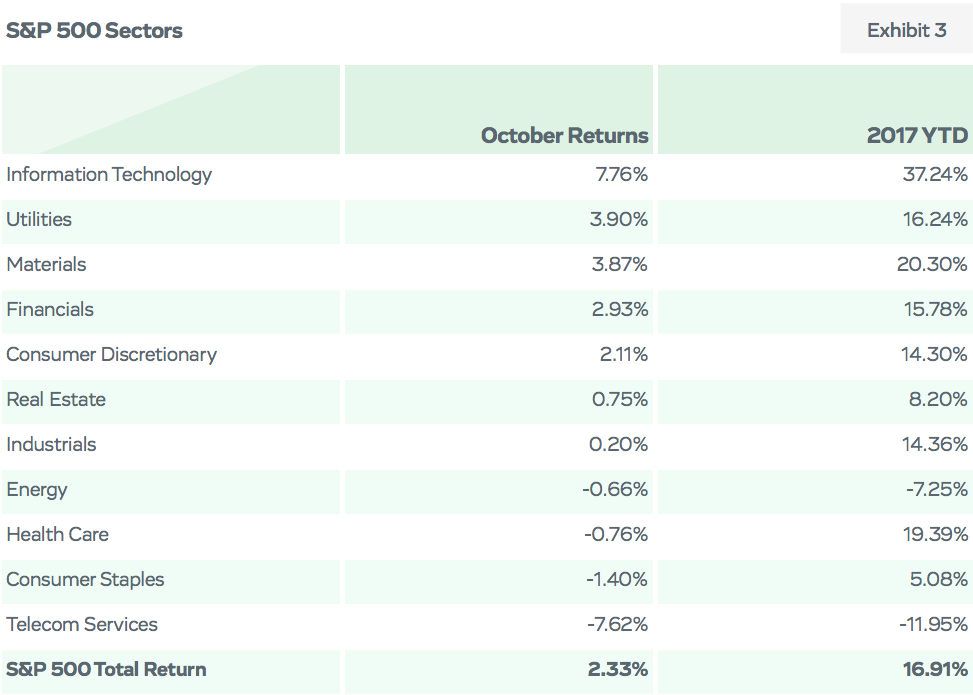 Bond Yields Move Up
Market interest rates on 10-year U.S. Treasuries continued to increase in October, climbing from 2.33% in September to 2.38% at the October close. That marks a significant increase over the past two months after yields dropped to just 2.12% at the August close.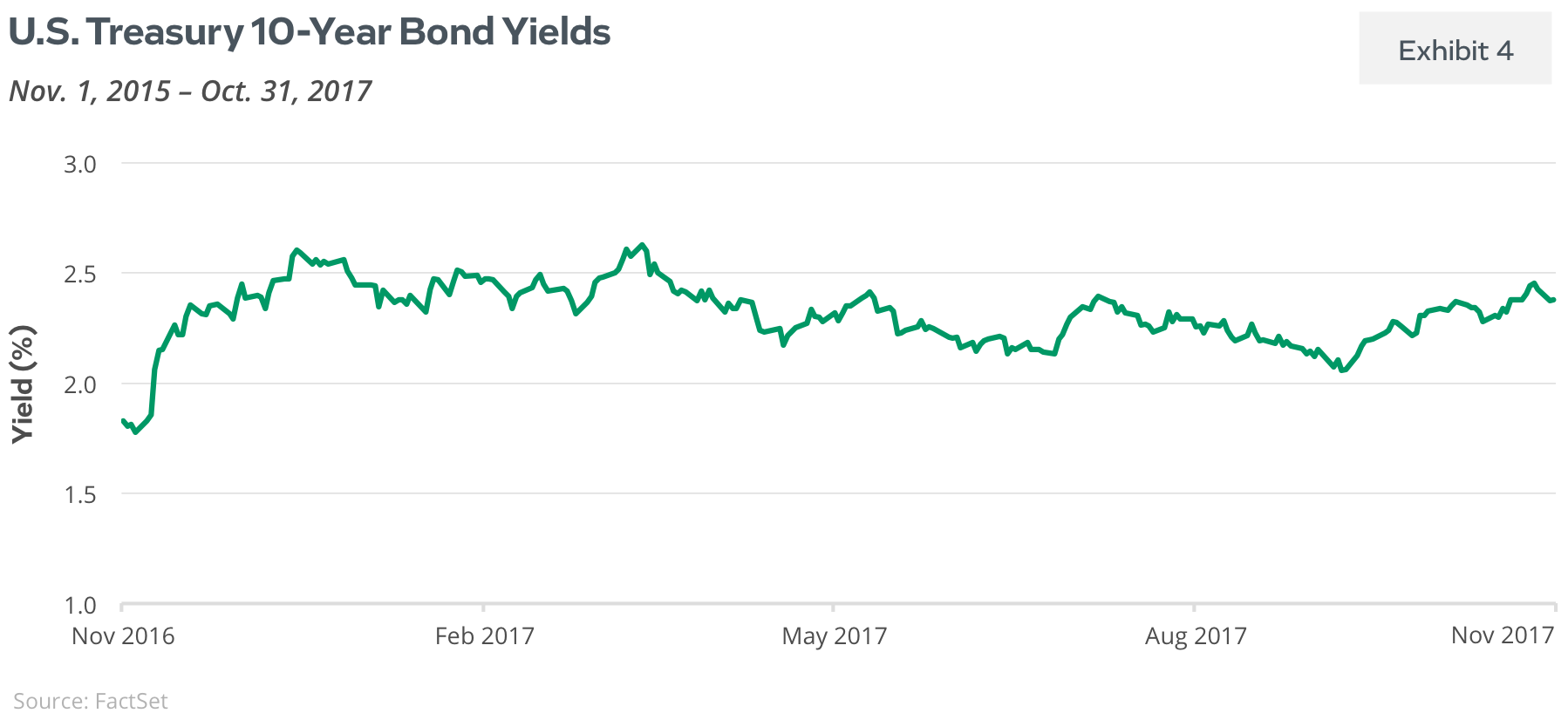 Oil Keeps Climbing
Oil prices continued to move up in October, adding to the 9.40% price increase in September. Prices moved up 5.24% from $51.67 (West Texas Intermediate) at the end of September to $54.38 at the end of October as global demand picked up.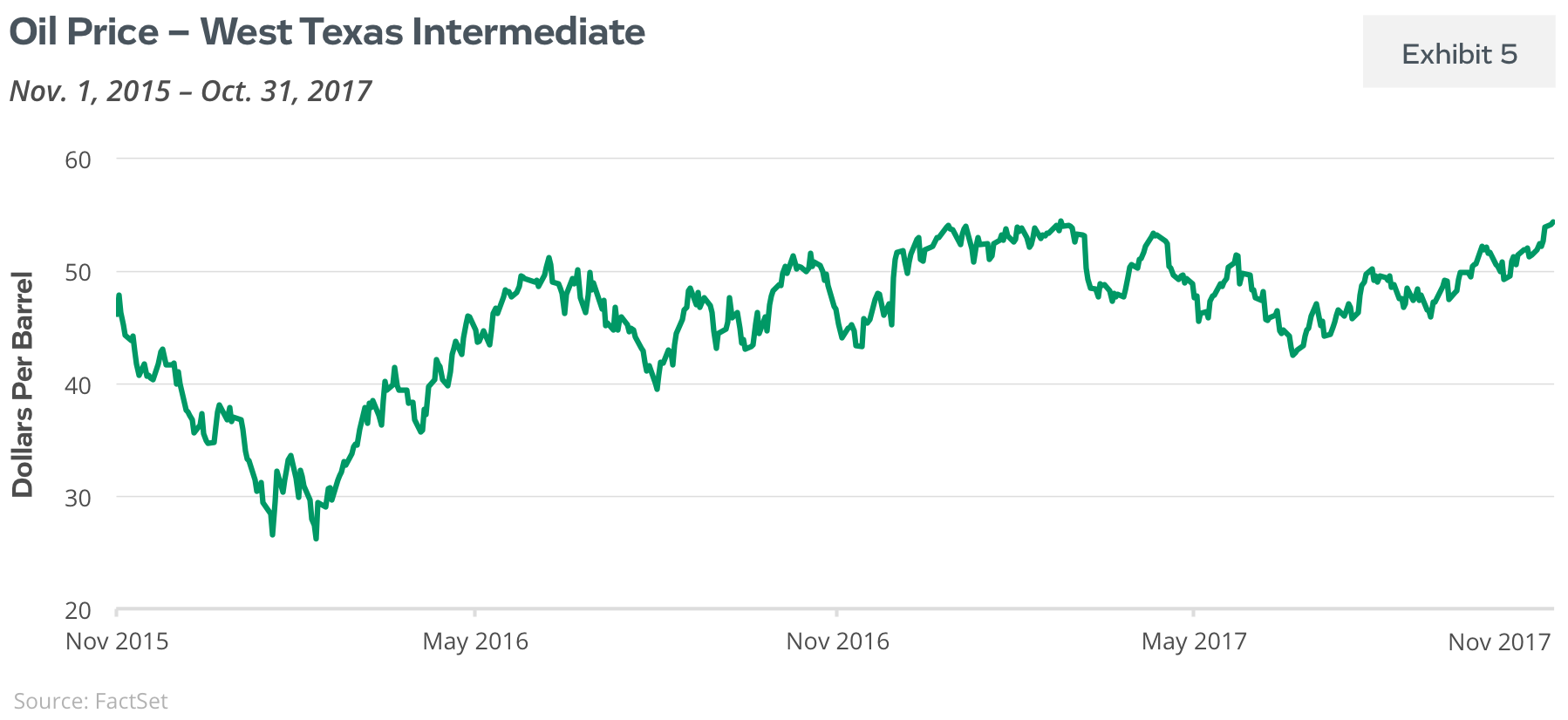 Gold Prices Retreat
Gold prices barely budged in October, edging down from $1,284.80 per ounce at the end of September to $1,270.50 at the close of October.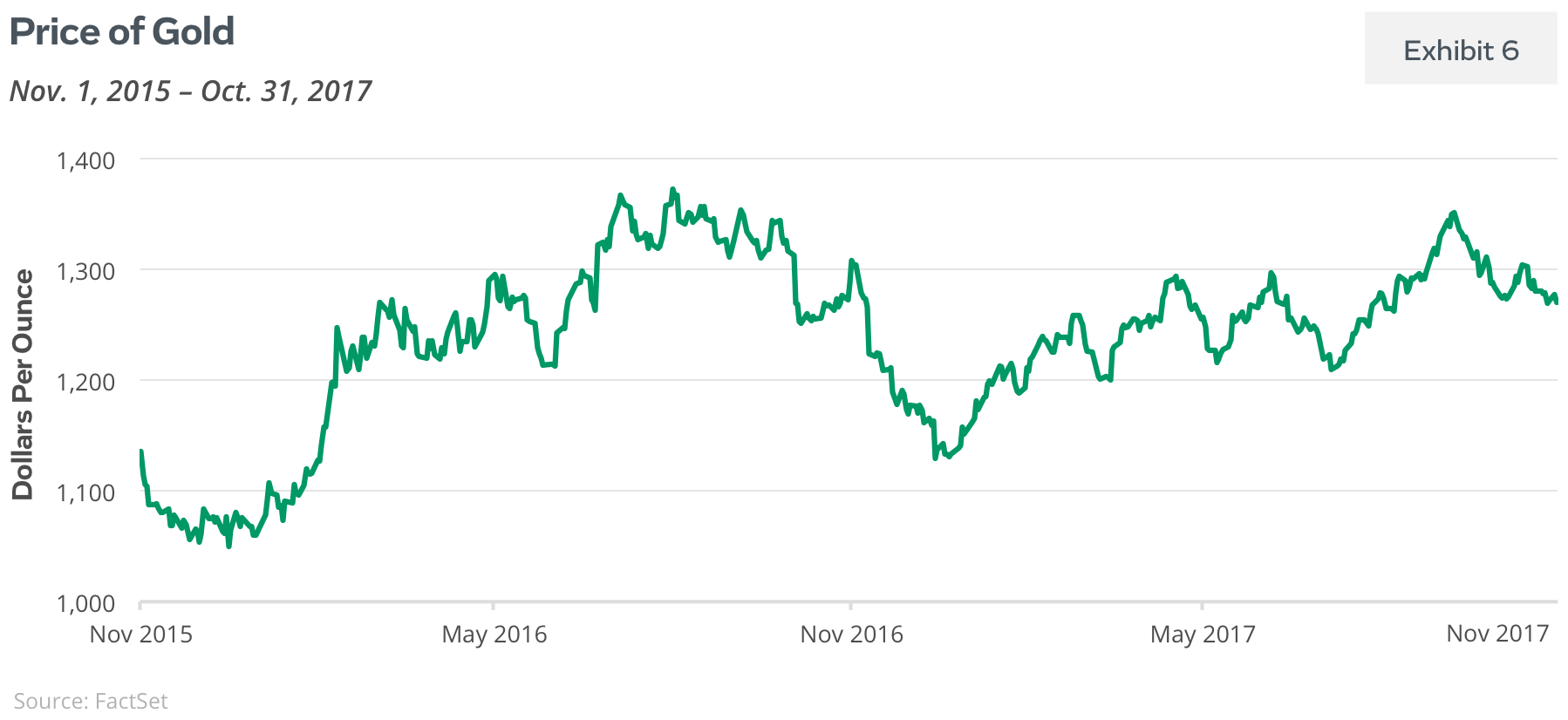 International Equities Move Back Up
The international stock markets enjoyed a solid month in October as the MSCI EAFE Index gained 1.46%, moving up from 1,973.81 at the close of September to 2,002.54 October 31. The MSCI EAFE is up 18.92% for the year.

All information and representations herein are as of 11/01/2017, unless otherwise noted.
The views expressed are as of the date given, may change as market or other conditions change, and may differ from views expressed by other Thrivent Asset Management associates. Actual investment decisions made by Thrivent Asset Management will not necessarily reflect the views expressed. This information should not be considered investment advice or a recommendation of any particular security, strategy or product.  Investment decisions should always be made based on an investor's specific financial needs, objectives, goals, time horizon, and risk tolerance.
Indexes are unmanaged and do not reflect the fees and expenses associated with active management. Investments cannot be made directly into an index.
S&P 500® Index is an index of 500 stocks chosen for market size, liquidity and industry grouping, among other factors. The S&P 500 is designed to be a leading indicator of U.S. equities and is meant to reflect the risk/return characteristics of the large cap universe.
The NASDAQ (National Association of Securities Dealers Automated Quotations) is an electronic stock exchange with more than 3,300 company listings.
The MSCI EAFE Index measures developed-economy stocks in Europe, Australasia and the Far East.
West Texas Intermediate (WTI) is a grade of crude oil used as a benchmark in oil pricing.
Past performance is not necessarily indicative of future results.
Well that's unexpected - your subscription request was not submitted. Please try again.
Gain From Our Perspective
Get Our Investing Insights Newsletter in Your Inbox.
Subscribe now
Gain From Our Perspective
Get Our Investing Insights Newsletter in Your Inbox.
Subscribe
Thanks for Signing Up!
Be sure to check your inbox for the Investing Insights newsletter to get the latest news and insights from Thrivent Mutual Funds.
Great news - you're on the list!
Looks like you're already on our mailing list. Be sure to check your inbox for the Investing Insights newsletter to get the latest news and insights from Thrivent Mutual Funds.