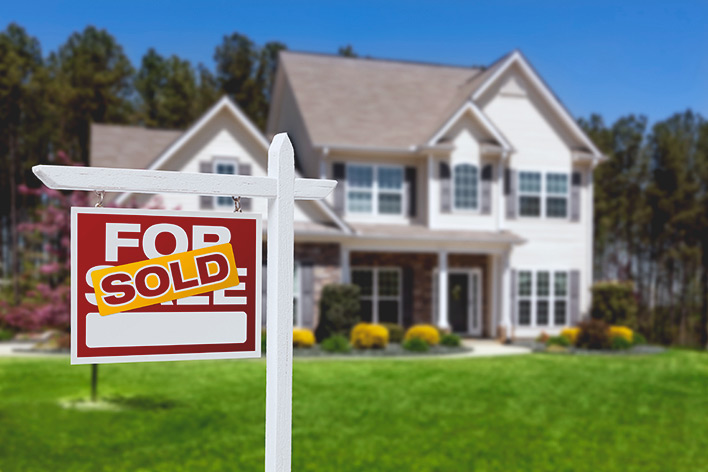 The good news for prospective home buyers is that although interest rates have moved higher, mortgage rates are still low relative to historical levels.
The bad news is that the supply of houses on the market is the tightest in U.S. history (as of the end of 20171) and home prices continue to rise.
According to FRED (Federal Reserve Bank of St. Louis), the inventory of houses on the market based on existing home sales data in the U.S. was just a 3.2 month supply as of the end of 20172, well below the approximately 6-month supply in 2012, which we consider to be a more normal and healthy inventory level.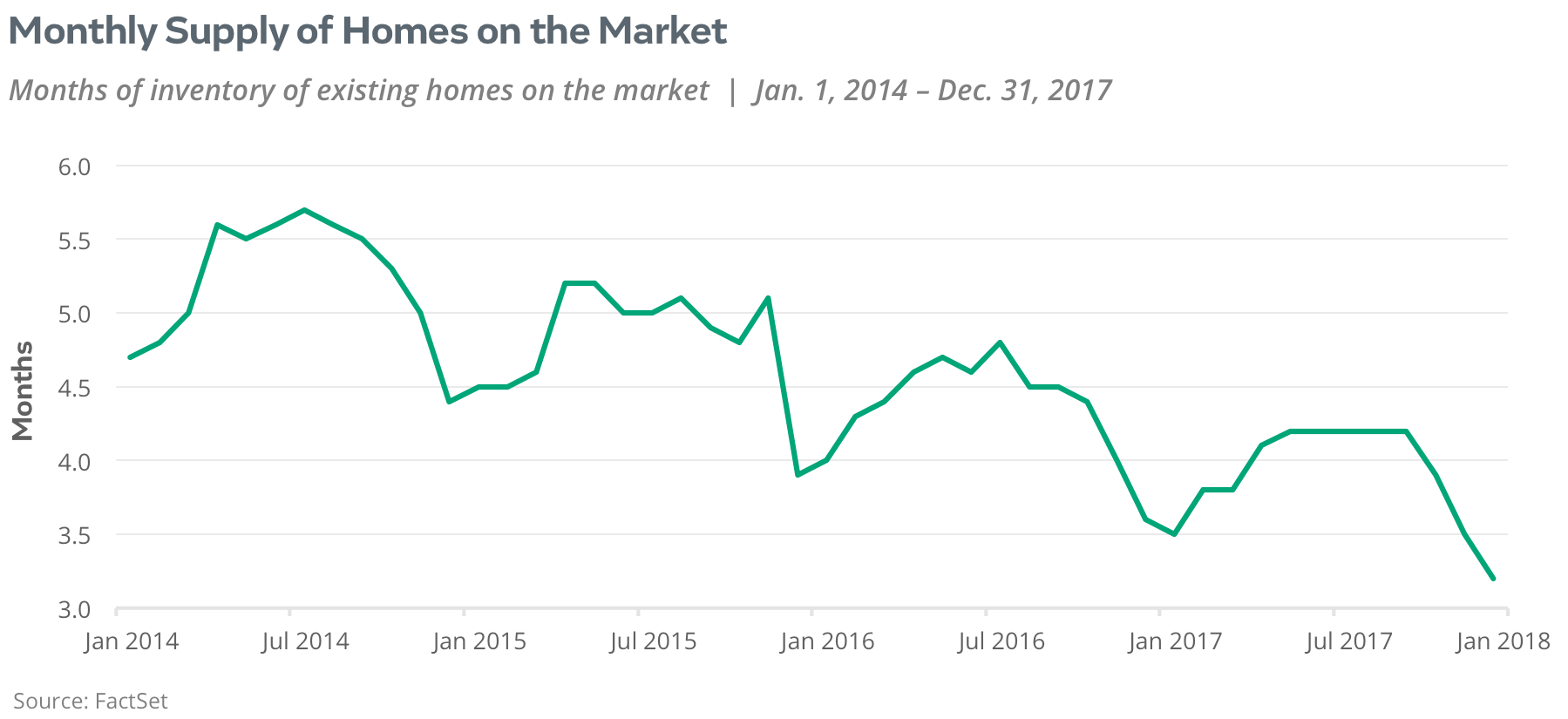 Making matters worse for buyers, the supply of homes on the market has declined for 27 consecutive months – including a decline of 14.5% from December 2016 through December 2017, according to Redfin Corp., a national real estate firm that tracks housing sales trends. Home sales are also moving faster, according to the Redfin Real-Time Housing Market Tracker. The typical home that sold in December 2017 found a buyer after 49 days on the market, five days fewer than in 2016.3
The supply shortage has also pushed up home prices, with the median home price climbing 6.8% in 2017, according to Redfin. About one in five homes (20.5%) sold at a price in excess of the seller's listing price.
Why are homes in short supply? Several issues have contributed to the housing shortage:
During and shortly after the Great Recession, there was very little demand for new homes, so there was a period of several years when very few new homes were built.
Many home builders went out of business during and after the recession so there are now fewer firms building homes.
The rising cost of labor and materials has made the price of building new homes very high compared with prices of existing homes.
Many construction workers left the business during and after the recession for lack of work and have not returned to the industry. As a result, construction firms have had difficulty finding qualified workers. Tight immigration policies may continue to make it difficult for home builders to find enough workers to staff their building crews.
Because of the earlier slow-down in the housing industry, developers were slow to initiate new housing developments.
Home owners are staying in their existing homes longer. Home owners seem to be more inclined to remodel their existing homes in the current environment than to trade up to a bigger home.
Mortgage Rates Still Low
While rates on adjustable rate mortgages (ARM) have edged up recently, rates for 30-year mortgages ended 2017 virtually the same as they were five years ago – just under 4%4 – although they have moved up to about 4.25% in early of 2018.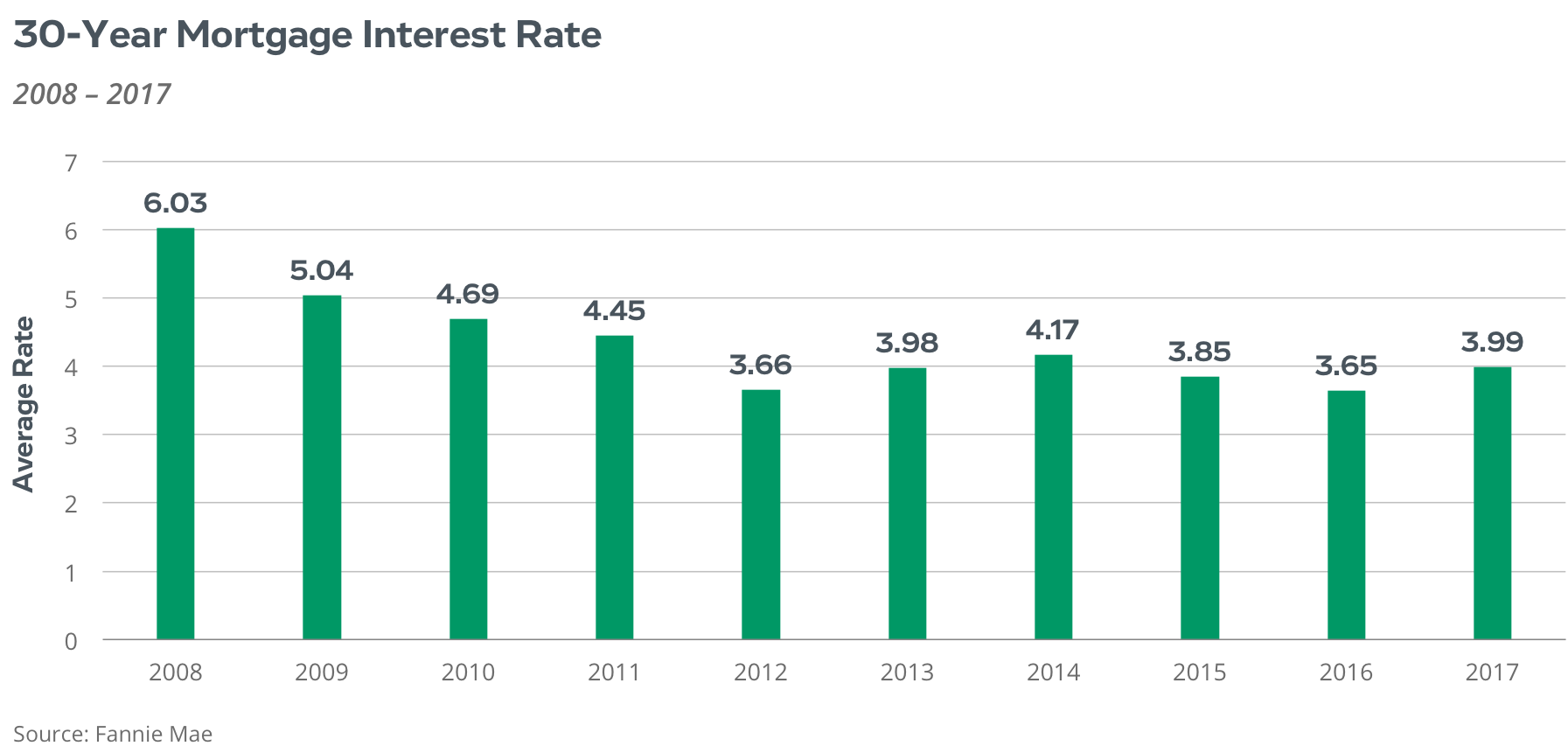 We don't expect the 30-year and 15-year mortgage rates to increase sharply in the near term, although there are certain economic factors that could drive mortgage rates higher over the next couple of years.
For instance, if strong economic growth continues, that could drive inflation, which would likely push up mortgage rates. In addition, the U.S. Treasury is expected to borrow heavily in the next few years, which could also push up interest rates.
But even with a modest increase, 30-year mortgage rates should remain at levels which are very low by historic standards. (See: 10 Ways to Take Advantage of Today's Low Interest Rates)
The biggest difference in the market today versus prior to the recession is the increase in credit standards as a repercussion of the financial crisis. While lenders were willing to approve mortgages for borrowers with marginal credit scores before the financial crisis, the bar has been raised significantly since then. The average FICO score for homes financed through Fannie Mae has increased from about 725 to 760 since the financial crisis.5
But if you have a solid credit rating and are able to meet the lending requirements, you should be able to secure a mortgage for your next home at a very competitive rate.
It may be another matter, however, to actually find a home you want to buy. With new home construction still lagging and the inventory of existing homes still tightening, prospective home buyers may be scrambling to find the home of their dreams for several years to come.
All information and representations herein are as of 02/20/2018, unless otherwise noted.
The views expressed are as of the date given, may change as market or other conditions change, and may differ from views expressed by other Thrivent Asset Management associates. Actual investment decisions made by Thrivent Asset Management will not necessarily reflect the views expressed. This information should not be considered investment advice or a recommendation of any particular security, strategy or product.  Investment decisions should always be made based on an investor's specific financial needs, objectives, goals, time horizon, and risk tolerance.
This article refers to specific securities which Thrivent Mutual Funds may own. A complete listing of the holdings for each of the Thrivent Mutual Funds is available on ThriventFunds.com.
---
1 FRED (Federal Reserve Bank of St. Louis)
2 FRED Monthly Supply of Houses in the United States through December 2017, issued January 24, 2018
(Compliance see screen shot below…page link doesn't work)
3 The Redfin Real-Time Housing Market Tracker is a monthly analysis of home prices, competition, sales volumes, and inventory levels across the markets that Redfin serves nationwide. The analysis is based on data from the Multiple Listing Services of -which Redfin is a member.
4 Fannie Mae
5 Fannie Mae
Well that's unexpected - your subscription request was not submitted. Please try again.
Gain From Our Perspective
Get Our Investing Insights Newsletter in Your Inbox.
Subscribe now
Gain From Our Perspective
Get Our Investing Insights Newsletter in Your Inbox.
Subscribe
Thanks for Signing Up!
Be sure to check your inbox for the Investing Insights newsletter to get the latest news and insights from Thrivent Mutual Funds.
Great news - you're on the list!
Looks like you're already on our mailing list. Be sure to check your inbox for the Investing Insights newsletter to get the latest news and insights from Thrivent Mutual Funds.