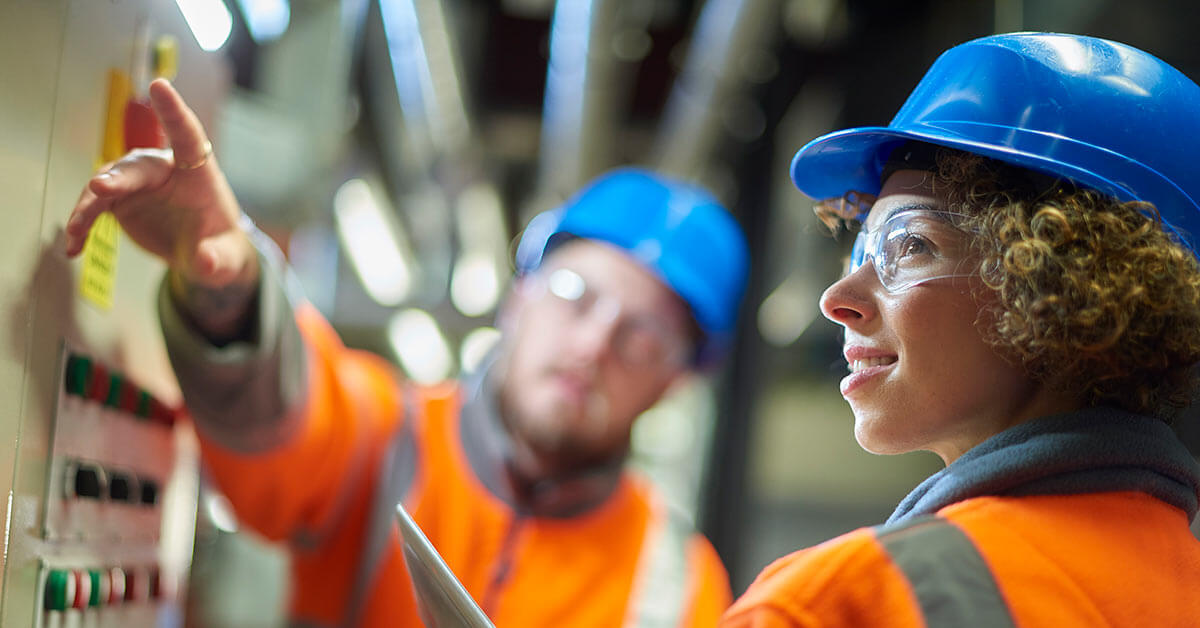 To get a true picture of the U.S. job market this month, it may help to look at the numbers behind the numbers. While only 98,000 new nonfarm jobs were added to the U.S. labor market in March, according to the U.S. Department of Labor, Bureau of Labor Statistics Employment Situation report issued April 7, some other related statistics paint a more positive picture.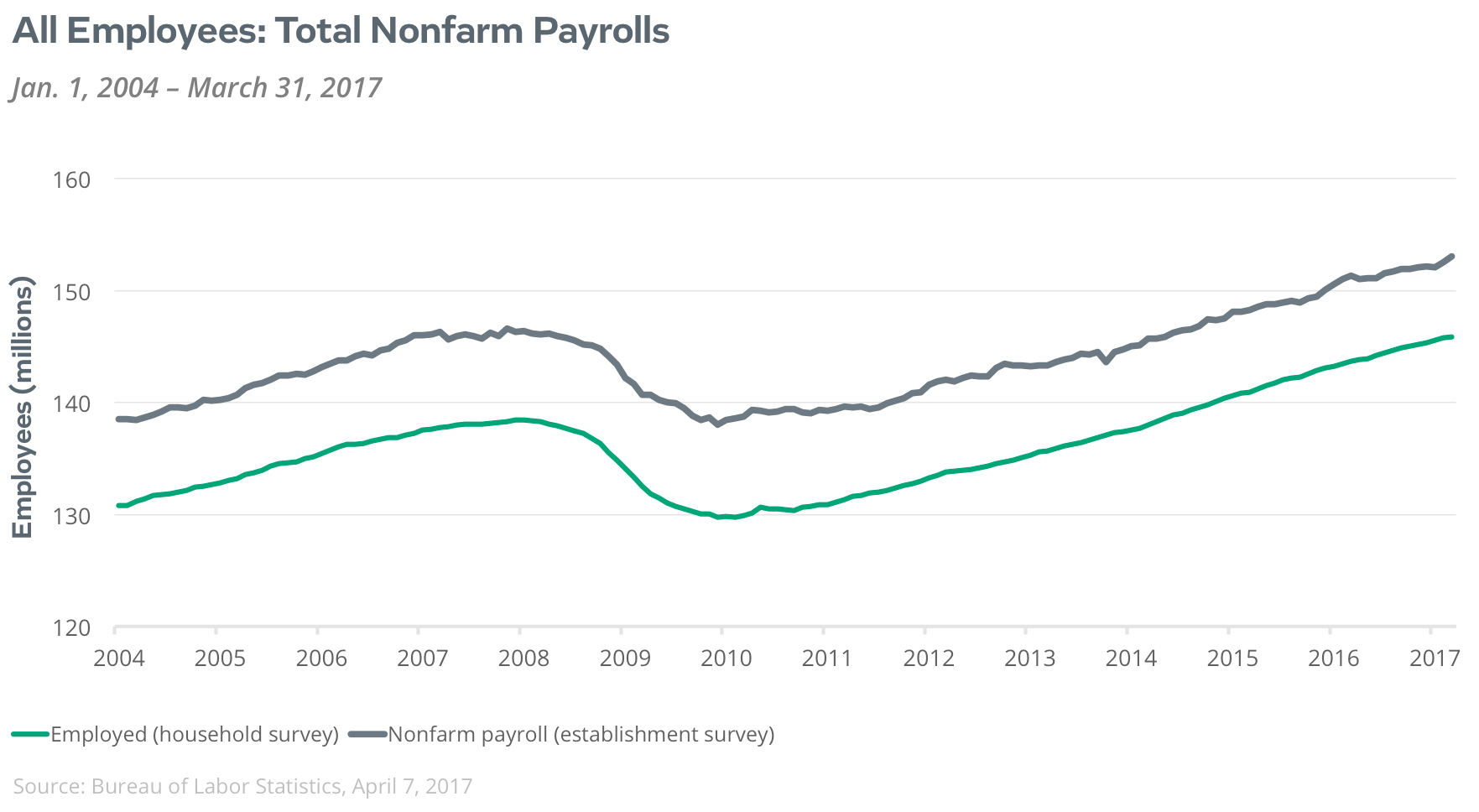 For instance, the unemployment rate dropped by 0.2% to just 4.5% – the lowest unemployment rate since May 2007.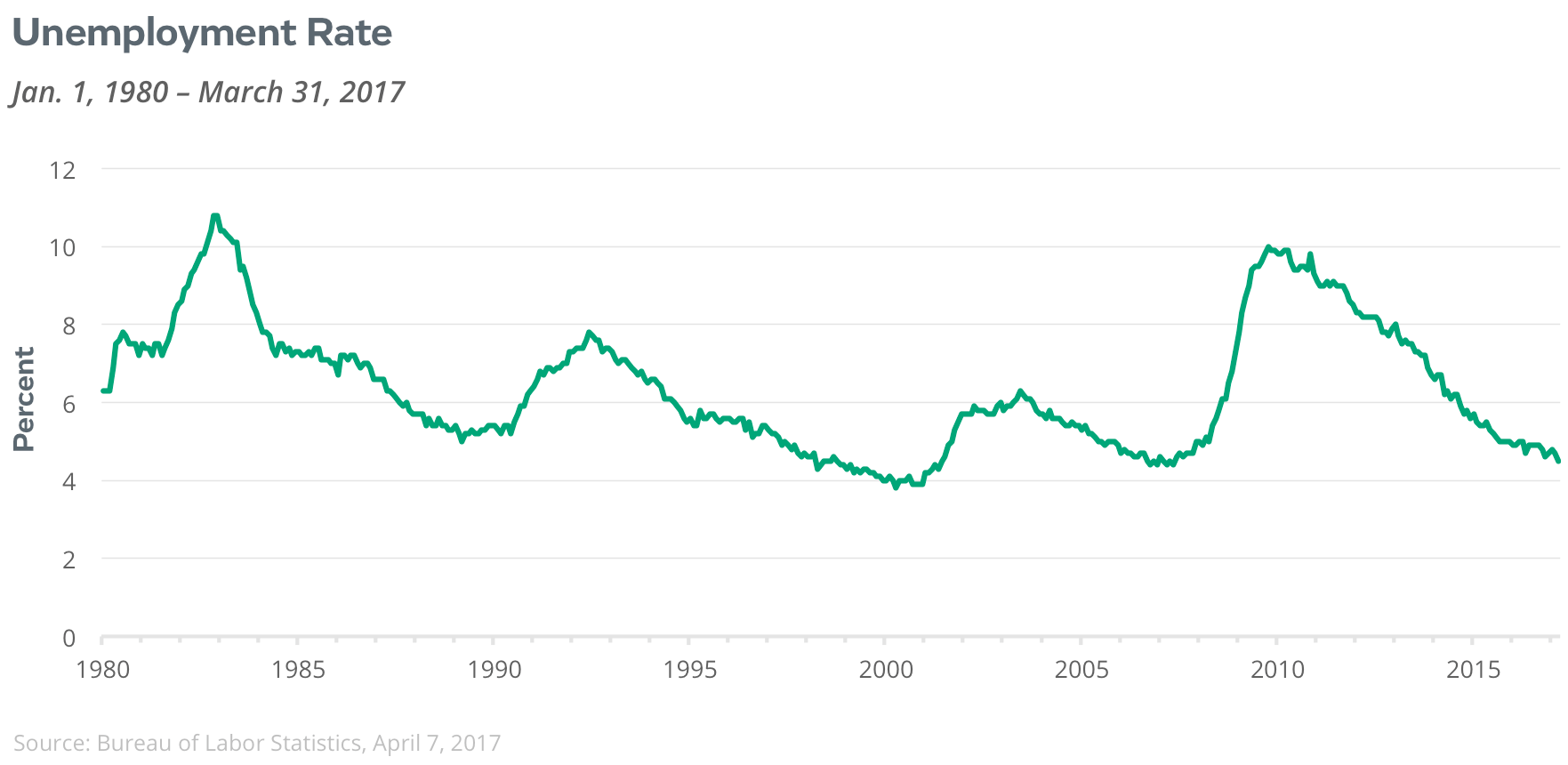 In some cases, a drop in the unemployment rate indicates that a growing number of people are giving up on looking for work, but that does not appear to be the case this month. The Department of Labor Household Survey showed that the labor force grew by 145,000, the number of people on unemployment dropped by 326,000, and the total number of employed individuals in the civilian labor force jumped by 472,000.
Initial jobless claims, reported weekly, also remain at an extraordinarily low level. Initial unemployment claims totaled just 234,000 during the final week of March, which is one of the lowest levels since the mid-1970s. This is even more extreme if one adjusts for growth in the labor force.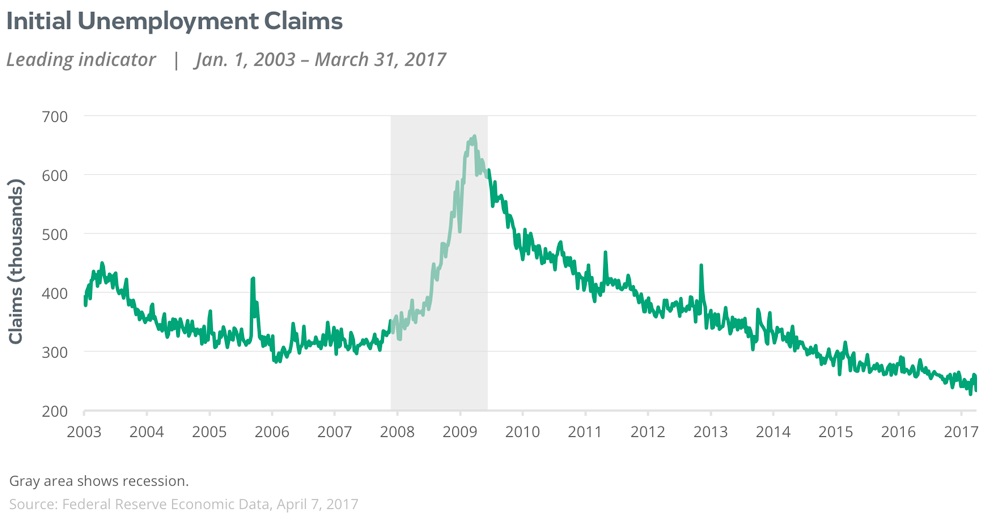 One more statistic further calls into question the validity of the 98,000 jobs number (which is about half the monthly average over the past few years). ADP Corp., which published its own employment report on April 5, showed higher-than-expected job growth of 263,000 jobs versus expectations of 185,000.
Wages also continued to climb, as the average hourly earnings for all employees on private nonfarm payrolls moved up by 5 cents to $26.14. Over the past 12 months, average hourly earnings have risen by 68 cents, or 2.7%.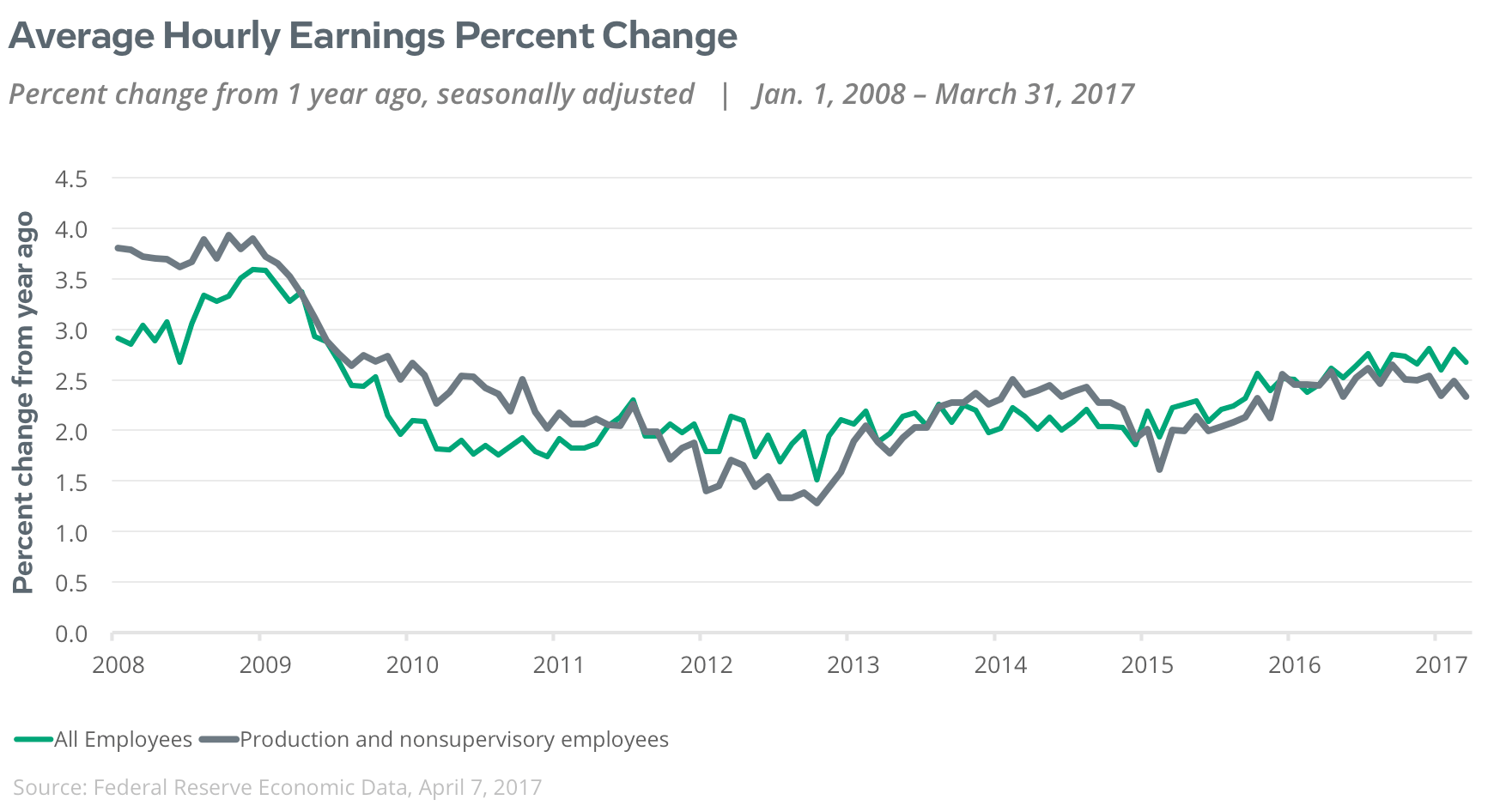 Several other details also indicated a positive trend: 
The number of unemployed persons looking for jobs continued to edge down from 7.5 million to 7.2 million for the month. 
While the labor force participation rate was nearly unchanged at 62.8%, the employment-population ratio edged up slightly to 60.3%. 
The number of long-term unemployed (those jobless for 27 weeks or more) dipped slightly from 1.8 million to 1.7 million, but remains at an elevated level. That accounts for 23.3% of the unemployed, which was down from 23.8% the previous month.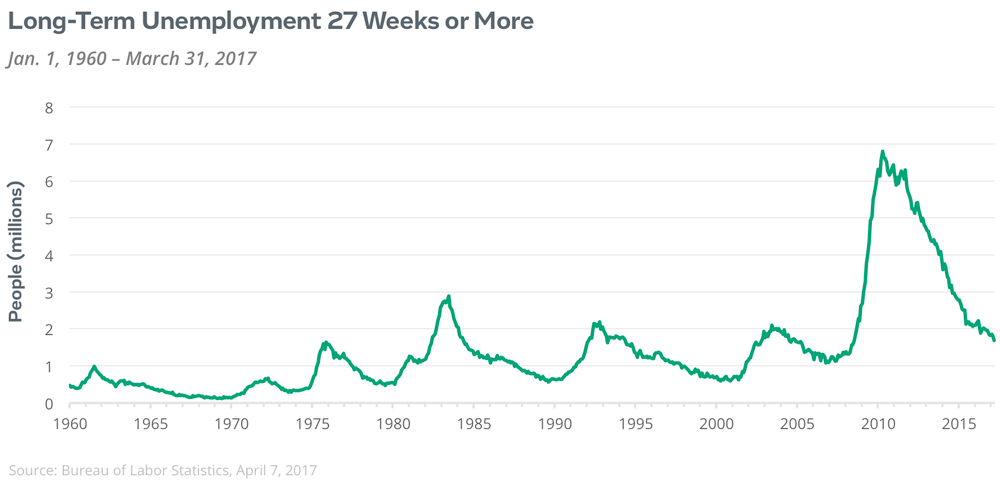 The average workweek was unchanged at 34.3 hours, which is in a range comparable to that preceding the last recession.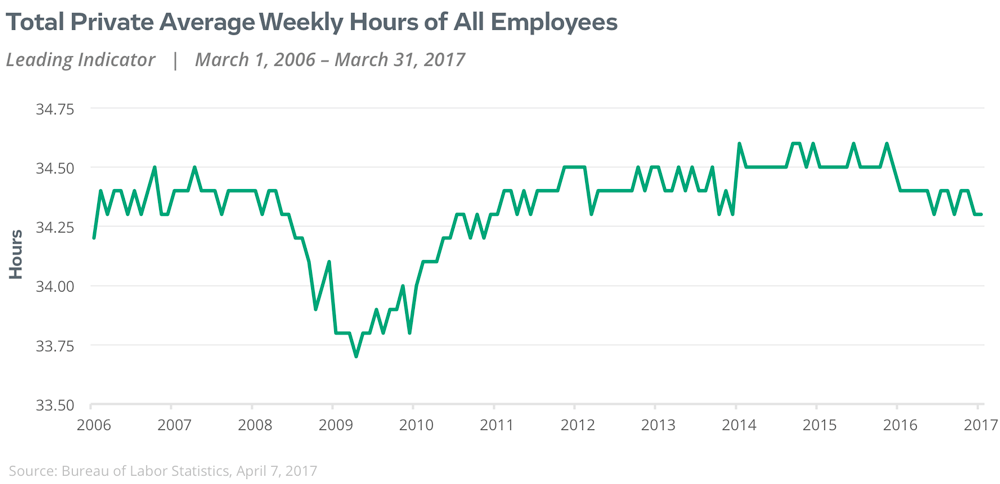 While several trends in employment have been positive, full employment continues to be an issue for many Americans. For instance, the number of persons employed part-time for economic reasons (also referred to as involuntary part-time workers) remains high, although it dipped slightly from 5.7 million to 5.6 million in March.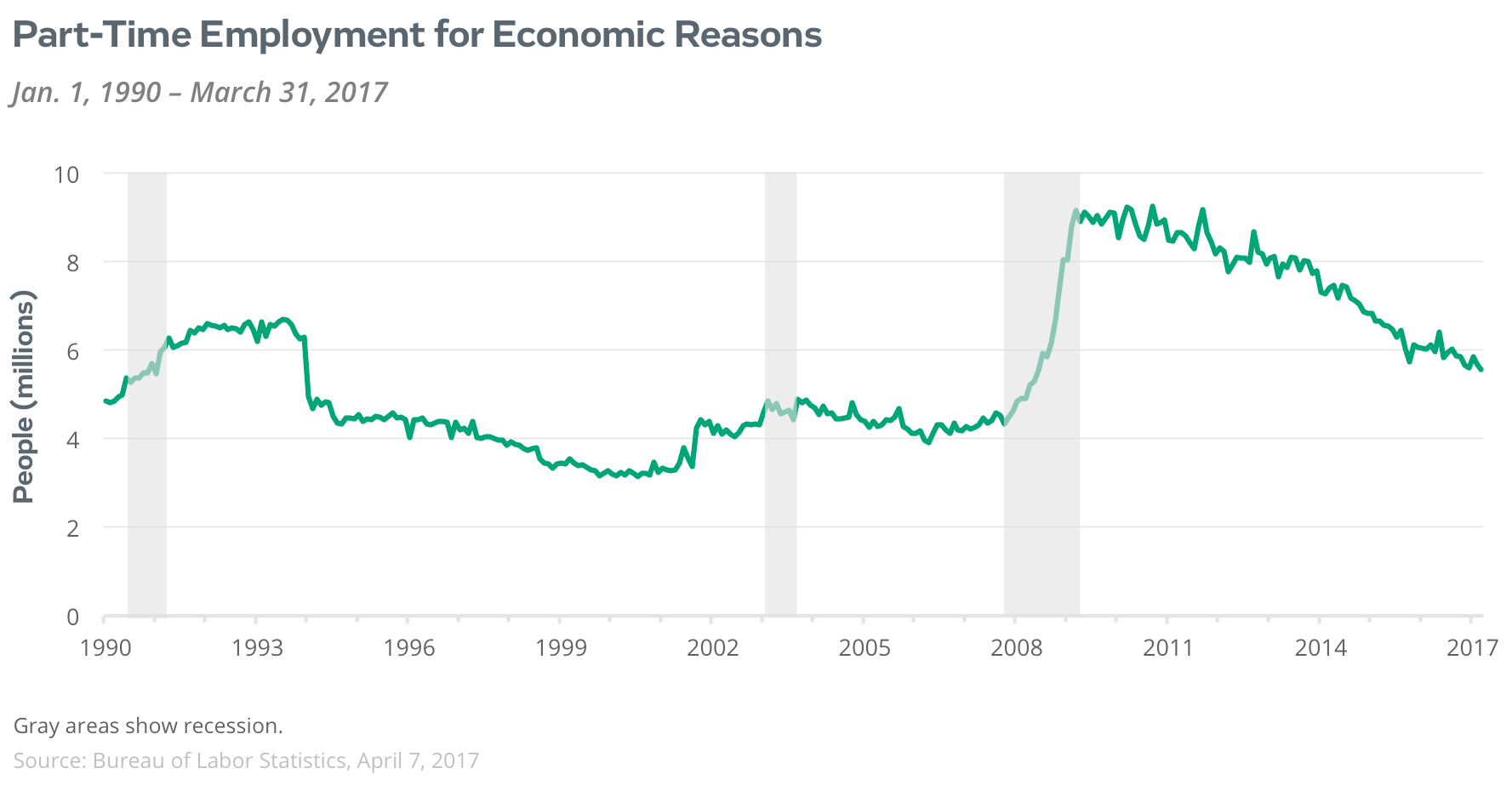 The labor force participation rate for those in their prime working years (age 25-54) is also a cause of concern. It did move up slightly in March from 81.7% to 81.8%, but is still about 1.2% below the pre-recession level.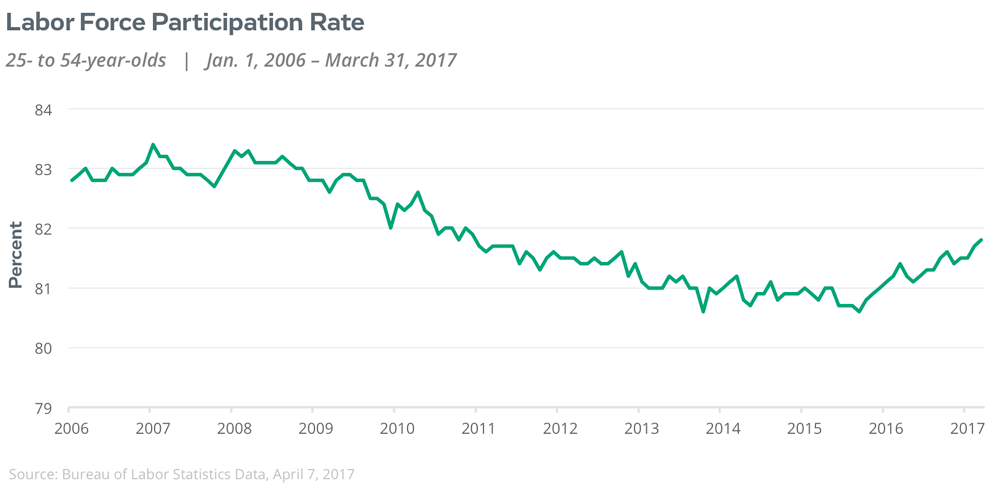 Underemployment may be an even greater concern. About 44% of recent college grads are employed in jobs that don't require a degree, according to the Federal Reserve Bank of New York. Although that number is down slightly from the high of 46% in 2013, it still reflects a dreary outlook for current college students.
But as job growth continues and unemployment numbers trend down, more jobs for college and trade school grads may begin to open up. Wage growth could also begin to accelerate as employers vie for qualified employees. 
Strong job growth has been one of the cornerstones of the recovery and was a contributing factor in the Federal Reserve Board's decision to raise rates on March 15. We believe that if employment and other economic indicators remain strong, the Fed will make further rate hikes throughout 2017. We believe that a series of small rate hikes during the year would be beneficial to net savers without materially affecting the economy or consumer spending. 
Media contact:  Callie Briese, 612-844-7340; callie.briese@thrivent.com
All information and representations herein are as of 04/07/2017, unless otherwise noted.
The views expressed are as of the date given, may change as market or other conditions change, and may differ from views expressed by other Thrivent Asset Management associates. Actual investment decisions made by Thrivent Asset Management will not necessarily reflect the views expressed. This information should not be considered investment advice or a recommendation of any particular security, strategy or product.  Investment decisions should always be made based on an investor's specific financial needs, objectives, goals, time horizon, and risk tolerance.
Well that's unexpected - your subscription request was not submitted. Please try again.
Gain From Our Perspective
Get Our Investing Insights Newsletter in Your Inbox.
SUBSCRIBE NOW
Gain From Our Perspective
Get Our Investing Insights Newsletter in Your Inbox.
SUBSCRIBE
Thanks for Signing Up!
Be sure to check your inbox for the Investing Insights newsletter to get the latest news and insights from Thrivent Mutual Funds.
Great news - you're on the list!
Looks like you're already on our mailing list. Be sure to check your inbox for the Investing Insights newsletter to get the latest news and insights from Thrivent Mutual Funds.