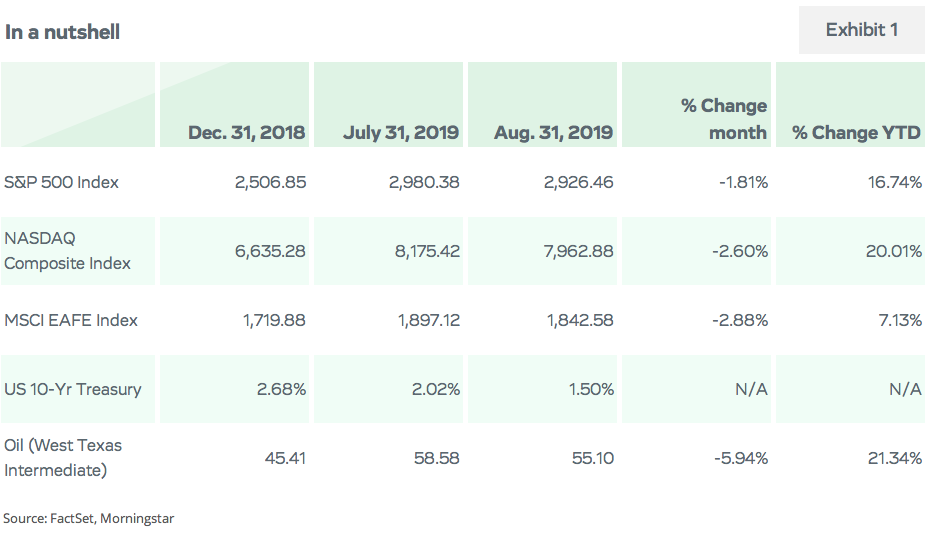 Escalating tariff and trade conflicts, as well as concerns over the U.S. and global economy, led to a volatile month in the markets in August.
After closing July at 2,980.38, the S&P 500® dropped more than 4% by mid-month before bouncing back to close August at 2,926.46 – a 1.81% decline for the month.
As investors fled equities, government bond sales flourished, driving down yields. The yield on 10-year U.S. treasuries slid to just 1.50% at the close of August – about half a percentage point lower than the 2.02% yield at the July close. The treasury yield has dropped more than a full percentage point in 2019 after closing 2018 at 2.68%.
Here are some other recent economic highlights:
U.S. stocks dip
The S&P 500 Index dropped 1.81% for the month, from 2,980.38 at the end of July to 2,926.46 at the August close. The index is still up 16.74% for all of 2019. (The S&P 500 is a market-cap-weighted index that represents the average performance of a group of 500 large capitalization stocks.)
The total return of the S&P 500 (including dividends) was -1.58% in August.
The NASDAQ Index also dropped in August, from 8,175.42 at the July close to 7,962.88 at the end of August – a 2.60% decline. (The NASDAQ – National Association of Securities Dealers Automated Quotations – is an electronic stock exchange with more than 3,300 company listings.)
Retail sales strong
Thanks to strong internet sales, total retail sales for July were up 0.7% from the previous month, according to the Department of Commerce August 15 report. Sales were up 3.4% from a year earlier.
Non-store retailers (primarily online) were up 2.8% for the month and 16.0% from a year earlier. On the flip side, motor vehicle sales were down 0.6% from the previous month, but still up 2.3% from a year earlier. Building materials were up 0.2% from the previous month but down 2.9% from a year earlier, and department store sales were up 1.2% for the month, but down 4.7% from a year earlier.
Employers added half a million fewer jobs than reported
The Department of Labor has lowered its estimated job growth figures for the period from January 2018 through March 2019 by 501,000 jobs, according to an August 21 Bureau of Labor Statistics report. The correction was the result of a routine annual audit of job-related data.
The downward revision means that in 2018, employers added just 185,000 new jobs per month rather than 223,000 new jobs, as previously reported.
Most sectors stumble
Most sectors of the S&P 500 lost ground in August. The Energy sector suffered the biggest decline, down 8.07%, followed by Financials, down 4.85%, Materials, down 2.83%, and Industrials, down 2.62%. Only three of the 11 sectors gained ground for the month – Utilities, Real Estate and Consumer Staples.
The chart below shows the results of the 11 sectors for the past month and all of 2019: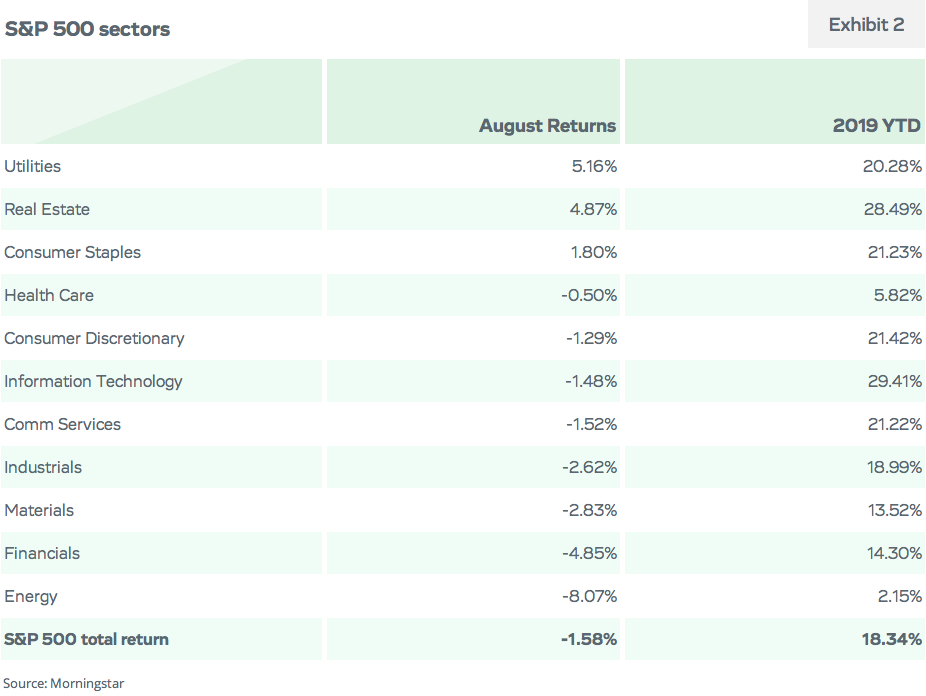 Treasury yields sink
The yield on 10-year U.S. Treasuries dropped significantly in August, as bond investors ramped up buying activity. Rates dropped from 2.02% at the end of July to 1.50% at the August close.
Oil prices dip
Oil prices dropped moderately in August, as OPEC and Russia increased production. The price of a barrel of West Texas Intermediate, a grade of crude oil used as a benchmark in oil pricing, slipped 5.94% from $58.58 at the end of July to the $55.10 at the August close.
International equities slip
International stocks continued a downward trend in August, as trade and tariff issues continued to be a drag on the economy. The MSCI EAFE Index dropped 2.88% for the month from 1,897.12 at the end of July to 1,842.58 at the August close. (The MSCI EAFE Index tracks developed-economy stocks in Europe, Asia and Australia.)

To see our Market Recaps every month and learn more about our perspective on the markets, subscribe to our Investing Insights newsletter.
Thrivent Asset Management Contributors to this report: Mark Simenstad, CFA, Chief Investment Strategist; Darren Bagwell, CFA, Chief Equity Strategist; Steve Lowe, CFA, Vice President, Mutual Funds-Fixed Income; John Groton, Jr., CFA, Director of Equity Research; Matthew Finn, CFA, Head of Equity Mutual Funds; and Jeff Branstad, CFA, Senior Investment Product Manager
Media contact: Samantha Mehrotra, 612-844-4197; samantha.mehrotra@thrivent.com
---
All information and representations herein are as of 09/04/2019, unless otherwise noted.
The views expressed are as of the date given, may change as market or other conditions change, and may differ from views expressed by other Thrivent Asset Management associates. Actual investment decisions made by Thrivent Asset Management will not necessarily reflect the views expressed. This information should not be considered investment advice or a recommendation of any particular security, strategy or product.  Investment decisions should always be made based on an investor's specific financial needs, objectives, goals, time horizon, and risk tolerance.
An index is unmanaged, and an investment cannot be made directly in an index.
Past performance is not necessarily indicative of future results.