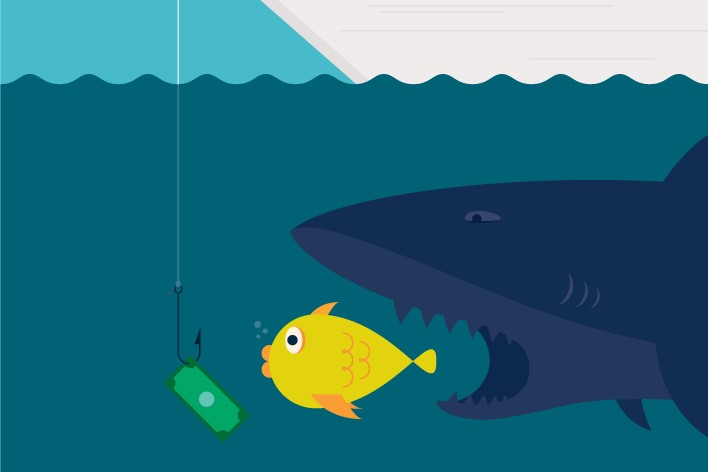 Are you getting the most from your investment dollars, or are you routinely making the wrong decisions at the wrong time?
Those mistakes may not be entirely your fault – they are hardwired into your DNA. Investing is not an intuitive endeavor. In order to make successful investment decisions, we are often required to overcome our natural inclinations. 
The best example of that may be our instinct to fight or flee. That may work just fine if you're under attack, but it may not lead to a favorable outcome when investing in stocks. 
When the market begins to drop, investors are often tempted instinctively to sell out their stocks and flee the market. That's a course of action that plays directly into our fight or flee instinct, but runs directly counter to an old adage in the investment business –"buy low, sell high." 
Many investors have learned that instead of fleeing a down market, it may result in a better outcome if you buy more shares at a lower price. While that may sound like a logical course of action in theory, from an emotional perspective, when all your stocks or mutual funds are down and the market is in turmoil, pouring more money into the market can be a particularly difficult course of action. 
To counter your natural instinct to flee when the market is down, think of yourself as a consumer in search of bargains. When the S&P 500 is 25 percent off its peak level, you may view that as a 25 percent-off sale and an opportunity to buy into the market at a bargain. Certainly there are other factors to consider when choosing to invest in a stock or mutual fund, such as earnings prospects and other fundamental metrics, but historically, many bear markets (a decline of 20 percent or more) have been followed by a bull market recovery of at least 20 percent within a year. (Past performance is not an indicator of future returns.), As Warren Buffett once put it, "We simply attempt to be fearful when others are greedy and to be greedy only when others are fearful."
Many of us also have some other natural tendencies that contribute to investment underperformance. Here are some of the most common behavioral mistakes investors make:
Overconfidence. Many investors believe they have what it takes to invest with the greatest minds on Wall Street, but that self-confidence tends to be misplaced. As several recent studies have illustrated, many investors who try to beat the market end up trailing the market averages by a significant amount. In their 2011 study on "The Behavior of Individual Investors," Brad Barber and Terrance Odean of the University of California concluded that "overconfidence can explain the relatively high turnover rates and poor performance of individual investors."
Short-term thinking. Investors who take a long-term approach tend to do better over the long run than those who buy and sell with every market fluctuation. While it may be counter-intuitive to simply ignore the ups and downs of the market and do nothing, historically that has been a successful approach for many investors.
Believing current trends are permanent. When the market is rising, investors tend to believe that trend will continue indefinitely, and when markets are retreating, they fear that the market will continue to decline. But markets are constantly in flux, and no one can predict which way the market will go in the next hour, the next day, or at any point in the future.
Fortunately, bull markets tend to last much longer than bear markets, as the following table demonstrates: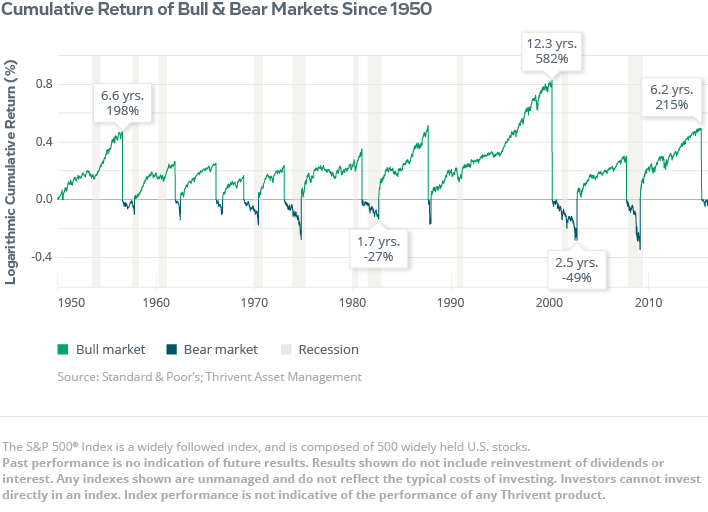 As the table shows, bull markets have lasted an average of 5.4 years while bear markets have averaged only 1.3 years.  The market movements also favor bull markets, which have posted average cumulative returns of 174% while bear markets have posted an average cumulative loss of -41 percent.
Mental miscalculation. It is not unusual for investors to have a higher assessment of their performance than is factually warranted. It's a simple quirk of nature. You rarely hear about the big losers at cocktail parties – only the winners. 
Data mining. Investors often have a tendency to look at market movements of the past and try to predict the future based on those patterns. Short-term market patterns are not a precursor to market patterns of the future. You cannot predict the future. Many have tried; many have failed.
Take the Emotion Out of Your Investment Strategy
One of the best ways to take the emotion out of your investment strategy is to forego trying to time the market and take a long-term accumulation approach. Whether you're investing in stocks or mutual funds, you should consider adding to your position every year whether the market is high, low or in-between. 
Although the stock market has experienced great volatility over the past century and beyond, the long-term trend has been predominantly positive. You don't need to time the market to succeed as an investor. In fact, timing the market tends to be an exercise in futility.
If you continue to build your portfolio in good times and bad, history indicates the long-term upward trend of the market can lead to a successful investment outcome over the long run.
Past performance is not necessarily indicative of future results.
All information and representations herein are as of 05/31/2016, unless otherwise noted.
The views expressed are as of the date given, may change as market or other conditions change, and may differ from views expressed by other Thrivent Asset Management associates. Actual investment decisions made by Thrivent Asset Management will not necessarily reflect the views expressed. This information should not be considered investment advice or a recommendation of any particular security, strategy or product.  Investment decisions should always be made based on an investor's specific financial needs, objectives, goals, time horizon, and risk tolerance.
S&P 500® Index is an index of 500 stocks chosen for market size, liquidity and industry grouping, among other factors. The S&P 500 is designed to be a leading indicator of U.S. equities and is meant to reflect the risk/return characteristics of the large cap universe.
Well that's unexpected - your subscription request was not submitted. Please try again.
Gain From Our Perspective
Get Our Investing Insights Newsletter in Your Inbox.
Subscribe now
Gain From Our Perspective
Get Our Investing Insights Newsletter in Your Inbox.
Subscribe
Thanks for Signing Up!
Be sure to check your inbox for the Investing Insights newsletter to get the latest news and insights from Thrivent Mutual Funds.
Great news - you're on the list!
Looks like you're already on our mailing list. Be sure to check your inbox for the Investing Insights newsletter to get the latest news and insights from Thrivent Mutual Funds.