We talked with several recent college graduates on their hopes, doubts and fears of investing. While they say they recognize the benefits of investing, they expressed some fears, anxiety and doubts about their ability to invest successfully.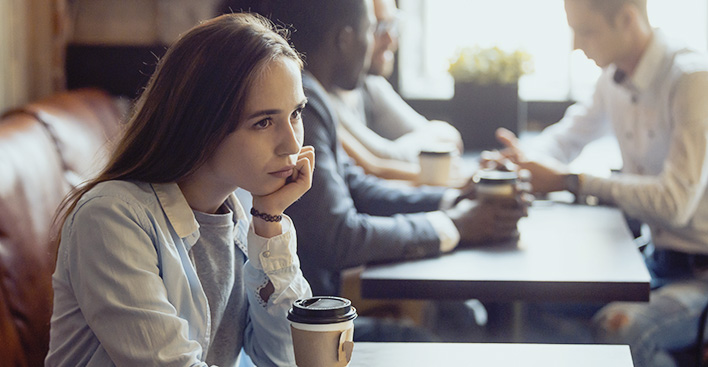 Managing your finances when you're fresh out of college can be intimidating—and the situation is tougher than it used to be.
This new generation of wage-earners may be working well into their 70si due to rising student debt, steep housing costs, and slow wage growth. The average college graduate with a bachelor's degree left school with $28,446 in student debt in 2016, according to the Institute for College Access & Success.ii
As a result, saving and investing has often been neglected. Only about one in five individuals aged 18 up to 25 say they invest in the stock market either directly by buying stocks or through mutual funds or a retirement account, according to a 2016 Bankrate survey.iii (See: Money and Millennials – It's Not Your Fault You Still Live with Your Mom)
But it's not just money that's holding new grads back. Their reluctance to invest also stems from a number of doubts and a lack of confidence in their ability to successfully navigate the investment universe.
Here are a few things new graduates are contemplating when it comes to their portfolios:
They fear they don't know enough
To some new graduates, investing feels a little like a game of poker with no clear guidelines. "There are no rules; you can invest in anything you want," says Allison Spence, 23, who graduated in late 2016. "And no one tells you exactly how to do it. Everyone has their different things that they invest in, and different techniques they use to invest. It's kind of like a gamble, which is intimidating." (See: Win, Lose or Draw: Is Investing the Same as Gambling?)
In general, new grads know that an employer-sponsored retirement account is a good place to start, but they aren't sure what to do from there. "I was never taught anything about it," says Lindsey Andrews, 24, another 2016 graduate. "I'm just winging it." (See: New Graduates Tout Benefits of Investing Early)
And even when it comes to retirement accounts, the options can be confusing. "I feel like I don't know how to approach it correctly," says Patrick Murphy, 22, a late 2017 grad. "Even just picking my 401(k) options, I was like, 'Do I do pre-tax or post-tax?' I have an option for a Roth 401(k)."
Perspective: Choosing between a traditional 401(k) and a Roth 401(k), depends on whether you want to defer your taxes until later or pay them now. Traditional 401(k)s, like traditional IRAs, offer a potentially tax-deductible way to contribute to your retirement in which your contributions and earnings aren't taxed until they're withdrawn. In contrast to a traditional 401(k), with a Roth 401(k) (or Roth IRA), your contributions are made with money you've already paid taxes on, allowing "qualified" withdrawals of earnings that are tax-and-penalty-free. (See: Traditional IRA versus Roth IRA: Which is Right for You?)
They're afraid their student loans will hamper their ability to invest
With approximately $1.5 trillion in student debt outstanding,iv about a quarter of new graduates believe it will take them 10 to 20 years to pay off their loans, according to a CreditKarma.com survey.v That's a big financial weight on their shoulders as they put together an investment budget.
"I'm afraid that for a majority of my younger life, I'll be paying off student loans at high interest rates, so I won't have enough extra income to put into investing," says Spence. "It's hard to find that balance of paying my bills while still investing enough money to make a difference for retirement in the distant future."
Lindsey Andrews is also finding it tough to hit her financial equilibrium. "One thing I know I need to start doing more heavily is invest, but it's proven to be difficult as I struggle to find a balance between paying all of my bills and having money left over," she says. "It isn't easy making a recent grad salary while paying for rent, utilities, car insurance, car payment, and the biggest of them all—student loans."
Perspective:  With student loans and other debts to pay, coming up with enough extra money to invest can be difficult. But you don't have to start with a big investment, and the sooner you start, the more time you'll give your investments to potentially grow and compound. Even on a cramped budget, you may be able to squeeze out $50 a month to invest. (See: Building Your Nest Egg on $50 a Month)
Over the long run, that small investment may bring solid results. Investing in the market does involve volatility, but putting just $50 a month into an investment plan that earns 5% to 10% per year could help you build a nest egg of $7,600 to $9,600 in 10 years, $20,000 to $36,000 in 20 years, $40,000 to $100,000 in 30 years, and $74,000 to $279,000 in 40 years when you may be ready to retire. (These examples are hypothetical for illustrative purposes only. They are not intended to represent the performance of any particular investment product, nor do they take into consideration any product expenses or fees. The results would be reduced if the costs were included.) (See: Money and Millennials: Investing on a Tight Budget)
They're anxious about the bigger picture
Losing money is a concern for many graduates, particularly when it may be due to something they can't predict or control.
"I worry about how our political atmosphere is going to be affecting things in the future," says Tessa Hilpipre, 23, a 2016 graduate. "That makes me a little nervous about investing."
For Andrews, the idea of another recession or market crash has her on edge. "Everything I've been reading in the last couple of weeks has been talking about how they think we're in a bubble right now, and it's bound to burst relatively shortly," she says. "And it won't be as bad as it was in 2008, but that makes me nervous. I don't have a lot of extra money to invest and I don't want to lose it."
Perspective: No question, when you invest in stocks or bonds, there is a risk of losing money. So why would more than half of Americans invest their money in stocks or bonds (either through individual securities or mutual funds)?vi The answer, quite simply, is that over time, the rewards of many investments have tended to outweigh the risks. (See: The Risk of Avoiding Risk)
While markets may be volatile in the short term, in the past their performance has tended to even out over the long term as the economy moves through its various cycles. As a young investor, you have more time to ride out the ups and downs of the market
For instance, though stocks may lose value in any given year, over the past 50 years, the S&P 500 has grown by an average annual rate of about 11%.vii The S&P 500 is a market-cap-weighted index that represents the average performance of a group of 500 large-capitalization stocks. Although you can't invest directly in an index, you can invest in mutual funds that invest primarily in stocks and that, in some cases, may provide returns similar to the performance of the index.  Keep in mind, indexes are unmanaged and do not reflect the fees and expenses associated with active management.
They don't feel ready to invest outside of retirement
Many 20-somethings view investing beyond an employer-sponsored retirement fund as something that older people do once they're making more money. Or they've considered it, but they aren't sure how to go about it.
"Right now, investing is kind of a low priority, but if I were to get a raise then I would consider it a little bit more," Andrews says. "I don't have a lot of money to invest, so I'm not going to pick an option that requires me to put a ton of money down."
Hilpipre also feels investing is more of a future endeavor. "I probably will invest," she says. "But it will probably be five years down the road, once I've got my career more figured out."
Ryan Tinklenberg, a 2017 grad, is saving as much as he can, but he doesn't have a set goal for the cash. "I'm not sure what the next big move will be—a new car, maybe," says Tinklenberg, 23. "I'm not really sure what the next step would be past the 401(k), to be honest. I know the 401(k) is something that a lot of workers do, but I haven't thought beyond that."
Perspective: By investing early, you can give yourself a big head start in preparing for retirement and many of your other major expenses throughout life, such as buying a house or car, or sending your children through college. (See: How Much Are You Missing Out On Every Day You Don't Invest?)
While many among the newest generation of graduates may be slow to venture into the investment world, their reluctance is nothing new. Every generation has started slowly before ultimately taking the plunge.
Although only about 20% of those age 18 to 25 are invested in the market in some form, 44% of those 26 to 35 are invested, as are 51% of those 35 to 51.viii Once they've faced their fears and put their finances in order, the latest wave of graduates may very well follow that same trend. (See: 7 Ways for New Graduates to Start Investing)
i "New Grads Won't Be Able to Retire Until 75," NerdWallet.com, 2015
ii Institute for College Access & Success, "Student Debt and the Class of 2016"
iii Bankrate Money Pulse Survey, June 16-19-2016
iv Federal Reserve
v "Highest-earning parents least hopeful for their college students' financial futures," CreditKarma.com, April 27, 2018
vi Gallup, "Just Over Half of Americans Own Stocks," April 2016.
vii New York University, "Annual Returns on Stock, T.Bonds and T.Bills: 1928 – Current"
viii Bankrate Money Pulse Survey, June 16-19-2016
---
At Thrivent Mutual Funds, we recommend you consult your tax advisor to make sure you're getting the most out of your investments. Thrivent Mutual Funds and their representatives cannot provide legal or tax advice.
Well that's unexpected - your subscription request was not submitted. Please try again.
Gain From Our Perspective
Get Our Investing Insights Newsletter in Your Inbox.
SUBSCRIBE NOW
Gain From Our Perspective
Get Our Investing Insights Newsletter in Your Inbox.
SUBSCRIBE
Thanks for Signing Up!
Be sure to check your inbox for the Investing Insights newsletter to get the latest news and insights from Thrivent Mutual Funds.
Great news - you're on the list!
Looks like you're already on our mailing list. Be sure to check your inbox for the Investing Insights newsletter to get the latest news and insights from Thrivent Mutual Funds.