You understand that you need to start investing. Whether it's for retirement, for your children's education or for other goals, you know that it makes sense to put your money to work for you.
But, like many Americans, you can't seem to get your finances together to actually start putting money away.
We've created a guide to help you start shaping your financial future.
Budgeting is the base
Let's say you've started to make a little more money than you used to. No longer on a shoestring budget, you feel comfortable going out to eat or buying some new clothes without worrying about covering your monthly expenses. Some extra money in your pocket is good, but as tempting as it may be to spend it, some of that extra cash is the money you'll need to start saving and investing.
Ask yourself, how much can you set aside each month for savings? Take a look at your complete financial picture and see what changes you can make. Start with recurring expenses such as groceries, housing and transportation, and then add up your lifestyle and entertainment spending, including things like dining out, vacations, concerts or sporting events, and even the trinkets and treats you buy for your kids or your pets.
Don't worry, it's not about cutting out all the fun, but taking a look at where your money goes and finding ways to cut back and save. With a monthly budget, you can set aside a certain amount each month to spend on lifestyle and entertainment while still leaving money in your budget to contribute to your investment plan.
Don't be afraid to have tough conversations around money. If you have kids, talk with them about budgeting, show them why you are making the choices you are, and ask them to think about ways they can help. By including your children in the conversation and getting them on board, you're not only making your own budgeting changes easier, you're also helping them to be responsible with money in their own lives.
What about paying down my debt?
Even if you have debt, you may still be able to invest. The goal is to build wealth over time. By starting now, you can get a head start on your investment plan and put some money away while you continue to pay down your debt.  
High-interest debt should take priority – take action to reduce the interest rate or simply pay it down. It's easy to say "yes" to the folks who send you credit card applications through the mail, but you should resist that urge. You're not the only one who has noticed you've got a few extra dollars, and those credit card companies are looking to charge you high rates of interest on your monthly balance. Once you've made intentional decisions about your budget and had the hard conversations about money with your family, you may decide that high-interest rate debt does not fit into the financial foundation you are working hard to build.
Instead of taking on more debt, consider consolidating your credit cards to one payment with a lower interest rate. There are consumer groups that can help. Once you have a monthly payment you are comfortable with, with a lower interest rate attached, you can pay down those credit cards and get to investing.
You may be wondering about your student loans. With some exceptions, student loans have relatively low rates of interest, so it may be fine to start investing even if you have education loans outstanding.
The same goes for your mortgage if you are a homeowner. Home equity loans typically have much lower rates of interest than credit cards. That said, one way to get more out of your investment plan is to check with your mortgage broker and see if you can get a lower rate for your mortgage so you can start using the extra cash to invest in the market. Make sure to ask about closing costs, as those can add to the cost of refinancing, but if prevailing rates have changed since you took on your mortgage, you may be able to pay less each month toward interest.
You're ready! Now what?
Once you've set a budget that reserves some money each month to put into your investments, how do you figure out what to invest in?
Invest at work. You may be able to start by investing through an employer-sponsored retirement plan.  Many companies offer 401(k) plans that enable their employees to invest a certain portion of their paychecks each pay period. Typically, 401(k) contributions are automatically withdrawn from your salary each pay day and deposited in your account. A traditional 401(k) is funded with pre-tax contributions, which typically lowers your current year's taxable income, but your withdrawals in retirement would be taxed. Some employers even match your contribution – or a portion of your contribution – making the 401(k) a popular option. (See: The Power of Pairing Your 401(k) with a Roth IRA)
If you work for yourself or own your own small business, there are other ways to start building your nest egg with a tax-deferred retirement plan, including a "Simplified Employee Pension Plan" (SEP) that may allow you to contribute thousands of dollars each year to a tax-deferred account. (See: If You're Self-Employed You Can Still Benefit from a Tax-Deferred Retirement Plan)
Mutual funds. You don't need to limit your investments to tax-advantaged retirement accounts. You can also invest directly in mutual funds in a taxable account, which gives you greater access to your funds in the decades before you retire.
One of the primary benefits of mutual funds is diversification: they allow you simultaneous access to many individual investments, which can include stocks, bonds and other market-based investments. Because of their diversification, investing through mutual funds is generally considered less risky than investing in stocks or bonds individually, as the risk that any one investment will perform poorly is tempered by the likelihood that others in the fund's portfolio may perform better. However, diversification does not eliminate all risk.
Thrivent Mutual Funds offers more than 20 mutual funds that give investors the opportunity to participate in the stock or bond markets with the convenience of broad diversification and professional management. Thrivent Mutual Funds offers several asset allocation funds that invest in a combination of stocks, bonds and other investments, diversifying your investment even further. (See: Asset Allocation Funds Can Help Tame Volatility)
Open an IRA. Another option would be an IRA, or Individual Retirement Account. There are two main types: a Roth IRA, which offers tax-free growth and typically provides tax-free distributions after age 59 ½, and a traditional IRA, which offers a potential tax deduction for contributions along with tax-deferred growth. (See: Traditional IRA versus Roth IRA: Which is Right for You?)
Start small. It shouldn't take a lot of sacrifice to come up with an extra $50 per month. It may mean fixing more meals at home or cutting back a little on your social schedule, but if you can get started at $50 a month, ultimately you may be able to gradually increase your contribution to a higher level. (See: How to Scrounge up $50 a Month for Your Investment Plan)
You can start with an investment plan of as little as $50 a month through the Thrivent Mutual Funds automatic purchase plan. (The $50 starting amount is available only when setting up a $50-per-month (minimum) recurring or automatic purchase plan.)
Here are some hypothetical scenarios that show you how much a $50 investment each month could bring you over a lifetime.  Keep in mind, the values would fluctuate throughout the periods, but this illustrates an example of an average annual return.
Example 1 (below) is based on a relatively conservative 5% average annual return: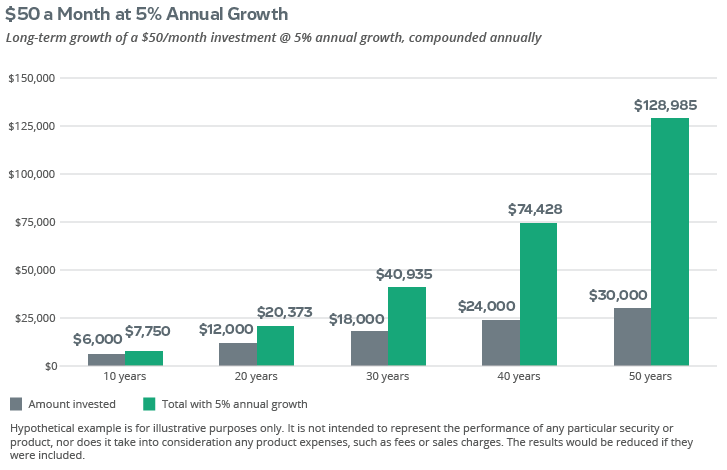 Example 2 (below) is based on a more aggressive investment that provides an average return of 10%, which is similar to the S&P 500 Index. Over a recent 50-year period from 1966 through 2016, the S&P 500 grew at an average annual rate of about 11%. Keep in mind, however, you cannot invest directly in an index, and past performance does not guarantee future returns. Investing may involve the risk of loss of principle.
What if the market dips? With longer term time horizons, the market has shown that it has typically recovered from downturns.
As you can see, once you get your ducks in a row, starting an investment plan can be relatively simple and inexpensive. And as the above graphs illustrate, the sooner you start, the more significant the returns you are likely to accumulate. The key is to make a plan and get started as soon as possible.
The concepts presented are intended for educational purposes only. This information should not be considered investment advice or a recommendation of any particular security, strategy, or product. At Thrivent Mutual Funds, we recommend you consult your tax advisor to make sure you're getting the most out of your investments. Thrivent Mutual Funds and their representatives cannot provide legal or tax advice.
---
i The S&P 500® Index is a market-cap weighted index that represents the average performance of a group of 500 large-capitalization stocks. You cannot invest directly in an index. Indexes are unmanaged and do not reflect the fees and expenses associated with active management.
ii Source: New York University
Well that's unexpected - your subscription request was not submitted. Please try again.
Gain From Our Perspective
Get Our Investing Insights Newsletter in Your Inbox.
Subscribe now
Gain From Our Perspective
Get Our Investing Insights Newsletter in Your Inbox.
Subscribe
Thanks for Signing Up!
Be sure to check your inbox for the Investing Insights newsletter to get the latest news and insights from Thrivent Mutual Funds.
Great news - you're on the list!
Looks like you're already on our mailing list. Be sure to check your inbox for the Investing Insights newsletter to get the latest news and insights from Thrivent Mutual Funds.