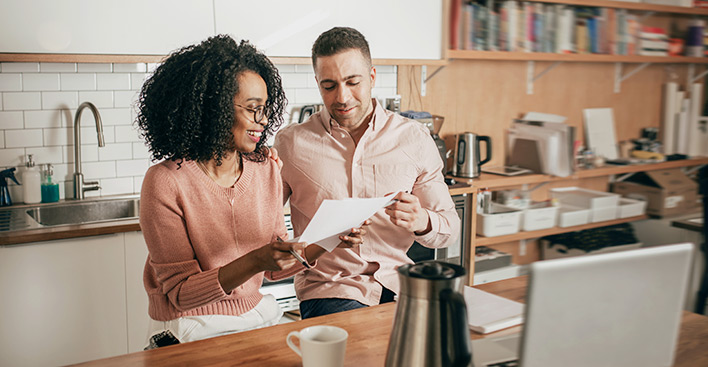 Although several tax deductions disappeared with the recent passage of the Tax Cuts and Jobs Act (TCJA), a few gems remain that you may be able to take advantage of if you plan ahead.
TCJA reduces the tax rate for most tax brackets, and nearly doubles the standard deduction.
But while the new tax law preserved some of the most popular deductions, some limitations were placed on certain deductions for taxpayers who itemize. (See: IRS Tax Reform)
The big ones are the mortgage interest deduction and the deduction for state and local taxes (SALT).
New Mortgage Limits
New limits on mortgage interest deductions will be imposed on mortgages entered into after December 14, 2017.  The TCJA lowers the mortgage cap to $750,000 ($375,000 if married filing separately).
For mortgages taken out prior to that, homeowners can continue to deduct interest on mortgage loans of up to $1 million if they were for a first or second home (or $500,000 for married couples filing separate returns).
The law also eliminates the interest deduction for home equity loans, unless the loan is used to improve the home that secures the loan, such as a new addition, a new roof or a kitchen renovation.
State and Local Tax Deduction Changes
The new law limits the amount taxpayers can deduct for state and local taxes they pay to a maximum of $10,000, including income, sales and property taxes.
Before the new tax law, that amount was unlimited, though you did have to choose between deducting income taxes and sales taxes.
Another deduction that has been eliminated is the alimony deduction, although that applies only to divorce or separation agreements executed after December 31, 2018.
The deduction for moving expenses for job relocation has also been eliminated, except in the case of active duty members of the military.
On the other hand, taxpayers may now deduct more medical expenses in 2018—those above 7.5% of their adjusted gross income versus 10% previously. The threshold reverts back to 10% in 2019.
Despite those changes, the mortgage interest and SALT deductions are still excellent ways to reduce your tax bill if you can itemize.
Deductions You May Still Claim
While the tax bill did reduce some tax advantages, it left other popular deductions intact.  Here are a few gems.
1. Contribute to Your Employer's 401(k) Plan
Employer-sponsored 401(k) plans are a great way to reduce your taxable income. Currently, you're allowed to contribute up to $18,500 each year to your account. If you're 50 or older, that amount increases to $24,500.
Taxes on these contributions and the associated earnings are deferred until you withdraw the money. Depending on your tax bracket, that can amount to a pretty substantial tax savings. And if your employer matches some or all of your contribution, you can get a nice chunk of free money. These retirement accounts are usually offered by employers although self-employed people can open their own tax-deferred retirement plan. (See: Self-Employed Can Still Benefit from Tax-Deferred Retirement Plan)
2. Contribute to a Traditional IRA
There are two major types of IRAs: Traditional IRAs and Roth IRAs. You may be able to deduct contributions to a Traditional IRA. The amount, if any, depends on your income and whether you (or your spouse) are covered by an employer's 401(k) plan. The deduction limits for the 2018 tax year are $5,500 per year or $6,500 for people 50 or older.
If you are not covered by an employer's retirement plan, you may deduct the full allowed amount, regardless of your income.
If you are covered by your employer's plan you can make the maximum contribution and it will be fully deductible if your income is less than $63,000, or $101,000 if married filing jointly. Your ability to deduct contributions phases out when your income reaches $73,000, or $121,000 if married filing jointly. You have until the April tax deadline (without extensions) to fund your IRA for the previous tax year. (See: IRS Retirement Plan Deduction Limits)
You can also save for retirement through a Roth IRA, but you can't deduct the money you contribute. However, all the earnings grow tax-free and your withdrawals can be tax-free in retirement. As long as your income is within the IRS's limits, you can contribute the maximum annual amount to a Roth IRA—$5,500 per year, or $6,500 if you're 50 or older. Note that the maximum contribution applies to all of your IRAs—Traditional and Roth—combined.
If your income is less than $120,000, or $189,000 if married filing jointly, you can make the maximum contribution to a Roth IRA. If you make more than that, you can make partial contributions until your income reaches $135,000, or $199,000 if married filing jointly. And Roth IRAs can be used for more than just funding retirement. (See: Benefits of Roth IRAs Go Well Beyond Retirement)
3. Put Money Into an FSA
If your employer offers flexible spending accounts (FSA) for healthcare and child care it may make sense to take advantage of them. That's because you get to pay for healthcare and child care expenses with pre-tax dollars, thus lowering your tax burden overall. In 2018, you can contribute up to $2,650 to a healthcare FSA and $5,000 to a dependent care FSA ($2,500 if married filing separately). But you have to rack up enough eligible expenses to match the total you contributed. If there's anything left over, you forfeit that money.i
4. Invest in Tax-Exempt Bonds and Funds
If you're in a high tax bracket, dedicating part of your fixed income investments to municipal bondsii or funds that invest in them could be a smart choice. Municipal bonds (munis) are issued by states, counties or municipal governments to pay for projects like roads, schools or hospitals. What makes them particularly attractive in comparison to Treasury bonds or corporate bonds is that the interest they generate is generally not taxable at the federal level, and many are issued with exemptions from state and local taxes. Just make sure the yield you get from a tax-free bond fund exceeds the after-tax yield you could get from a taxable fund.
(For more information on the Thrivent Mutual Funds municipal bond funds, see Thrivent Municipal Bond Fund and Thrivent High Income Municipal Bond Fund)
One other tax break that remains intact is the favorable tax treatment for college savings plans. A popular vehicle for college savings is the 529 plan, which is sponsored by states, state agencies and some educational institutions. You can't deduct your contributions from your federal income taxes, but there are a few states where you might be able to on your state return if you're putting money into your state's 529 plan. The earnings grow tax free, and distributions are not taxed as long as they are used for qualified educational expenses. Just be aware that there may be gift-tax consequences if your contributions plus any other gifts to a particular beneficiary exceed $15,000 during the year.
You may set aside up to $2,000 a year in a Coverdell Education Savings Account (CESA) for a designated beneficiary under age 18, if your income is less than $110,000 (or $220,000 if filing a joint return). Although the money you contribute is not deductible from your current taxable income, it grows tax-deferred and the money you withdraw is tax-free if used for qualified educational expenses. Coverdell plans can be withdrawn tax-free to pay for a broad range of K-12 and college expenses, while 529 plans are limited to college expenses and K-12 tuition.  (See: Start Your Education Savings with a Coverdell Plan)
By planning ahead and taking advantage of some of these tips, you may be able to reduce your taxes and keep more of your hard-earned money for yourself in the years ahead.
All information and representations herein are as of 08/24/2018, unless otherwise noted.
This article is not meant to be a comprehensive review of all provisions in the Tax Cuts and Jobs Act and is subject to change based on future clarification from the IRS or other governmental organizations.
This website is not intended as a source for legal, accounting or tax advice or services. Work with your attorney and/or tax professional for additional information.
---
i DataPath, "IRS Publishes 2018 FSA Contribution Limits and Other Benefit Increases"
ii Municipal Securities Rulemaking Board, "Facts about Municipal Bonds"  
Well that's unexpected - your subscription request was not submitted. Please try again.
Gain From Our Perspective
Get Our Investing Insights Newsletter in Your Inbox.
SUBSCRIBE NOW
Gain From Our Perspective
Get Our Investing Insights Newsletter in Your Inbox.
SUBSCRIBE
Thanks for Signing Up!
Be sure to check your inbox for the Investing Insights newsletter to get the latest news and insights from Thrivent Mutual Funds.
Great news - you're on the list!
Looks like you're already on our mailing list. Be sure to check your inbox for the Investing Insights newsletter to get the latest news and insights from Thrivent Mutual Funds.