Gen-Xers (born between 1965 and 1982) have entered the prime of their lives – a time when investment priorities could pull them in a variety of directions:
Many younger Gen-Xers are still saving for their first homes.
Older Gen-Xers are putting money away for both their retirements and their children's education.
Many Gen-Xers are also part of the "sandwich generation," balancing the financial needs of their children and their aging Baby Boomer parents.1
As the chart illustrates, 31% of heads of households ages 40 to 44 say retirement is their primary reason for saving, while 25% say saving for a home, their children's education, or other family expenses is their primary priority.
Those priorities change somewhat with age, leaning more into retirement. For those ages 45 to 54, only 16% say their primary priority is saving for a home, their children's education, or other family matters, while 39% say retirement is their chief priority.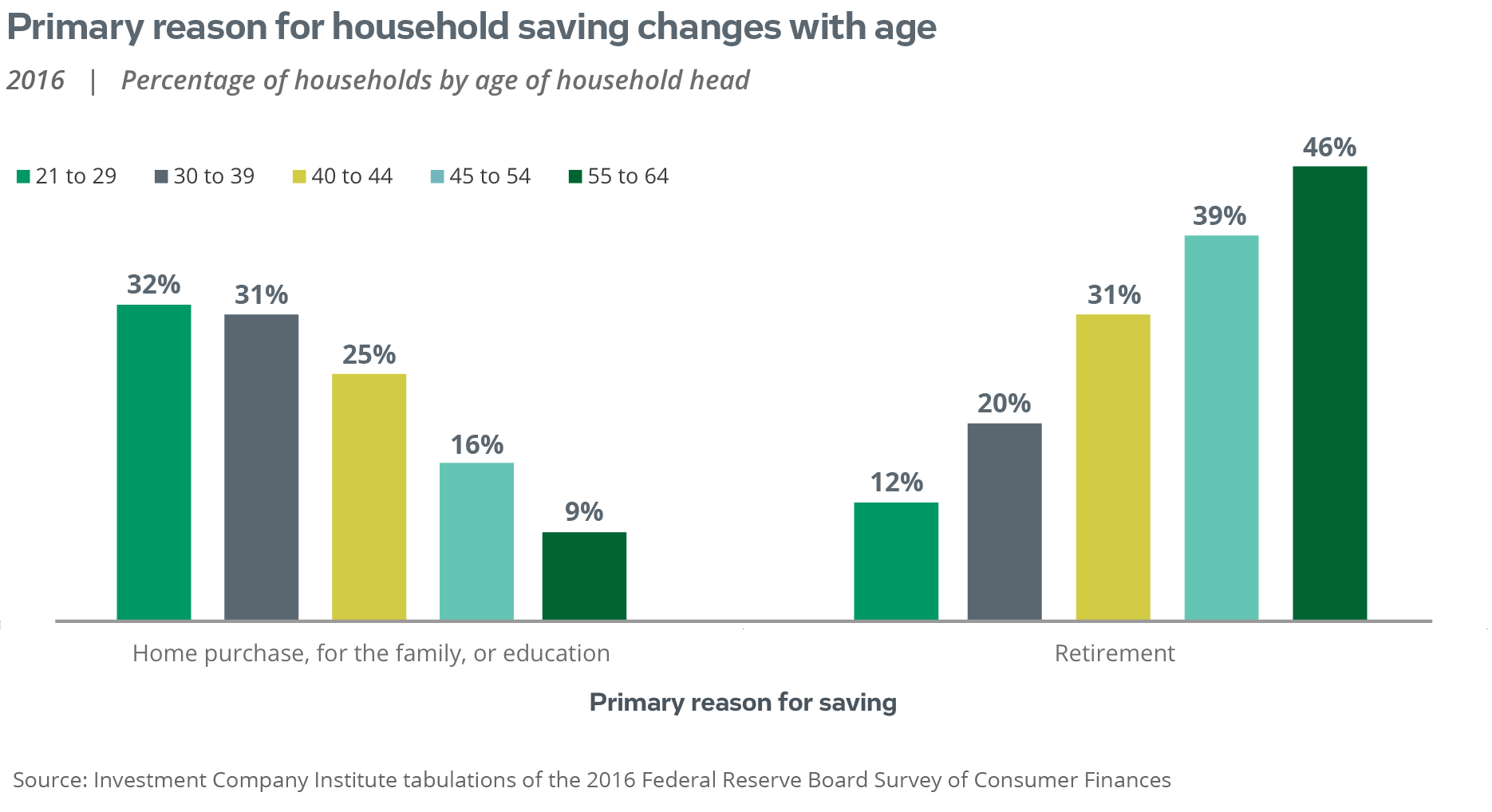 4 ways to approach Gen-X investment priorities:

1. Manage your children's college costs
It may be a natural inclination to help your children cover their higher education costs and avoid college debt. It's a burden Gen-Xers know all too well, as about 26% of Gen-Xers are still paying off their own student loans.2 A 2018 report by AARP and the Association of Young Americans showed that 34% of Gen-Xers hold student loan debt either for themselves or for someone else.3
If your retirement savings plan is on track, helping your children with educational costs may make sense.
There are several investment vehicles that offer tax benefits, including a Coverdell Education Savings Account, a 529 Educational Savings Plan, or a Roth IRA. While the Roth is an "Individual Retirement Account" generally used to save for retirement, you can also use savings from a Roth IRA to cover qualified educational expenses. (Learn more: Benefits of Roth IRAs Go Well Beyond Retirement)
If you've fallen behind on your retirement savings, you may encourage your children to find another way to cover education costs rather than put your retirement at risk. Your children may have a number of options available including scholarships, financial aid, or choosing a less expensive school option.
Student loans typically come with a relatively low interest rate, well below the long-term average annual return of the stock market. You may come out ahead financially by keeping money invested in your retirement account and asking your children to take out student loans. If you find later that you have the means to contribute, you can help them pay off those loans. (See: Juggling Your Retirement Savings and Your Children's Education)

2. Invest in your 401(k) or work plan

About 40% of Gen-Xers contribute to a 401(k) or other defined contribution plan at work, and another 9% are enrolled in a defined benefit plan.4 If your company offers a 401(k) or other defined contribution plan, you should contribute as much as possible up to the annual IRS limit ($19,000 for the 2019 tax year, with an additional $6,000 catch-up contribution allowed for those over age 50 and $19,500 for 2020, with an additional $6,500 catch-up contribution).
Contributions to a traditional 401(k) are deducted from your current gross income for tax purposes, typically reducing your income taxes in the years you contribute. Any investment gains within the plan are tax-deferred until you withdraw the money. Many companies match part or all of your contribution.
If your company doesn't offer a 401(k) or other retirement plan, you may be able to receive a similar tax advantage by contributing to a traditional IRA. (See: Don't Miss the Tax and Savings Benefits of an IRA)

3. A more aggressive approach for long-term objectives
Most Gen-Xers are at least 10 to 25 years away from retirement, allowing them time to be more aggressive with their investment portfolios. A portfolio or mutual fund heavily weighted in stocks is considered more aggressive than one made up predominately of bonds and other fixed-income investments.
Stocks are considered to be riskier than fixed-income investments, but their long-term return has been dramatically higher. A New York University study compared the growth of $100 invested in the stocks of the S&P 500® Index5 from 1928 to 2016 versus $100 invested in U.S. Treasury Bills during the same period. The T-Bill investment would have grown to less than $2,000 ($1,988) while the stock portfolio would have grown to more than $300,000 ($328,646).6 However, past performance is not an indicator of future results.

4. Investing for short-term goals
If you're saving for a home, cabin, boat or other short-term goal, you may opt for a less aggressive investment strategy that is many years away.
Although stocks or a stock mutual fund might be part of your short-term investment strategy, you may wish to minimize the risk of loss by balancing your portfolio with some less volatile investments, such as bonds or bond funds. You might also consider an asset allocation fund that invests in a diverse portfolio of stocks, bonds, and other investments. Although diversification does not eliminate risk, it may help reduce losses during market fluctuations.
(Thrivent Mutual Funds offers four asset allocation funds that are automatically diversified and range from moderately conservative to aggressive.)
While the strategies discussed here may be appropriate for many investors,  consider your overall portfolio, financial situation, investing experience, time horizon, and investment objectives.
Gen-Xers have enjoyed a steady increase in their average income and investment savings. But will it be enough to avoid the financial issues that many Baby Boomers are now facing in their retirement? By taking steps now, Gen-Xers can help meet their retirement objectives

1 Pew Research Center, "The Sandwich Generation: Rising Financial Burdens for Middle-Aged Americans," January 2013.
2 Pew Charitable Trusts, "The Complex Story of American Debt," July 2015.
3 CNBC, "Student Loan Debt Isn't Just a Millennial Problem," October 2018
4 Pew Charitable Trusts, "Retirement Plan Access and Participation Across Generations," February 2017.
5 The S&P 500 Index is a widely followed index, and is composed of 500 widely held U.S. stocks. Investors cannot invest directly in an index.

6 New York University

Well that's unexpected - your subscription request was not submitted. Please try again.
Gain From Our Perspective
Get Our Investing Insights Newsletter in Your Inbox.
Subscribe now
Gain From Our Perspective
Get Our Investing Insights Newsletter in Your Inbox.
Subscribe
Thanks for Signing Up!
Be sure to check your inbox for the Investing Insights newsletter to get the latest news and insights from Thrivent Mutual Funds.
Great news - you're on the list!
Looks like you're already on our mailing list. Be sure to check your inbox for the Investing Insights newsletter to get the latest news and insights from Thrivent Mutual Funds.