Ah…retirement. Those leisurely days of new adventures, cruise ships, overseas trips, volunteering, and socializing. Just don't forget the checkbook. If you're like most Americans heading toward retirement, you may need to ramp up your savings and reduce your expenses to achieve your retirement goals.
Nearly half of households age 55 and older do not have a retirement savings plan (such as an IRA or 401(k) plan), and 29% do not have a retirement savings plan or a defined benefit plan (which typically provides a monthly payment for life), according to a recent Government Accountability Office (GAO) population study.1 (See chart below.)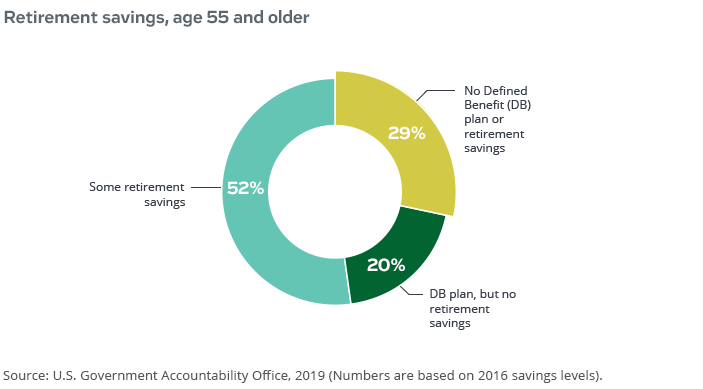 The low savings rate will make it challenging for most retirement age Americans to live comfortably and cover their basic living expenses.
How much will I need in retirement?
How much might it cost you to live out your retirement dreams – both at today's prices and the inflation-adjusted costs over the next three to four decades of your retirement life? For simplicity, the estimates below assume the cost for one person in one household with one income.
You may have heard the rule of thumb that you'll need about 80 to 90% of your current (working) annual income to cover your yearly costs during retirement. You'll no longer have certain work-related expenses, such as transportation and clothing, and you won't be contributing a share of your income to your retirement plan. You will, however, have more leisure time to fill. And depending on how you plan to fill it, your living costs could actually increase.
Let's break down your likely costs by category to present a hypothetical picture of the costs of living an active retirement lifestyle:
Step 1. Current costs
Home costs. Is your home paid for? That helps. But if you still have years to go to pay it off, add that to your budget. (And perhaps consider downsizing.) What's your monthly cost of utilities, cable and internet, association fees, maintenance, insurance, taxes, and other costs? Let's estimate this at $1,000 to $5,000 per month (depending on the mortgage).

Other necessities. How much do you spend each month on food, health care, transportation and other necessities, such as gasoline and auto maintenance, car insurance and related expenses? Is your car paid off, or do you still have payments? What about health insurance (or Medicare supplemental and dental insurance)? How about life and long-term care insurance? Let's estimate this at $1,000 to $2,000 per month.

Hobbies. Do you have other past-times you hope to pursue in retirement, such as travel, dining out, entertainment and sporting events, health club membership, golf and other activities and hobbies? Let's estimate this at $500 to $1,500 per month.

Children and grandchildren. Do you have children – and grandchildren? You may want to help them with educational expenses (or help pay off existing student debt). Decide how much you'd like to contribute to their various expenses and add that to your budget. Let's estimate this at $0 to $1,000 a month.
Charitable giving. Would you like to donate to your favorite causes or place of worship? Include that in your monthly budget. Let's estimate this at $0 to $1,500 a month.
Step 2. Future costs
Health care. This expense is difficult to predict, since it depends upon your health and fitness. Whatever your health situation there are pluses and minuses to medical care during retirement. One major plus is that you're eligible for Medicare for free once you reach 65. But at the same time, you're also required to buy a supplemental policy to cover many of the costs. That supplemental care may cost an individual about $100 to $200 a month or more.2   Between the two, most of your health care costs will probably be covered throughout your retirement. But that doesn't always include dental and you may need to buy a separate insurance policy or pay for it out of our pocket. Teeth and gums become more of a concern later in life, and costs for many procedures can run into the hundreds or thousands of dollars.
Long-term care. For Americans age 65 or older, there is about a 70% chance that they will need some type of long-term care services and support in their later years, according to the Department of Health and Human Services.3 While Medicare and supplementary policies may cover some of those costs, you would need to pay the cost of extended pay out of your own pocket. That is, unless you have a separate long-term care insurance policy that covers extended care.
Here are senior care industry average costs for 2019 from the elder care research organization Caring, LLC4:
An in-home, non-medical aide costs $3,696 a month
Adult day care is $1,584
Assisted living costs $4,000 a month
Skilled nursing home costs $7,441 a month
Assisted living costs are normally not covered by traditional insurance policies. Let's assume you have long-term care insurance to cover certain skilled nursing home costs, but will still need assisted living, which averages about $4,000 a month. Add to that any other expenses, such as groceries, clothing, insurance, charities, entertainment, children and grandchildren, and your total may be in the range of $4,000 to $5,000 per month.

Legacy. Would you like to leave some money for your heirs and your favorite charities? The depth of your generosity will depend largely on your ability to acquire a sufficient nest egg during your working years and manage it wisely throughout your retirement.

Step 3. Adding it all up
 The table below offers a summary of the hypothetical costs covered above: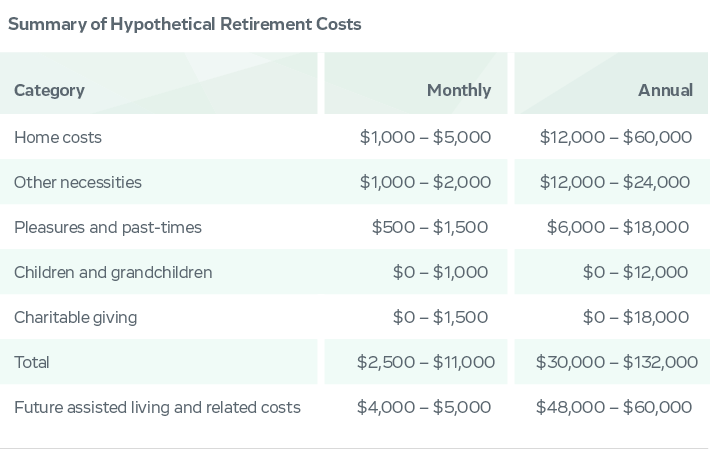 Based on this hypothetical summary, from the time you retire, you would likely need $2,500 to $11,000 per month in the early stages and $4,000 to $5,000 later. Let's conservatively say you will spend $4,000 a month ($48,000 a year) during your retirement – based on today's prices.
Step 4. Add in inflation

The average annual rate of inflation over the past century has been about 3%.5 While that can vary from year to year, at a rate of 3%, your costs would double after about 20 years. If you are 55 today, your cost of living would theoretically double by the time you're 75 and double again by the time you're 95. That means that if you need $4,000 a month in today's dollars, you'll need $8,000 a month ($96,000 per year) in 20 years and $16,000 a month in 40 years ($192,000 a year).  (This is a hypothetical example and does not represent the actual inflation rate you may experience during that period.)
Step 5.  Consider other income sources
Now let's say you have enough Social Security to cover half of your $48,000 annual costs. If you have a lifetime stream of income from a pension, annuity, or similar source, that would reduce your dependence on investment income still further.

While it is impossible to predict a future return on your investments, here's a range of outcomes to consider:
A $1 million investment yielding 2% per year would return $20,000 (before taxes); 3% would yield $30,000; 4% would yield $40,000, and 5% would yield $50,000. However, unless the money is coming from a tax-exempt account, your actual income would be somewhat less after taxes.
A portfolio with a yield of 4% to 5% on a $1 million account would typically provide a before-tax income in the range of $40,000 to $50,000, which, combined with your Social Security income ($24,000 in this example), would leave you, hypothetically, with enough to cover your current expenses, income taxes and add to your principal to help compensate for inflation.

If, over the course of your retirement, you manage to live off your annual investment yield without tapping into your principal, your legacy would take care of itself. The balance left in your investment account (along with any other assets) would ultimately make up the bounty you leave behind for your heirs and favorite causes.

If you find these projections to be a wake-up call, you're not alone. While your own situation may vary, about half of individuals in the 55-64 age bracket don't expect to have enough income in retirement to maintain their standard of living, according to the GAO report.

If you're among that group, perhaps a sense of urgency could help you cut your expenses and focus more on your retirement savings. It may not be enough to cover all of your retirement goals, but it might help you produce a retirement income that is sufficient to maintain your standard of living.
Learn more about retirement investment opportunities at Thrivent Mutual Funds
This website is not intended as a source for legal, accounting or tax advice or services. Work with your attorney and/or tax professional for additional information.
---
1 Government Accountability Office, March 2019

2 Medicare.gov
3 LongTermCare.gov, "How much care will you need?"
4 Caring, LLC  
5 Inflationdata.com