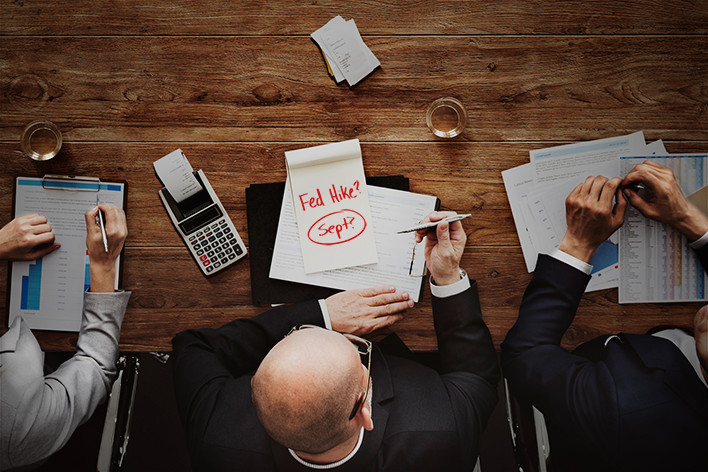 We're eight months into 2016 and the Federal Reserve has yet to vote in favor of the long-anticipated interest rate hike. The last time the Fed made a move was in December 2015 when it increased the federal funds target rate by 25 basis points, to a new range of 0.25% – 0.50%. 
While the Fed has, from time to time, signaled its hope of making at least one or two rate hikes in 2016, so far the board has resisted the urge to make a move.
Janet Yellen, Fed Chair, indicated that the Fed may be warming up to a rate hike in her speech August 26 in Jackson, WY. She said, "In light of the continued solid performance of the labor market and our outlook for economic activity and inflation, I believe the case for an increase in the federal funds rate has strengthened in recent months."1  However, she did not offer any further clues on exactly when that rate hike may occur.
Although the economy has shown some signs of life, with a rising stock market, increasing employment, and a small rebound in the retail and energy sectors, there have also been some negative factors that have weighed on the Fed's decision to keep rates unchanged.
Manufacturing and production levels have been tepid, and a strong dollar has made competition in the global market place stiffer for U.S. businesses. Gross domestic product growth (GDP) has edged up only 0.8% (on an annualized basis) in the first quarter and 1.2% in the second, according to a report issued July 29 by the U.S. Bureau of Economic Analysis (BEA).
The consensus outlook for GDP growth for all of 2016 is 1.5%, according to the August Blue Chip survey report, which is based on a monthly survey of more than 50 leading business economists. Our outlook is somewhat more modest. We expect GDP growth to be closer to 1.0% for 2016.
Regardless of the slow GDP growth, we expect the Fed to take a very close look at the upcoming numbers on jobs, retail sales, housing sales, and other factors to seriously consider a rate hike in September. If the numbers line up, we believe September would be the most likely month this year for the Fed to act.
Another extenuating factor is that Libor (London Interbank Offered Rate)2, which is a short term international rate that is driven primarily by market forces rather than the Fed, has been rising lately. Some of this increase is technical in nature due to impending changes in money market funds.  However, some of it may be an indication that market rates should be higher. The Fed may find it convenient to follow Libor's lead by moving rates up modestly.
Recently the market was pricing in only about a 30% chance that the Fed will move the target rate up by another 25 basis points in September. Thus, the bond market, and other markets could experience some turbulence if the Fed does make a move. In addition, the exchange rate of the dollar would also appreciate. This is a factor that could negatively affect short-term economic growth.
With the elections coming up, we consider it less likely that the Fed would raise rates in October just before the election or in November just after the election. Beyond that, the Fed has indicated a willingness to raise rates any time if it feels the economy is strong enough to absorb a hike. But, as we've seen so far this year, it is also willing to bide its time if the economy appears to be on weak footing.
One other issue that has muddled the bond market this year has been the phenomenon of negative interest rates in Japan and Europe. A total of more than $10 trillion in (non-U.S.) government bonds now carry negative interest rates. (Negative interest rates refer to a monetary policy in which bank deposits and government bonds actually return less than the investor deposits.
As a result, global bond buyers have been stocking up on U.S. bonds, and driving down the effective yields.
We believe a small rate hike could be beneficial to net savers without adversely affecting the economy or consumer spending – particularly if the job market remains strong. Bank savings accounts and money markets have been paying in the range of 0.0 to 0.01%, so traditional savers are getting essentially nothing for their dollars.
In short, we think the Federal Reserve would like to move to "normalize" rates, but it is struggling to find the time, the rationale, and the right message to make this policy move.
All information and representations herein are as of 09/01/2016, unless otherwise noted.
The views expressed are as of the date given, may change as market or other conditions change, and may differ from views expressed by other Thrivent Asset Management associates. Actual investment decisions made by Thrivent Asset Management will not necessarily reflect the views expressed. This information should not be considered investment advice or a recommendation of any particular security, strategy or product.  Investment decisions should always be made based on an investor's specific financial needs, objectives, goals, time horizon, and risk tolerance.
---
Well that's unexpected - your subscription request was not submitted. Please try again.
Gain From Our Perspective
Get Our Investing Insights Newsletter in Your Inbox.
SUBSCRIBE NOW
Gain From Our Perspective
Get Our Investing Insights Newsletter in Your Inbox.
SUBSCRIBE
Thanks for Signing Up!
Be sure to check your inbox for the Investing Insights newsletter to get the latest news and insights from Thrivent Mutual Funds.
Great news - you're on the list!
Looks like you're already on our mailing list. Be sure to check your inbox for the Investing Insights newsletter to get the latest news and insights from Thrivent Mutual Funds.