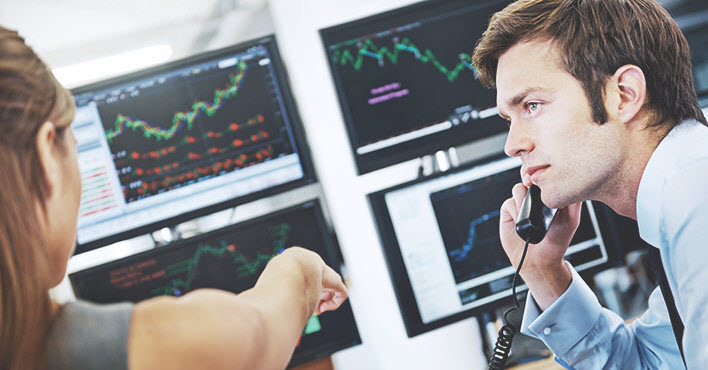 After suffering the biggest stock market drop since 2011 on Monday, February 5, the stock market bounced into positive territory Tuesday.
The drop on Monday was the largest stock market decline since 2011. The Dow Jones Industrial Average dropped more than 1,100 points. The S&P 500 was down 7.19% from its January 26 peak through the close of trading Monday – essentially wiping out all of the stock market gains since the start of the year.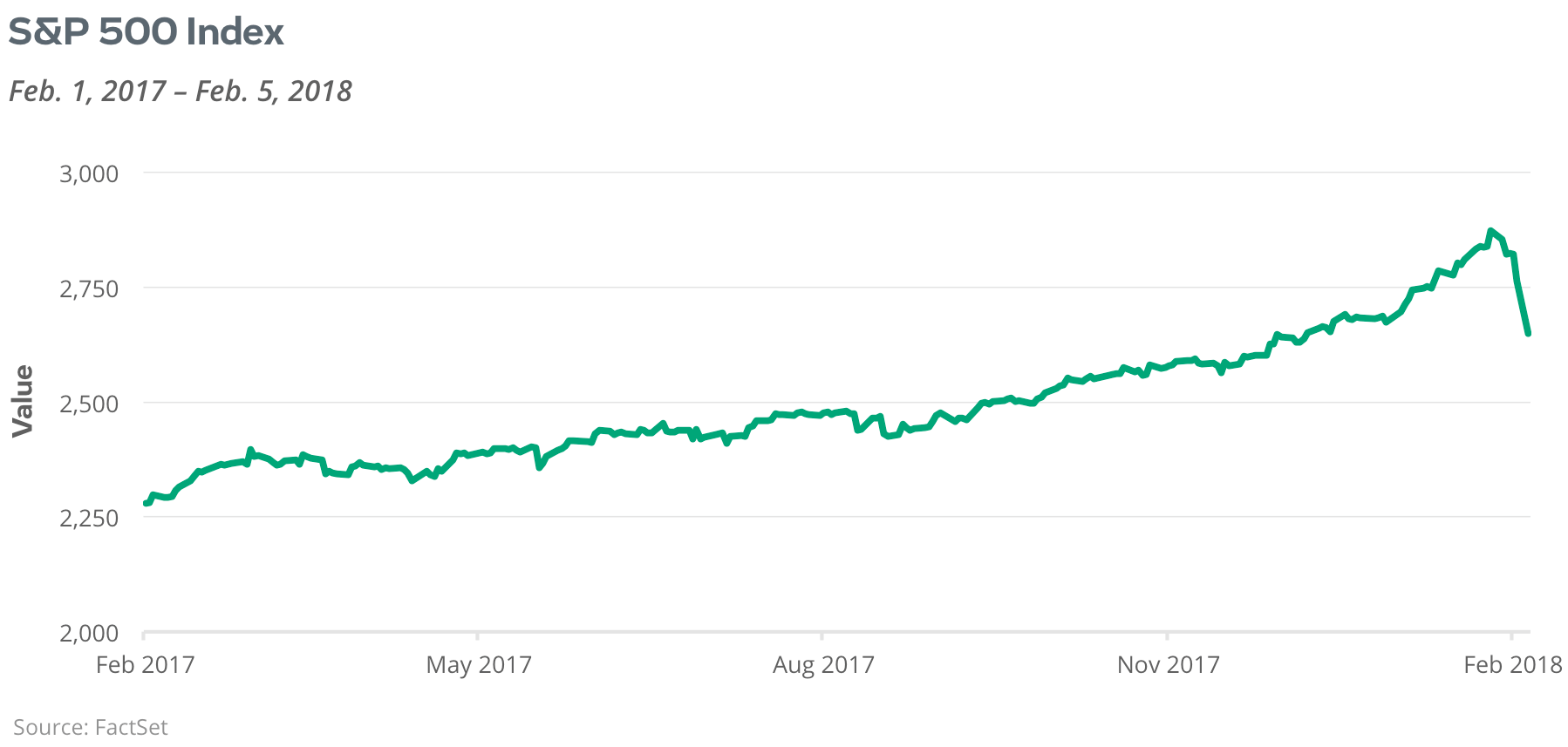 Although we believe that the economy is still solid, we expect market volatility to continue. The market sell-off was not unexpected considering that the market had reached the highest valuation since 2004, with a forward price earnings (P/E) level of over 18.1
After the Monday correction, the forward PE ratio dropped to about 16.5, which is considered a more appropriate valuation level.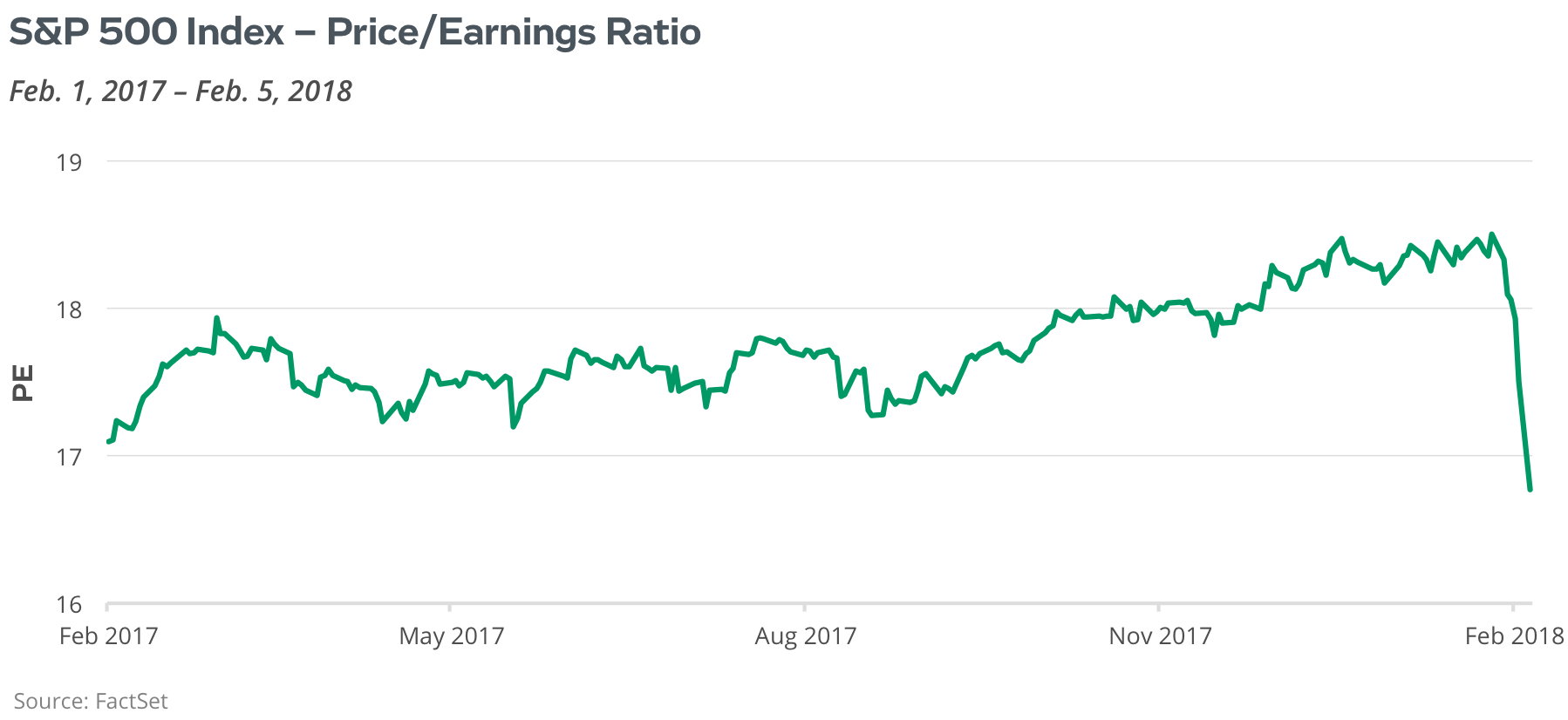 With solid economic growth, healthy corporate earnings that are getting a boost from the tax legislation and still relatively low interest rates, we do not expect that this is the start of a major downturn. Although we are late in the bull market cycle, we don't think this is the end of the cycle.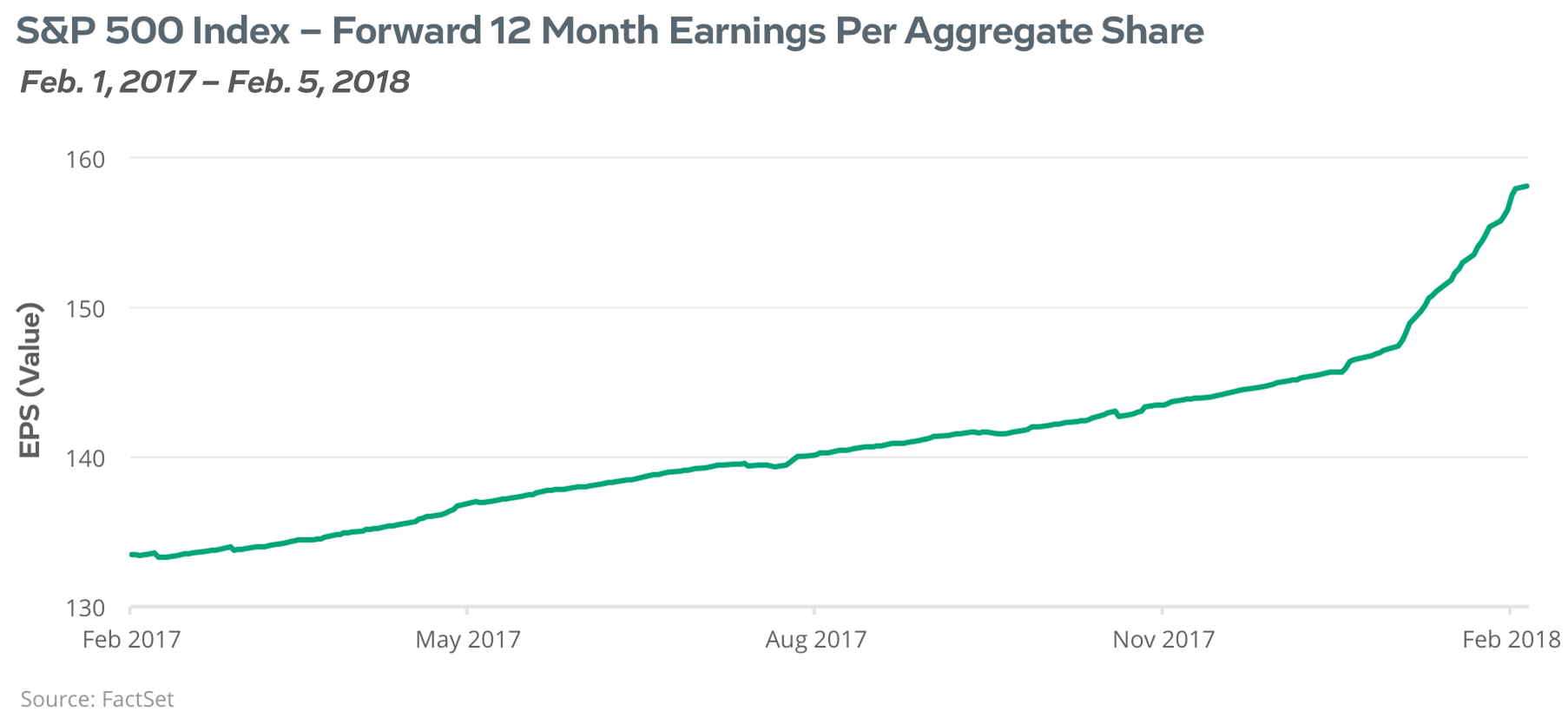 Trading Trends Spark Volatility
The most recent declines in the market have been exacerbated by technical developments in the futures and options market as various inverse and leveraged exchange traded funds (ETF) have had to deal with the extraordinarily sharp spike in market volatility.
In short, large ETFs that make investments based on the prospects for market volatility (specifically those that bet on continued low volatility) were driven down by the sudden market volatility of the past few days. The large losses suffered by these ETFs had significant ramifications for the underlying equity market – essentially driving the market down even further.
But these types of ETFs are just the most visible public impact of the esoteric strategies that have gone awry. There is also significant exposure to these and similar strategies in certain private asset pools. We do not trade in, nor condone, these very complex and high risk products.
Investor Perspective
The recent sharp market decline, coupled with higher volatility, can feel much more pronounced to investors given the smooth, sustained rise of the market over the past year. We believe that although disconcerting, this pull back is actually healthy in that it takes some of the extreme sentiment and unrealistic expectations out of the market – while driving stock valuations down to a more reasonable level.
In fact, we have been saying for over a year that stock valuations are high and interest rates abnormally low. Equity markets were due for a correction since stock valuations reached record levels at the end of January. It had been 403 days since a 5% correction, which is a record.2
As such, we have been very modestly underweight equities and cautious about rising interest rates. It would not be surprising if equity markets push lower in the near term. However, as noted, we believe the underpinnings of the economy remain solid.
As long term investors, we welcome the opportunity to initiate or add to solid investment opportunities when markets decline.
Dealing with Volatility
For investors, volatility is often part of the game. To learn how to deal with the volatility, see:
All information and representations herein are as of 02/06/2018, unless otherwise noted.
The views expressed are as of the date given, may change as market or other conditions change, and may differ from views expressed by other Thrivent Asset Management associates. Actual investment decisions made by Thrivent Asset Management will not necessarily reflect the views expressed. This information should not be considered investment advice or a recommendation of any particular security, strategy or product.  Investment decisions should always be made based on an investor's specific financial needs, objectives, goals, time horizon, and risk tolerance.
This article refers to specific securities which Thrivent Mutual Funds may own. A complete listing of the holdings for each of the Thrivent Mutual Funds is available on ThriventFunds.com.
S&P 500® Index is an index of 500 stocks chosen for market size, liquidity and industry grouping, among other factors. The S&P 500 is designed to be a leading indicator of U.S. equities and is meant to reflect the risk/return characteristics of the large cap universe.
Dow Jones Industrial Average (Dow) is an index that shows how 30 large publicly owned companies based in the United States have traded during a standard trading session in the stock market.
Past performance is not necessarily indicative of future results.
---
1 FactSet. The forward P/E measures the stock price-to-earnings ratio of the S&P 500 index, a market-cap weighted index that represents the average performance of a group of 500 large-capitalization stocks, based on corporate earnings forecasts for the upcoming 12-month period.
2 Bank Credit Analyst (BCA)
Well that's unexpected - your subscription request was not submitted. Please try again.
Gain From Our Perspective
Get Our Investing Insights Newsletter in Your Inbox.
Subscribe now
Gain From Our Perspective
Get Our Investing Insights Newsletter in Your Inbox.
Subscribe
Thanks for Signing Up!
Be sure to check your inbox for the Investing Insights newsletter to get the latest news and insights from Thrivent Mutual Funds.
Great news - you're on the list!
Looks like you're already on our mailing list. Be sure to check your inbox for the Investing Insights newsletter to get the latest news and insights from Thrivent Mutual Funds.